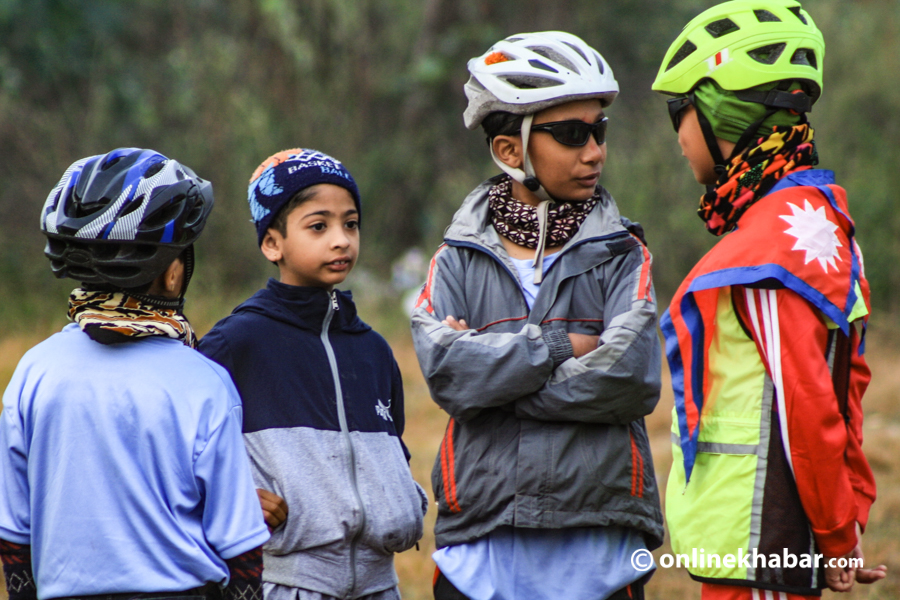 As over 170 cyclists rode to Janakpur from Kathmandu during the 4th edition of the annual Ride Through Sindhuligadhi event last weekend, three kids caught everyone's eye.
Shubham Shrestha, Suyog Man Basnyat and Aditya Shrestha are just eight, 10 and 13 respectively; but they were all prepared to cycle the 250-kilometre journey to Janakpur via Sindhuligadi.  All three of them seemed to push each other one peddle at a time along with dozens of adults on the way. While Aditya and Shubham skipped a part of the climb to Sindhugadhi from Mulkot, Suyog along with his father Yogendra Man Singh Basnyat completed the entire route on his bicycle.
Many were surprised seeing their stamina. "What these kids are doing is remarkable. Riding with adults along the dangerous tarmac road is quite inspiring. Not only have they pushed each other, but they have also inspired other riders who had self-doubt," shares Sudip Poudel, the ride leader of the event.
The boys were not only inspirations but were also the stars of the show. From local villagers to fellow riders, everyone wanted a selfie with the trio whenever they stopped for water breaks. They were celebrities for three days.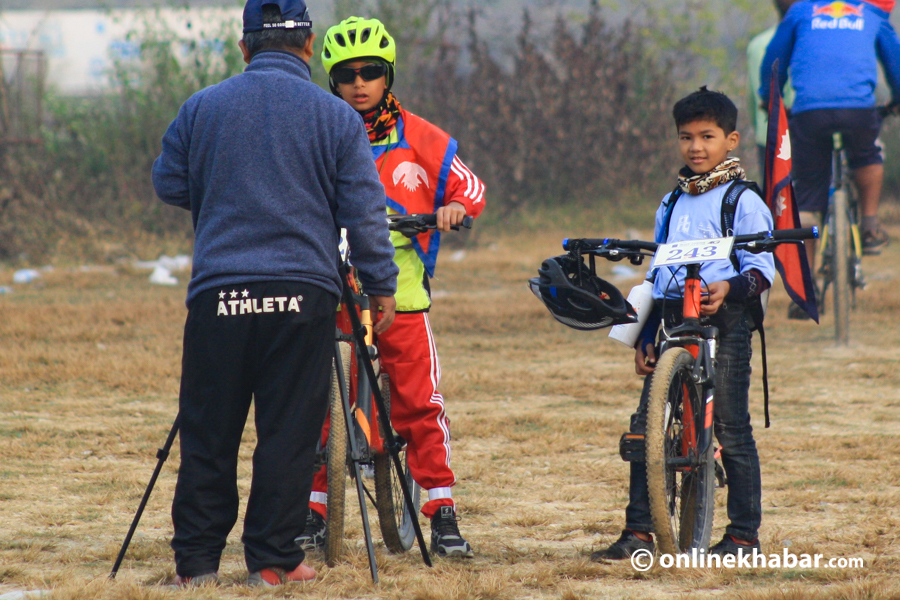 All three boys picked up cycling from a young age. The fathers of all three, who are also cyclists, over the course of a few years groomed these kids' passion for cycling.
"Suyog started when he was three, but he began participating in these rallies when he was six. He's always showed a desire towards cycling. As I ride, he wanted to do the same and I don't see any harm in him doing this. He enjoys cycling and its challenges and I like to see him overcome these challenges," shares Yogendra, his father.
The same was the case with Aditya, whose father Deepak Shrestha facilitated his son's passion for cycling.
"I like him riding his bike and being a part of these events. I feel it gives many people the urge to do the same. He is passionate about it and also enjoys doing this. I hope his love and enthusiasm for cycling never dies," says Deepak, adding he brought his son Aditya after watching Suyog cycling nearly the entire length of the ride last year.
"I enjoy riding. It makes me feel good. I don't do enough of these long tours but when I get the chance, I enjoy it quite a bit. Sometimes my father does not let me ride the entire length of these tours, but it's still fun cycling up to whatever point I can," adds Aditya.
Shubham too has the same enthusiasm on his face. He rides a bicycle which is clearly for the kids older than him but still, he rides with ease. While peddling, he has to stand up and after he gathers some momentum, he sits down. From a small town of Udayapur, he had come to Kathmandu with his father and his uncle to ride to Janakpur. But due to some problems, his father had to return leaving the eight-year-old with his uncle
His father Chiran shares that Shubham, like Aditya and Suyog, started riding from six.
"We take him on rides regularly in Udayapur. He enjoys it. He loves his bicycle. His technique is quite different but he seems to be comfortable with it. We take him out every Saturday and whenever events like this happen. He's been the start of the show this year. I hope he can make it here again the next year."
When asked if he was afraid while riding on the road from Kathmandu to Janakpur, young Shubham says he rather enjoyed it. He shares that he liked the attention he received from others. But he did get a bit angry when asked to take the bus from Khurkot to Sindhuligadhi. Sitting on the bus, he kept on posing the same question, "Why did they put me here? I want to be out there."
"We took the decision because he's too young and the uphill is too long. Maybe in a few years' time, he can do the complete ride," explains Poudel.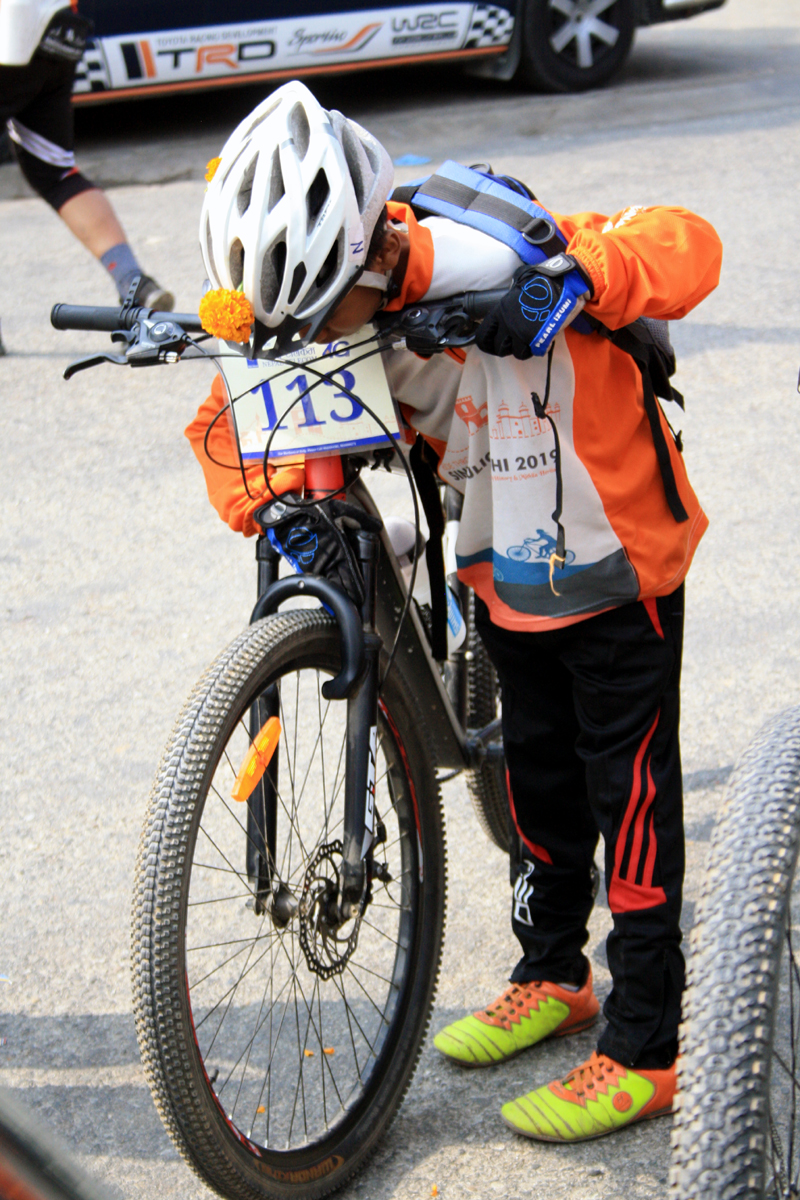 But them being on the trip is enough to motivate cyclists. Rabit Maharjan, an adult participant of the event, shares that watching Suyog climb up the uphill to Sindhuligadhi gave him the motivation to ride on. The same was the case for McDara O'Shea from Ireland. O'Shea, who is embarking on a cycling journey from London to Singapore, shares that all three kids gave him added motivation.
"They are brilliant. You see people watching these kids and admiring their guts and determination. I feel quite privileged to have ridden with these young boys. I hope they carry on cycling," he adds.
When asked if they will do the ride again, the boys say that they would love to, however, their parents say that only time will tell what happens next.
The orgasiners also feel that the participation of these young boys is important in the longer run. "Last year, we only had Suyog. This year, we had Aditya and Shubham. People have promised us that they too will bring their kids along this ride, which means that these kids are doing something really great," explains Poudel.