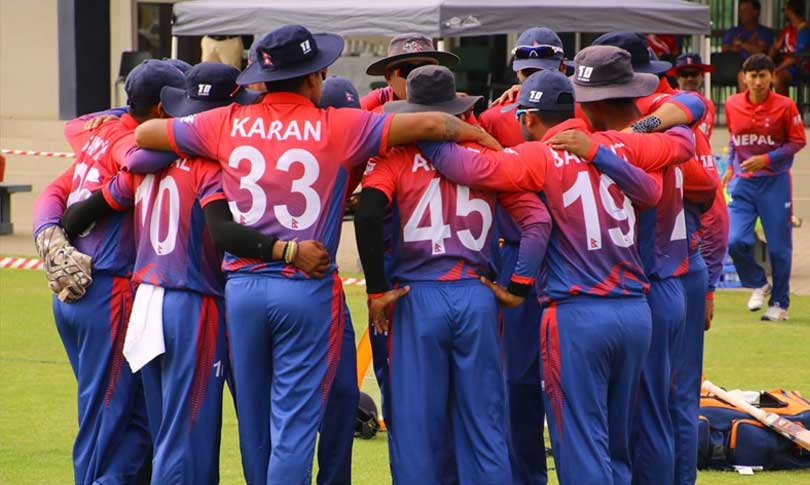 Nepal are facing the UAE in three match ODI and T20 series commencing from Friday. The sides have played against each other regularly in ACC competitions as well as at the World Cricket League Division 2 in Namibia last February and during preparations for the World Cup Qualifier.
Even though both the teams are familiar with one another, this is the first bilateral series between two emerging cricket teams. Therefore, it will be interesting to know various dimensions of the series before predicting the possibility of Nepal's victory.
Who will open?
There are many views about who will open alongside Gyanendra Malla for Nepal in the forthcoming series. Both Subas Khakurel and Anil K Sah have been left out of the team due to their poor form. They could be replaced by Binod Bhandari, Pradeep Airee and debutante Pawan Sarraf. However, captain Paras Khadka has hinted that he could be opening the innings with Malla. If Khadka does open, it could put immense pressure on Nepal's weak middle order who haven't performed well.
What will the new faces do?
The Nepal team to face UAE do not have many new names. There are four players who haven't played for the national team. Bhim Sarki, Sandeep Jora, Avinash Bohora and Pawan Sarraf, all of whom have played for the U-19 team, will be looking to make their debuts in this series. Sarki and Johra both showed their ability with the bat during recent Pokhara and Everest premier leagues. Sarraf's performance in other domestic T-20 tournaments with both bat and ball was impressive. Bohora, on the other hand, will give the team a pace bowling option.
Nepal will also be without senior batsman Sharad Vesawkar who pulled out of the squad due to illness. There were doubts about the fitness of fast bowler Sompal Kami, but he has now been proved fit.
How are the UAE players?
The UAE will be without captain Rohan Mustafa, Ahmed Raza and Rameez Shahzad for critical comments they made on social media during the Emerging Teams Asia Cup. The absence of top order Mustafa and Shahzad will mean that the UAE will lose a lot of top-order runs and will have to depend on Chirag Suri and Shaiman Anwar. Both Suri and Anwar haven't been performing well in previous series and will be under pressure as the team will depend on them. However, UAE coach Dougie Brown believes that his team can cope and thrive despite the suspensions to three of their leading players.
Will home conditions mean advantage to the UAE?
Even though the UAE are missing key players, they still remain favourites due to home conditions and strength in depth. The UAE who will be captained by fast bowler Mohammed Naveed, who will be hoping for a pitch that will helps pace bowlers like Qadeer Ahmed and Amir Hayat.
A pitch which favours fast bowler will also negate the threat of Sandeep Lamichhane who is Nepal's wicket-taking option. Nepal over the years have not played well against a good pace attack, which is why Naveed and the UAE will be looking to take advantage of Nepal's fragile middle order.
The series will be a closely contested series, but the UAE might have an edge as they have a better bowling unit. For Nepal to stand a chance at being victorious, their openers and middle order need to step up.
All the matches will be broadcast live on Emirates Cricket Board (ECB) social media streams.