City Montessori School in Ghattekulo of Kathmandu, that used to be full of students before the Covid-19 pandemic, nowadays remains deserted. In the school, out of 212 students, 25 per cent have dropped out and now only 90 students attend school.
Similarly, Baphal-based Sanskar School is conducting classes of grades one and two. It had more than three dozen students but at present, there are barely 20 students in the school.
Many of the schools in the Kathmandu valley that were shut since March last year due to the Covid-19 pandemic have resumed from the second week of January. Due to the great pressure of the parents citing reasons that online learning for primary students have not been as effective, schools resumed their regular (physical) classes in the condition that parents take the responsibility of protecting their children.
Those sending are keeping in touch with the school, concerned about the safety arrangements. But, there are still many parents who are in a dilemma to send their children to school or not.
Increasing dropout
Since last July and August, however, some Montessori schools in Kathmandu have been flooded with students. Even when the Covid-19 risk was at a peak, many parents still sent their children to school because they had to go to work. But, many have expressed they will not send their children to the school this year, in the sight of the risk.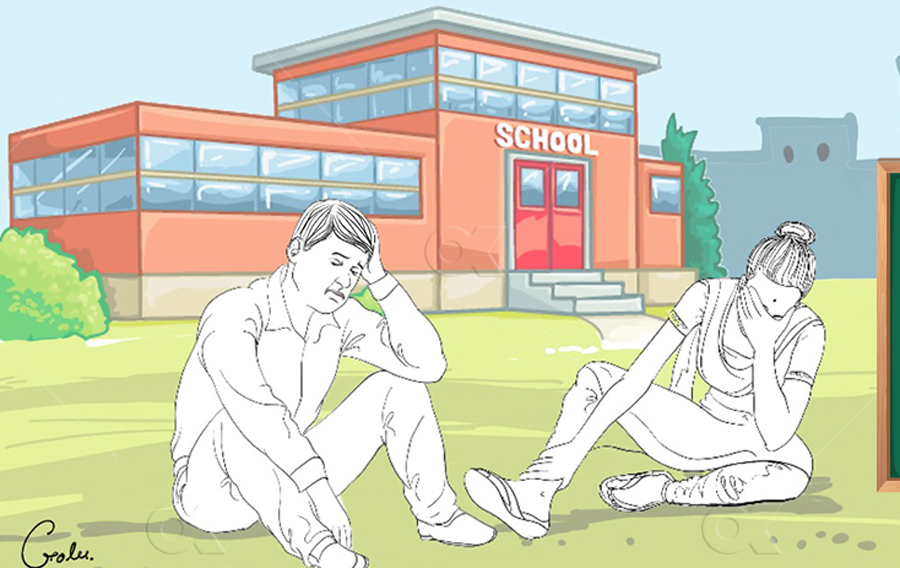 Tika Ram Puri, the president of Private and Boarding Schools Organisation Nepal (PABSON) says about 25 per cent of primary school students have dropped out recently because of the infection risk. According to Puri, there is a large number of parents who do not wish to enrol their children this year and will only enrol them in regular schools from the next academic year.
According to Sankar School's principal Pooja Gautam, "Many parents are still unsure whether to send their children to school because of the risk. But, we urge them to send their students to school without worries." Gautam adds that sending children to schools is less risky than keeping them at home.
Puri assures that all private schools have taken necessary safety measures for the students and there is no need for them to hesitate to send their children to the schools. However, he also says that it would not be appropriate to put pressure on parents regarding this issue and their sentiment to be reluctant to send their children to schools this year is also valid.
The same problem exists in government schools too. Padmodaya Secondary School has been open since the second week of January. Its principal Narayan Gautam says it has been challenging for primary school children to implement health measures against Covid-19. He says it is easy to remind older students to adhere to the safety measures, but since younger students are temperamental and playful, parents are sceptical about sending their children to schools.
Masking is tough
After observing half a dozen Montessori schools in Kathmandu, it became obvious that the most common problem among the young students was to keep a mask on the child's face.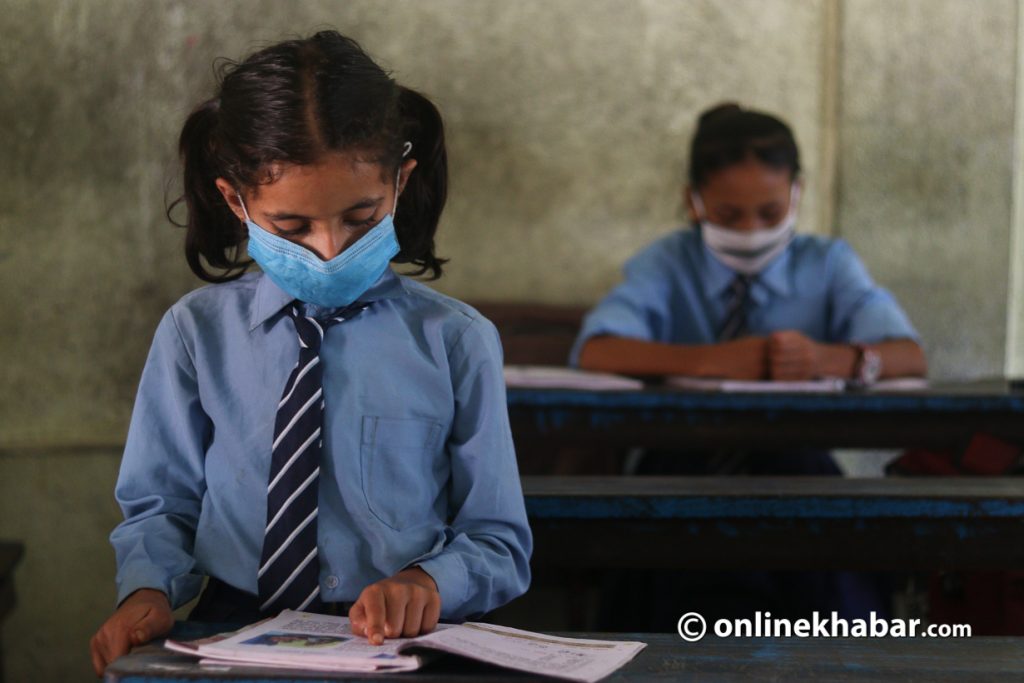 According to international standards, only six to eight students should be in a classroom so that a teacher should be able to answer all their questions immediately. But, City Montessori principal Pushpa Rijal argues if Montessori schools are to follow it, the risk of infection will be reduced while running classes now.
Public Health expert Dr Sameer Mani Dixit says that there is no need to hesitate to send a child to school now. According to international studies, even if a child under the age of 15 is infected with the coronavirus, the chances of it spreading, in and outside schools, are low, he adds.
He says that the risk is very low in the schools of rural areas whereas Kathmandu schools can also be reopened by following the health standards. Dixit says schools should follow the health standards, ensure children wear masks all the time, either by monitoring regularly or convincing them. If this rule of wearing a mask can be followed, other issues can be considered secondary, he says.