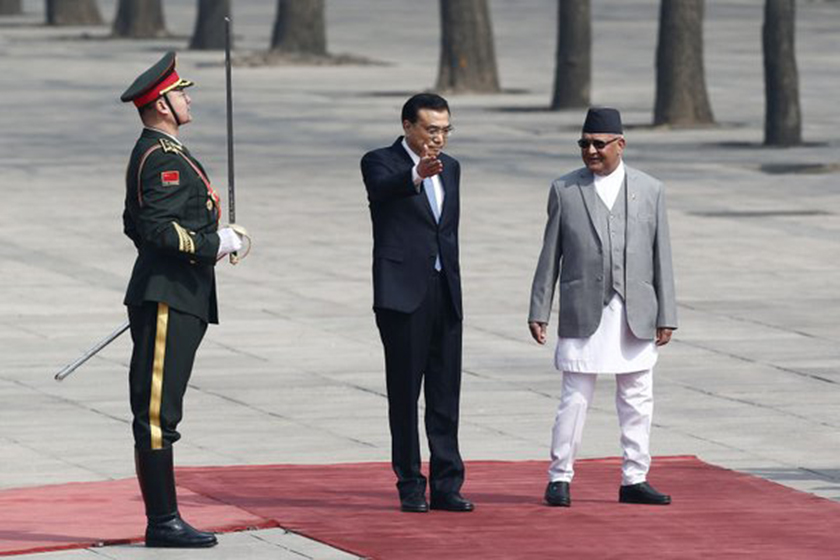 Beijing, March 21
Nepal and China signed 10 agreements during Prime Minister KP Oli's visit to the northern neighbour, giving new impetus to bilateral ties. The signing took place at the Great Hall of the People in the presence of PM Oli and his Chinese counterpart Li Kequiang.
Later in the afternoon, Prime Minister Oli will call on Chinese President Xi Jinping. After the Oli-Xi meeting, chiefs of governments of the two countries will issue a joint communique, PM Oli's political adviser Bishnu Rimal told Onlinekhabar.
1. Transit agreement
Nepal and China signed a transit deal during PM Oli's visit. Nepal's Foreign Minister Kamal Thapa and his Chinese counterpart signed this deal, which will be crucial in securing Nepal's access to Chinese seaports.  There are expectations that the deal will benefit Nepal in the long run.
2. Solar project
China has also signed with Nepal an agreement for installation of solar plants that will provide electricity to 32,000 households. Earthquake victims will get first priority.
3, 4,5. Pokhara international airport
The first deal is related to the construction of Pokhara airport. As per the second agreement, the Chinese government will provide interest-free loan, amounting to 25 per cent of the total project cost. China's Exim Bank will provide the remaining sum in the form of loan at two per cent interest rate. While the government will provide interest-free loan, Exim Bank will provide the remaining sum required for airport construction.
6. Pact on trademark registration
The two countries also signed separate understanding on registration of different products' trademarks. As per the deal, patent rights of each other's goods traded across the Nepal-China border will be guaranteed.
7. Understanding on oil exploration
The two countries also signed an understanding on exploration of oil in different parts of the country. As per the deal, China will provide technical assistance for exploration of possible petroleum deposits.
8. Free trade agreement
Nepal and China also signed an agreement on free trade. The deal covers 500 types of goods.
9. Accord on banking regulation
Governors of two countries signed on this agreement. The deal has made way for exchanging information related to fiscal regulation, Governor Chiranjivi Nepal told Onlinekhabar. He said the deal has paved the way for opening branches of banks in each other's territories.
10. Motorable bridge construction
The two countries have also signed a deal for the construction of a motorable bridge in Hilsa of Humla district. Chinese government will construct the bridge.
Photos: People's Daily, China/ Twitter.