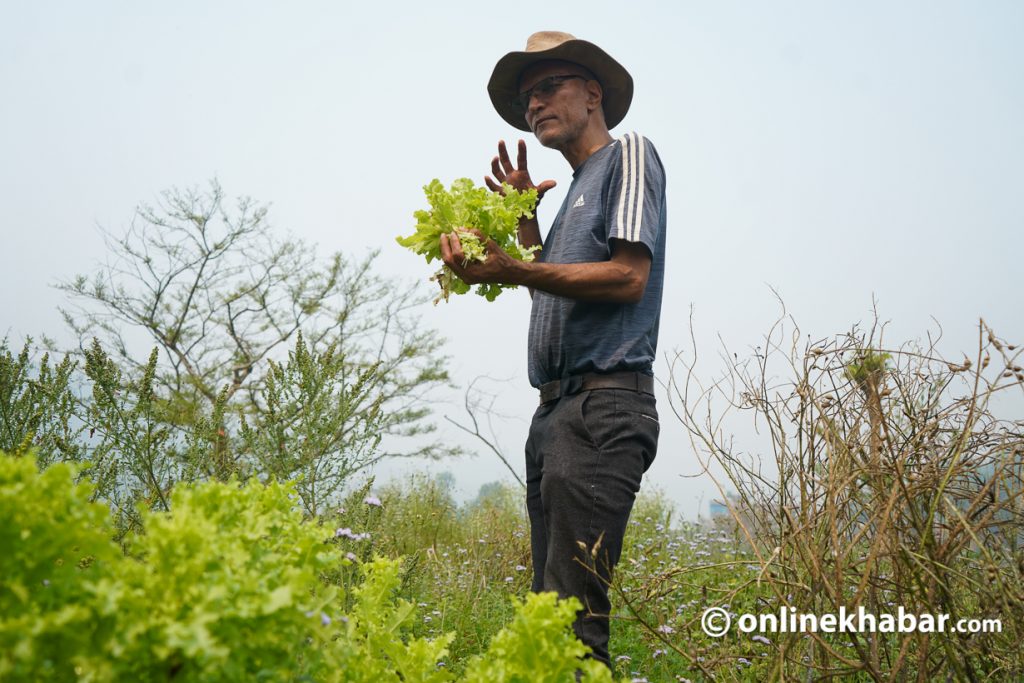 Narayan Wagle lives in peace. Away from all the hustle and bustle, Wagle, along with his colleagues, is restoring his 70-year-old house.
His phone, however, is ringing constantly as many people want to know his point of view about contemporary politics. They think Wagle is a great analyst to comment on anything, but he does not care. Not wanting to leave people hanging, he gives a few generic statements and hangs up.
Wagle worked most of his life as a journalist, but now he does not want to be remembered as one as he likes to call himself a writer and nature worker as mentioned on his Twitter bio.
Narayan Wagle has adopted a different lifestyle over the past year or more as he is rarely seen in protests organised by the Brihat Nagarik Andolan, a civil society movement he gave birth to a few years ago. But he often thinks about the movement from his home in Tanahun as he feels there is another major people's movement needed in the country to improve its economic and political state.
Living a character's life
Narayan Wagle's home is spread across 7.5 acres in Pharakchaur of Tanahun in central Nepal. That is where he and a few others are reconstructing his ancestral home. One-third of the land is covered by forest while the other has crops, flowers and cattle. Taking care of all this has become the 55-year-old's daily routine.
When we are there, we saw him move the coffee saplings. This reminds me of his novel Palpasa Cafe where the protagonist wishes to start a coffee plantation in the hills of Gandaki and serve top-quality coffee to people who come to visit him.
Now, as I look back on the novel and the two-decade-long journey in which it has been translated into four languages, it seems Drisya, the protagonist of the novel, is Narayan Wagle's alter ego. And, the novel was his future manifesto.
When we meet Wagle in Tanahun, we do not talk about his book. We just want to closely observe Wagle, who has twice been appointed as the editor-in-chief of Kantipur, a major Nepali daily. But Wagle is avoiding us most of the time.
He is not interested to talk about his life as a farmer or this farm. But we slowly convince him to speak about it.
Return to the roots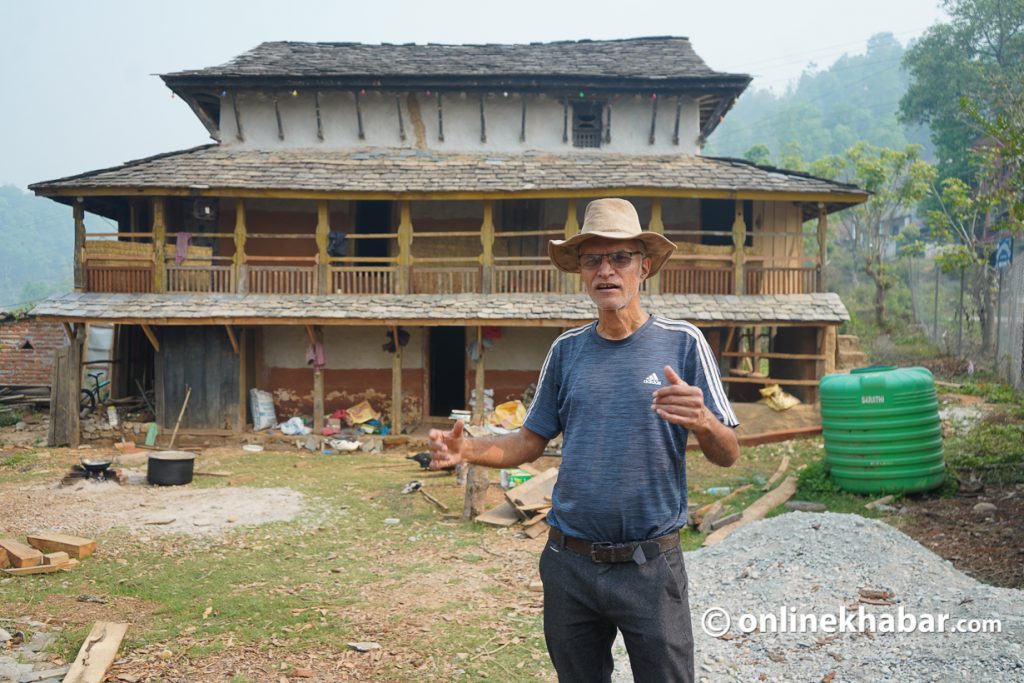 Narayan Wagle has been involved in farming for over 18 months now. He spends most of his time there but often comes to Kathmandu to visit his wife and daughter. He also spends a lot of time talking with his brother Janak, who grew up with him in this house in Jamune.
Wagle spent his school years in this house, after which he moved to Kathmandu taking his teen brother with him.
His family migrated to this place from Damauli of the district when Wagle was 13. In Damauli, his father Lekh Nath started to develop a fear after seeing his sons swimming in the Madi river even during the monsoon.
The kids were naughty. Their parents tried to explain to them the dangers of swimming in the river, but they did not listen. Frustrated, they moved from Damauli as they wanted to save their children from the river.
As his parents died, the house was deserted. The two sons who they left behind have earned fame in their respective professions. While many people from his generation quit agriculture to do some things, Wagle has come back to his roots to do something very different. But why?
When we met him, Narayan Wagle was washing carrots, cucumbers and other greens in a stream near his house. There were chickens and ducklings frolicking in the yard. We could smell dung, which, for me, was quite refreshing as you rarely get to do that in Kathmandu.
"First eat these cucumber, carrot and greens," he says. "You do not have to peel the out part like you have to do in Kathmandu. This is 100 per cent organic."
By organic, he means local seeds and local fertilisers with zero chemicals in them. Near Bhyas municipality's ward 11 office, Wagle has another house that showcases his personality.
In these one and a half years, Narayan Wagle has planted and grown varieties of multi-species plants, vegetables and fruits.
When I eat it, I realise that my tongue had forgotten the taste of locally grown produce. It takes me back to my childhood growing up in Panchthar. Vegetables there are full of pesticides now.
The metamorphosis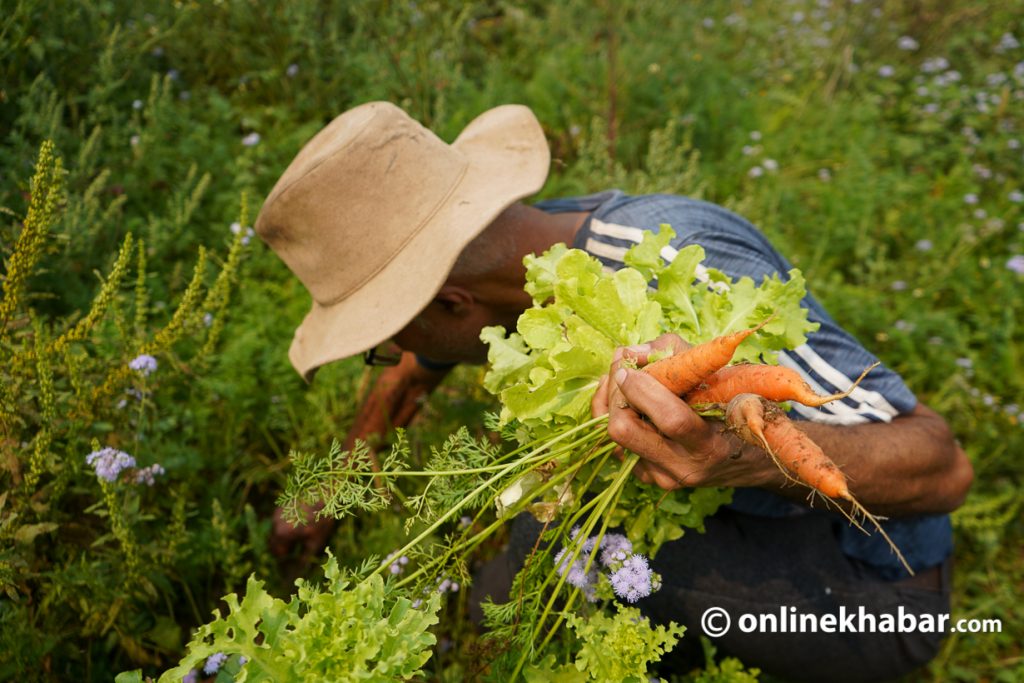 Despite becoming one of Nepal's best editors and storytellers, Narayan Wagle did not show interest in the middle-class dream of building a house in Kathmandu. He was always seen roaming the streets of Kathmandu wearing trekking shoes and a backpack.
There were times when many people bought Kantipur just for the sake of Wagle's column. Many even tried to emulate him visiting coffee shops to drink coffee.
Narayan Wagle proved himself as a journalist as he rose through the ranks from reporter to editor-in-chief. But he describes the years of being an editor as wasted years.
"These are my lost years," he says.
Maybe that is why, unlike many of his colleagues, he did not stick to this profession when he started to question it.
Whether Narayan Wagle is in the newsroom or not, he is someone Nepali journalism cannot replace. That is why many questioned his decision to leave Kathmandu and settle in Tanahun.
The commercialisation critic
Children of farmers in Nepal today have very little chance of adopting their parents' profession. Hardly anyone today dreams of becoming a farmer as it is discarded profession that is looked down upon in society. So how did Wagle decide to return to his roots?
The answer is not so simple. We want to talk to Wagle about the professionalism of agriculture in Nepal. But he is not interested.
"The reason for the current state of farmers is this race to make it commercial. They think commercial farming means growing strawberries or avocados. If you grow something else, it is unprofessional," Narayan Wagle says.
He believes that the idea of ​​commercialisation will only make farmers a tool for big businesses. He thinks that this will divert farmers from real farming and make them directly dependent on the market. He alleges that the leaders are trying to do easy politics of votes by calling it the commercialisation of agriculture. He argues that politics should be done differently.
Narayan Wagle also blames the press for this. He complains that the journalists have turned agriculture into numbers. As all the media cares about is how many vegetables they sell and how much money they make.
"That is all that you can report on," he questions.
But I question him back.
"We have to talk about these too, do we not," I ask. "Don't they need some financial gain?"
"Yes, they need to. Good question," he replies.
This is the typical way through which Narayan Wagle answers questions. "Good, good" comes out of his mouth frequently. He might not like what you have to say, but he will say "good" at any time.
I ask again, and then, he answers this in detail.
"After being able to prove that the local products are healthy and cheap, there will be financial benefits automatically. Increase consumption around your products, charge prices and collect as much as you spend. We need to make local products attractive again, then money will come," he says.
Narayan Wagle has a plan too. He wants to concentrate on fruits and plan other items around them. He says if he can grow vegetables throughout the year, making money will not be difficult. He also wants to start a farm stay by installing tents and hosting people.
Tanahun Farm is the name of his farm. He is building a cafe that looks like a log house. He plans to grow his own coffee within three years.
Isn't it fun? Many scholars say Nepal has not developed. They question why Nepal has not been developed. They say why Nepal has not developed. Some political leaders even say they will change the face of the country.
Wagle wants the country to do well too. But, he knows he can do nothing alone and says the country needs a collective force for things to change.
Narayan Wagle is not in the running to be politically appointed in a lucrative position. He is not prepared to contest the election either. Instead, when democratic rights were taken away by those in power, he repeatedly took to the streets in the past and showed his support.
He has suffered the abuse of the police. He still faces angst for his speeches. It does not seem as if he has prepared the ground for entering politics by showing immense potential in this country. Neither is he in the mood to go abroad.
Thinking global, acting local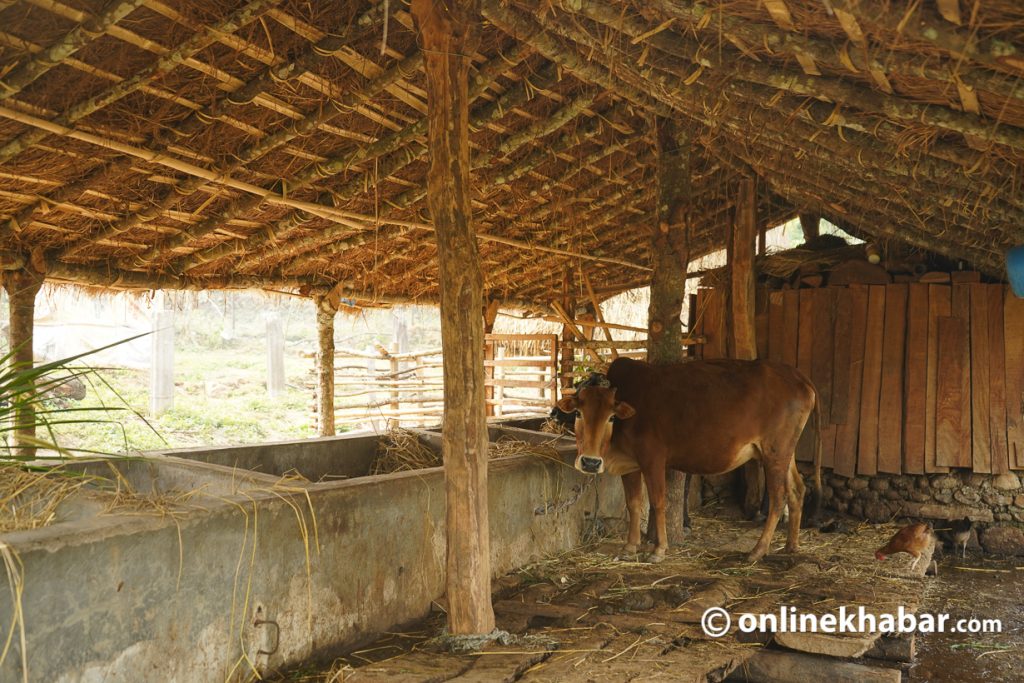 Narayan Wagle has transformed himself. Standing beside a cow, he looks like a skilled cowherd as the cow looks comfortable beside him.
"Look, this is a local cow. This is now rare. Nepal has six types of local cows," he says. "This is a bee hive. Come next month, I'll give you some honey to taste."
He then moves towards a guava tree. He is so tall that he does not even need a stick to pick guava. He reaches out and plucks it.
It is getting hot outside. He indicates we move inside. Wagle says that living in a mud house in such a hot summer is more satisfying than an AC room.
"Look at the red house. That's the ward office. It is made of cement. Nowadays, building such a house in the village has become a matter of honour. These houses, however, are very hot. It's very hard to sit there even with the fan on."
Narayan Wagle continues, "Building these houses is so expensive. You'll have to pay the loan amount for years to come. Now, if we want to protect the environment, we have to work in architecture as well. This is the way to store energy."
We move to the garden. He has made a seasonal plan so that vegetables grow throughout the year. The place also had a Malabar plum (jamun) tree. That is how the place got its name. The tree is full of fruit during monsoon.
Narayan Wagle wants only local products on his farm. He says he does not want to use hybrid seeds as he has found how hybrid seeds destroy local plants.
"This is uwa; it's like a barley. This is found only in the mountain regions," he says.
Soil vs science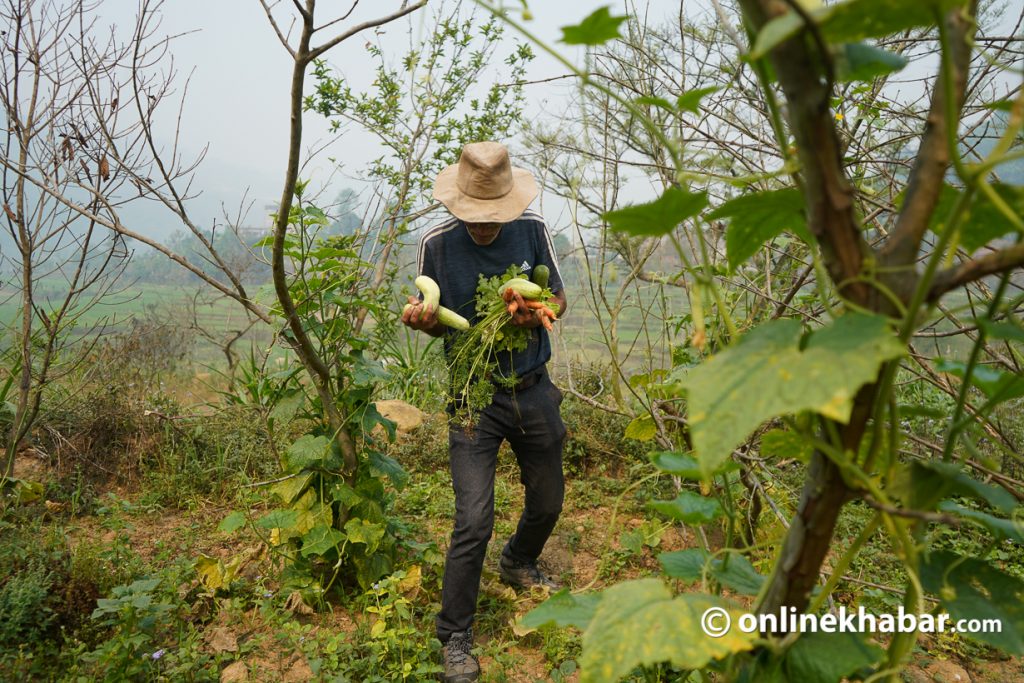 Narayan Wagle has planted hundreds of fruits. He says he has planted avocados, lychees and mangos. The trees are small now, but it looks like they will bear fruit now and he will not have to wait long.
"Will they grow in this soil?" I question.
He tells us how he is trying to save science from experts. "Science has spoilt a lot of things in this country over the past seven decades. In the name of modernisation, politics of development and science took place in this country. As we started to neglect local seeds and knowledge, we have had to be dependent on different technologies. Many so-called experts misused science," he argues.
Narayan Wagle continues, "These experts design a course from foreign-aided hybrid seeds and pesticides and promote chemical farming. In doing so, they destroy what worked for ages."
But was science not used because our ancestors' knowledge fell short? Take soil testing for example. But Wagle does not like the idea of soil testing too.
I ask him a lame question. "Is it right to question the intentions of those who test the soil? Don't you want to upgrade the soil?"
Before he can answer, I try to make my question stronger. "Are you trying to go back to the past and ignore science?"
Narayan Wagle replies, "Nothing can test the soil better than plants. Let's plant the seed and grow the plants properly. Then, we will know if the soil is good or not."
Wagle is impressed by the agricultural work being done by the Narendra Modi government in India. He thinks only Modi's politics is poisonous; the work he is doing in other sectors, however, is commendable.
He gives the example of a zero-budgeting farm policy that aims to cut down farming expenditure drastically and ends dependence on loans. It also reduces dependence on purchased inputs as it encourages the use of local seeds and locally available natural fertilisers.
Narayan Wagle believes this can be done in Nepal too and use indigenous and local knowledge to grow crops. He thinks that studies like Vedic agriculture, which Kathmandu University is currently teaching, should also be conducted elsewhere.
Some people question if this policy will in a way try to promote one religion although the concept is already present in the agricultural knowledge of not only Hindus but also other indigenous communities. "Not everything new is good," he says.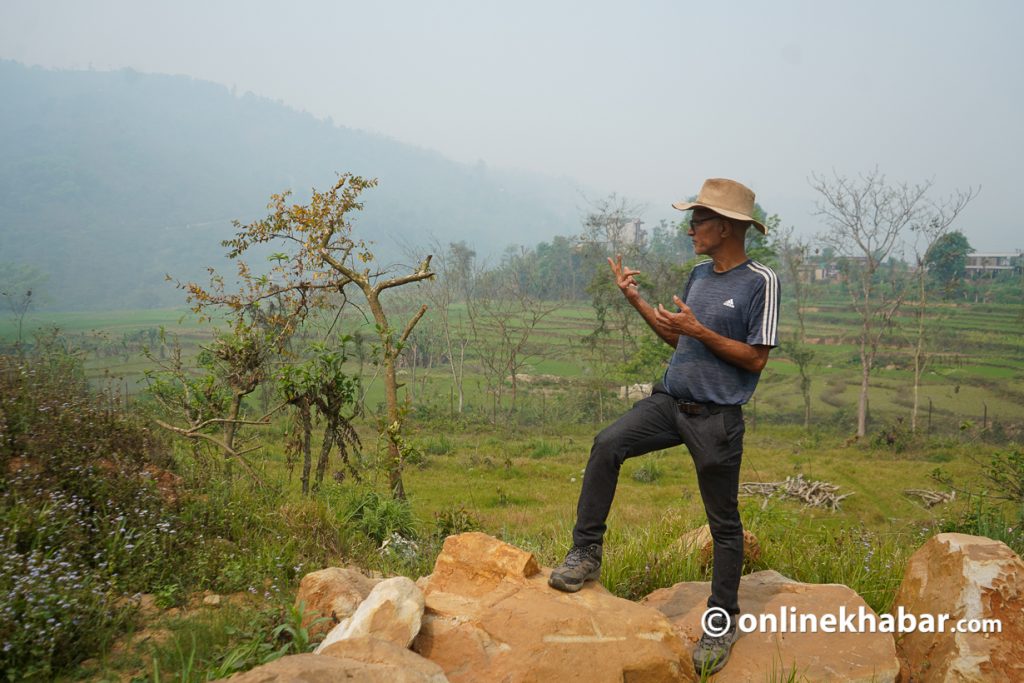 But our questions are simple. Do we not need fertilisers and pesticides to produce more?
"Produce more is a slogan in itself," Narayan Wagle says, pointing to the paddy field with his long finger, "This was grown with zero chemical fertilisers. People told me if I planted it this way, the crop would not grow. They told me not to do it and use pesticides and gradually reduce their use. But I did not listen to them and look at the outcome now."
With the help of his guide Mahendra Shrestha from Shuklagandaki, Wagle has the desire to show people what things can be done even without using chemicals.
"I've seen farmers get bitten by the police as they queue for fertilisers. I want to tell them don't go there and do what I am doing.".
After returning to the village, some villagers suggested Narayan Wagle remove bushes from his land. They told him to cut down all the needlewood trees. The local District Forest Office also suggested he do so.
The forest in his land only has one species. He plans to expand it by next year but people are still telling him to cut down the trees.
"When I listen to their knowledge, I feel like slapping them. This is what knowledge our state has. It is embarrassing," Narayan Wagle says. "They do not understand the importance of needlewood trees. These trees are stronger than sal."
Living in harmony with nature
Over the past year, Nepalis have seen foreign cows being brought for breeding purposes. But Narayan Wagle wants to focus only on local cows.
Wagle is worried about local animals disappearing. He says that animal husbandry will flourish only if biodiversity is increased more than before along with an increase in farm capacity and promotion of organic farming.
Wagle is currently studying two cow species, siri and naumuthe, from eastern and western Nepal respectively. He is trying to figure out how to get the most out of them. T
"Naumuthe cow is probably the smallest cow species in the world. Achham should have used that as its USP and promoted the place and brought in tourists," he says. "The cow is small but gives nutritious milk."
Narayan Wagle has reared khari goats too.
"The amount of bacteria in local cow dung is not found in any other manure. Therefore, we should pay as much attention to animal husbandry as crop farming," he says.
Writers love birds. But most do not like insects. They do not even like caterpillars which turn into butterflies, but Narayan Wagle is different. He loves insects like any other animal.
The pear tree near his house has fallen down due to a gust in early April. Next to fallen trees are thousands of insects. The tree, however, is not dead. It continues to fight as its roots continue to help it stand.
Wagle is now planning to move to the house that he is restoring. His bedroom is about to be completed. His colleague Surendra Thapa's room has already been built.
Narayan Wagle wants to ensure his kitchen does not use artificial energy sources. He says he might be using it during the start but adds he wants to use firewood to cook food in a stove that he has ordered from Nepalgunj. He says the stove is built in a way that the room will not be filled with smoke.
"My wish is to buy nothing apart from salt," he says.
Wagle thinks that the agricultural research going on in Nepal is not going to make the farmers stronger, but they are going to make them weaker and helpless.
He is worried that the farmers are losing the knowledge that they should keep seeds and fertilisers at home and not depend on the market for hybrid seeds and fertilisers. This has weakened them, he argues.
"We need to change the definition of success in agriculture," Narayan Wagle says. "If this cannot be done, the farmers will become more and more discouraged in the present system, and their children will become more distant from farming."
Building local biodiversity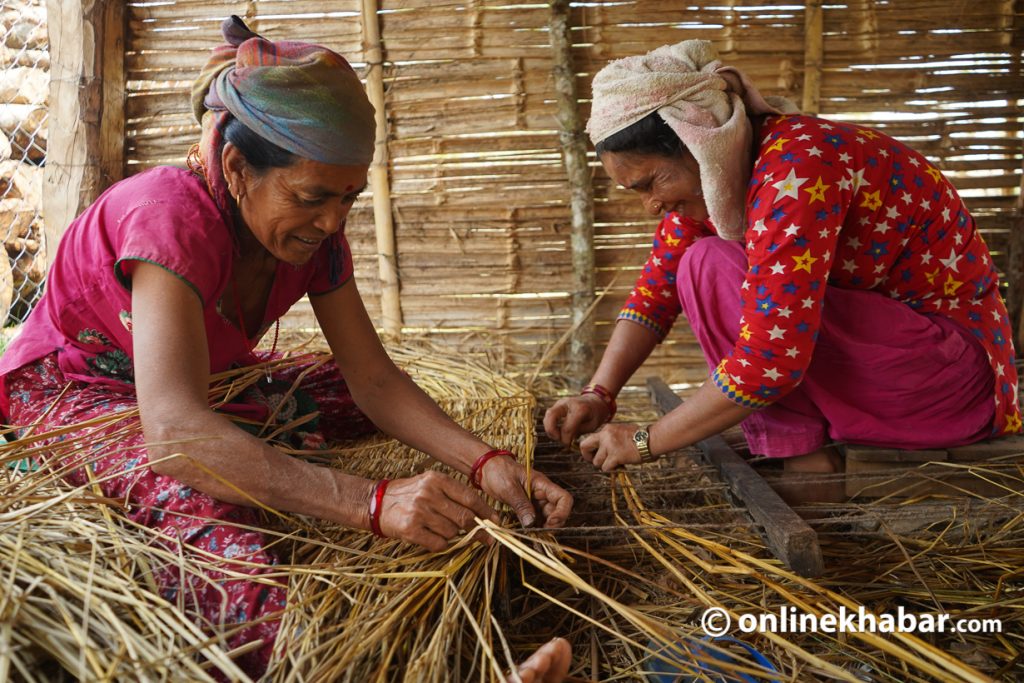 Wagle considers agriculture a communal activity where everyone helps everyone. However, he has seen that it is possible to earn money through responsible and quality farming. Let's see what results will be obtained from his efforts.
"This is a communal activity but I have been doing it alone. A lot needs to change for us to go back to our roots," he says.
Narayan Wagle believes the seed banks are only there to do business and the use of pesticides is so rampant that birds are no longer seen in fields. He says maybe the birds are being poisoned by the pesticides and falling dead while flying.
His farm, however, is different as there are a lot of birds. Why is it so?
He says his soil is different, which is why it has a lot of insects and birds come to eat them. The danger, however, is not in the soil. It is in the sky, Narayan Wagle says.
In the past, an electric pole has been buried in the area. This has increased the risk of birds being electrocuted and falling dead on the ground. Wagle has seen this live.
I believe there will come a time when Wagle will write a book about all this and more.
"I might write but now my focus is on the farm. After I finish this house, I will start working on my new novel," he says. "I will try to give two hours a day at least."
Currently, he is very busy trying to find the seeds he wants to plant on his farm. He wants to plant 300 sugarcane plants next.
Recently, the seller told him he would not sell the plants if Wagle did not apply pesticides. Then, Narayan Wagle refused and now has been looking to buy from others.
The seller told him that if he did not use pesticides, he was throwing his money. But Wagle is not going to budge and is stubborn about planting it without pesticides.
Back to nature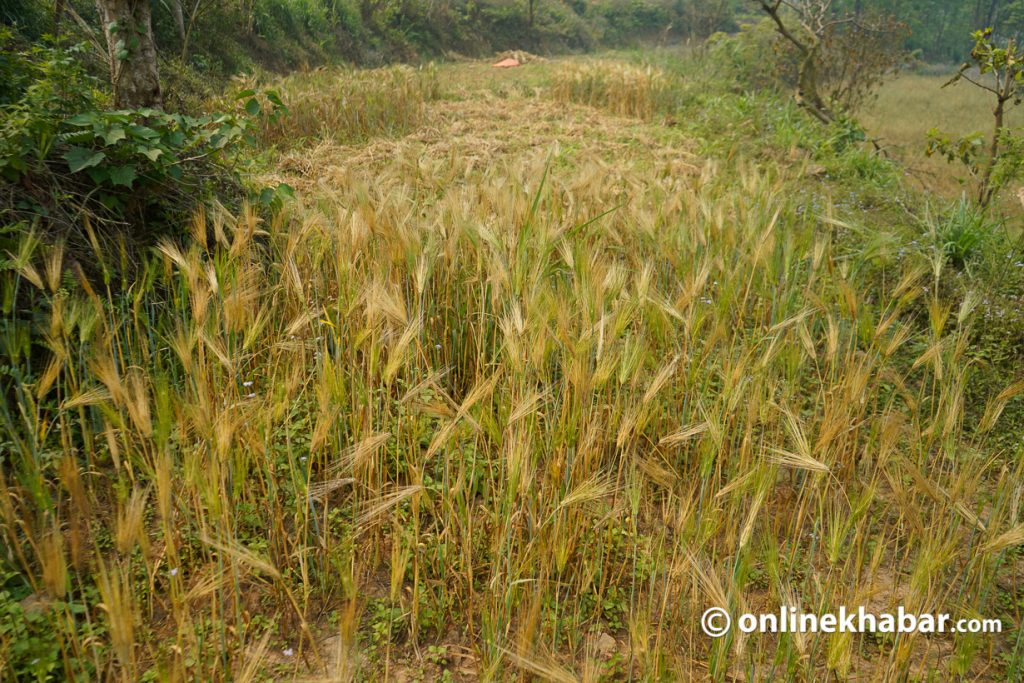 His talks give me hope. But I cannot help but ask him why he chose to go back to his roots when others have tried to stay away from it.
"This was destined I think. I also feel that production is the best thing in the world. At a time when farming is struggling, I think me going back has made me realise a lot of things," says Wagle.
Narayan Wagle has started to inquire about the crisis of farming by himself from the experience of his ancestors and the knowledge he is acquiring. Through this, he is at the stage of starting a new phase.
Wagle has evolved over time. He would be seen around the Tri Chandra Campus writing poems. In the 90s, he became a reporter. In the 2000s, he became the editor of Kantipur and Nagarik and wrote the famous Palpsa Cafe.
In the 2010s, he did less journalism and was involved in more writing workshops and civil movements. Now, in the 2020s, he is being rejuvenated as Narayan Wagle, a farmer.
He has many introductions. But what is he known for the most? Who is Narayan Wagle? A novelist? A journalist? A rights activist? A farmer?
He ticks all the boxes. But he gives me a detailed answer.
"What I am is curious. A writer can write, and a farmer can farm. I am also a foodie who loves to eat healthy and fresh food," he says.
"At this stage, I am eager to know why our soil has deteriorated, and how to cultivate it. I am a farmer with curiosity about how to protect nature through farming, how to make farmers independent and self-respecting, how to promote healthy food and a healthy earth."
"I am a protester who wants to ensure democracy is strong enough to help those in need. I am an independent writer guided by personal interests and nature, but a farmer who is outraged by the global system's ruthless exploitation of the earth and nature today."
It is safe to say Narayan Wagle is different. He will not fit in everywhere he goes, but he is special.
---
This story was translated from the original Nepali version and edited for clarity and length.