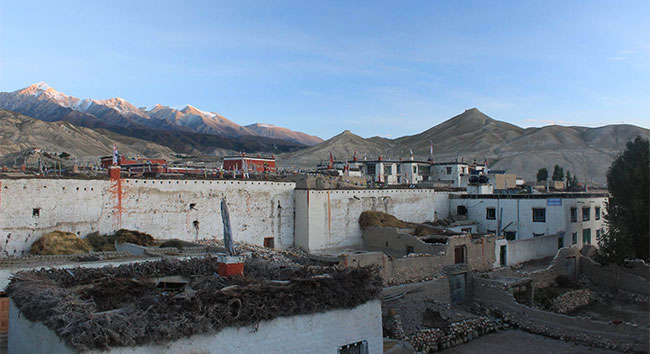 Mustang, October 31
Local people have reconstructed the Lomanthang Palace located in Mustang district.
The eastern section of the palace had developed cracks after last year's quakes. Mustang district administration office had put palace reconstruction on priority and recommended the Department of Archaeology to provide funds for the reconstruction work, but to no avail. Local people chose to rebuild the palace on their own instead of waiting endless for funds from the department.
Indradhara Bista, a local of Lomanthang, informed that the palace was built in the 15th century in a special way by using mud.
According to Bista, the cracked palace was posing a threat to houses and Gumbas located nearby, so local people decided to reconstruct the palace. Bista said local people repaired the damaged section using mud and timber to lessen the risk of its collapse and the resulting threat to nearby structures. The palace is a landmark of Upper Mustang and a major tourist attraction. It is in the name of former King of Mustang, Jigme Parwal Bista.
Indradhara, who is close to Mustang's former royals, said local youths toiled for a week to rebuild the palace.
Local people had requested the former royals to rebuild the palace as it was on the verge of collapse. The former king, suffering from asthma and diabetes, has been living in Kathmandu with his family.