Kapilvastu, March 11
Mahalaxmi sugar mill, Nepal's largest sugar mill based in Javabhari, Shivaraj municipality-13, has closed citing the lack of  raw materials. The mill closed during the peak season for sugar production, unable to operate even for two months for what it calls 'a shortage' of sugarcane.
According to mill owners, the mill incurred a loss of Rs 100 million this year.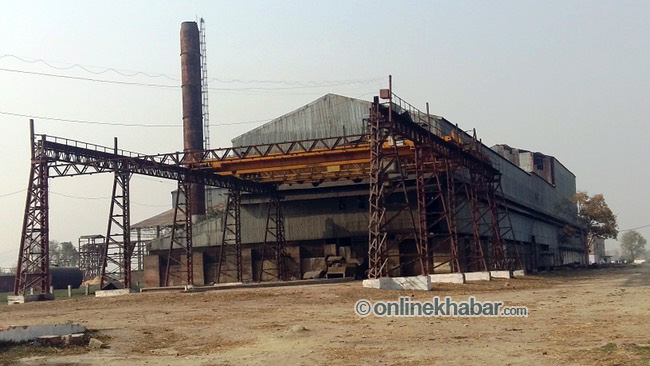 KD Prasad, the mill's general manager, said they had no option but to shut the plant, which started its operation quite late due to the Madhesh movement and the Indian blockade, for want of sugarcane required to operate the plant in full capacity. Mahalaxmi can crush 25,000 qunital sugarcane daily. Due to the shortage of sugarcane, the mill says it has been crushing a maximum of 18,000 qunital sugarcane daily for the past few years.
Last year, Mahalaxmi had started crushing sugarcane on December 7, 2014 and shut the plant on March 14, 2015.
This year, Mahalaxmi started its operation from the month of Poush. It shut 58 days after starting the crushing, citing obstructions in the supply of sugarcane. The mill operators had been importing sugarcane from India as well, pointing at the shortage of sugarcane in Nepal.
Last year, according to GM Prasad, the mill crushed 14. 52 lakh quintal sugarcane. But this year, it crushed 7.15 lakh quintal sugarcane for want of the raw material.
The owners say they could import just 2.9 lakh qunital sugarcane from India this year due to the blockade. From Nepali farmers, the mill had reportedly purchased 4.25 lakh quintals of sugarcane.
While the mill owners say the factory had to incur a loss of Rs 100 million due to the shortage of raw materials, farmers say such is not the case.
Last year, the recovery (production of sugar per quintal of sugarcane) was 8.7 kg. We have information that the recovery was 11 kg this year, said Anup Chaudhary, chair of the Farmers' Association (Kapilvastu). There's been an increase in recovery, so the company has not incurred any loss, Chaudhary said. The association complained that the mill had not paid the farmers (for the sugarcane purhased on credit) on time. The government-set price for a quintal of sugarcane is Rs 448, but Mahalaxmi pays us Rs 441 only, the farmers said.
This year, the mill paid Indian farmers Rs 280 per quintal of sugarcane.