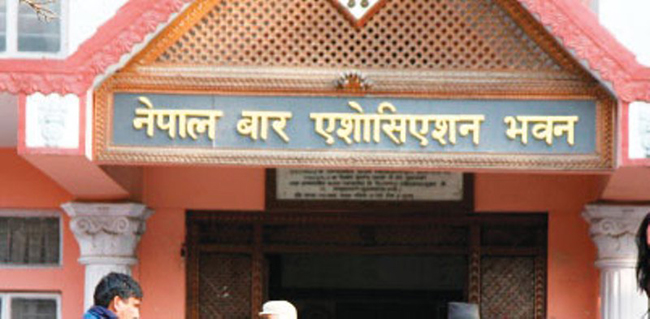 Kathmandu, June 17
Legal experts have levelled serious allegations against Nepal Bar Association.
The experts reacted after the Sher Bahadur KC-headed Bar issued a press release defending Nepali Congress President Sher Bahadur Deuba, who allegedly made remarks against the Supreme Court. The experts said the KC-headed Bar is becoming a mere tool in NC leaders' design to weaken the court.
In the wake of Deuba's remarks, the apex court had issued a press release, urging all concerned not to make irresponsible remarks against it.
KC's press release in support of Deuba has proved to be divisive for the Bar. The NC has not responded to the court's statement as yet. Instead, the Bar itself issued a press release criticising the court.
The Bar's statement has come as a boost for leaders making irresponsible remarks against the judiciary. It has also raised questions on its professionalism.
Against this backdrop, experts have questioned the Bar's move that appears to give an impression that the lawyers' body is siding with the Congress leader in question.
Former vice-president of the NBA, Tika Ram Bhattarai, told Onlinekhabar: It is unfortunate on the part of Bar to issue a press release in favour of some party leader.
He said the Bar release, which criticises the court, has tarnished the image of the Bar itself. He told Onlinekhabar: The Bar should never act like a sister organisation of some political party.
NBA can of course demand early appointment of justices in view of lack of justices, Bhattarai said, adding: But it is unbecoming of the Bar to issue a press release in defence of some leader.
Bhattarai said: Leaders keep mum when the Supreme Court issues press releases in response to their remarks, but then Nepal Bar Association stands in their defence. This is unfortunate.