Name: Prem Bahadur Lama
Age: 61
Address: Kavrepalanchok
"I already gave all my information to the club here," he hesitates to introduce himself to us. Upon stressing, he gives his brief introduction, says, "My home is in Kavre. Now, I live in Ranibari of Kathmandu."
He is residing is at a furniture factory here. "I lost my parents a long time ago. My wife has passed away too, in 2014," he shares.
Waking up in the morning, sitting on the roadside, lost in thoughts: That is how he is spending his days. Every afternoon, he starts hoping that someone will come and give him food. He walks from Ranibari to the BG Mall near the Naya Bus Park, in Gongabu. There, a local youth group has been feeding people regularly during the ongoing lockdown.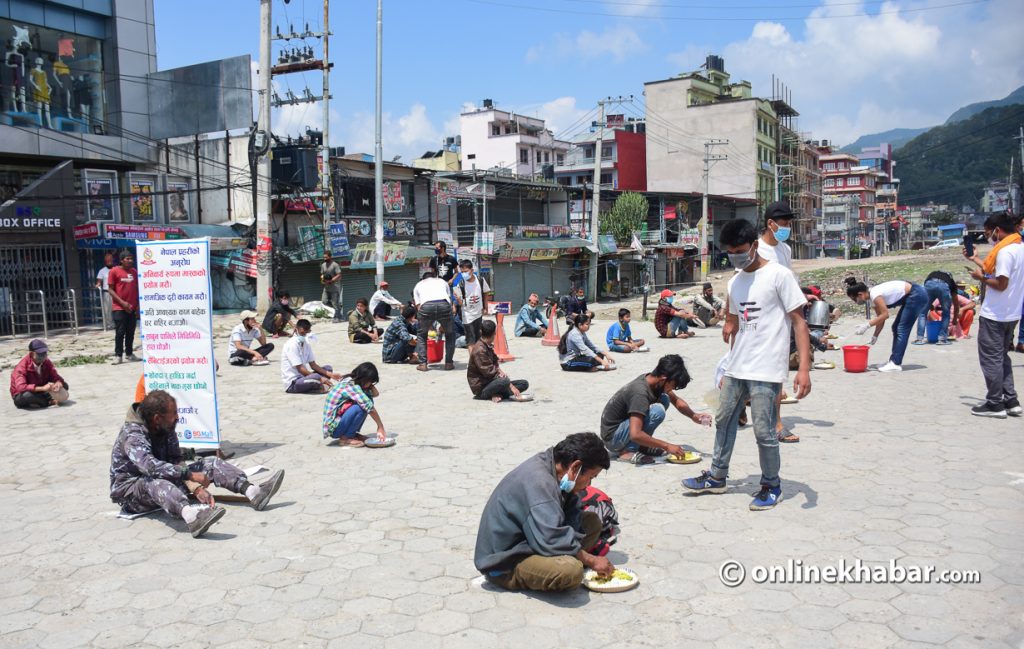 His kitchen has been empty for several days. Reaching BG mall has been his routine.
He eats, returns to his room, and lies down. However, even at the age of 60, Lama's enthusiasm for work has not diminished.
Exactly a year ago…
Lama worked as a labourer, called by contractors left and right to work. The work was going very well. He was satisfied with the money he earned by working, making ends meet.
Busy in his work, he one day found out that a virus, coronavirus, had spread. At first, he did not pay more attention to it. "Such diseases come and go. However, the government imposed a lockdown when the pandemic increased its intensity."
Then, Lama realised what really happened: his work stopped, the money he had earned got spent. There was no problem with shelter. But, he faced a shortage of cooking gas.
Someone told him that the government was providing 'relief'. Keeping his problems aside, he ran to get the relief aid at the ward office, a memory still fresh in his mind.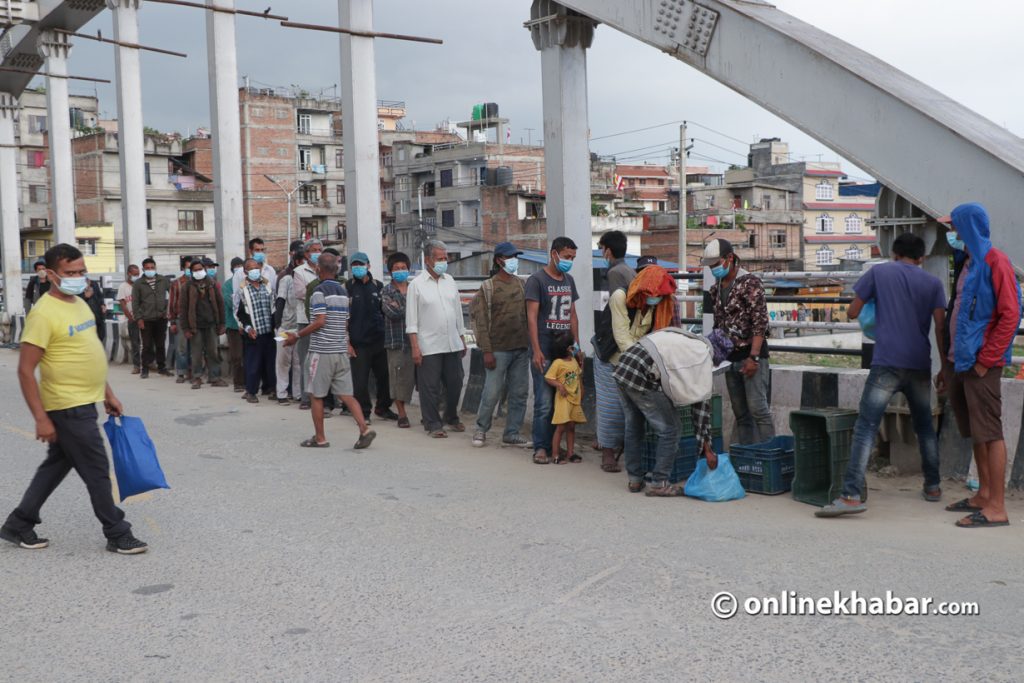 "I got five kilos of rice, a couple of oil pouches, salt and pulses; only enough for a few meals. But, that became a boon when things were rough," he remembers. But, time passed and the relief was over.
"Now what to do?" He began to think hard.
Then, the government loosened the lockdown. Many he knew had already gone back to their villages. He also felt that he should go back to the village too, and reached Gothpani of Kavre.
There are his brother and sister-in-law as well as other members of the family. He went back to the village as everyone in the family treated him well.
Then, the government further loosened the lockdown and those from the village started returning to Kathmandu. Lama also joined the crowd and returned to the city. "I have been living in Kathmandu since 1998. I got used to this place."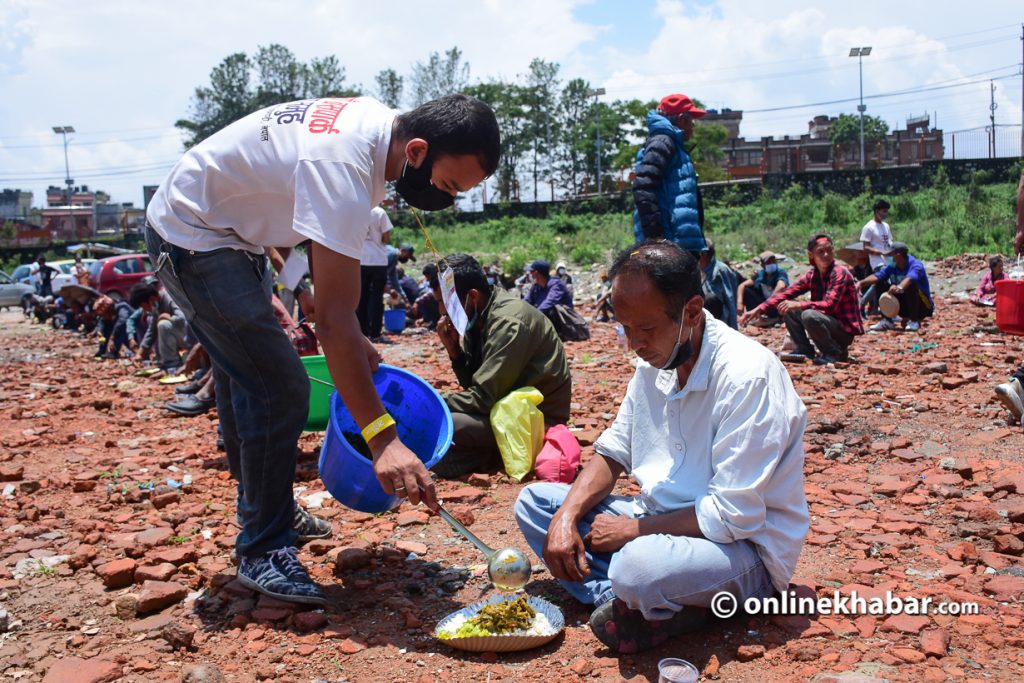 And, this year…
This year too, the government has imposed the prohibitory order in Kathmandu from April 29. But, he did not go to the village this time. Neither did he get the relief like last year. He says he gathered the courage to stay and survive in Kathmandu anyhow.
An old friend arranged his stay at a furniture factory in Ranibari. But, he has not paid the rent.
"Sometimes, they ask me to pay the rent, but I would if I had the money."
If his work continued regularly, he would not have problems. However, since work has completely stopped, he has to wander for food. To ask for food was very awkward in the beginning, but, he says that meant he would go hungry; so he caved in.
"I used to be a driver, then I started working as a labourer," shares Lama, cleaning the lentil spot from his pants. "I arrived late today. While eating fast, I dropped some."
Mahankal Youth Group has been distributing food every day to many hungry souls like Lama here. He is just one among the many daily wage earners who lost their jobs and livelihood during the lockdown.
On Saturday, the government has announced the budget plan for the upcoming fiscal year 2021/22. He does not know a bit about the budget. In the past, he used to be interested in the budget, used to hear people talk. This year, even though he knew about the budget announcement, he did not show any interest and admits he does not know the details.
"The new budget may have come, but for whom?" he asks. "Budgets are not for us, it may have come for others. We have lost our jobs, all we do is asking for food, desperately. We are happy someone feeds us."
He says his goodbye at the dusk. "I have to come here to eat again tomorrow."