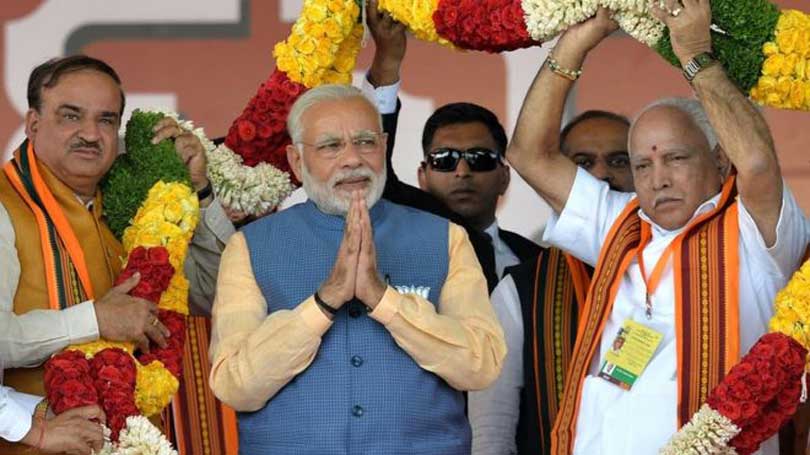 Kathmandu, March 10
Nepal's Minister for Home Affairs Ram Bahadur Thapa last week said that the impending visit of Indian Prime Minister Narendra Modi to Nepal is solely for religious and spiritual purpose and it has nothing to do with politics. However, there are analysts who believe that one of the most important reasons Modi decided to visit Nepal, is linked with the biggest event in Indian politics this week–the elections in the southern state of Karnataka.
Well, what's the connection between the two events? Modi's party the Hindu nationalist Bharatiya Janata Party wants to boost its image as a pro-Hindu party as it campaigns for the elections–in a move to woo voters.
Anil Chamdia of BBC Hindi writes, "The Indian Election Commission enforces a silent period of two days before the election scheduled for May 12 prohibiting parties from undertaking any promotional activity. Hence, Narendra Modi has came up with a different idea to run his campaign."
During the Assam and Tripura elections in 2014, the unveiling of the BJP's manifesto was telecast live by the Indian media. Similarly, Modi's visit to the Somnath temple in Uttar Pradesh during the election last year was also telecast live by the media in India. The BJP has been criticised for using Hinduism as propaganda to promote the party.
Continuing this tradition, the Indian Prime Minister's visit to Janaki Temple, Muktinath and Pashupatinath in Nepal will be broadcast live as the 'main news' in the Indian media–an effective way to reach to the voters.
The Election Commission in India can easily prohibit the BJP from campaigning during the silent period, but it has no authority to stop Modi from running the campaign show in Nepal!