It is Jay Ram Karki's 12th year in the Nepali music industry. Popularly known as Jay Ram, Karki is now one of the most prolific drummers in the industry. Over these years, he did the same job without losing any excitement.
Of late, he has started something different–more exciting and more productive.
"The joy and energy I found in playing the drums are incomparable to any other instruments, " says Jay Ram, adding he wants to pass that energy on other potential and emerging drummers now.
Recently, the 30-year-old Jay Ram Karki, associated with the TMR Trio, has started doing drum tutorials on his YouTube channel. He wants to utilise his skills by providing proper lessons to the younger ones. 
"There are people from far-flung who have access to the internet and can even afford the drums, but they lack institutions that can mentor them properly," says Jay Ram. "So for those individuals, I have started making tutorial videos on YouTube."
The tutorial gives lessons from the basic level. He says he has been getting fruitful responses regarding the videos. "I have tried my best to make the lesson clear and understandable," he says, "I believe my small effort can contribute largely to the Nepali music scene."
A change he wants
There are a few reasons why Jay Ram Karki has been one of the few drummers that ruled the sector for over a decade. Firstly, the Nepali music industry lacks well-played drummers in good numbers. A single drummer is found playing in a couple of bands. Further, there is no consistency among the drummers. They either switch to another instrument, leave the country or else leave the job.
"A drum set is financially unaffordable for many musicians and likewise it is not easily shareable as other instruments such as guitar and keys," says Jay Ram. Likewise, advancement in technology is also another important factor that has impeded the opportunities available in front of drummers.
"Most of the studios at present prefer to program drums rather than playing it live. Doing so reduces the cost of studios. Programming is easy to do as it takes less time, space and effort."
Similarly, to some extent, instruments such as djembe and cajon have also replaced the drums, making the career of a drummer less attractive.
But, Jay Ram wants to change that.
A capable leader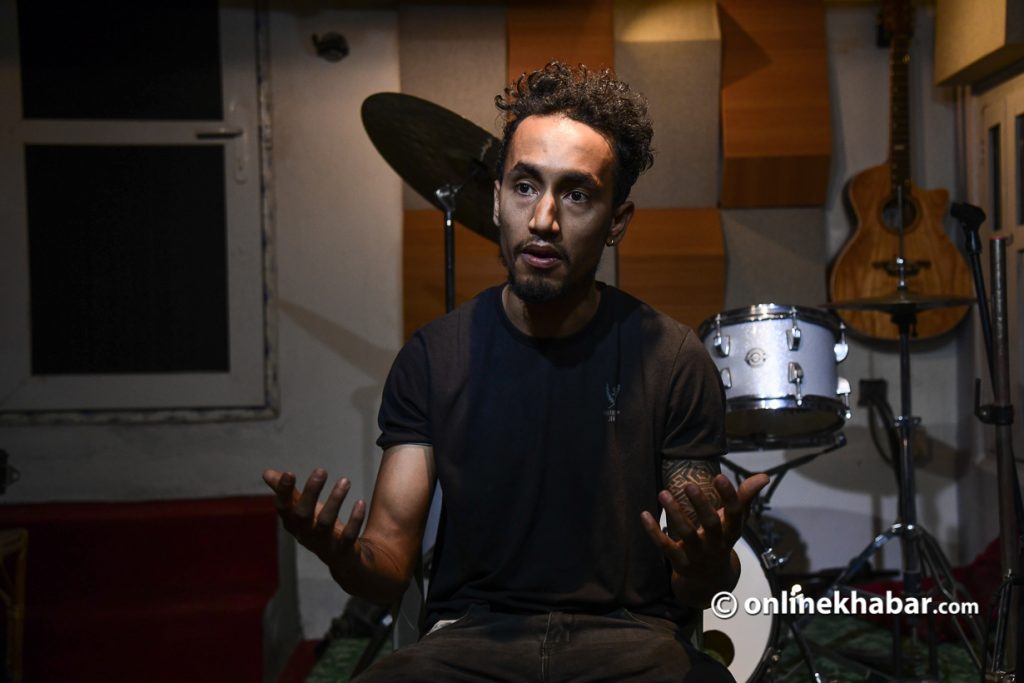 It is highly likely that Jay Ram Karki will be able to effect that change given his dedication to the field.
He started playing the drums from his high school days. Prior to that, in his school days, he used to be a guitarist and a keyboard player. As there were already much better guitarists in his musical circle, Jay Ram says he picked up drums. Akin to present days, back then as well, the numbers of drummers were less. Hence, playing the drums fascinated him more than playing any other instrument. Afterwards, he joined a drum class in a music institution to hone his skills.
While many drummers failed to maintain consistency in Nepal, Jay Ram is an exception. Despite enormous ups and downs, he continued drumming. There was even a time when his family was against his love for music and drums. But, somehow he managed to continue the music.
When he started playing it, 12 years back, he never thought of devoting such a long time to it.
"I was just concerned about practising, working hard and enhancing skills on music."
So what made him continue the music?
"Financial and emotional backup from my friends, supporters, and senior musicians helped me maintain consistency in music. Even the one whom I don't know appreciated my work.," says Jay Ram Karki. "To acknowledge and respect their effort, I continued drumming. Those things still inspire me."
Jay Ram says, "To maintain consistency is really a tough task, especially when it comes to music."
According to him, one should never be result-oriented instead be focused on giving the best.
"Once you start giving the best quality, people will recognise you. All you need is patience. Things do not change overnight."
Jay Ram says he continued the job because there were many people who inspired him. But, the inspirations were different from time to time.
"Today I may be inspired by one artist whereas tomorrow I may be inspired by another one. Mainly, the one who does the hard work to come up with quality music is my idol musician."
For him, it does not matter whether they (the idol musicians) are popular or not.
The value of versatility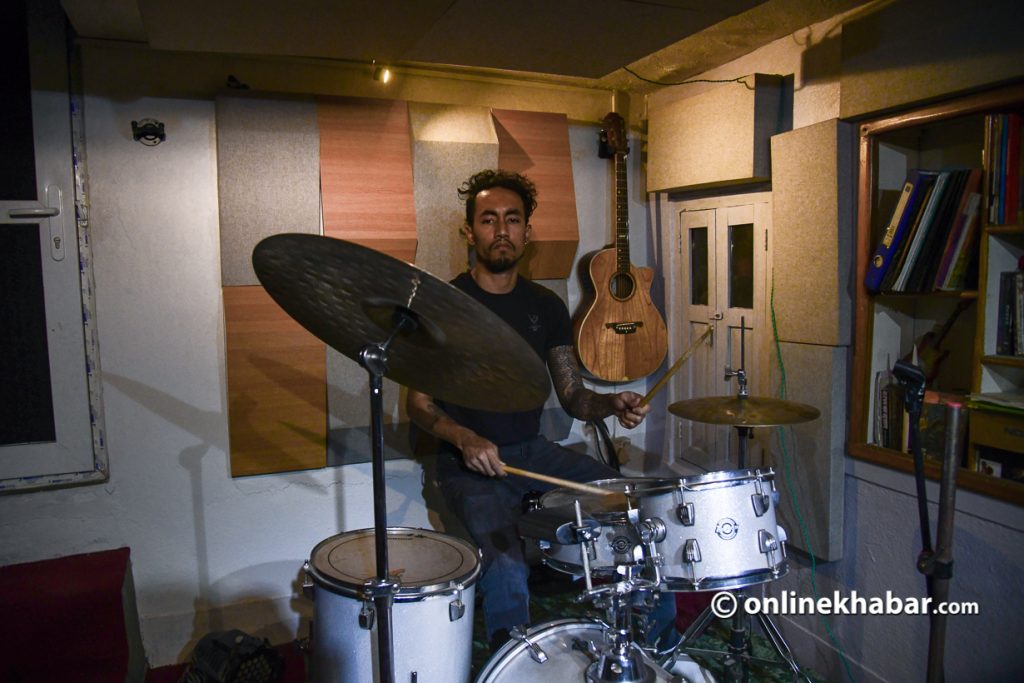 Jay Ram Karki was an active musician in a Nepali metal scene. Back then when he started playing the drums professionally, the metal scene of Nepal was thriving significantly. Every week, there used to be metal gigs. Bands like Pantera and Lamb of God were the talk of the town.
He even toured different places of Nepal and India by being associated with metal bands. Jay Ram was also a drummer for Binaash, one of the most recognised death metal bands in Nepal to date.
But later, his interest in metal music declined. Playing in a metal band continuously made him monotonous. "I started getting bored with the metal."
"As you need to focus on speed to play for the metal, I felt like it limited my drumming skills. To hone my drumming skills and knowledge I switched to another genre," says Jay Ram Karki.
He believes it was his best decision ever as it was also hard to sustain just by engaging in a metal band.
On the other hand, he also wanted to become a versatile musician. Subsequently, he even played for pop, jazz and rock bands. This made him realise that every music is beautiful in its own way and all of those genres helped him to understand the music vividly.
He thinks this versatile experience can help him teach the younger folks more effectively.
Besides producing YouTube tutorials, he is also a drum instructor in Rivals Music Land, a Lalitpur-based music institution.
A voluntary commitment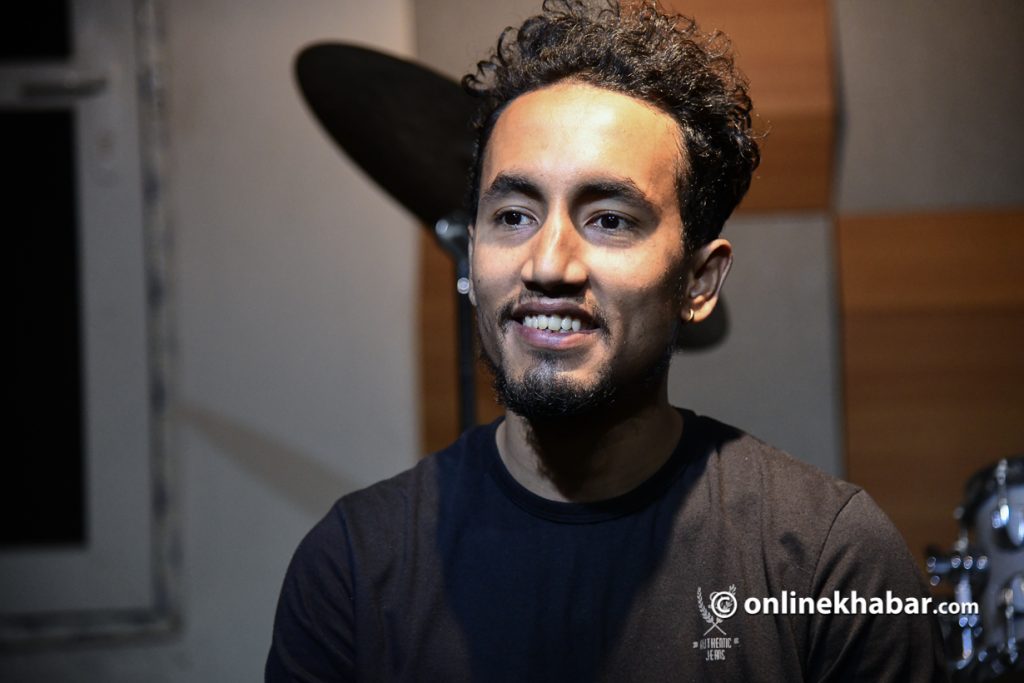 He says he does not teach drums for money.
"My main motive is I want to give a number of top-notch drummers to the Nepali music scene."
There are a few students of Jay Ram Karki who are already potential drummers. He says if he had asked for money, they could have never come to his contact to learn.
All he wants from them is dedication, determination and hard work.
"Our music scene is in great need of quality drummers and I want to fill the gap," says Jay Ram.
But, a lot of musicians in Nepal go through a financial crisis. It is very difficult for them to become financially independent just by doing music. Yet, Jay Ram suggests there are a few other ways to cope with the challenge.
Firstly, he says musicians should not stick with a single genre.
"It will be better if the musicians try to explore more genres ranging from folk to rock and metal," says Jay Ram Karki. "Similarly, they should avoid lingering on a single platform and try doing everything including studio work, teaching, live sessions and others."
Another way for musicians to overcome financial problems is by starting a business related to music.
"For instance, there are still very few standard music stores. One can think of running it," says Jay Ram.
For himself, music has never been a source of money only. Instead, it is a religion for him, he says.
"Music has just not taught me about sound, but it has enlightened me about the art of living, " says Jay Ram. "More than a decade I have devoted my life to music, and I am not quitting it anytime soon."
Instead, he wants to pass it on to several others like him.