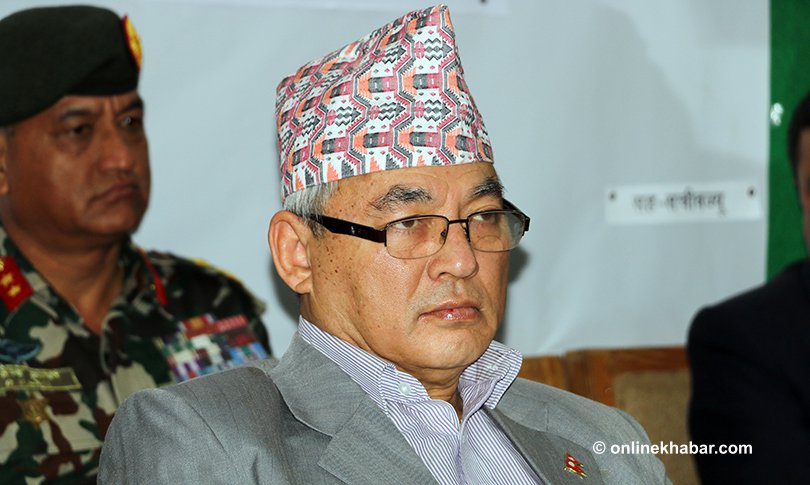 Kathmandu, May 21
Influential NCP leader and Minister for Home Affairs Ram Bahadur Thapa (Badal), considered one of the key architects of the Maoist rebellion, has formally switched sides to ally with party chief and Prime Minister KP Sharma Oli.
According to party sources, Prime Minister Oli, impressed by Thapa's loyalty in matters related to the internal politics of the NCP, is likely to name the former Maoist leader as the party's chief of organisation. The party, which was formed after a merger between the erstwhile UML and Maoist Centre parties, has convened a meeting of the secretariat to name the new chief of organisation.
This, according to sources, means that Thapa and his former commander Prachanda, are no longer allies in the party that is divided into several camps. Thapa, who was earlier accused by the Maoist leadership of trying the Lin Biao  'trick' (the former Chinese military leader who tried to usurp Mao) on Prachanda, established himself as an influential leader in the party by overseeing the party mechanism to choose candidates for the general elections. As a result, Thapa maintains a strong grip on the party as well as the government.
Meanwhile, Oli wants to leverage the support he has received from Thapa to demoralise former Maoist factions within the new party and to reduce Prachanda's influence on the ranks. Oli believes that this strategy will pay dividends during the new party's general convention which will elect a new leader.  "Minister Thapa has more faith in Oli than in any Maoist leader," a source close to the minister told Onlinekhabar. This is the reason, Thapa decided not to inform Prachanda about Oli's decision to sign a deal with former separatist leader CK Raut and to issue a circular to CDOs to issue citizenship by descent to anyone born in Nepal.
Sources claim that Thapa, who warns his entourage to maintain a distance with the press, is the brains behind the controversial media council bill that has provisions to fine journalists up to Rs 1 million for writing 'libelous' news. "The proposal was to keep the fine to Rs 100,000. But Thapa insisted that it be increased to Rs 1 million," a source said.
However, it will not be easy for Oli to get Thapa's name approved for the coveted post. Questions are likely to be raised about the capacity of Thapa, who is already a minister in the government, to run the party's organisation. Of the nine members on the party secretariat, only two (Ishwar Pokhrel and Bishnu Paudel) have pledged allegiance to Oli and Thapa, both of whom are members of the secretariat.  Other members (Prachanda, Jhala Nath Khanal, Madhav Nepal, Bamdev Gautam, and Narayan Kaji Shrestha) are likely to propose that the secretariat name someone who is not involved in the affairs of the government and has time to oversee the operations of the party.