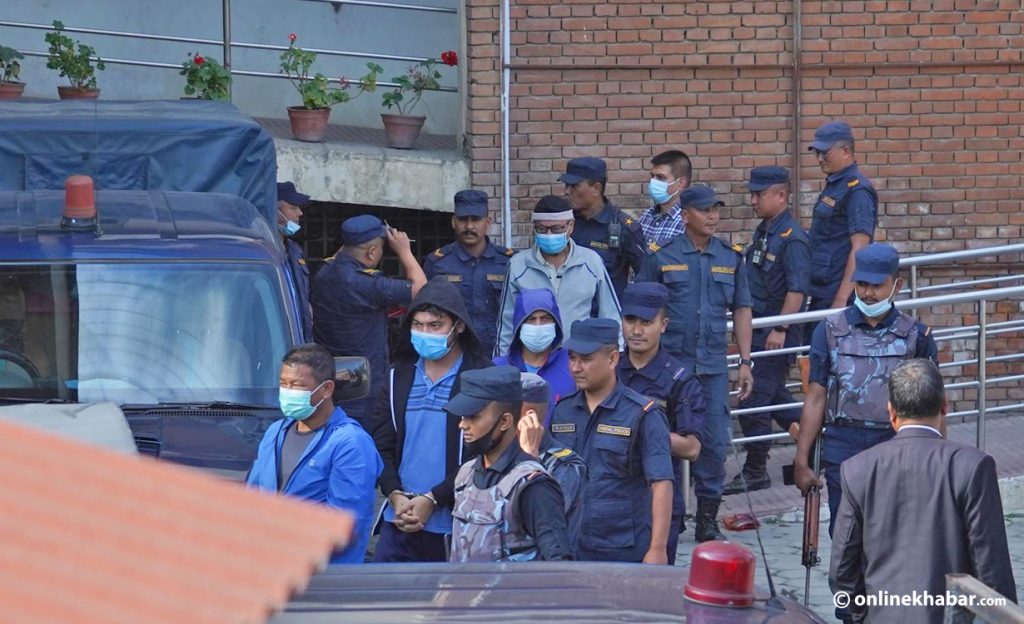 Kathmandu District Court has recorded statements of all 17 people the police arrested for their alleged involvement in the fake Bhutanese refugee scam.
During this, most accused have denied their involvement and wrongdoing. But some have revealed information that will help the police and the government attorney develop a strong case against the accused.
After arresting Sanu Bhandari and Keshav Dulal on March 26, the police started making high-profile arrests that shook major political parties to the core.
The first high-profile person to be arrested was Indrajit Rai, security advisor to former home minister Ram Bahadur Thapa followed by former Home Secretary Tek Narayan Pandey. Former Home Minister and Nepali Congress leader Bal Krishna Khand were also arrested as the fake Bhutanese refugee scam started to take an ugly turn.
Former minister Top Bahadur Rayamajhi, who had absconded was also arrested along with former speaker Ang Tawa Sherpa and Bhutanese right activist Teknath Rizal.
After a two-month-long investigation, the police, on May 24, filed cases of fraud, document forgery, organised crime and treason against 30 people involved in the fake Bhutanese refugee scam.
Denials galore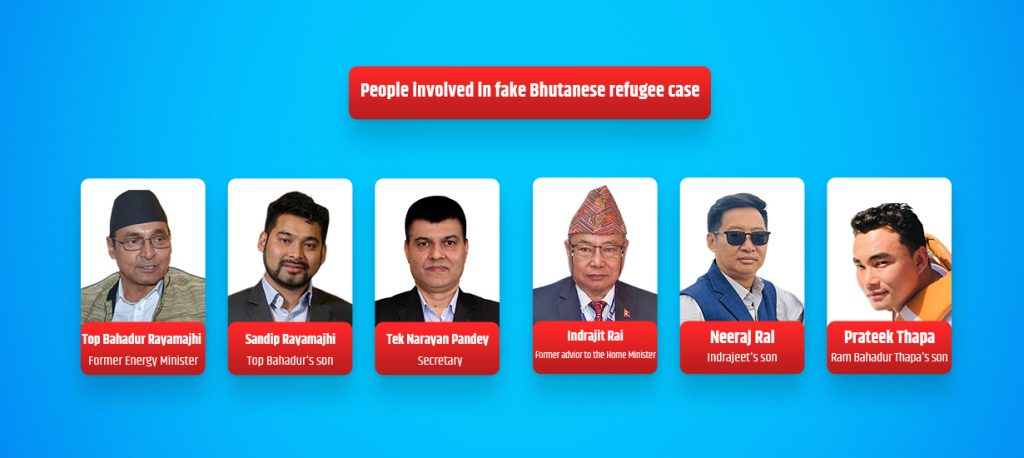 Out of the 30, statements of 17 people were recorded by Judge Prem Prasad Neupane where everyone denied their involvement in the fake Bhutanese refugee scam.
But the statements of Teknath Rizal and mediator Ram Sharan KC support the police's claim that Rayamajhi and Rai masterminded the fake Bhutanese refugee scam along with Dulal and Bhandari.
During his testimony, Rizal told the court that Rayamajhi, Bhandari and Dulal were the planners of this case while Rai was making sure that the policies were in favour of what they were about to do.
According to Rizal's statement obtained by Onlinekhabar, Bhandari and Dulal came to his residence in Birtamod to consult how Nepalis could be made fake refugees and sent to the US.
Rizal said that the two told him everything was in place for this to be successful when he expressed his worries as there had been no progress in solving the refugee problem for a long time.
"When the government was trying to bring such policies and laws, I could do nothing," said Rizal in his testimony. "I have for a long time stated how we could not take money from Bhutanese refugees who have been suffering for a long time and that things should be made smoother for them to leave for the US or other countries."
Key statements
Rizal revealed that he was not convinced by the two's offer and told he wanted to meet UML chair KP Sharma Oli and Maoist chair Pushpa Kamal Dahal. He said that Bhandari invited him to Kathmandu and when he refused, Rayamajhi himself asked him to come.
In Kathmandu, Bhandari and Dulal took Rizal to Rayamahi's home. Following that, Rizal said that he asked to meet Dahal once again as he started to have doubts.
"I, Rayamajhi, Bhandari and Dulal then went to Dahal's residence," said Rizal in his statement.
But he was not able to speak to Dahal who told him he was busy and asked him to talk to Rayamajhi promising his concerns would be addressed if it was possible.
Rizal told the court that he started to have doubts about Bhandari and Dulal after the meeting with Dahal. But when his earlier demands regarding Bhutanese refugees were met, he started to believe them.
"As far as I know, Top Bahadur Rayamajhi, Sanu Bhandari and Keshav Prasad Dulal are the main planners," he told the court during his testimony.
In response to another question asked during his testimony, Rizal said that Prem Raj Panthi and Ram Sharan KC were also part of this scam. Rizal however, denied his involvement in the fake Bhutanese refugee scam adding he did not take any money.
He claims that he got involved after being assured everything was being done at the government level and that it would benefit all refugees.
"I have done nothing wrong and taken no money," Rizal told the court.
Liar, Liar
Ram Sharan KC's statements have also helped the court. Claiming he is a victim, he said in his testimony that Bhandari, Dulal and Rizal led the effort to send Nepali citizens to Bhutan as refugees. According to him, in the beginning, nearly Rs 10 million was collected from 34 people and given to Dulal. In November 2019, they also started to fill in the names of people claiming they were Bhutanese refugees.
KC said that he deposited Rs 13.4 million in Sanu Bhandari's account adding he gave Rs 11 million to Keshav Dulal.
During the Covid lockdown, Sanu Bhandari returned Rs 15 million rupees, but then Dulal took him to meet Prateek Thapa, son of former home minister Ram Bahadur Thapa, who told KC that his work had been done and asked for money in return.
"I paid Rs 15 million in cash in October 2020 by mortgaging my house in the name of Sabin Maharjan and my nephew," KC said. He even met the chief commissioner of the Commission for the Investigation of Abuse of Authority (CIAA) last year and told him how the work, which started during his time as Home Secretary, was still incomplete.
"We complained that if they were not going to do what they promised, they should return the money they took from us. He told us not to worry about things and that he would talk to those concerned," KC said to the court.
As things did not move forward, KC and others filed a written complaint stating Indrajit Rai had taken Rs 55 million from them and had not returned it.
But many, including Bal Krishna Khand, Tek Narayan Pandey and others have denied any wrongdoing. However, Pandey has given a statement confirming that he manipulated Keshav Dulal's statement to protect Khand.
According to the police, when they arrested Khand on May 10, they found some documents. In one of them, Pandey had written how it would be beneficial for Khand if Dulal would change his statement.
"If he does not, things will be hard for you (Khand)," he had written.
Pandey has accepted he wrote that.
"After I learnt an arrest warrant was being issued, I wrote my personal feelings and messages on a notebook for personal purposes, not for the purpose of sending it to Khand," he said in a statement. "I have no intention to influence the investigation and judicial process by writing it."
Khand has not only denied that he tore the message at his residence, but has said that he did not know about the note.
His private secretary Narendra KC claimed that this message was recovered from his pocket and not Khand's. But in the police's report, it is clearly mentioned the note was found in Khand's house when he was being arrested for his involvement in the fake Bhutanese refugee scam.
---
This story was translated from the original Nepali version and edited for clarity and length.