Kathmandu, January 5
UCPN-Maoist Chair Pushpa Kamal Dahal 'Prachanda' has accused India of using political and military fronts to either disintegrate Nepal or annex it like Sikkim.
Prachanda said this while addressing a meeting of Revolutionary Journalists' Association at his residence in Lazimpat on Tuesday.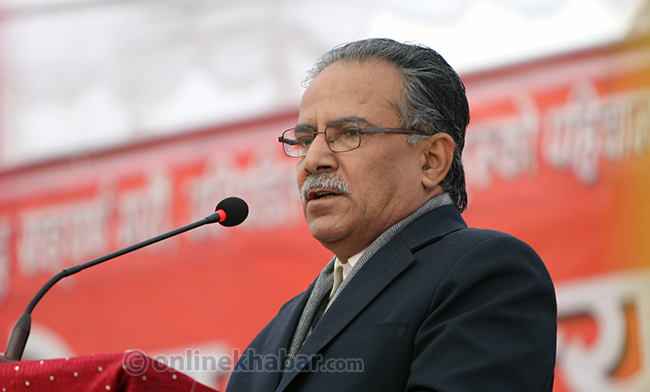 India has long-term designs against Nepal, he said, adding: It is using the Upendra Yadav-Mahantha Thakur combine as a political front and the CK Raut-Jay Krishna Goit combine as a military wing.
He requested all to keep in mind that one power centre is mobilising Upendra Yadav and CK Raut. "India is playing a game with far-reaching consequences. But we will not let it succeed."
He said preparations are afoot to sign a deal with forces staging a movement in the Madhesh.
Efforts are on to end the undeclared Indian blockade and the Madhesh movement, he said, claiming that the blockade will end soon. Not only Nepal, but India is also bearing huge losses due to the blockade, he said, adding: India is under pressure from different quarters to lift the embargo.