The foldable smartphone market is growing very fast. Many companies are going head-on to make the best possible foldable smartphones. This year, you have seen foldable phones such as Tecno's Phantom V Fold and Vivo's X Fold2. In this race, Google has also taken its first step by introducing its first-ever foldable smartphone, Google Pixel Fold. The phone is yet to arrive in Nepal, but you can expect it sometime soon if the dealers are interested.
Here are the details on what Google's first-ever foldable smartphone delivers.
Specifications
Dimensions (height, width, depth)
Folded: 139.7X79.5X12.1 (mm)
Unfolded: 139.7X158.7X5.8 (mm)
Weight
283g
Display size
Inner screen: 7.6mm
Outer screen: 5.8 inches
Display type
Foldable OLED
Resolution
Inner screen: 2208X1840 pixels
Outer screen: 2092X1080 pixels (FHD+)
Refresh rate
Inner screen: 120Hz
Outer screen: 120Hz
Protection
Inner screen: Corning® Gorilla® Glass Victus™ cover glass
Outer screen: Ultra-thin glass with protective plastic layer
IP rating
IPX8 water resistance
Chipset
Google Tensor G2
Titan M2™ security coprocessor
CPU
Octa-core (2×2.85 GHz Cortex-X1 & 2×2.35 GHz Cortex-A78 & 4×1.80 GHz Cortex-A55)
GPU
Mali-G710 MP7
OS
Android 13
RAM
12GB
Storage
256GB | 512GB
SIM
Nano-sim and e-sim
Rear camera
48MP main camera
10.8MP ultrawide camera
10.8MP telephoto camera
Selfie camera
Outer screen: 9.5MP
Inner screen: 8MP
Bluetooth
Bluetooth® v5.2
Wi-Fi
Wi-Fi 6E (802.11ax) with 2.4G+5GHz+6GHz, HE160
Battery
4821mAh
Charging
Fast charging (hours of power with minutes of charge) with 30W USB-C® charger with USB-PD 3.0 (PPS)
Sensors
Proximity sensor
Ambient light sensor
Accelerometer
Gyrometer
Magnetometer
Barometer
Hall effect
Colours
Porcelain | Obsidian
Price (expected)
Rs 290,000 (12/256GB)
Rs 310,000 (12/512GB)
Design and display
Google Pixel Fold's design resembles the Pixel 7 series. Google has not changed most of the design perspective from the very beginning, rather, it focuses on camera and software improvement. It has curves on every single edge. The back has a fingerprint-resistant matter ceramic finish with polished stainless steel all around the frame. The triple camera setup in the back has a bump like the 7 Pro.
When folded up, it is 12.1mm in thickness, which is quite thin in comparison to other foldable smartphones. It weighs 283 grams, which is heavy in size, but due to it being slim, it does not feel chunky but rather solid and premium.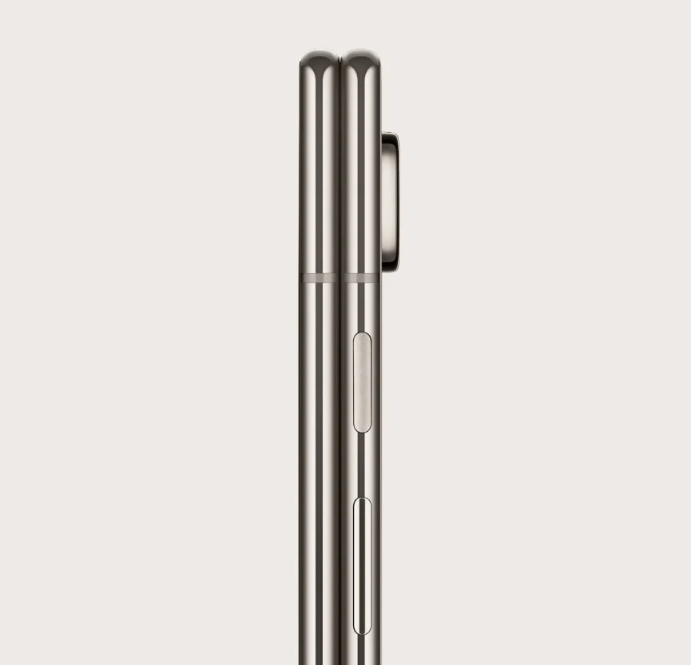 Google Pixel Fold uses a new hinge, which helps its fold look completely flat. Google calls it the fluid friction hinge. It folds and unfolds without any creek or sound and features mirror-polished, multi-alloy steel construction, ensuring durability and a sleek aesthetic. It incorporates a custom dual-axis, quad-cam synchronised mechanism, allowing smooth and precise movement. The hinge is designed to provide fluid friction across the full 180° range of motion, enabling secure support for different postures and angles.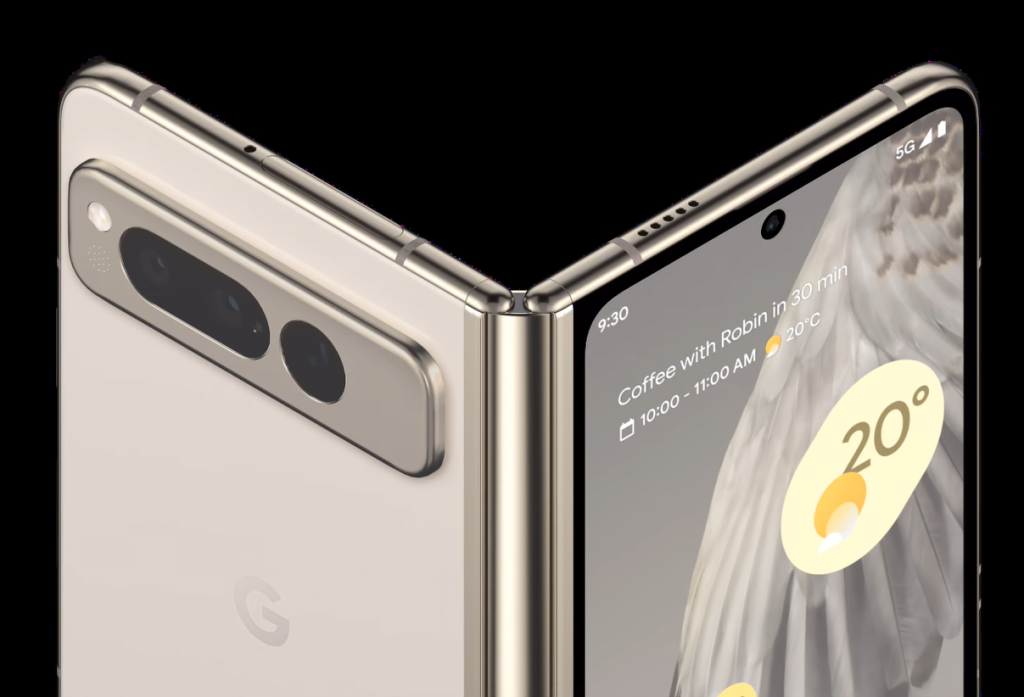 The outer screen has curves on the right side and is straight on the left due to the hinge with thin bezels all around. But the inner screen is to be talked about. The bezels are quite thick, which makes it look like it travelled back in time. With almost all the foldable smartphones leading the way to bezel-less design all over the smartphone, Google has tended to go for a traditional bezel look. The top and the bottom bezels are thicker than the sides probably giving area for the inner camera some space.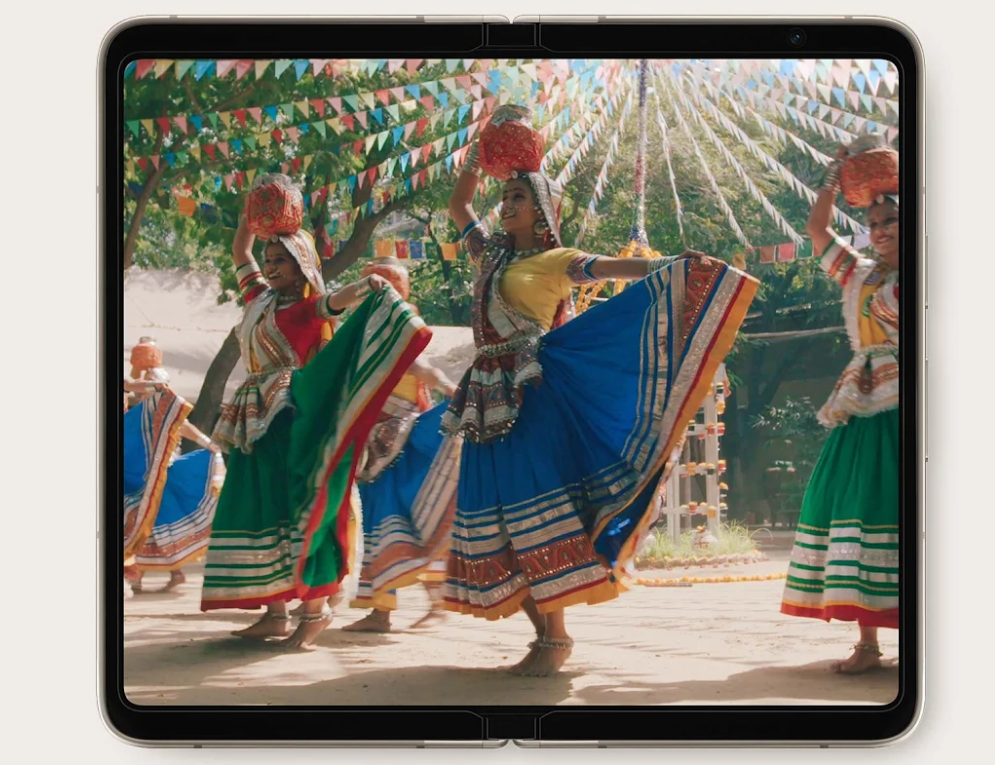 The outer screen of Google Pixel Fold has a 5.8-inch OLED display with an aspect ratio of 17.4:9 and a resolution of FHD+ 2092X1080. It supports a smooth display with a refresh rate of up to 120Hz and is protected by Corning Gorilla Glass Victus. It has 1200 nits of brightness in HDR mode and up to 1550 nits of peak brightness. It has a contrast ratio of 1,000,000:1 and supports HDR content. Pixel Fold's outer display supports a full 24-bit depth, providing a wide range of colours with 16 million colour options.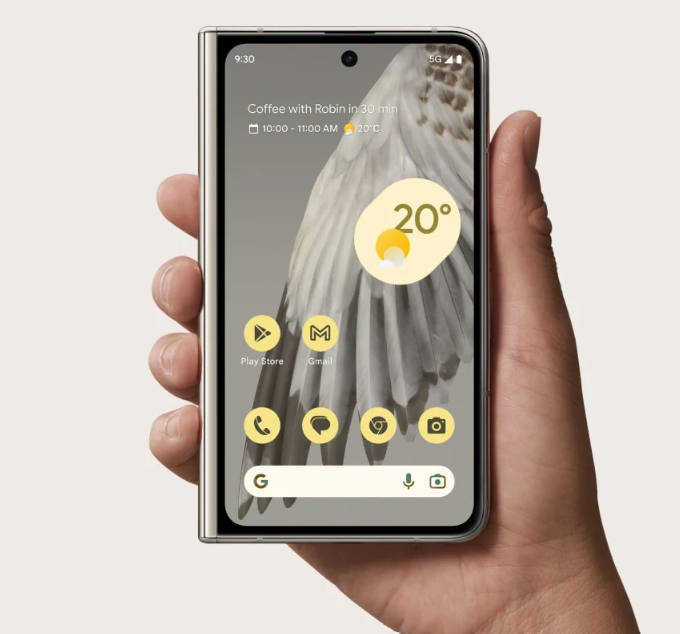 Pixel Fold's inner screen has a 7.6-inch OLED display with a 6:5 aspect ratio and a resolution of 2208X1840. It also supports a smooth display with a refresh rate of up to 120Hz. The internal display uses Ultra Thin Glass with a protective plastic layer.
It has up to 1000 nits of brightness in HDR mode and up to 1450 nits of peak brightness. It has a contrast ratio of 1,000,000:1 and supports HDR content. It supports a full 24-bit depth for 16 million colours and features an always-on display—at a glance and now playing.
Performance and storage
Google Pixel Fold is powered by the Google Tensor G2 processor, specifically designed for Google's devices. It features an octa-core CPU configuration, including two high-performance Cortex-X1 cores clocked at 2.85 GHz, two Cortex-A78 cores clocked at 2.35 GHz and four power-efficient Cortex-A55 cores clocked at 1.80 GHz.

The device is equipped with the Mali-G710 MP7 GPU, providing efficient graphics processing and a smooth user experience. It incorporates the Titan M2 security coprocessor, which is a separate physical memory processor that is purely used to store the users' sensitive data and prevent and reduces the risk of downloading unwanted files.
Camera
The primary camera features a 48MP sensor with Quad PD (phase detection) technology, optical image stabilisation (OIS), and contrast and phase detection autofocus (CLAF). The remaining two are an ultrawide lens with a 10.8MP sensor and a dual PD telephoto camera with a 10.8MP sensor that offers a 5x optical zoom capability and up to 20x Super Res Zoom for detailed long-range shots.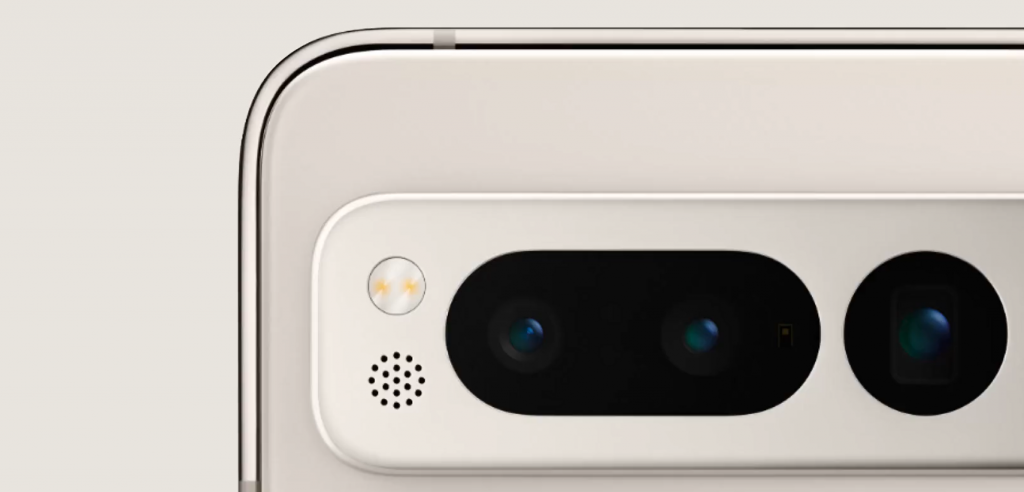 The rear camera system of Pixel Fold also incorporates advanced features such as a laser detect autofocus (LDAF) sensor for precise focusing and optical and electronic image stabilisation (OIS+EIS) to reduce blur and a spectral and flicker sensor for accurate colour reproduction. It can record 4K videos @ 30/60fps and 1080p videos @ 30/60/120/240fps. The rear camera can also be used to click high-res photos using the outer screen for reference.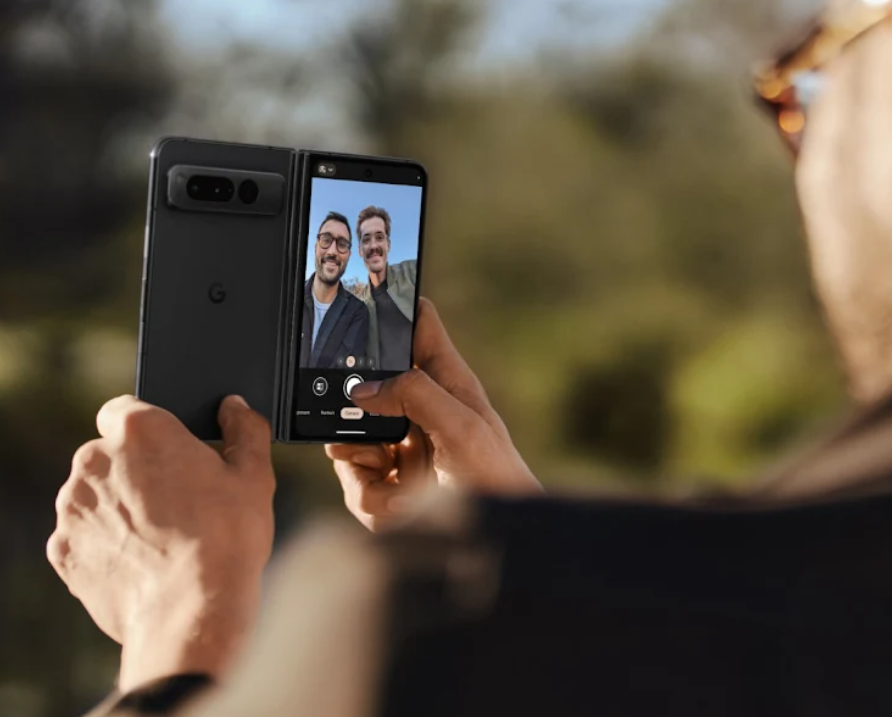 The front camera of Pixel Fold on the outer screen has a resolution of 9.5MP and utilises dual PD (phase detection) autofocus technology. The inner screen also has an 8MP inner camera, which can be used when using the inner screen for selfies, videos and video calling. The outer front camera can record 4K videos @ 30/60 fps and 1080p videos @ 30/60 fps while the inner front camera can record 1080p videos @ 30fps.
Battery and others
The phone is powered by a 4821mAh battery, which according to Google can last for 24 hours. For charging, it supports fast charging technology. With the Google 30W USB-C charger using USB-PD 3.0 (PPS), it can charge 100 per cent in around two hours.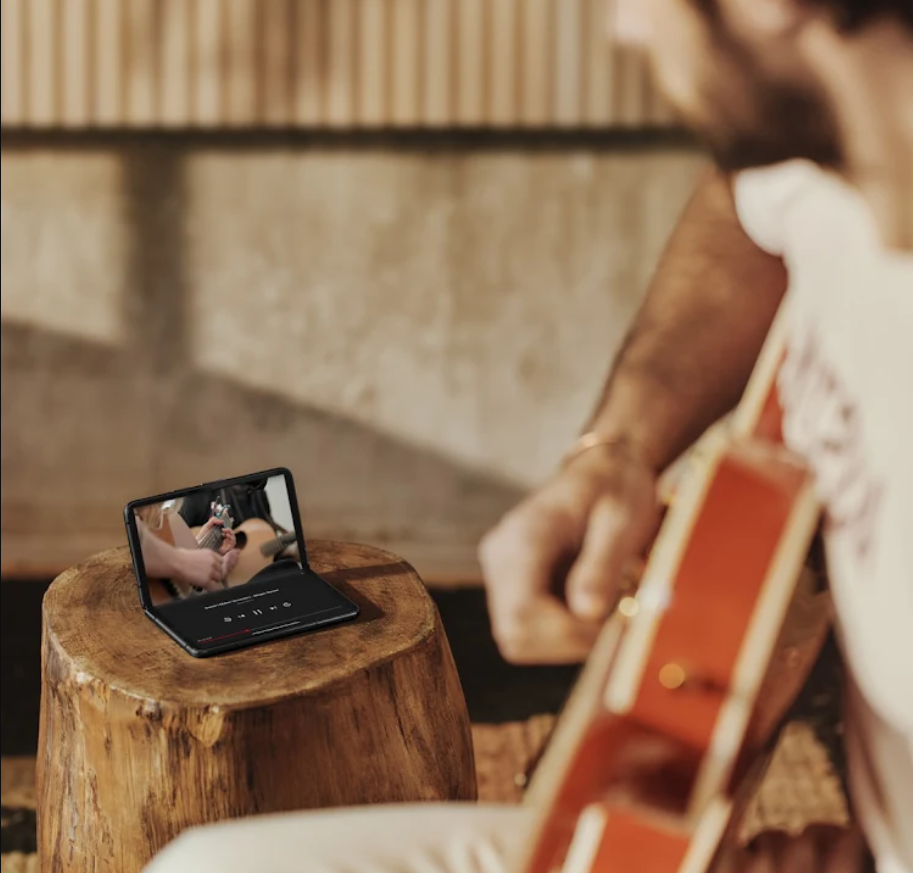 In terms of wireless connectivity, it features Bluetooth version 5.2, and Wi-Fi 6E (802.11ax) technology, which provides fast and reliable internet connectivity on the 2.4 GHz, 5 GHz, and 6 GHz frequency bands.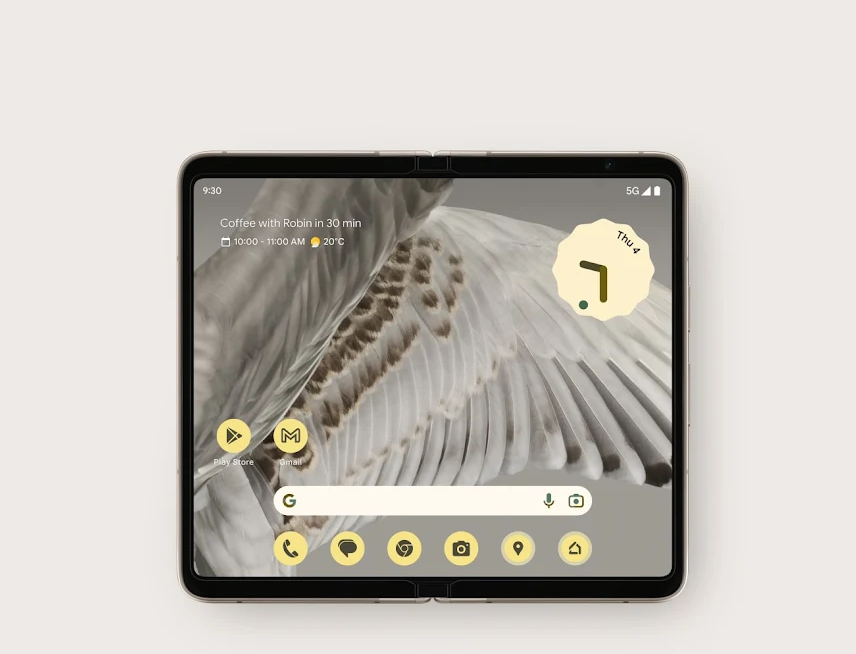 It incorporates various sensors to enhance its functionality and user experience. These sensors include a proximity sensor for detecting nearby objects, an ambient light sensor for automatic brightness adjustment, an accelerometer for measuring device motion and orientation, a gyrometer for measuring angular velocity, a magnetometer for detecting magnetic fields, a barometer for measuring atmospheric pressure, and a hall effect sensor for detecting magnetic fields and their strength.
Google Pixel Fold is available in two colours: porcelain and obsidian.
Google Pixel Fold is expected to come at the prices of Rs 290,000 (the 12/256GB option) and Rs 310,000 (the 12/512GB option).