Hundreds of people came to the Kathmandu Durbar Square area to mark Gai Jatra on Monday. Separate from the procession of people though, some 25 from the LGBTQIA+ community gathered and took part in the festival. But like others, they also had gathered to pay respect to their loved ones.
It has been at least 18 years since the country's gender minority groups have been celebrating the cultural festival with centuries of history for a different cause. Whereas the community feels neglected in other major social and political events, why these people are excited during this particular festival is an interesting question.
Here is the answer.
Two major connections
Anuj Petter Rai, a gay rights activist, says Gai Jatra is a day when people remember those who died in the past year in their families, and the LGBTQIA+ community's celebration is also not much different.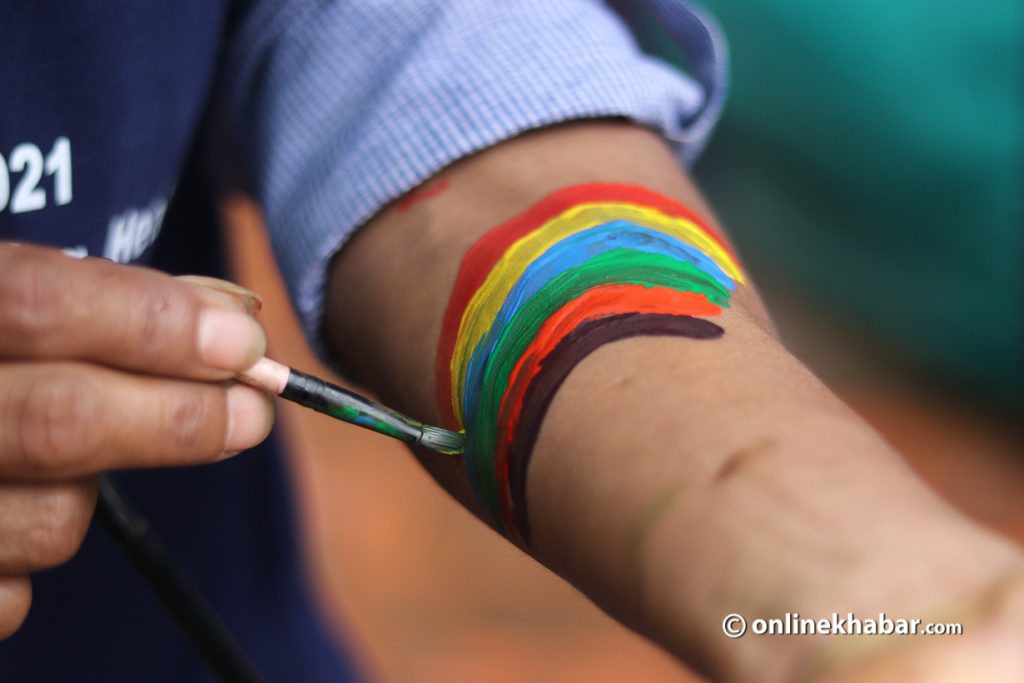 "We also lose many members of the community in a year. But, we do not get any outlet to remember them [as we are socially excluded]." Rai says Gai Jatra, however, gives them a perfect opportunity as everyone is remembering the dead ones.
For this year, the community across the country remembered 25 who lost their lives in a year's time. "Some died naturally, some of Covid-19, some others committed suicide while some were physically abused," informs Sudeep Gautam, the human rights officer of Blue Diamond Society, an organisation that hosted different events across the country on the occasion yesterday.
Over the years, multiple reports have come out regarding the abuse and violence against those from the community in Nepal. In January this year, a transwoman was beaten and 13 others were taken into custody in Kathmandu. In January 2020, another transwoman was reportedly raped and strangled to death in Hetaunda. Likewise, a transwoman and a gay man had reportedly committed suicide during the 2020 lockdown. In 2019, a transwoman was raped in Kathmandu and she died of her injuries later.
Amid this situation, why Rai thinks Gai Jatra is a safer occasion for the gender minority community to raise their voices is the idea of cross-dressing, which is the second reason why this festival has been special for the members of the community in Nepal. "This is the day when cross-dressing is acceptable in society. So the community came together as the festival does not promote traditional gender stereotypes."
"Regardless of anything, the community should be free to dress as they want," Gautam says, stating Gai Jatra, as a festival, is an occasion to demand this strongly.
"We may not get the support other days. But, on this day, people accept us the way we are and even mainstream media cover the community, its issues and it helps us advocate the problem. So, we will continue for sure," says Rai.
This year's celebration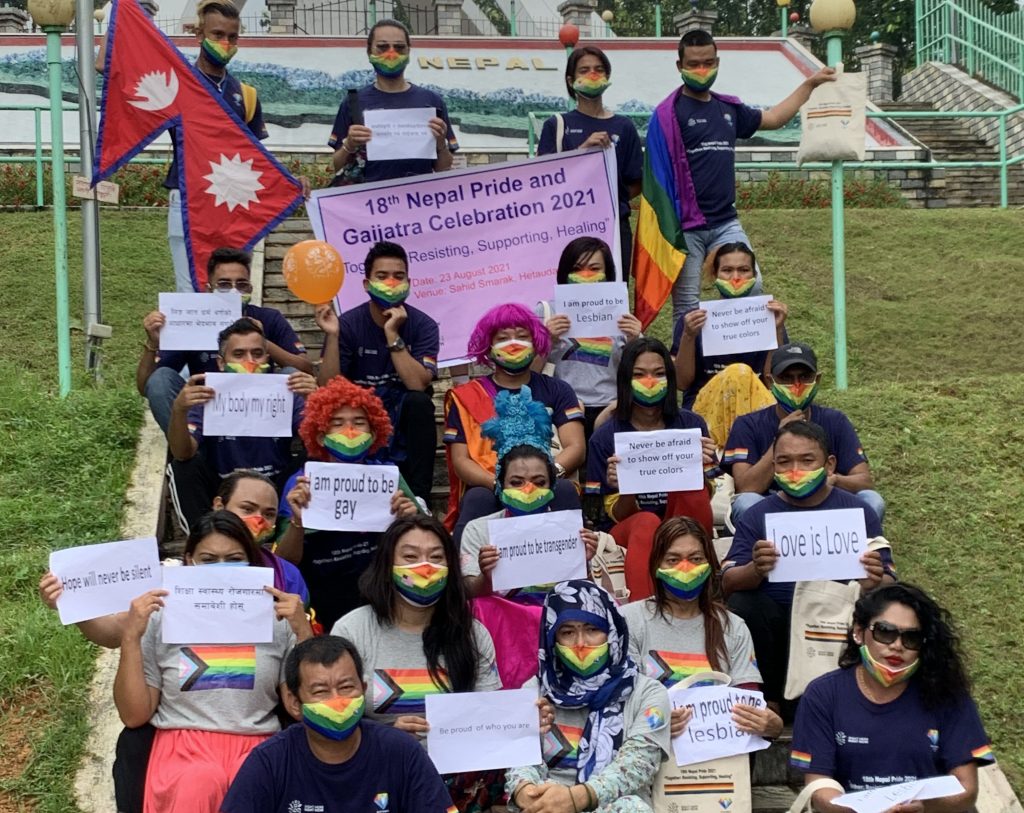 On Monday, there were at least 650 participants who gathered in 26 groups in different places across the nation in major cities celebrating Gai Jatra for their common cause. The programmes were facilitated and coordinated by members of the Blue Diamond Society, an organisation working for the LGBTQIA+ community rights, and supported by Right Here Right Now, a five-year programme and global strategic partnership working with ten countries including Nepal with Yuwa, a youth-led NGO, as hosting partner for Nepal.
Gautam, who coordinated an event in Basantapur, says citing the threat of the Covid-19 spread, the LGBTQIA+ community this year decided to mark the festival in smaller groups across the nation. In Kathmandu, the programme was organised in four places.
Rai who facilitated the programme in Hetaunda says the programme was a success. "Many people who identify with the community are living outside Kathmandu too. For many years, we have organised the programme in Kathmandu where those from the community would mingle, share stories, and show solidarity. But this year, we took it out of the capital city and this, I think, has been and will be important to educate and integrate others within the community."
Still subjected to ridicule
Gautam, however, is aware of the stigmatisation the community faces in Nepali society every day, even Gai Jatra.
But not just the rest of 364 days, the community has been subjected to ridicule and been criticised for cross-dressing on Gai Jatra too. Some people think the community is not to be taken seriously as they cross-dress during this festival that is also associated with laughter and ridicule.
Gautam, a transman, observes such comments are a reflection of the people. "There are people who understand, who do not understand, there are people who understand but do not want to change, and the last kind is people who refuse to understand under any circumstance. And, comments come from the last kind of people, mostly. So, such comments are not something we should take seriously."
Rai also attests to the sentiment saying he has learned to ignore such comments too.
Instead, Gautam says there are more pressing issues to focus on. "Being a transman, I have had trouble getting my citizenship certificate with my real identity. Then, we still are yet to legalise same-sex marriage."
Gautam adds, "We still do not have the right to education and the right to property, leave alone what happens if one might want to transfer or leave the property for their partners, after them. And unlike others, the community is yet to get reservation seats that at least ensure their involvement in the nation-building. We are not asking for anything more, just as many rights and opportunities as the constitution ensures any individual from heterosexual or binary population."
Gautam stressed there are still social norms and family values that bind many from the community from admitting their sexual orientation, be and excel as themselves. "There are at least 800,000 people who identify as the community from LGBTQIA+ community, but in secret. It is concealed. Those who have come out are some 600 people. The disparity is huge, and we need to do so much."