Over 60 people losing their life due to the monsoon floods and landslides in Nepal has been featured in all newspapers along with the news of diplomatic tension between Nepal and India failing to address the same issue year after year. Venezuelan President Nicolas Maduro's son visiting Nepal has also appeared in the front page of a vernacular daily today.
Here's a summary of important, ignored and interesting stories from cover pages of the Kathmandu press.
Important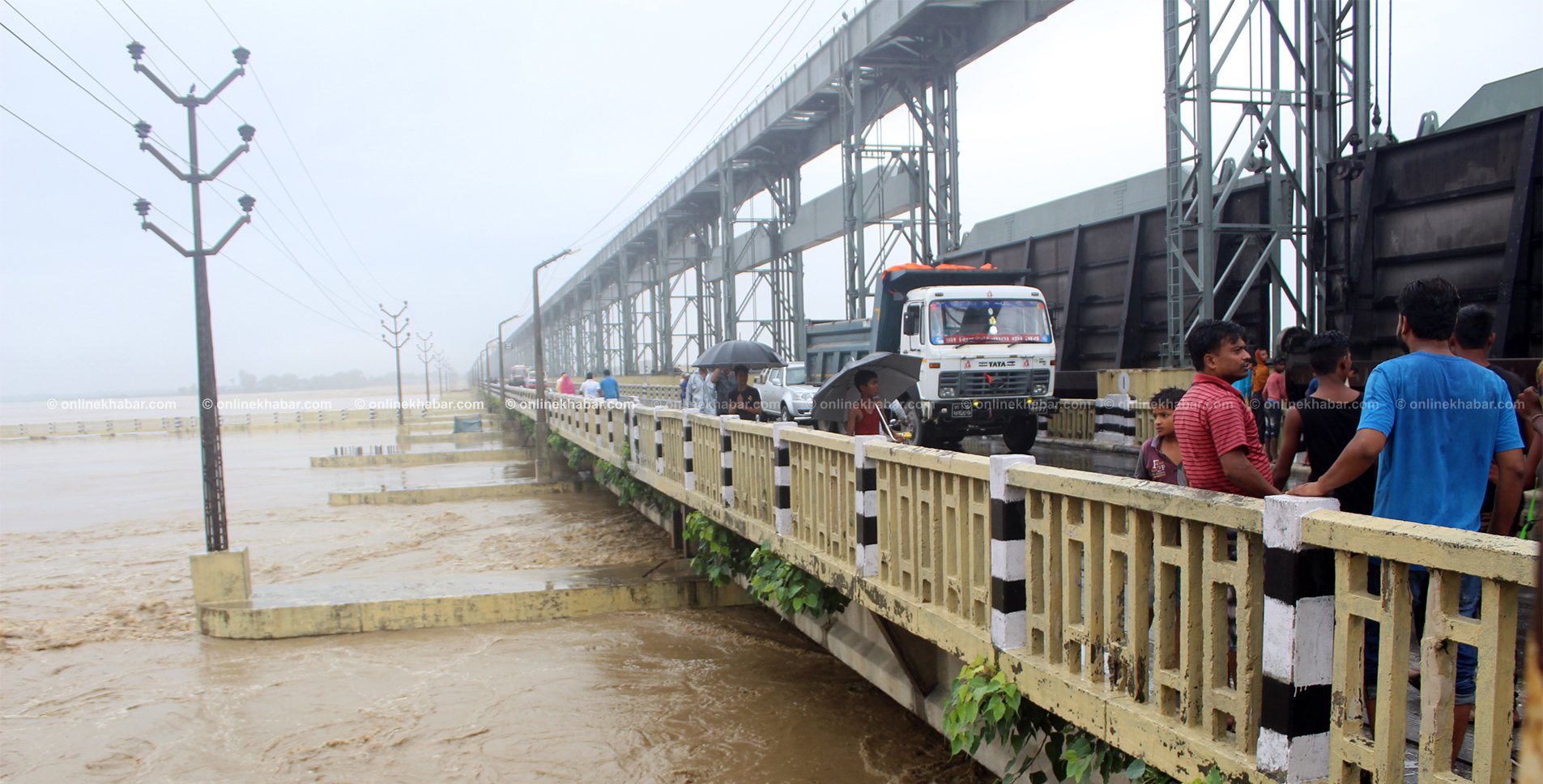 Nepal, India face deja vu over monsoon flood
The Kathmandu Post reports that even though the monsoon has been a perennial problem in both India and Nepal, successive governments in Nepal have failed to seek a lasting solution. And, despite some initiatives from the Nepali side, the response from the Indian government has been lukewarm, multiple officials who have closely monitored the issue over the years say.
Republica also reports that lawmakers from the ruling Nepal Communist Party (NCP) as well as the main opposition Nepali Congress (NC) have urged the government to take necessary diplomatic initiatives to resolve the problem of flooding and inundation caused by the unilaterally built 'embankment-like roads' by the Indian side along the border.
Locals say relief effort insufficient, govt to provide free treatment to all victims
Republica reports that flood victims in various parts of the country have accused the government of not doing enough for rescue and relief. According to them, the government has taken a snail's pace approach to tackle the crisis. The fear of disease outbreak has also been bothering the affected families. While 70,000 families have been reportedly rendered homeless due to floods in Rautahat district, hundreds of others have been displaced in Sarlahi, Bara, Parsa, Makawanpur, Solukhumbu, Itahari, Sindhuli and Udayapur districts.
That said, the government in an emergency Cabinet meeting on Sunday decided to provide all medical treatment free of cost to those injured in landslides and floods and mobilise rapid response teams comprising doctors to flood-affected areas. The decision comes after several districts mainly in the eastern and central regions of the country were severely affected by flooding for the past four days.  As floods continue to claim lives in low-lying areas, Prime Minister KP Oli had summoned ministers to discuss ways to tackle the growing crisis.
Ministers submit annual report card to PM Oli
Naya Patrika reports that all ministers have submitted their annual report card to PM KP Sharma Oli. The report card includes the work they have completed in the past one year along with the works in progress. According to the report cards, the Ministry of Foreign Affairs, Ministry of Land Management and Poverty Alleviation, Tourism Ministry and Ministry of Labour look the most efficient as all of them seem to have completed over 80 per cent of the work. On the other hand, Drinking Water Ministry, Energy Ministry and Sports Ministry look the weakest.
Ignored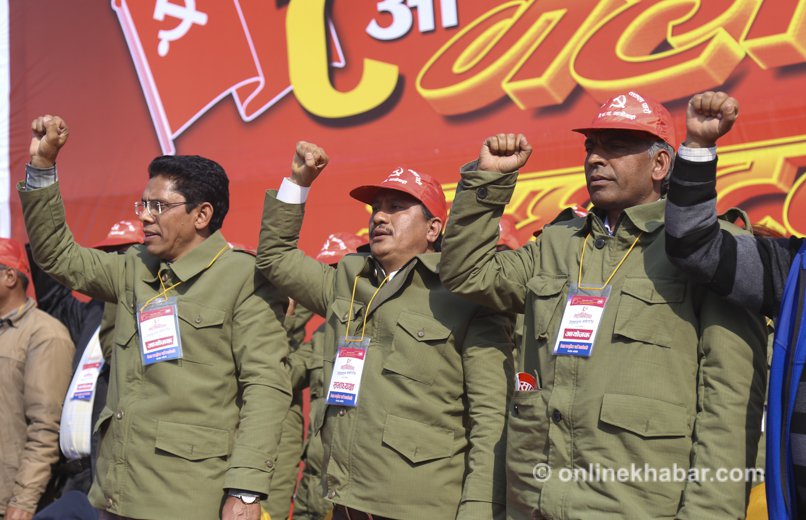 Govt begins negotiation with Chand outfit
Republica reports that the government has initiated backchannel negotiations to bring the outlawed Netra Bikram Chand-led Communist Party of Nepal to 'save the country from the brink of another war'. Tensions between the two sides continue to escalate since the government launched a nationwide crackdown on the party's activities after outlawing it on March 12. Last week, two people including a police constable died in incidents involving the outfit cadres in Bhojpur.
Chure degradation to blame for Terai flood
The Kathmandu Post reports that years of unchecked degradation of the fragile Chure range is one of the major causes of massive annual monsoon flooding in the Tarai districts of the country, according to environmentalists and conservationists. Heavy rainfall which has continued for the last few days has wreaked havoc in districts like Dhanusha, Mahottari, Rautahat and Saptari, among others, which are situated down the Chure range. Excessive exploitation of the Chure range for natural resources—riverbed materials, forest products and timber—have weakened the significant zone, worsening the situation for people living in its foothills, according to environmentalists.
Three Nepalis die in Kuwait fire
The Himalayan Times reports that three Nepali nationals, one male and two females, were charred to death in Kuwait when a raging blaze swept through an apartment building in Mahabullah area on Friday night. Second Secretary at the Embassy of Nepal in Kuwait Gyan Bahadur Magar identified the victims as Bijaya Baitha of Sarlahi district, Apsara Kami and Gauri Dorjee.
Interesting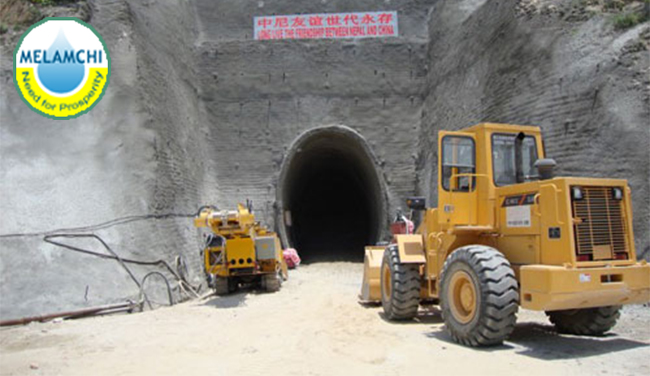 Melamchi chief owns tanker business
Annapurna Post reports that the chief of Melamchi Drinking Water Supply Project Surya Raj Kadel has his own tanker business, raising serious concerns about conflict of interest.
He has been supplying water to various government and non-government organisations for a number of years. The company is under his wife Anju Khadka's name and was registered in 2009. This raises a question about how Kadel became the chief of the drinking water project. He is the chairman of Water Tanker Association and is also lobbying to become the chief of Kathmandu Upatyaka Khanepani Limited.
Nicolás Maduro's son in Nepal
Annapurna Post reports that Nicolás Maduro son Nicolás Maduro Guerra is currently in Nepal. He came to Nepal on Saturday and is meeting prominent leaders. Guerra has brought three other ministers with him. He's staying in Nepal till Tuesday and will be meeting leaders from Nepal Communist Party. He's already met Narayan Kaji Shrestha and Bam Dev Gautam. Guerra and his team came to Nepal upon invitation from NCP's youth association.
Rs 70 billion earned through tourism in the past year
Arthik Abhiyan reports that Nepal earned Rs 70 billion through tourism in 2018. This amount is 17 per cent more than the amount earned in 2017 where Nepal had earned Rs 58 billion. The rise in earning is due to the increasing number of tourists that visited the country. In 2018 over 1.1 million tourists visited Nepal, which is a record.