For last few days, the national political course seems to have stuck. The long-awaited unification between CPN-UML and CPN-Maoist Centre has not taken place so far. Leaders of the two parties have already made public announcements that the merger will be announced on April 22. However, the two parties have not even held formal talks about contentious issues. Therefore, major Nepali and English newspapers published from Kathmandu on Monday have given significant priority to the story.
Many newspapers continue to report and analyse facts and findings of the Office of Auditor General's report, recently submitted to the President. On the other hand, the front page photographs of the newspapers today are about cultural celebrations, primarily the Sindur Jatra of Bhaktapur market on Sunday and Aamako Mukh Herne Din (popularly known as Mothers' Day), which is being celebrated today.
Important
UML-Maoist Centre unification unlikely on April 22
Nepal Samacharpatra, Rajdhani, The Kathmandu Post, The Himalayan Times, and Republica report that the two biggest communist parties of Nepal, which are currently running a coalition government, are unlikely to implement their earlier decision to announce the party unification on April 22 on the occasion of Lenin Day.
Meanwhile, Annapurna Post reports that the CPN-Maoist Centre Chairman Pushpa Kamal Dahal, who is under pressure for the unification from the UML side and to ensure dignified unification from within his party, has left for a resort in Sukute in Sindhupalchok district for break. Otherwise, top leaders of the two parties were expected to hold a meeting on Sunday, reports Gorkhapatra in its lead story. Nagarik says Dahal is spending his time with his family in Sukute.
Ignored
Tobacco kills 25,000 Nepalis every year
A two-column story in Gorkhapatra says consumption of tobacco products including smoking kills around 25,000 Nepalis every year. Quoting a report from the World Health Organisation, the news story claims that 35.5 per cent men and 15.5 per cent women of Nepal smoke.
Around seven million people die due to tobacco consumption in the world, according to the report.
Deuba has tough time to pick officials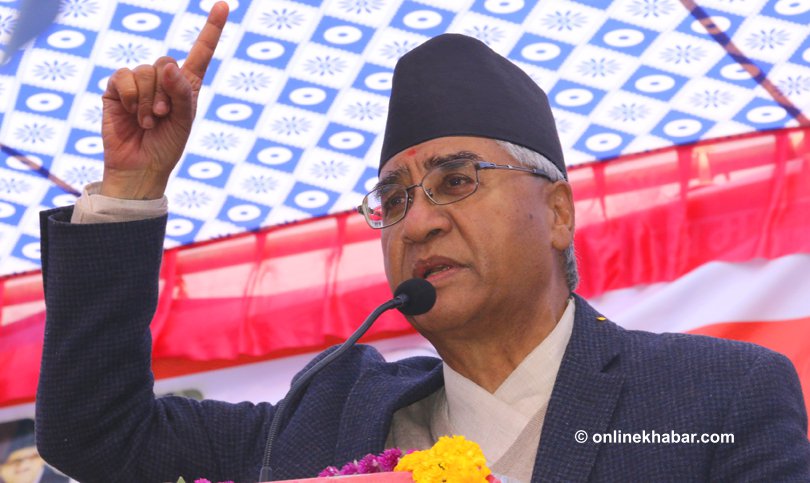 Nepali Congress President Sher Bahadur Deuba is planning to appoint leaders close to him to vacant official positions of the party including Vice-President, General Secretary and Joint General Secretary soon, reports Rajdhani in its anchor story. However, the rival faction in the party led by Ram Chandra Paudel has expedited negotiations with Deuba seeking his share in the positions, leaving the former prime minister undecided, the report says.
Around 300,000 Nepali women give birth to children outside hospitals every year
Naya Patrika lead story for the day claims that around 300,000 Nepali women give birth to children outside hospitals and health facilities in the country every year. The report also informs that the country currently needs 20,000 trained health workers to facilitate the delivery process. The current number of such workers is 8,600.
Meanwhile, State Minister for Health Padma Aryal has expressed a commitment to address the shortage of skilled human resources, according to the report.
Govt bans demos at Maitighar Mandala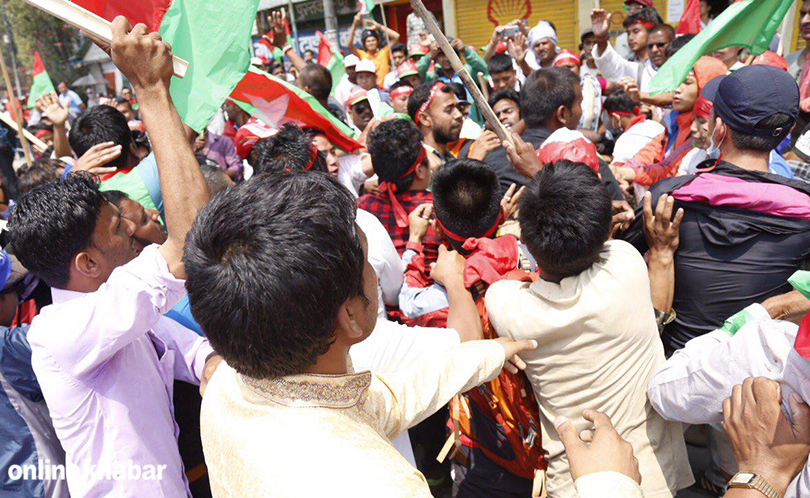 The Kathmandu District Administration Office has decided to ban any protest or demonstration at and around Maitighar Mandala, reports Republica. The site with an ancient artwork has been used as a demonstration venue by various groups and parties for last few years.
Meanwhile, the Office allocated certain spaces for such demonstrations and they include Tundikhel , Khulamanch, Tinkune, Bhuikhel Chaur, Pepsicola sports ground, Sano Gaucharan ground, open space in front of the Social Welfare Council office and Sifal Chaur.
Interesting
Bhaktapur Municipality implements its own school curricula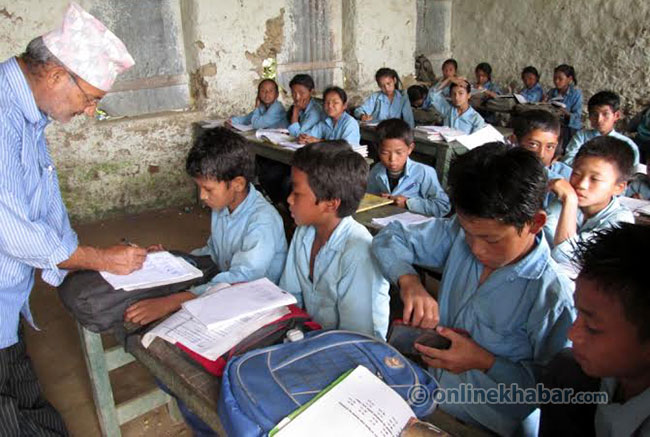 Following the constitutional provision that local governments are authorised to govern basic education system in their jurisdiction, Bhaktapur Municipality in Bhaktapur district has designed new curricula for school education and directed schools to implement them from this academic session, according to Rajdhani lead story.
In the first phase, the new curricula will be implemented in grades I and VI only, according to the report.
Dhrube Hatti is back again
Around five years ago, a male elephant from Chitwan National Park had entered nearly human settlements creating a rampage among locals. Then, the Park authority had launched a mission to kill the tusker. The mission spent around Rs 1.6 million, but failed after the elephant disappeared suddenly.
Now, the notorious Dhrube Hatti is back to Chitwan again, reports Kantipur in its anchor story for the day. The report informs that the elephant these days is not as wild and violent as it was five years ago.