Major Nepali and English newspapers published from Kathmandu on Friday have highlighted the telephone call of Indian Prime Minister Narendra Modi to Nepal's Prime Minister Sher Bahadur Deuba, PM-in-waiting KP Sharma Oli and CPN-Maoist Centre Chairman Pushpa Kamal Dahal. Following a fatal fire incident at a LPG bottling plant in Birgunj on Wednesday, newspapers have raised concerns over security systems of such plants as well as fuel stations and these stories have received a lot of attention in the media.
The National Assembly election procedure debate between the Nepali Congress and the left alliance also continues to be a significant issue in the press today as well.
Important
Modi extends hand for cooperation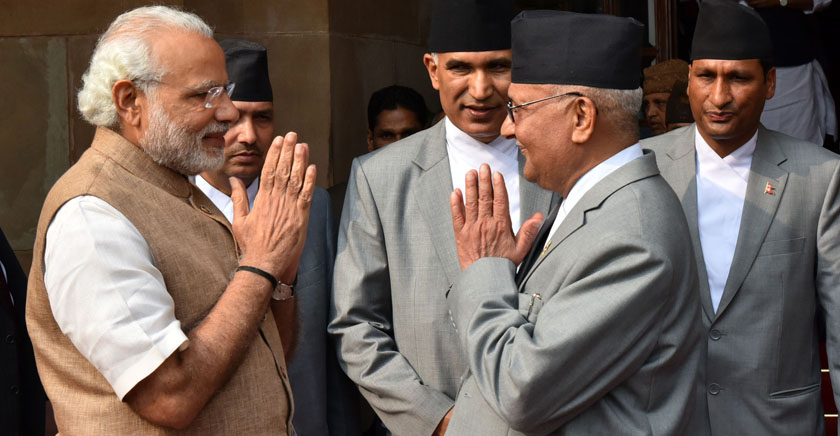 Exactly two weeks after the conclusion of final phase of provincial and federal parliamentary elections in Nepal, Indian Prime Minister Narendra Modi on Thursday called top three leaders of the country to congratulate them for the successful polls.
During the talk with PM-in-waiting Oli, who is also projected as an anti-Indian leader, Modi said he was eager to establish cooperation with the new government. Kantipur says Modi invited Oli to visit India after the formation of government, adding he was waiting to cooperate with the new government.
In response, Oli said he would focus on stability, strengthening democracy, good governance and economic development, and would work to maintain friendly relations with neighbouring countries, according to The Himalayan Times.
Republica informs that Oli also invited Modi to visit Nepal in an appropriate time. The report, however, does not talk about how Modi responded to the invitation.
Birgunj fire incident raises security concerns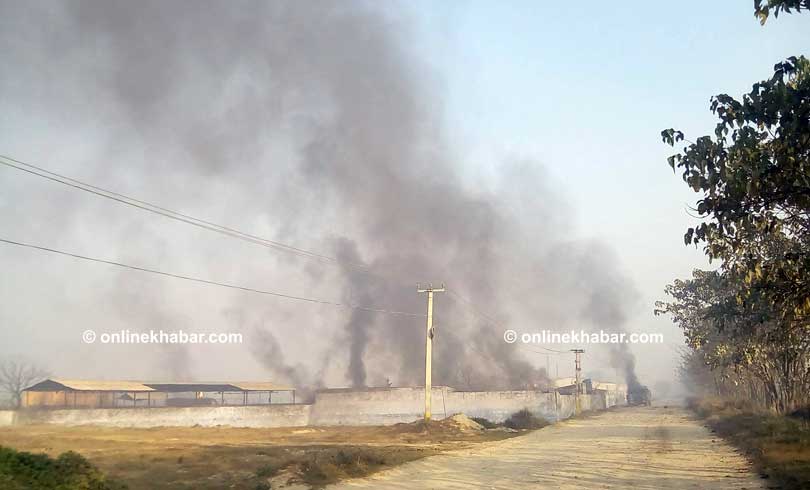 Alarmed by a recent incident of fire in Birgunj, in which two firefighters were killed, the government is planning to conduct a safety audit of cooking gas plants, reads the anchor story of The Himalayan Times. The Ministry of Supplies has also formed a panel under the coordination of Karuna Chhetri, head of Quality Control and Investigation Department at Nepal Oil Corporation, to monitor safety standards in gas bottling plants.
Meanwhile, locals around the incident site are still living under terror, reports The Kathmandu Post in its lead story. Though the LP Gas Bylaw has a provision that bottling plants should be set up five kilometre away from human settlements "as far as possible", most of the plants in the country are near settlements, risking the lives of thousands of people, according to the report. Annapurna Post also carries the similar story.
Nagarik lead story raises concerns about safety of firefighters saying specific criteria have not been set for these personnel whereas Kantipur lead story says fuel stations adjacent to human settlements including those of Kathmandu Valley are posing threats to millions of people.
Ignored
Rs 16.86 billion in Social Security Fund unused thanks to lack of law
For last eight years, the government has been collecting 1 per cent of income of citizens as a social security tax; however, it still lacks a specific law on how to use the fund, reports Rajdhani.
The Social Security Fund has already collected over Rs 16.86 billion, but no penny has been used as the government has not formulated a bylaw and a working procedure about its utilisation, according to the report.
Earlier, the government had planned to use the money for security of unemployed population and for treatment of workplace hazard victims among other purposes. But, nothing has been implemented yet.
Dalits' presence in Parliament still unsatisfactory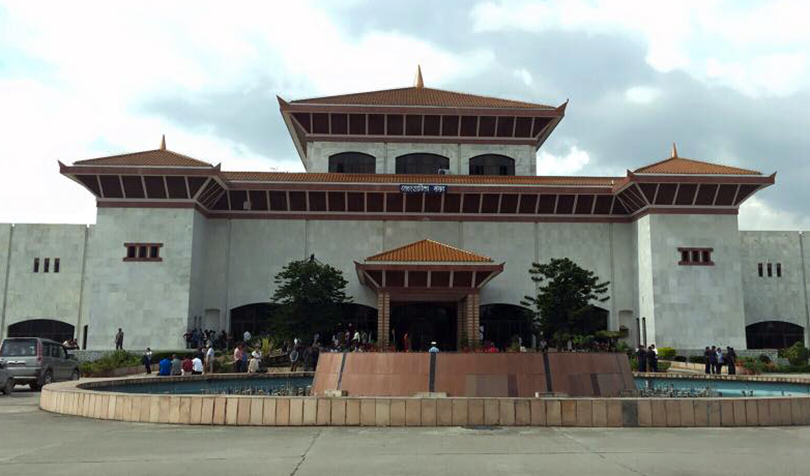 Republica lead story says Dalits, traditionally classified as 'untouchables' in the Hindu caste system, do not have their proportional representation in Parliament. In the wake of recent parliamentary elections, the report informs that only three Dalits got elected as lawmakers under the first-past-the-post system. Likewise, 10 Dalits were elected as chiefs of local units among 751 local units in recent local elections, the report informs attributing to a study conducted by Jagaran Media Centre.
Interesting
Number of telephone users grows by 14 per cent
The Nepal Telecommunications Authority says the number of telephone users in the country has grown by 14 per cent in the last fiscal year 2016/17. The data cover the growth in number of consumers of telecommunication services offered by Nepal Telecom, Ncell and other companies, reports Abhiyan.
The figure includes clients of internet services as well.
According to the data, Nepal Telecom has the highest number of telecommunication consumers.