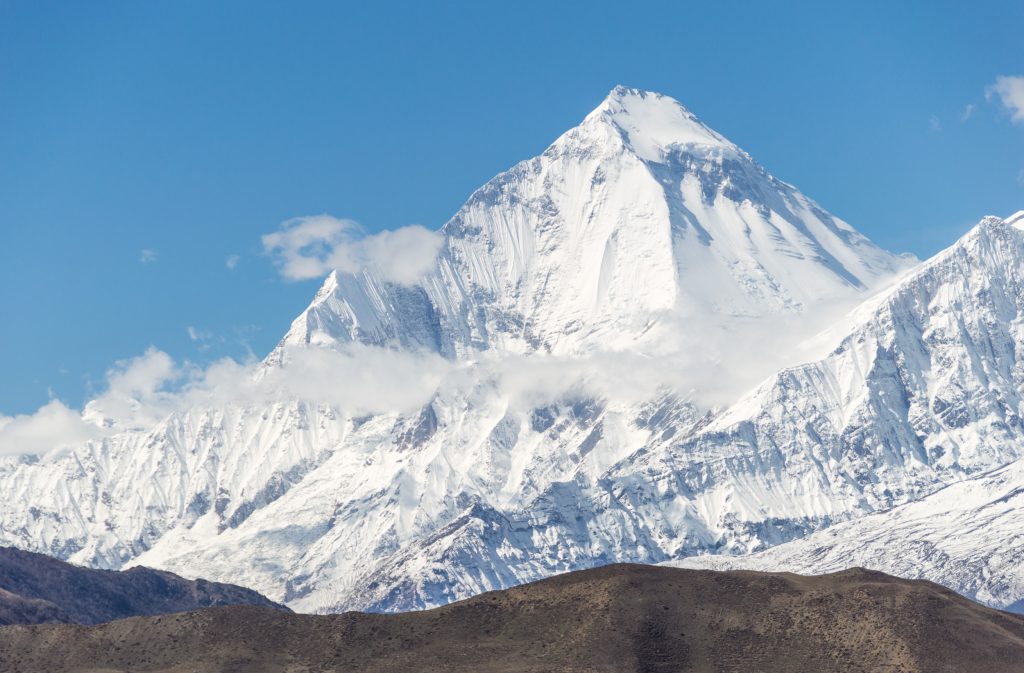 Nepali mountaineers have been the backbone of almost all the Himalayan expeditions starting from the early 1930s. Their support has been unparalleled as thousands of foreigners have reached the summit of high mountains thanks to their help.
Their hardiness, expertise and experience at high altitudes are renowned all over the world. Known to the outside world as Sherpas, these mountaineers and guides are more than just muscles as many claim them to be. Their ability to fix ropes tackling high winds and bitter temperatures even back in the day when mountaineering gears were non-existent is one of the reasons why they are respected and reputed all over the world. No wonder only a few were surprised as a team of 10 Nepali mountaineers summited K2 in harsh winter conditions creating history in the process.
Here, we bring you a list of a few mountaineers, some well-known and others not so much, but whose names have been forever etched in mountaineering's hall of fame.
1. Tenzing Norgay Sherpa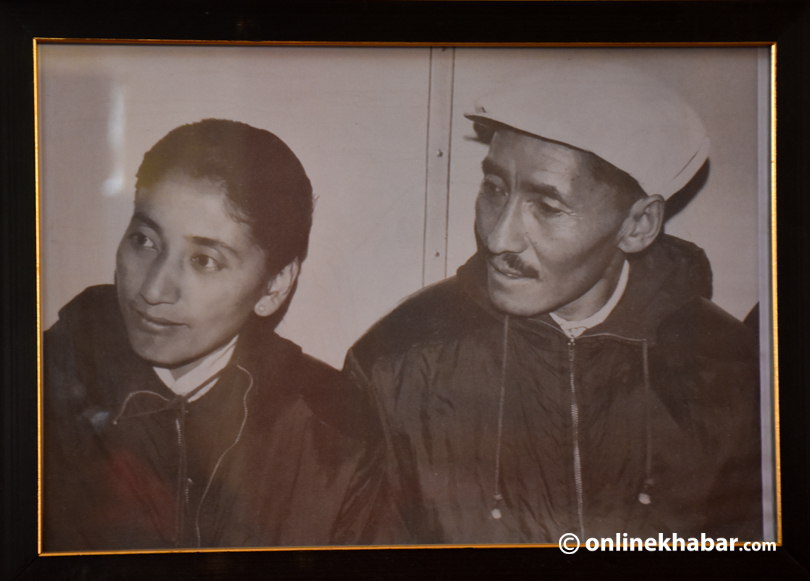 Tenzing Norgay is known all over the world. He is probably the first mountain guide from the Khumbu region to have etched his name in history books all around the world as he reached the top of the world with Sir Edmund Hillary in 1953, the first-ever successful Everest summit. That was his seventh Everest expedition and probably his last, according to Jamling Norgay Sherpa's book.
Giving it all he got, he climbed Everest having been involved in mountaineering for nearly two decades. Those who remember Tenzing Norgay call him a leader. No wonder foreigners kept picking him to join them on their expeditions. Before him, all Nepali mountaineers climbed for money. Tenzing Norgay did too. But, he also wanted to summit. His ambition to become the first is what stands him out on this list.
2. Ang Tharkay Sherpa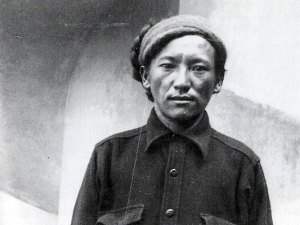 Many may not have heard about Ang Tharkay, but an argument can be made about him being even greater than everyone, even Tenzing Norgay himself. Born in Kunde, Ang Tharkay, like Tenzing Norgay, spent much of his time in Darjeeling where he looked for work as a porter. He started to catch foreign climbers' eye quite quickly and was on his way to Everest in 1933 with Britishers. His leadership quality and performance in attitude started getting him both respect and job as he became Eric Shipton's right-hand man.
Apart from various Everest expeditions he went on, it was his 1950 Annapurna expedition with a French team that made him famous. Having guided for many parts of the expedition, Ang Thakrey turned down the chance to be the first to summit Annapurna with the French team as he stayed a few 100 metres below to let the French bask in the glory. This, according to Maurice Herzog, is one of the most selfless acts anyone has done on the mountain.
3. Gaylay Sherpa
Another climber who is not talked about much is Gaylay Sherpa. Like Ang Tharkey, Gaylay was also selfless. His sacrifices in the mountains is another reason why Nepali mountaineers are regarded so highly around the world. Why? Here is a story.
In 1934, Galay went to Nanga Parbat in Pakistan with a German team. The weather was bad, treacherous even. But, the climbers pushed on. With no chance of a summit, they decided to retreat, but the expedition leader Willi Merkl could not move. Most members of the expedition had died and only Gaylay, Merkl and one more climber were alive. As the other climber went to get help, Merkel had asked him to go with him, but Gaylay denied. He stayed with his employer, loyal to him till he froze to death with him.
4. Galzen Norbu Sherpa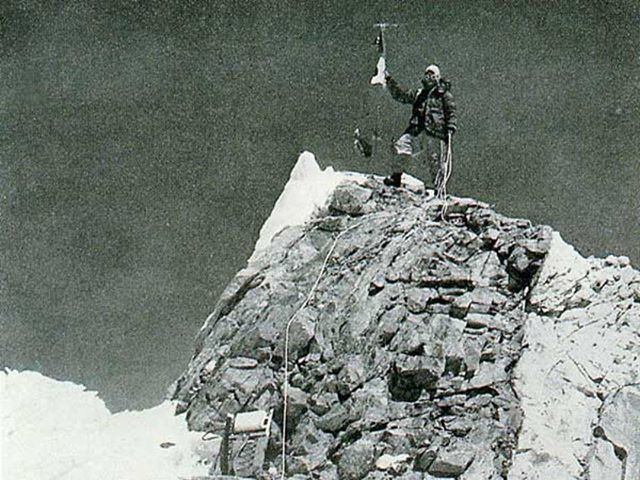 One often looks for firsts when it comes to mountaineering. A first ascent is always regarded highly among the mountaineers especially if its an 8,000-metre peak. But, what about two? Galzen Norbu, another name missing out from Nepal's history books is the first person to have made successful ascents of two 8,000 metre peaks.
His leadership in Makalu in 1955 with a French team gained him a lot of plaudits, which is why a Japanese team in 1956 hired him as the lead Sherpa to take them to the top of Manaslu. His photo atop the summit of Manalsu is what many call one of the most iconic pictures in the Himalayan mountaineering.
5. Babu Chiri Sherpa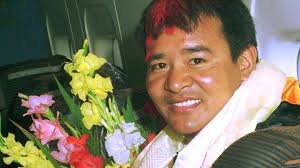 Babu Chiri was a NatGeo adventure/athlete even before anything like that was invented. First, in 1995, he climbed Everest twice in the same season. But, that was not enough for him. In 1999, he did something even more ridiculous. Carrying a tent to the top of the world, he pitched it and spent nearly 21 hours on the summit, without bottled oxygen and sang the national anthem. In 2000, he wanted to be more ambitious as he climbed Everest in under 17 hours where it takes people at least three days. It remains to be seen what might have become of him who died in 2001 as he fell into a crevasse while taking a photograph.
6. Ang Rita Sherpa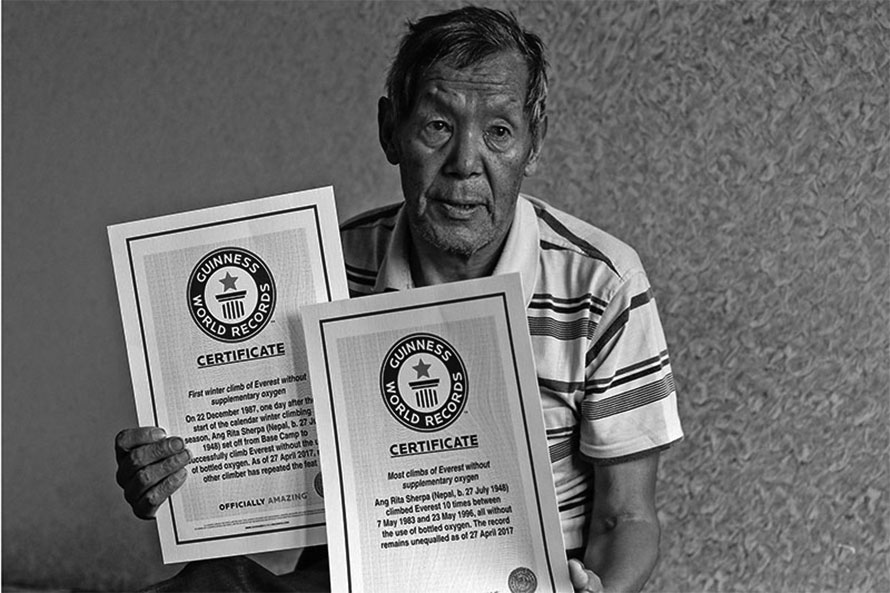 The Snow Leopard who passed away recently was a legend and an inspiration to many mountaineers of today. Ang Rita remains the only person to have climbed Everest 10 times without bottled oxygen, one of them in the harsh winters. He said he never needed oxygen even at the death zone and once spent the whole night doing aerobic exercises to stay warm around camp 4. He was so good at an altitude that he did not use bottled oxygen in any of the ascents of Dhaulagiri, Cho Oyu and Kanchenjunga. Ang Tsering of Asian Treks in an interview once called him the best climber he has ever climbed with. He was a legend, a master climber.
7. Pasang Lhamu Sherpa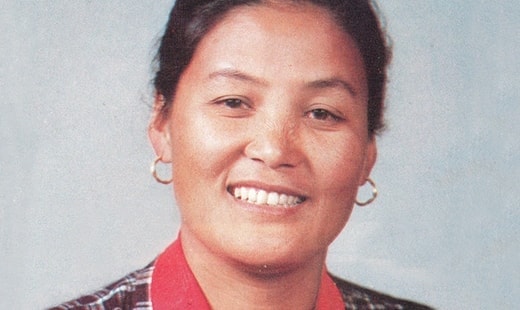 Pasang Lhamu's inclusion on this list does not even need thinking. She inspired a generation of women in Nepal showing them that if you work hard enough, no dream is unachievable as she reached the summit of Everest in 1993, becoming the first Nepali woman to do so. Even though that joy was short-lived as she died during the descent, reaching the summit of Everest which not many women had done clearly shows how courageous and determined she was to prove people wrong.
For achieving what no other Nepali woman had achieved before her, Pasang Lhamu was honoured by mountaineers all around the world in various ways. She was the very first woman to be decorated with the "Nepal Tara (Star)" by King Birendra.