Human traffickers in India's Punjab province are selling off earthquake-displaced Nepali children to wealthy British families to work as unpaid domestic servants, according to a report published on Monday's print edition of the Sun newspaper.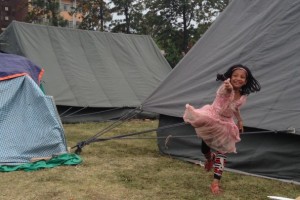 The paper says "the gangs are preying on the children of Nepalese refugees, as well as destitute Indian families."
According to the paper, black market gangs in the Indian province are selling these children for just £5,300.
It reports that a trader it names as Makkhan Singh lined up children for its undercover reporter to pick from and said: "We have supplied lads who have gone on to the UK."
UK Home Secretary seeks probe
After the report came out, British Home Secretary Theresa May urged police to investigate claims that child survivors of the Nepal earthquake and other vulnerable children are being sold to British families to work as domestic slaves.
May called child trafficking a "truly abhorrent crime" and urged the National Crime Agency to investigate the newspaper's findings. She said the paper should "share its disturbing findings" with the agency, "so that appropriate action can be taken against the vile criminals who profit from this trade".
She added: "No child, anywhere in the world, should be taken away from their home and forced to work in slavery."
"That is why we introduced the landmark Modern Slavery Act last year, which included enhanced protections for potential child victims of slavery and sentences up to life imprisonment for those found guilty."