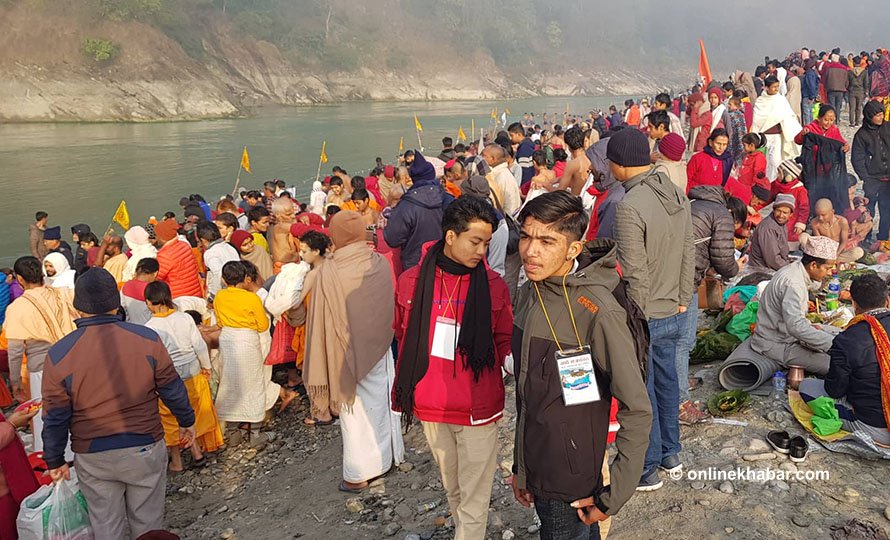 Chitwan, January 15
Devotees in large numbers have congregated at Devghat Dham near the confluence of the Kali Gandaki and Trishuli rivers. Devghat Dham is one of the major pilgrimage sites of the country.
The devotees have thronged this site to take a holy dip at the river confluence on the occasion of the Maghe Sankranti festival. The Maghe Sankranti religious fair was initiated at the confluence by installing a long bamboo pole amidst a religious ceremony here on Tuesday morning.
There is a sea of people at Devghatdham since the morning today. Devotees from various places of the country as well as from India come here for observing the Maghe Sankranti festival.
Arrangements have been made to facilitate the devotees to take holy bath and perform the rituals easily and smoothly, Shiva Raj Paudel, the chairman of Devghat Area Development Committee, says. Similarly, arrangements have been made for the vehicles from Thimura, Ramnagar and Dasdhunga.
The executive director of the committee, Dhiran Babu Ghimire, informs that the Armed Police Force personnel have been kept on stand-by for emergency rescue. Similarly, Nepal Army personnel have been stationed at Devghat Dham for rescuing by boat.
RSS