Pokhara, January 15. Senior leader of the Nepali Congress, Sher Bahadur Deuba, has accused the party leadership of doing injustice while distributing the party's active membership.
He said this while speaking at a press conference that Press Union Kaski had organised in Pokhara on Friday. Deuba accused the NC leadership of monopoly in the distribution of active membership in some districts.
At the programme, Deuba said he will fight for the post of NC president at the party's 13th general convention. Asked if three leaders will vie for the party leadership at the convention, Deuba expressed doubts about party Vice-president Ram Chandra Poudel staying on in the ring till the final round.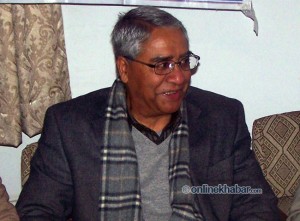 "As of now, Ram Chandraji is busy trying to secure the top post. But I do not think he will be there till the last round," Deuba said.
"Just because I am leading an alternative line in the party does not mean I am resorting to factionalism," Deuba said.
"Whoever wins in the general convention will become the party president. But the onus is on the winner to take the rival along. Leading a different line is not akin to promoting factionalism, he said, refuting charges that he is promoting factionalism in the Congress.
Deuba said the party's statute should not be amended for increasing the number of office-bearers. "At a time when the party leadership has not been able to  assign responsibilities to incumbent office-bearers, increasing their number does not make sense."
Deuba said his party is in no hurry to  join the government. It is but natural for the party winning the election to lead the government and the defeated party to stay in the opposition, he said, adding that the Congress will stay in the opposition for now. Responding to a query, he said: We do not need to say anything about the CPN-UML-led government (KP Oli government). (Critical) Remarks coming from the likes of Madhav Nepal and Jhala Nath Khanal — CPN-UML leaders — are enough.
Deuba claimed that the country will get a way out after amendment to the new constitution. He said electoral constituencies will be delineated on the basis of population, but even sparsely populated districts will have at least one electoral constituency.