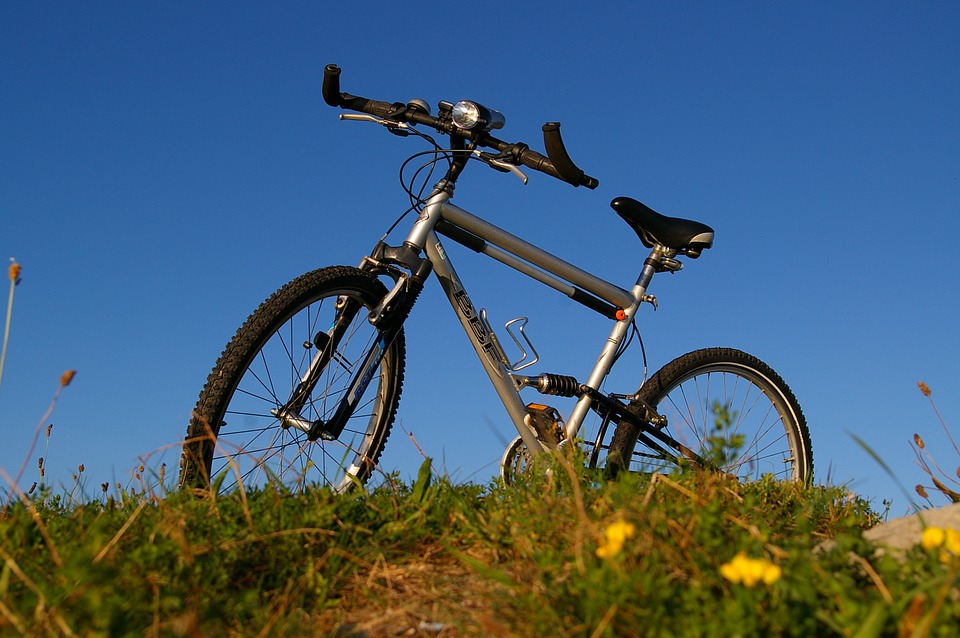 Hey guys, I expect my previous three-story series on mountain biking (mtb in short) has helped you get the hang of the basic bike skills and handling; and you must have pulled off quite some off-road short rides to the backcountry.
Maybe you would now like to try some challenging rides.  Let me help you with a lowdown on some locations for you to venture out, which can really turn out as fascinating daylong destinations.
For a start, the destination I am going to chart out for you is a one-day long ride with a moderate to rugged terrains, both paved and dirt including some isolated forested areas. So my advice to you is: Take along a partner with you–so much the better and more fun if you can muster a group of say three to four riders. That will also help you to learn group rapport and group dynamics.
Not to be missed
Hopefully, you will not miss out on the basic essentials for the trip such as a pump, spare tube, patch kit, a toolkit . . . and of course, a rain jacket.  Don't!  Also, make sure that you are well-hydrated way before you kick off. What I always do before long rides is to drink a litre of oral electrolyte-blended water at least 5 hours before the start (mostly coinciding with a night before) and supplement it with water during the ride. If you are carrying a hydration bladder tucked into your backpack, all the better.
As you sweat a lot and lose a lot of fluid, you need to replenish yourselves to keep yourself hydrated and avoid getting the most dreaded issue like muscle cramps, which can really ruin your entire ride.  Caveat: do not start on a completely empty stomach. A light breakfast before the ride is a good idea.
"Electrolytes are analogous to the motor oil in your car—they don't make the engine run, but they're absolutely necessary to keep everything running smoothly. Proper functioning of the digestive, nervous, cardiac, and muscular systems depends on adequate electrolyte levels" writes Steve Born, a sports nutrition specialist.
It will be a good idea to stash in some energy bars or chocolates into your backpack to refuel yourself as you will be burning off a lot of calories doing quite some gruelling up-hills. Also, they can work wonders for your sapping energy and stamina. Bananas, too, can substitute for the energy bars if you forget to carry them.  Needless to write, carry water bottles. And if you wish to have a less sore bum, apply Vaseline under your crotch. And do not forget to put on your padded underwear.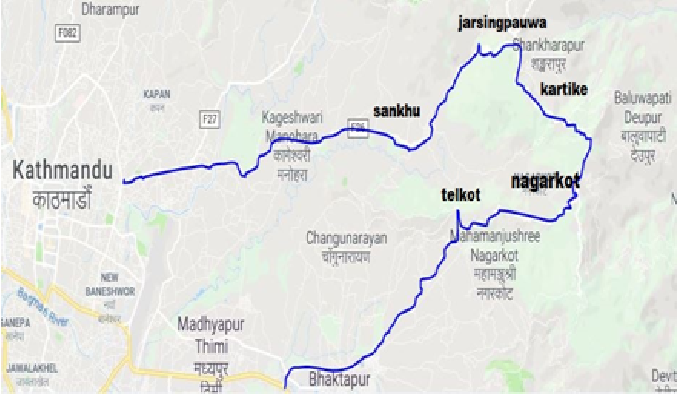 1.
Nagarkot
Everybody knows about this scenic hill town, and most of you might have visited Nagarkot one time or other in a vehicle of some kind.  Of the many cycling destinations, Nagarkot (2,195 metres) comes first in my priority list for beginners as it combines both a tough climb and a thrilling adrenaline-pumping downhill experience. Apart from that, it offers several off-road back routes, some quite challenging.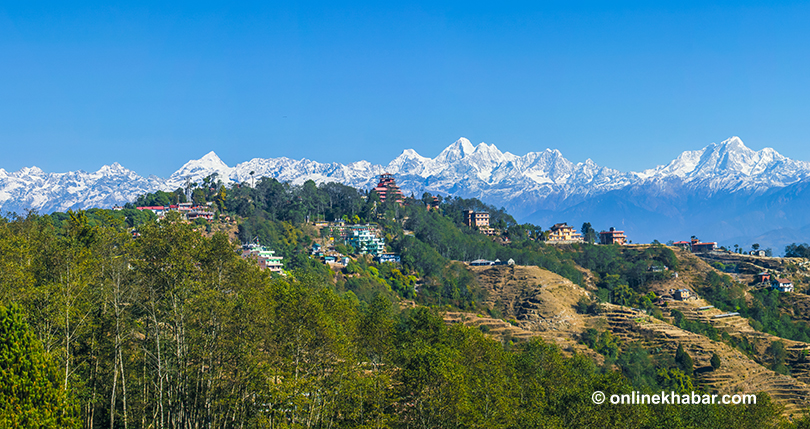 Nagarkot is like 32-33 km from Kathmandu with Bhaktapur en route. The road is paved all the way.   After crossing the Bhaktapur Bazaar, you have to hit the road to Kharipati. After that, the paved road starts climbing and continues all the way up to Nagarkot. Owing to the recent widening work underway, do not expect it to be a smooth paved ride. The uneven road, gravelly at places, can almost pass for an off-road–so much the better for an mtb rider!
Given the relentless uphill, as a first-timer, it might take you a little over four hours from Kathmandu to Nagarkot including brief respites for a breather and some refreshments; plenty of tea houses line the road. Start early, around seven or eight in the morning, if you want to have lunch at Nagarkot and get back home before dark. Lots of eateries there serve dal-bhat and being a touristy place, also other dishes like pasta, noodles, pizza, whatever you fancy.
From Nagarkot Bazaar, you can ride to the View Tower situated 3.5 km up on a slight hill. You can take a 360-degree panoramic image of the sprawling Himalayas including the Everest if the weather permits and you are armed with a telephoto zoom lens.
The return ride from Nagarkot the same way back will be a half hour to one hour faster since you will be free-wheeling down all the way from Nagarkot to Bhaktapur. Round trip back to Ktm: 64-65 km.
2.
Nagarkot-Changu-Bhaktapur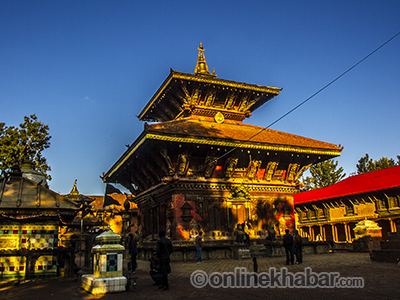 For the return ride, there are several other options to choose from. First, you can take the Nagarkot- Telkot-Changu Narayan-Bhaktapur (10 km approx.) route which also offers an off-road motor track. After some 3.5 km backtracking from Nagarkot to Telkot junction, you come to a cross-section.
Take the road that goes to Changu. Better ask around, if you get confused about the correct direction. As you ride the Telkot gravelled road towards Changu (6.5km), you come to a fork, the track down goes to Bhaktapur while the one that goes straight heads towards the Changu Narayan shrine.
Said to be more than 3,000 years old and designated as a UNESCO World Heritage Site, the Changu Narayan shrine is well worth a visit.  There are two options going back to Bhaktapur:  either you take the paved road or backtrack to the fork you passed earlier and hit the Telkot-Duwakot-Jhaukhel off-road track.  The track crosses the forested Telkot hill down to Bhaktapur past small settlements on the way. Either way, the round trip to Kathmandu will be something like 66-67 km.
3.
Nagarkot-Kattike Bhanjhyang-Shali Nadi-Sankhu- Ktm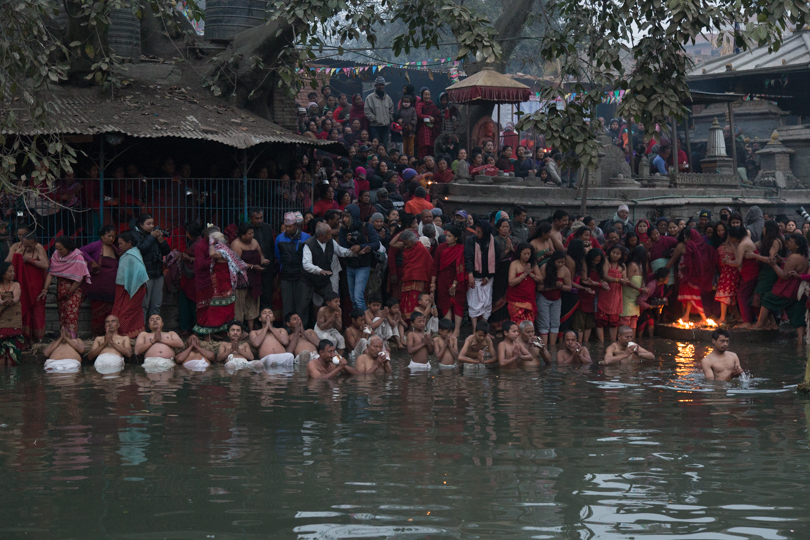 Beginners, you will be thrilled to your bones if you hit this trail–a most rewarding experience if you love downhilling. Rugged and challenging this trail will really put your skill to the test. Downhill all the way from Nagarkot, the jeep track is lined by a thick forest until you reach Kattike Bhanjhyang (9 km).
The ride from Kattike, a small settlement, to Shali Nadi, Sankhu (8km) is again all the way down with a section of stone-laden path with steep descents. You have to be extra careful on this bumpy downhill section. The trail crosses isolated forested hills and then gradually opens up to a beautiful countryside as you reach Shali Nadi, another famous Hindu shrine which hosts an annual festival in the month of Magh (January-February).
After Shali Nadi you enter the town of Sankhu also called Shankharapur, said to have been named so for its conch-shell shape. From Sankhu it's 23 km to Kathmandu or two and a half hours ride. The round trip back home is like 72-73 km.
4.
Nagarkot-Kattike-Jarshing Pauwa-Sankhu-Ktm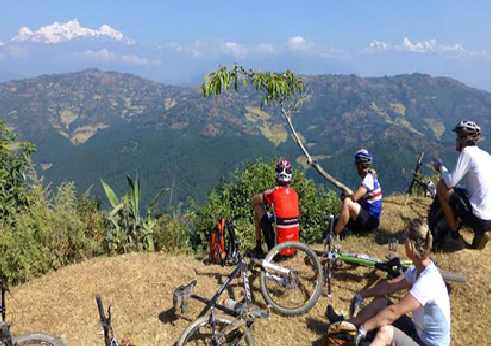 This is a little longer route than the rest. From Nagarkot, you descend down to Kattike like you do for Shali Nadi.  You will meet a fork at Kattike. The road to your left goes to Shali Nadi. To head towards Jarshing Pauwa, you have to go straight (4 km) up.  After Kattike, the dirt road starts climbing cutting across small village settlements, forested area, and terraced fields that slope down in a steep drop. If you are lucky, you can see a sweeping view of the snow-capped mountains to your north.
The ride from Kattike to Jarshing Pauwa is like one and a half hours with mostly ascents, some really steep ones.  The elevation of Jarshing Pauwa is 1803 metres. The small village perched on an open hill boasts some good tea houses and a few resorts.
From Jarshinga Pauwa, you are met with a wide paved road that snakes all the way down through a beautiful forest to Lapsephedi and the Sankhu Bazaar (7.5 km).  Round trip to Ktm: 76-77km.
All things considered, the Nagarkot ride promises the beginners a truly thrill-packed getaway, whichever route they chose to ride back–the rides are tough, scenic, educative, challenging–all rolled into one! Caveat: For beginners, this ride can be really tough and gruelling and you might be nursing sore muscles the next day. But it is worth its weight in gold–a most rewarding experience indeed.
Take frequent breaks, soak in the beauty and the ambience of your surroundings, chat with the local people, capture the memorable moments into your camera . . . and do not forget to have that special sweet tea made from buffalo milk at a village tea shop–always my favourite when riding through the country!
Next, I will bring you more such ride info on short, day-long and some longer with night halts. Until then, ride safe and keep the rubber side down!