Deepa Shree Niraula's career has not been straightforward. From the moment that she left her home in Biratnagar to today, she has faced challenge after challenge along the way. From sleeping on an empty stomach and not being able to watch her work on the television to becoming a director who has made three blockbuster films in a row, Niraula's life has been a climb.
"I've had my share of ups and downs, but if given the chance, I'd do it all over again," she says.
From the childhood dancer to a TV star
Growing up in a joint family in Biratnagar, Niraula had an average childhood. She loved to dance and play with her friends from the area. But, deep inside, she always wanted to be in cinemas. Every time her mother went to the movies, she would follow her. Cinemas fascinated her. She wanted the same reception that the major stars of her era got.
"During Dashain, my parents would bless me to become an actor. Every time they did that, it made me really happy," she shares.
Her mother had seen how much dancing and acting meant to her. Wanting to make her daughter happy, she enrolled her at Bal Mandir where she took dance lessons. There was a time when she even got an award for dancing on Children's Day.
"My childhood was fun. I don't think it was particularly fun for my parents, but they did everything they could for us to have a good life."
But, that happiness did not last long. Her mother died when she was young and all the household responsibilities fell on her shoulders. For a bubbly girl who loved to live life one day at a time, things suddenly changed.
"I think I didn't really enjoy my later teenage years. I'd have to look after my younger siblings and father. On top of that, we all missed our mother. Those days were very tough."
Her family and friends, however, kept on encouraging her. They knew that dancing made her happy and asked her to follow her passion. They sent her to Mukunda Shrestha, a theatre artist and director, who recognised her ability to act and cast her in his play Banidisiyos Na.
"That paved the way to a television series called Agnipath."
The series was going to be shot in Biratnagar and were looking for a traditional Madhesi girl. After finding out, she asked Shrestha if she could do the role. The role was going to be of an outspoken girl and she felt that she would be perfect for it.
She got the role. But, the editors of the series decided to tweak something.
"They wanted to change my name. They said it would be cool if I added "Shree" to my name. And, from that day onwards, the previous Deepa Niraula started to be known as Deepa Shree Niraula.
After Agnipath, she became a household name in her locality, something she had always dreamt of. People would come to her house to watch the series. Her family were ecstatic to see her that way. She was happy as well.
The increasing height of happiness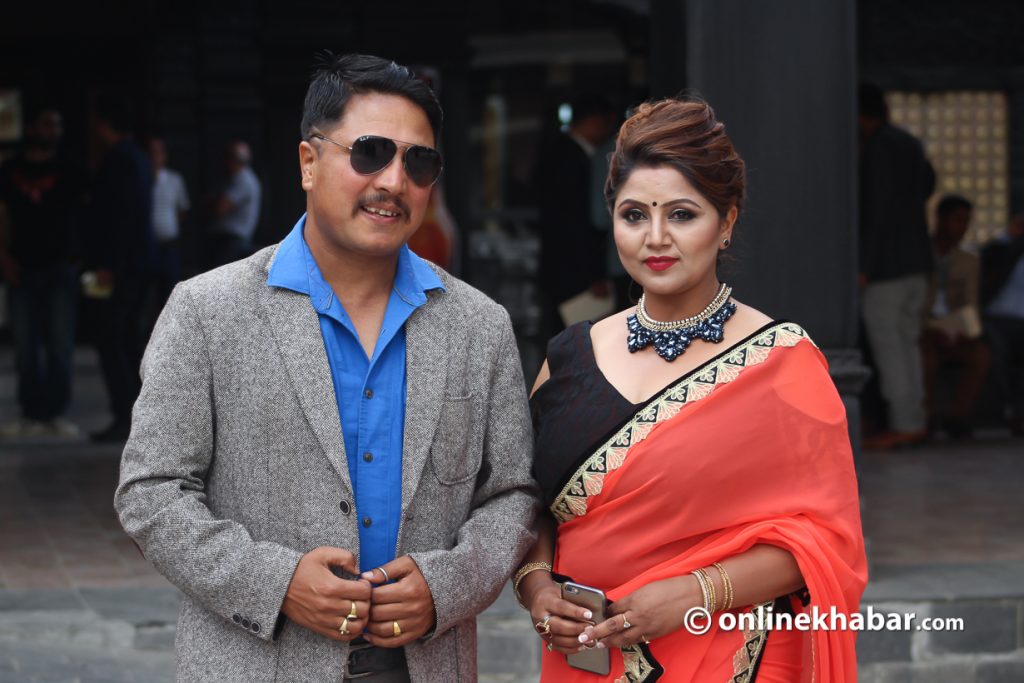 Her happiness went overboard when she received a letter a few months later. It said that she'd won the best newcomer award for her performance in Agnipath.
"With the letter in my hand, I went all over town. I was so happy."
After Aginpath, she got a chance to work in Sangini with Saroj Khanal and Rupa Rana. That, to her, was invaluable as she learnt a lot about acting there.
Having done a few theatre shows, television series and a movie, she felt it was time to leave Biratnagar for Kathmandu. She felt that she would achieve something, but life got that bit harder for her.
Initially, she stayed at her sister's place, but that was not where she could stay long term. Soon, she found a place for herself and moved out.
"I was playing the role of Dhaniya [on a Radio Nepal show] through which I'd earn enough for rent."
That is when she met Deepak Raj Giri who was also in his struggling phase. Giri would do the role of Rambilas on the show.
They were not close, but Niraula did not want to miss out on the opportunity. Initially, she was sceptical, but Giri gave her the confidence that she could do the role.
"He said he'd help me out with acting and that gave me the confidence to do it."
She says she was sceptical because Rambilas was already a hit character on the radio. Nervous, she did not want to be a reason for the failure of the show. Another reason why she was afraid was the show had no script. "It was all impromptu."
But, the show became a massive hit. Both Giri and Niraula were adored by the listeners.
Shows after shows
For her role as Dhaniya, she got Rs 300 a month. She did another radio skit which got her around Rs 200, after which she earned around Rs 500 monthly from Radio Nepal.
"It was a big deal back then. I was making money. I didn't have to sleep on an empty stomach and I felt I didn't have to suffer like I did when I initially came to Kathmandu."
She also got a chance in the cinema when she got a part in Gaunle starring superstar Rajesh Hamal. She had felt that that would bring in a lot of other opportunities to work in Nepali films, but she was never offered the main role.
"I would get sad at first but slowly realised that I wasn't someone who could be a lead."
She wasn't disheartened though. Rambilas and Dhaniya was a hit. That opened doors to many other programmes. People started to call Niraula and Giri to take part in Gaijatra events and other comic shows. She also started to get offers for other shows like Devi, Chhimeki, and different films.
Leading the Tito Satya and Chhakka Panja eras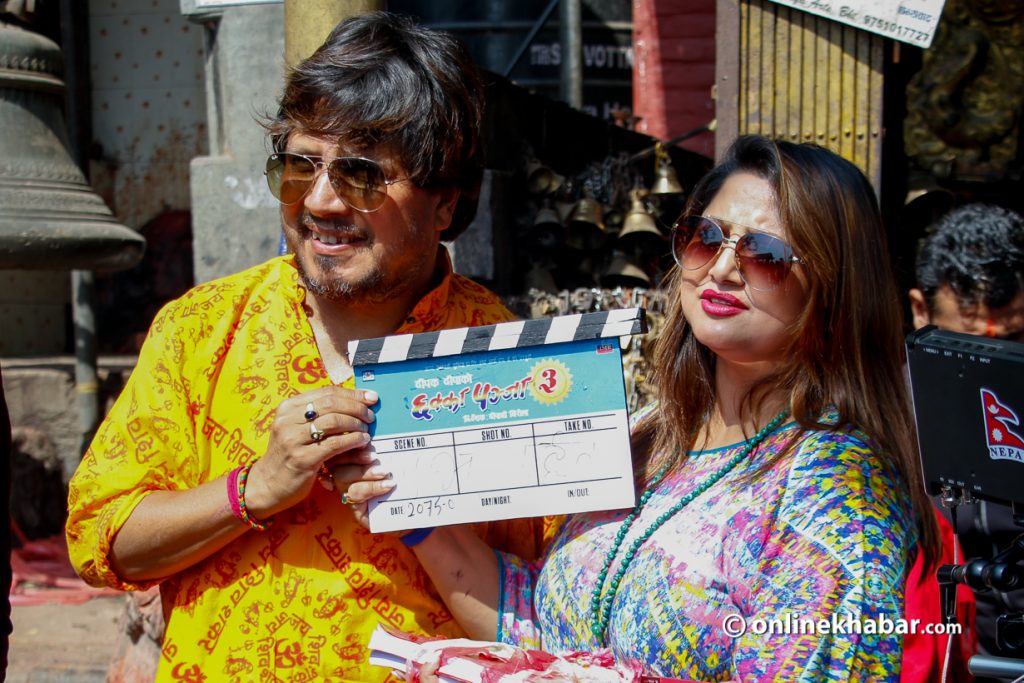 But, she still yearned for something more. Giri for a long time had been making television shows but most of them were dummy projects that had not been accepted by Nepal Television. He had made so many dummies, that people even called him a dummy director. But, he had not lost hope as he came up to Niraula with another project in mind.
"We were young and we had time. We could make mistakes and learn from them and do something that was adored by many."
But during the 90s, comedians were not respected or adored as they are now. But, they did not care. Giri and Niraula together envisioned a sitcom that reflected society. The show would be relatable and spread some form of a message while making people laugh. The show was titled Tito Satya.
"We started by giving them a three-part show, after which they asked for 13. After being received well by the audience, they kept on renewing the show as it kept on going 12 years."
Her career went up after that, but with regular power cuts, television's craze started to diminish. YouTube also did not help her cause, after which she decided that it was time she moved toward making feature films.
"I'd learnt a lot about how to make films and how to edit and that came in quite handy when I started making the Chhakka Panja series."
But, she knows that even this might not be permanent.
"We've been through some really hard times, which is why we know that if we don't continue to work hard, all that we've worked for will go away. But for now, we'll enjoy this moment."