Min Bahadur Bham is an interesting character. Maybe that is why he is a hard man to get hold of.
"I don't like interviews," he says. "If you call me for a hike or for a drink, I'll be easily available. But, for interviews, I'll always be hesitant because I don't think I've done enough in my life to be giving out interviews."
Bham is one of the most fascinating persons in the generally boring Nepali cinema industry. He is neither busy nor is he free. He is in his own world, trying to figure out what he wants to do next. Some days, he spends his entire day watching films while other days, he does nothing as he sits somewhere and meditates for hours.
He is passionate about what he does, but he knows that he is not perfect. That is why he constantly works on himself so that, in years to come, he can smile at the work that he has done in his career.
Childhood
Born in Mugu in Karnali, Bham's childhood, like him, was unique and interesting. His father was a journalist at the Rastriya Samachar Samiti, the national news agency of Nepal, and a photography enthusiast who worked at a telegram office. That is where Bham spent most of his time.
"The telegram was the only means of communication back then," he says. "I used to stay there and write telegrams and send them to people who were working away from Mugu."
He also had to take the telegrams to their respondents. As most people did not know how to, either read or write, he used to read the messages out loud to them.
"I used to love doing that. I must have read around 10,000 messages, maybe even more."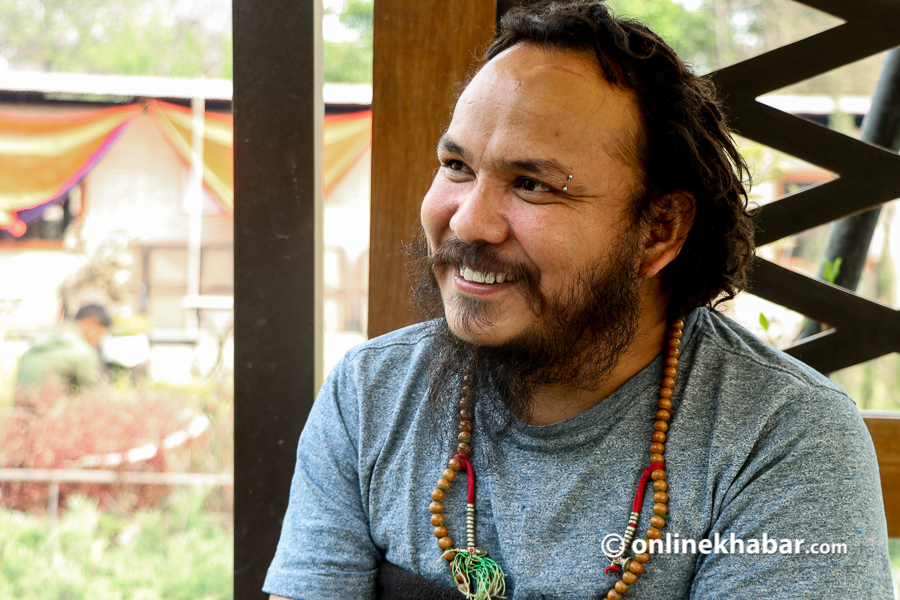 He used to read all kinds of messages. Some would be good while others would be bad. This, he says, helped him understand that life is not always rosy and that there are always going to be bad days.
"I leant psychology and the framework of society at an early age. Maybe that's why I didn't really enjoy my childhood."
He recalls how he wrote fake messages on behalf of the families of policemen and army men as they wanted to come home. Sometimes, he says, he even wrote fake telegrams of their parents dying so that they could come home for some more days.
As he grew older, his father brought home television and he spent his time watching Ramayan, Mahabharat along with films like Simana, Bhagyarekha and Kanyadan on a VCR player.
His curiosity for movies grew as his father also opened a high-vision cinema hall that played both Nepali and Indian movies. But, to his disappointment, his father rarely let him go there. The only time he was allowed was when the entire family was together.
"That didn't stop me. I used to sneak in by bunking school and go with my elder cousins."
He would also spend a lot of his time listening to the radio. Even though he loved talking to himself, he found peace with radio shows. He used to visualise the presenters and think about them regularly. He did not have many friends as he was an introvert by nature. This is why he found solace in small things like reading an old tattered Gorkhapatra or buying Muna children's magazine by saving money received during festivals.
Getting away
But, the time he was in his teens, he was captivated by movies. He wanted to learn more. He knew that if he stayed in Mugu, his parents would make him do things he did not like. He wanted to learn acting and get into the theatre. But, his parents wanted him to study science and become a doctor or an engineer.
That is why as soon as he finished his secondary education, he ran away. The only place he knew where he could learn more about films and acting was Nepal's capital city, Kathmandu.
"I had around Rs 2,700. But, more than that, I had the will to do it and a good accomplice – my maternal cousin who had around Rs 10,000 with him. Both of us decided it was now or never."
It was monsoon; everyone was busy planting paddy. He and his cousin saw this as a chance as the duo boarded a helicopter which often came to Mugu to drop food and other essential items to the village. The helicopter took them to Surkhet, from where they took a jeep to Nepalgunj. He had escaped his village in a pleasingly dramatic manner.
In Nepalgunj, he was free. Free from the bondage of his father's expectations. Free from the boundaries of his home. He was free to go to movie halls. Free to eat what he wanted. Free to roam around like the protagonists in the movies he watched at his father's movie hall.
"Going to movies was cheap there. I normally went to the morning shows. After that was over, I went to eat momo or chowmein and then get back into the hall again to watch the afternoon show and then the evening show."
He spent a month in Nepalgunj. He was having so much fun; he forgot why he had left his home in Mugu. He forgot that his goal was to go to Kathmandu.
"I only realised that when I got broke. That's when my cousin left for Mugu and I left for Kathmandu."
Into the cinematic world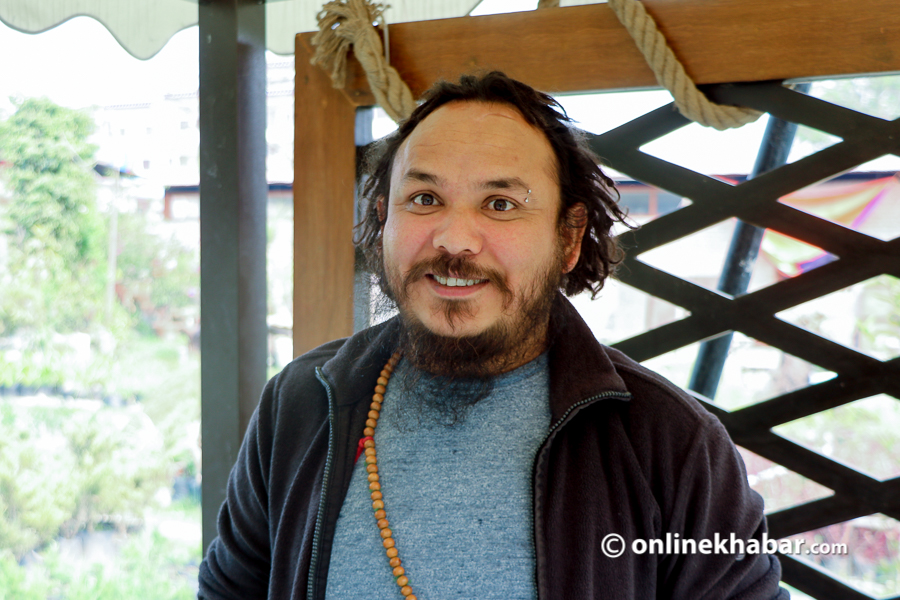 When he came to Kathmandu, he had nowhere to go. He had a cousin living here but was afraid that h would be sent back to Mugu if he went to him. He enrolled to study in the management stream at Saraswati Campus in Lainchaur and stayed at Amrit Science Campus's hostel. He enrolled in management to make his family happy. But, his heart was somewhere else as all he could think of was films, arts and literature.
"I started to go to the Rastriya Naach Ghar on a regular basis. There, I learnt acting. I liked it so much, I then joined Oscar College (to study it formally)."
To make his family happy, he completed his bachelor's in management. But, to keep him happy and stay true to who he was, he also completed bachelors in film studies.
In Kathmandu, he became an avid reader. Whenever he got free time, he would spend it reading a new book.
"I was so much into reading that I even read condolence message on newspapers."
But, he was never a good student, he says, as he never went to college on a regular basis. He spent the time he should have spent in college with friends drinking, eating meat, and gambling although his family was a vegetarian one.
"I'd plan on eating meat after I'd made a feature film, but sadly I didn't fulfil that promise as I ate it after making a short film. I also got a chance to go to Russia and there I even learnt how to drink."
By this time, he was already addicted to cigarettes. Some days, he would smoke up to 100 cigarettes a day. But, soon he quit smoking and says that he can do the same with alcohol and gambling.
"I'm not as hooked towards these things as others. If I want, I can leave it today."
This, he says, is due to his spiritual awakening. He says that there are times he feels he was a monk in his previous life.
"It sounds weird, but that is what I feel."
That is why he often visits the monastery at Namobuddha. That is where he started to envision his one and only movie – Kalo Pothi.
"The basic structure of the movie was formed when I was there. I recalled my childhood and how things were to how I wanted it to be. That is what the movie is about."
No rush
The movie made it big. It was even Nepal's official entry for the Oscars. Apart from that, it made it to a host of film festivals throughout the globe. Since then, everyone has been waiting for another movie from Bham. But, he is in no hurry.
"I'm in no rush. I want to make a movie that makes me happy. So, people will have to wait."
To him, this is more than work. It's what he is passionate about, which is why he wants to wait to make the perfect film.
"I'm content with what I've done in my life. Even if I die without making another film, I'll still be happy. But, I know that I want to make a film and am willing to wait to make a perfect one."