This is the first time I have been reluctant to write a review after watching a movie. I used to enjoy writing reviews of 'distasteful' dirty comedies like Garud Puran and Chauka Dau because I could mock the actors and slam the story with my words, and my readers would believe it. This week's release 'Dal Bhat Tarkari' has the same standard; but I fear my audience is not ready to accept any kind of criticism. This is a production of 'MaHa Jodi', Madan Krishna Shrestha and Hari Bamsha Acharya, who are arguably few of the most celebrated and respected comedians of the country.
But, the movie sucks. It has a cheap story and its exaggerated presentation.
Hollow story
The movie begins with a lengthy family quarrel, boringly acted with artificial dialogues; it ends with a clichéd moral lesson about patriotism and national development. Between them are stale jokes (such as interpreting DV as Dolakha Bhimsen and giving people odd names like 'Jiu Sanchai' by combining initials of the parents), which cannot make the audience laugh.
Later, a character divides his apartment between himself and his wife with a tennis net and breaks every kitchen utensil half when they have a quarrel. In the second half, a person already pronounced dead, comes back to life and flees the hospital. Likewise, several married men run after a lady notwithstanding her opinion about them. Such components are suitable for short YouTube videos, not MaHa Jodi's commercial films.
Not only a few jokes, but the entire story is stale. We have been hearing about people's craziness about migration to the United States and their gullibility in believing in people's tricks to get the visa. This movie poorly parodies a number of news reports about migration fraud and presents them as a family drama.
Several scenes of the movie are comparable to those of some recent cheap comedies. The scene in which three villains—a sadhu, a politician, and a gangster—fall into a septic tank in their desperate bid to escape the arrest reminds you of a similar scene in Chauka Dau. Instead of making people laugh, this scene forces them to be sympathetic about the level of jokes Nepali movies make.
Further, that the migration fraud racketeer of the movie is in the guise of a sadhu reminds you of recent flops like Garud Puran and Jay Shree Daam. Like these two movies, Dal Bhat Tarkari also connects the sadhu with sexual misconducts to please his physical desires.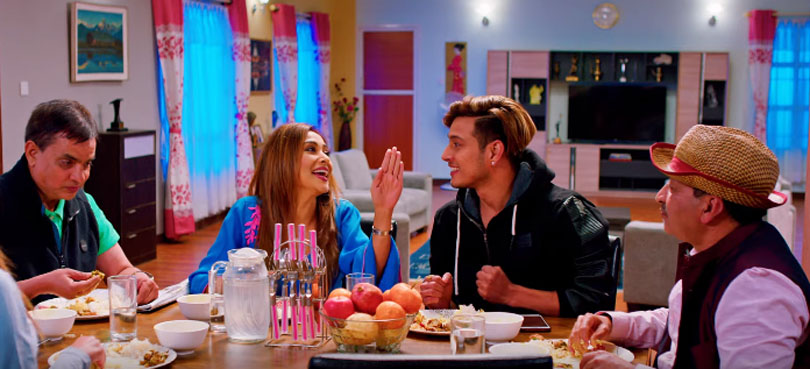 This story is hollow; it does not force you to contemplate on anything. Unlike any artistic production, it does not suggest anything that the audience can feel and understand beyond what they see on the screen. It does not have any metaphor or symbolic imagery. Instead of being symbolic, the movie is loud; instead of being substantial; it is superficial.
Powerless acting
The movie misses its focus as it incorporates too many characters into a single story. The problem is complicated further as no character is well defined. Till the end of the movie, the audience does not have much information about the characters' life, except that they want to go to the US. Consequently, they cannot relate themselves with the characters. They cannot feel that this is the story of their own life and society.
Whereas this problem attributes to the poor script, the director has also failed to make his actors act well. Hari Bamsha Acharya's screenplay lacks vigour. The comedian star might need to rethink taking this role in the next productions. Debuting director Sudan KC needs to learn a lot about cinematography; it is more important when he acts with such a star team.
Acharya's acting and dialogue delivery seem fine, but his female counterpart Niruta Singh cannot meet the expectation. This movie will be a setback in her efforts to make a comeback to the industry. She speaks too loud; and cannot maintain natural intonation in her speech. Her dialogues are too long. Watching the conversation between Acharya and Singh in the opening scene makes you feel that they are rehearsing for a school drama, waiting for each other to complete the statements so that they can speak what their instructor has scripted for them.
From the second generation, Aanchal Sharma, Pushpa Khadka and Barsha Raut are key actors. Their performance can be considered fine for the story does not expect them to be better than jokers. Shishir Bangdel and Robin Tamang have acted well as villains.
The cast also includes veteran comedians such as Basundhara Bhusal, Rajaram Paudel, Shiva Hari Paudel, Kiran KC, Jaya Nanda Lama, and Wilson Bikram Rai. Of them, Rajaram Paudel's role is more significant than others and he appears from the beginning to the end. Others appear only in few scenes. Their characterisation is stereotypical and the audience fails to get any new taste from them.
The movie features Priyanka Karki in a dance. The song is a sensational 'hot item'. Karki's attractive, but exaggerated body movements appeal to a particular group of the audience.
But overall, no one in the movie has the power to keep the audience hooked.
Songs and dances, camerawork and visual presentation of the movie are okay. However, they are in the shadow as the audience is focused on obvious weaknesses in the story and its presentation.
Verdict
Whereas the movie fails to appeal to the critical audience, it even cannot satisfy the mass that is hungry of laughter, apparently because comedy sequels like Chhakka Panja are improving significantly, not only in the style but also in the content.
Adding on the experience with last year's Shatru Gate, this movie suggests that the MaHa Jodi has been incapable of delivering creative contents. If they want to retain their 'legendary' status, they should better stay away from such commercial experiments in the volatile market. It's high time that the MaHa Jodi retired, at least from the big screen.
—
Dal Bhat Tarkari  
Genre: Comedy
Runtime: 125 minutes
Screenwriter: Hari Bamsha Acharya
Director: Sudan KC
Cast: Hari Bamsha Acharya, Niruta Singh, Pushpa Khadka, Aanchal Sharma, Barsha Raut, Kiran KC, Shiva Hari Paudel, Rajaram Paudel, Jaya Nanda Lama, Basundhara Bhusal, Wilson Bikram Rai, Shishir Bangdel, Robin Tamang
1.5/5