A Covid-19 patient at bed number 8 at the high-dependency unit of Narayani Hospital in Birgunj of the Parsa district of southern Nepal is on oxygen support. Beside him, his relative drags another cylinder just in case he needs it. If the patient's oxygen finishes, there is a good chance that he might not survive, which is why the relative is making sure that he does everything he can so that the patient can survive.
The patient's relative dragging an oxygen cylinder for their loved one is a sorry sight, but it is quite common at Narayani Hospital these days. The same scene can be seen at the ICU and surgical wards as well. They are doing so out of desperation as the lives of their family member depends on it.
Relatives of patients at the hospital are worried as the hospital neither has an oxygen plant nor does it have an oxygen pipeline.
Self-help is the best help
Most at the hospital are being given high-flow oxygen therapy (HFOT). But, the problem with the HFOT is that if you do not switch the cylinder on time, there is a high chance that the patient will die.
Sunny Sah from Gaur Municipality says that he is always on the lookout for extra oxygen cylinders so that his father, who has contracted Covid-19, can survive.
"He will die without it," says Sah. "The hospital staff do bring the cylinders when we ask them, but the number of the medical staff here is quite low. I keep one extra with me because I might not get one when I need it."
Sah is afraid because he has seen people suffering from Covid-19 die right in front of him. But, he is not showing it to his father as he continuously encourages him to get better so that they all can go home soon so that he does not have to deal with rude hospital staff anymore.
"The staff here are quite rude. I understand they are working their best in these scary times. But, what good will it do to be rude to us when we ask for help," he asks.
With hospital staff far and few, most relatives of the patients have even learnt how to install/replace oxygen cylinders.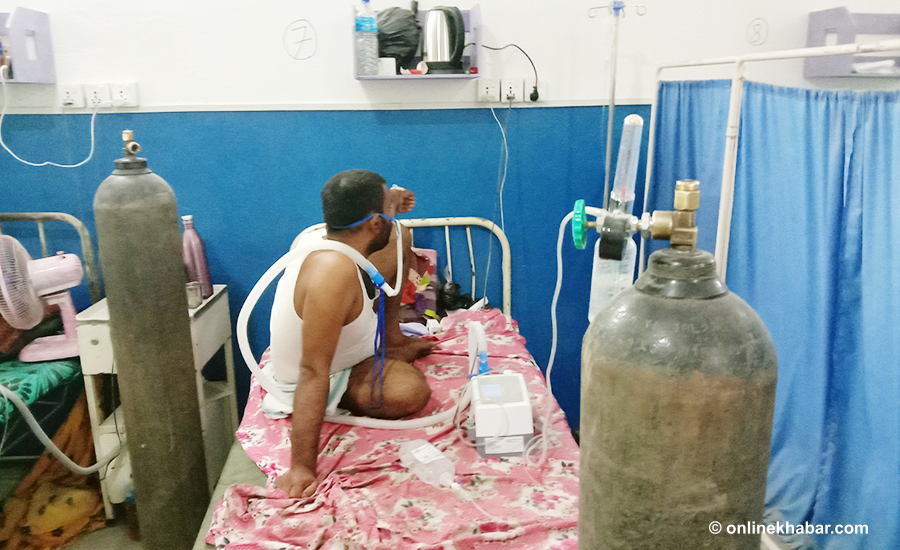 "You don't know when you might need to switch. I learnt because I know that there are not many nurses around and I don't want anything to happen to my relative," says a relative of a Covid-19 patient.
Most fear that due to the lack of health workers, things can go horribly wrong at the hospital.
"There are ventilators, but not enough people who know how to use. That is a real concern," says Rajendra Prasad Rauniyar from Jitpur, Bara.
Thirty-three-year-old Arun Yadav had to endure even more trouble at the hospital. He says, "It took me nearly 11 days to get a bed at the hospital. But, now, even though he has, another problem plagues him.
"I get very anxious nowadays," he says. "What will happen if the oxygen finishes? If I don't use it for five minutes, I feel that I might die. My life depends on it."
The hospital, however, says that the patients and their relatives are panicking needlessly by collecting extra cylinders as it feels there will not be a shortage of oxygen. The hospital says that it has 500 cylinders, out of which only 100 are currently in use.
Hospital itself needs extra care
Even though the number of patients has risen, the number of health workers at the hospital has not and that, according to Yadav, will cause a lot of problems if more people are admitted into the hospital.
"They work tirelessly, but they clearly need help," says Yadav.
Patient's relatives also complain about the hospital's toilets.
"It was clear that such a day would come. Yet the hospital is not prepared. The toilet that my relative uses doesn't even have lights. It's worse than a public toilet," says a patient's relative.
What makes things even worse is the patients and their relatives use the same toilet which increases the risk of transmission. Only the staff have separate toilets.
The 17-bed HDU and nine-bed ICU are all full. Due to patients being admitted and discharged on a regular basis, the both wards are dirty. But, the hospital management has disregarded people's complaints and has not bothered to clean it.
But, the nurses at the hospital say that the patients and relatives litter the ward excessively despite being told not to do so.
Emotions run high at both of these wards. Some are seen crying on the phone while some are seen yelling at the hospital and the nurses. There are some who, after recovering from Covid-19, are seen thanking the doctors and nurses, tears in their eyes.
Need vs capacity
The hospital has set aside 112 beds for Covid-19 patients. Only people who are in dire need of oxygen are admitted to the hospital. Since March 28, the hospital has admitted 221 Covid-19 patients. Out of that, 100 have already been discharged while 32 have lost their lives. As of May 6, the hospital has 80 patients.
Dr Mohammad Anamul Haque of the hospital says it has not been able to function efficiently as it is understaffed.
"We're trying our best, we really are, but we aren't being able to manage things as we would like to as we don't have enough human resource," says Haque. "I get calls at 1 am asking for beds. We are adding 70 more beds, but we need help when it comes to doctors and nurses."
But, those who are there are working day and night.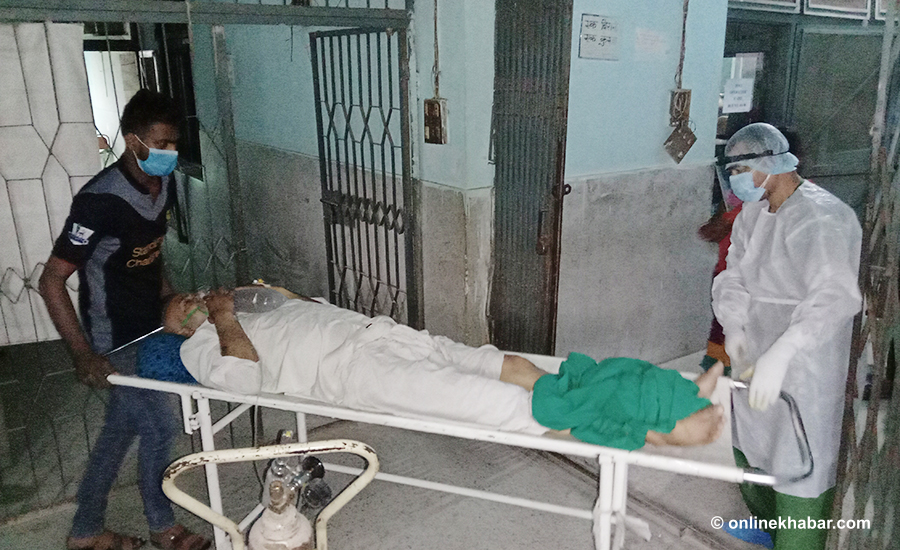 Dr Saroj Roshan Das is drowned by questions as soon as he enters one of the wards at the hospital. Some ask him if they will live, some others complain of chest pain. With three masks on, Dr Das, who is the Covid-19 coordinator of the hospital, answers each of their questions as he goes from one bed to another.
"These are stressful times," he says. "The only time I feel good is when no patient dies of Covid-19 at the end of a day. I don't care if the hospital is full. I just don't want people dying, but it's out of our hands."
He says that most of the patients who come to the hospital are serious and in need of critical care. They are in desperate need of oxygen. Some patients who are brought in have oxygen saturation level as low as 30. Even when they are given oxygen via the HFOT, their oxygen saturation does not improve, after which they are kept in the ventilator. The hospital only has 17 ventilators, he says, adding those who are on the last breaths are even kept in an invasive ventilator to keep them alive.
According to Dr Das, even young adults with no prior history of chronic diseases are also suffering due to Covid-19. He fears the situation will get worse due to community transmission in most parts of Birgunj.
"We tell people not to enter the ward, but they argue with us, yell at and enter. So, we've allowed one person the permission to get in," says Dr Das. "Many come out of fear. They could stay home and recover, but out of fear, they come to the hospital."
Power of privilege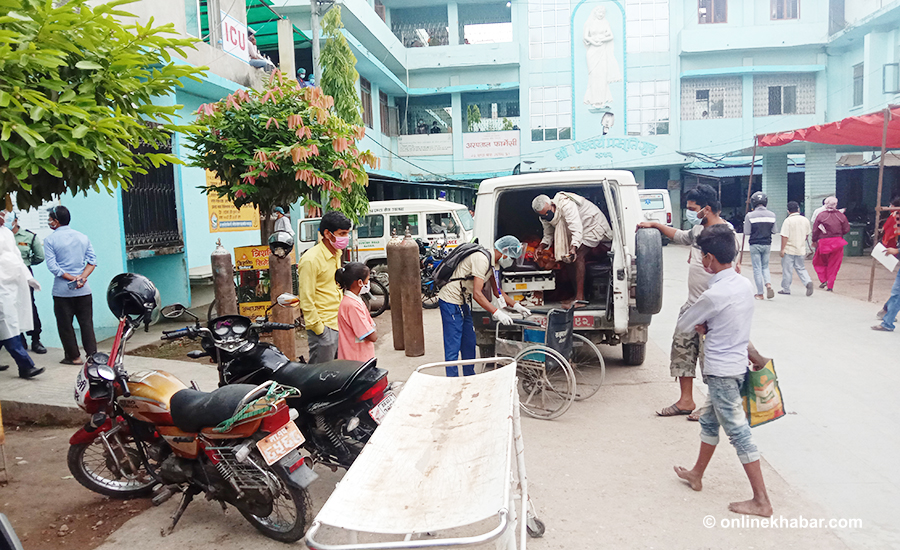 A problem plaguing a lot of hospitals in Nepal is the power of influence. It was around 1 pm on a recent day when Dr Das got a call from someone from the district committee of a major party. As he was busy, he did not answer. After a few minutes, he got a call from the medical superintendent of the hospital Sanjay Thakur, asking him to attend to a patient who was in a critical state.
After a while, a crowd entered the hospital with 45-year-old Kaushaliya Devi who was having trouble breathing. She was kept at the Gandak Hospital since May 3, but after her health deteriorated, her family used their influence to get her to Narayani Hospital.
"She got ill after attending two weddings," says one person accompanying her. "Please help her. Her oxygen saturation level is below 45."
The 45-year-old is rushed straight into the HDU. Doctors, not even having the time to put on their PPE, go inside with her as they put her on oxygen support with the help of a CPAP machine. Gradually, her oxygen level improves to 80 and looking at that, the doctors leave the room.
Just as Dr Das leaves the room, he is asked to come to see another patient at the surgical ward whose health is deteriorating. He rushes to the ward. But, before he gets there, the 52-year-old patient has already died.