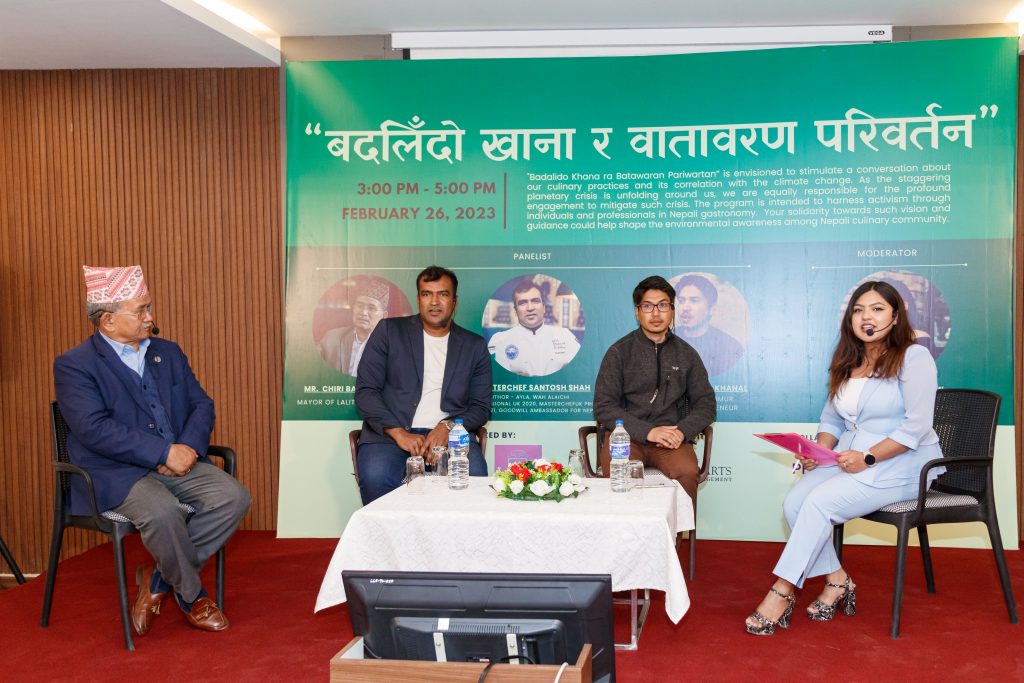 Kathmandu, March 2
Coffee at Anu Books (CaAB) and the Academy of Culinary Arts (ACA) organised a panel discussion on February 26, titled Changing Food and Climate Change at its premises, which aimed to initiate a climate dialogue.
The event was one of the collateral events of Photo Kathmandu's Mindful series and was moderated by Anaida Nakarmi, ACA alumni and owner of Ganvi's Eatery.
The programme was well-attended and featured prominent panellists, including Lalitpur Mayor Chiri Babu Maharjan, UNDP country representative Ayshanie Medagangoda-Labe, master chef Santosh Shah, and food writer Prashanta Khanal.
The discussion emphasised the impact of climate change on food and sustainable solutions such as producing rooftop vegetables, managing fertile lands, and reflecting on nature to produce local grains and food.
Ashes Maharjan, the chairman of the Academy of Culinary Arts, emphasised the importance of private sector commitment to fulfilling Sustainable Development Goals, while Amir Raj Thapa, the curator of Coffee at Anu Books, highlighted the programme as an action towards SDG in Nepal. The event was followed by authentic Nepali cuisine prepared by ACA students.
Ayshanie Medagangoda-Labe appreciated the programme for stimulating climate dialogues and urged policymakers and the government to bring policies to save fertile lands and get youth into farming.