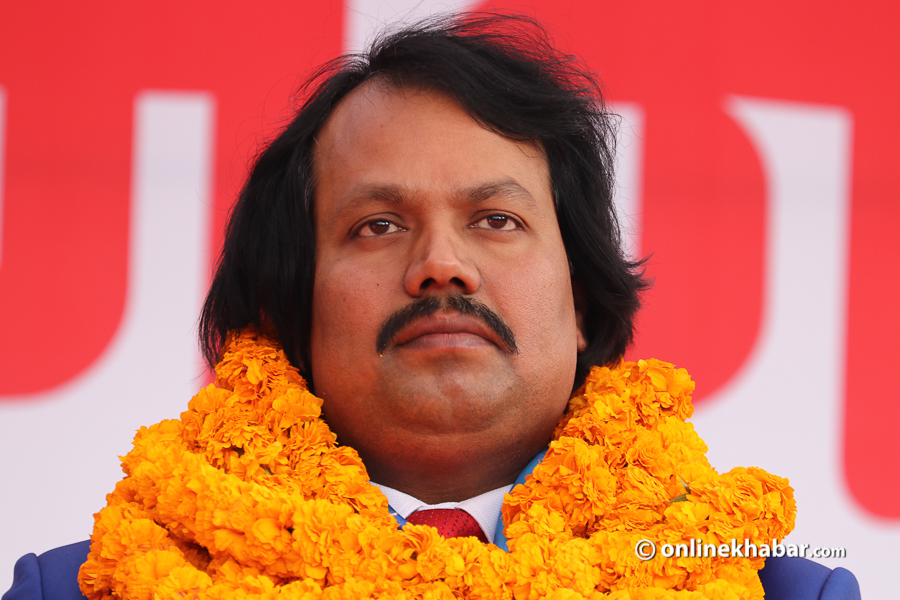 Chandra Kant Raut, alias CK Raut, who frequently creates buzz in national politics has made his first federal election interesting as well.
Raut has defeated Upendra Yadav, the most prominent spearhead of the Madhesh movement, to represent Saptari 2 in the House of Representatives. Raut has secured 35,042 votes while Yadav has been restricted to 16,969 votes.
It means CK Raut's identity will see a sea change as he is elected a member of parliament.
His controversial background
While Nepal was going through the insurgency, CK Raut was studying in the USA. He returned to Nepal in 2006. Back then, he formed an organisation called Swatantra Madhesh Gathabandhan.
As the monarchy collapsed, the country entered the new phase of loktantra. Raut again went back to the USA after forming an organisation. Afterwards, he returned to Nepal in 2012 and published a manifesto that shook Singhadarbar, the central administrative complex, to the core. While the country was having a debate on the provincial system, he came up with an agenda to make autonomous Madhesh.
His protests to make Madhesh autonomous were considered as an anti-national movement by the government. He was arrested many times. But, Raut, who was holding a secessionist protest, unexpectedly made an agreement with the government.
After signing the 11-point agreement in 2019, Raut freely stepped into politics. However, the government was still pessimistic towards him as he was frequently seen discussing referendums. After an agreement with the government, he formed his own party, Janamat Party.
The parliamentary journey
After forming the party, CK Raut quit the agenda of the referendum. Afterwards, he peacefully started doing Madhesh-centric politics. His involvement in politics has been well received by the public of Saptari 2.
Madheshi political analyst Tula Narayan Sah believes that Raut has emerged as an alternative to Upendra Yadav. The downfall of Yadav has benefitted Raut.
"Yadav's identity was created by the Madhesh movement, but lately his identity has been weak," says Sah.
People close to Raut believe that his decision to compete against Yadav has made him the new leader in the region.
Analyst Sah says the personality of Raut has made him win elections rather than this agenda. "Madheshi people didn't have faith in Raut's agenda, but his personality had a great influence on them."
Sah says that the Madheshi youth are more inclined towards Raut.
Raut made an effective campaign for the elections. While Yadav was appealing to the people for votes in a traditional way, Raut's focus was on social media and youth living abroad.
His agenda was also different from other Madhesh-centric parties. While others were talking about Madhesh's rights, Raut pledged to end corruption and establish good governance.
Sah says that Raut has been successful in changing his past identity. However, it is yet to see whether he will show his lust for power as the previous Madheshi leaders.
---
This story was translated from the original Nepali version and edited for clarity and length.