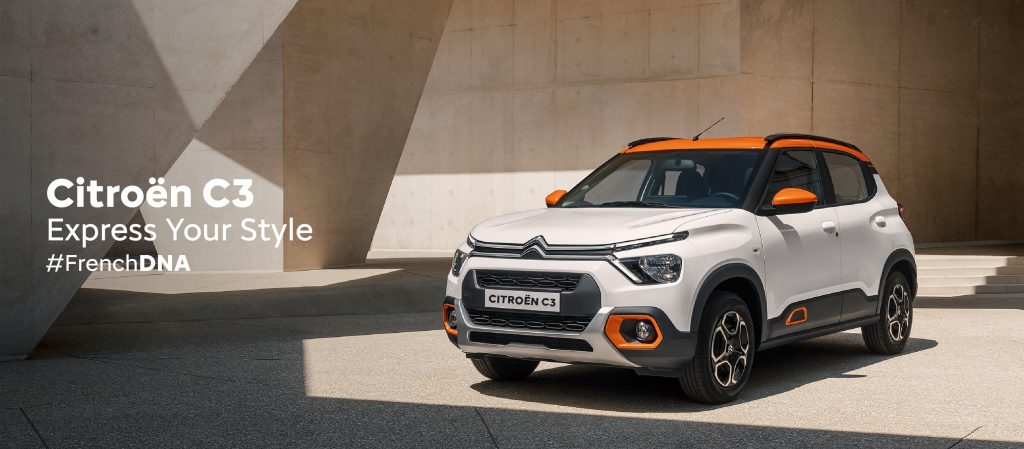 French company Citroën has brought its compact SUV, Citroën C3, to Nepal. With funky orange accents and aggressive styling, the SUV's looks are sure to bring road attention.
The car is made in India and has won the 2023 World Urban Car Award. The car, with the features it offers in the budget car price range, has already pulled many people towards it there. This is unlikely to be false in Nepal's case as well.
So let's see what the award-winning car boasts with the two options available in Nepal.
Specifications
Dimensions
Length: 3981mm
Width: 1733mm
Height: 1586/1604(with roof rails)mm
Wheelbase: 2540mm
Ground clearance: 180mm
Kerb weight
Live: 985kg
Feel: 982
Engine displacement
1198CC
Engine type
1.2L PureTech
Maximum power
60kW @ 5750rpm
Maximum torque
115Nm @ 3750rpm
Tyre
195/65 R15
Spare wheel
165/80 R14 Steel
Brakes
Front: Disc
Rear: Drum Disc
Suspension
Front: McPherson Strut with Coil Spring
Rear: Twist Beam with Coil Spring
Transmission type
Manual
Gear
5-speed
Fuel tank capacity
30 litres
Boot space
315 litres
Seating capacity
5
Colours
Polar white | Zesty orange | Platinum grey | Steel grey
Price
Live: Rs 3,449,000
Feel: Rs 3,649,000
Design
Exterior
Citroën C3 has the same design language that can be seen in other Citroën cars in recent years. It has a bold and aggressive look with the two metal-like lines in the front with the Citroën logo. There are two LED daytime running DRLs at the end of the metallike lines. Just below the LED DRLS are the main headlight which provides good lighting during the nighttime.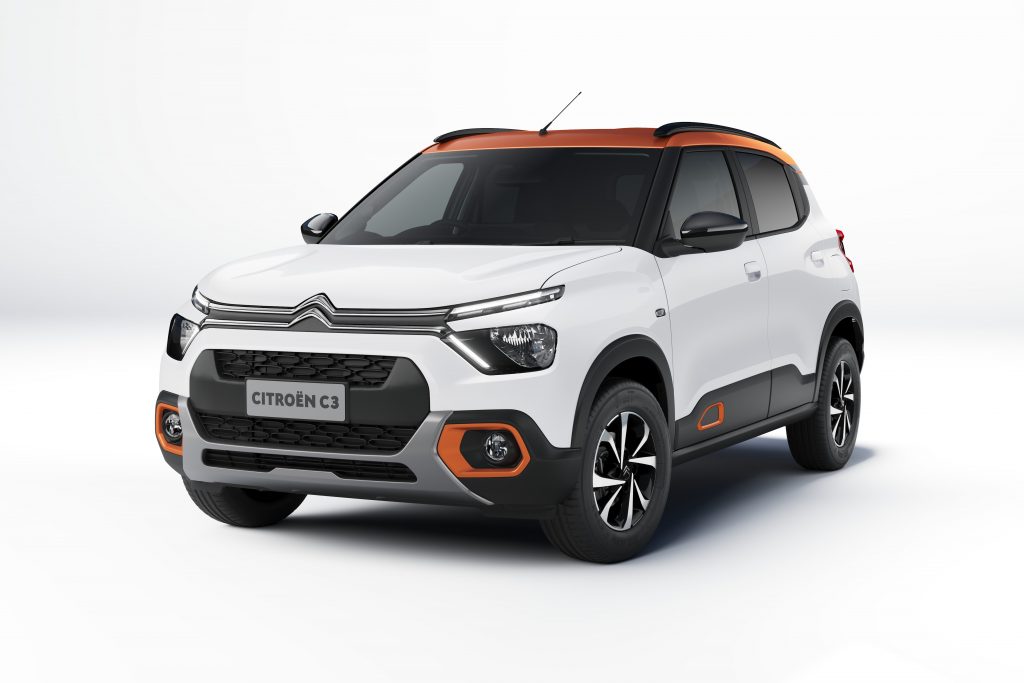 The fog lights are found on the bottom like most of the cars with an orange accent around it. These orange accents can be found all over the exterior of the car. The sides are similar to most the compact SUVs with black and orange accents on the bottom half. The door handles are not grab handles, but old-school ones. These small things have made Citroën C3 cut prices and get its name in the budget car category.
The rear end of Citroën C3 is simple with standard tail lights and a Citroën logo. The ground clearance is pretty good 180mm, favourable for the rugged roads in Kathmandu. The roof rails are black and bring a contrasting look to the orange roof.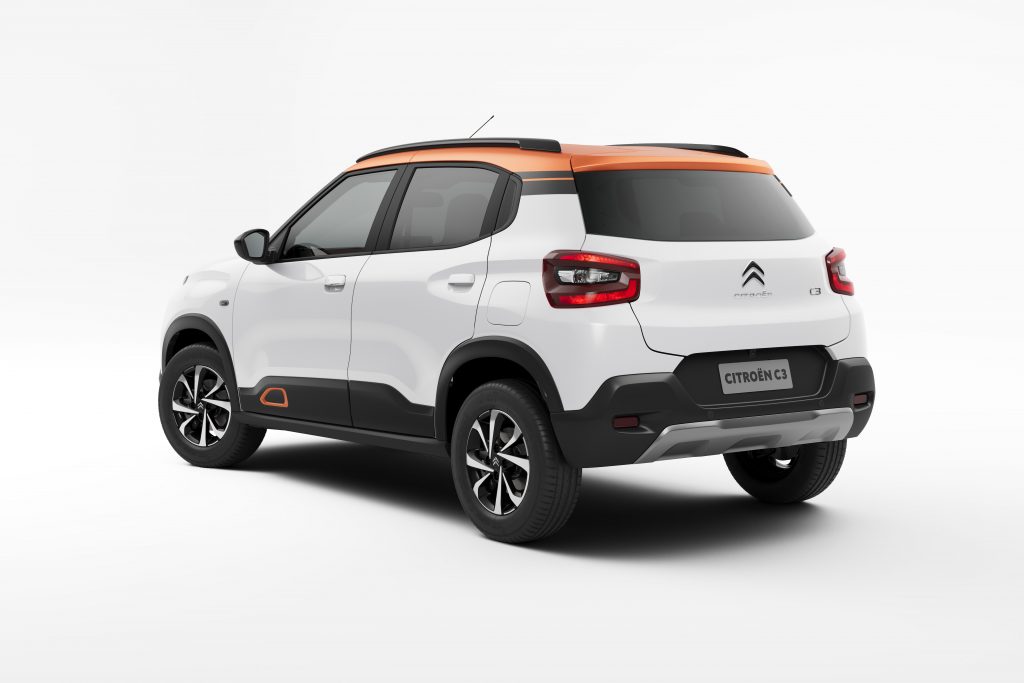 Interior
The interior of Citroën C3 is also lively with the Anodized Orange colour option in the dash. You also have the option of an anodised grey colour option if you do not want the orange one. There is a 10.2-inch infotainment display with wireless Android Auto and Apple Carplay. There are four speakers in total which sound okay but distort in the max volume. The AC vents are just below the infotainment system and the climate controls system is below the AC vents.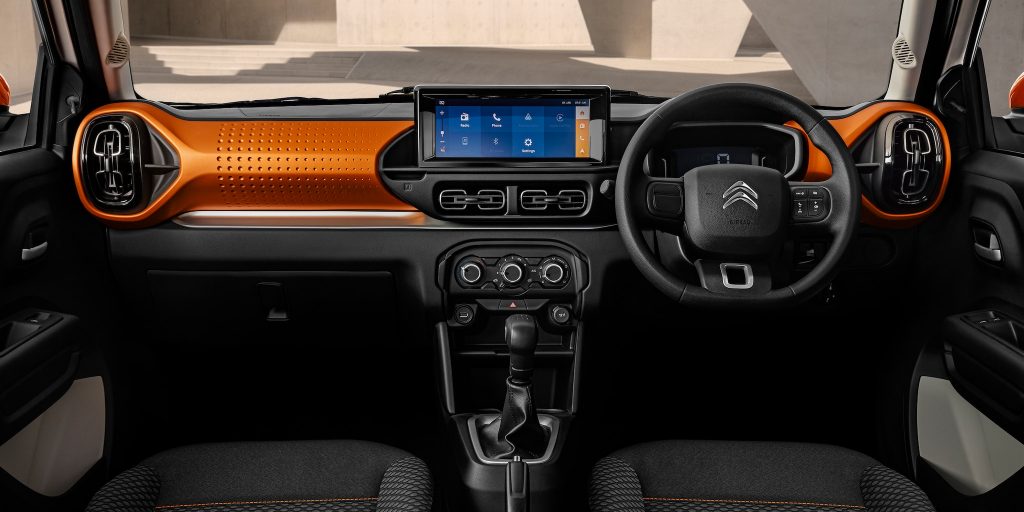 The steering wheel is basic, with the left side being empty and the right side having the audio controls. In front of the steering wheel, there is a digital instrument cluster where you can see information such as speed, fuel gauge, temperature gauge, distance to empty and trip manager. It, however, does not have the RPM metre.
The centre console is sturdy including a gear shifter, handbrake cupholder and rear passenger windows buttons. The rear windows already have their own power windows in their respective doors but are also available in the centre console, which is quite odd.
The seats are also comfortable with headrests and under-thigh support. Five people can seat in the car with two in the front (including the driver) and three in the back. The back seats are also comfortable with quite good legroom and headroom. The back seats fold down to add up to the available 315 litres of boot space.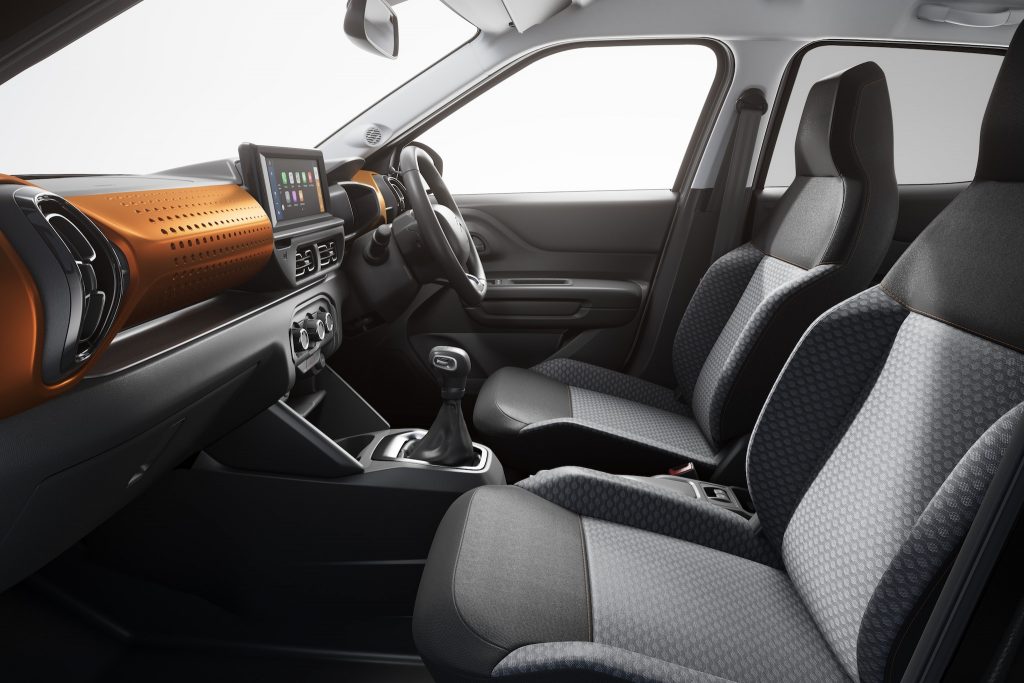 Citroën C3 has a good amount of storage space too. The centre console has a few compartments and cup holders where you can put small bottles or coffee cups. The door pads also have a good amount of storage where big bottles can also fit easily.
Performance
Citroën C3 delivers impressive performance with its 1.2L PureTech petrol engine. This three-cylinder engine has a displacement of 1198 cc, generating a maximum power output of 82 PS (60 kW) at 5750 rpm and a peak torque of 115 Nm at 3750 rpm. The C3's engine strikes a balance between power and efficiency, providing a satisfying driving experience.
The fuel efficiency of the car achieves a rating of 19.8km/l as certified by a testing agency. Paired with a 5-MT (5-speed manual transmission), Citroën C3 offers smooth gear shifts and enhances control over the vehicle. With a fuel tank capacity of 30 litres, it provides a decent range before requiring refuelling.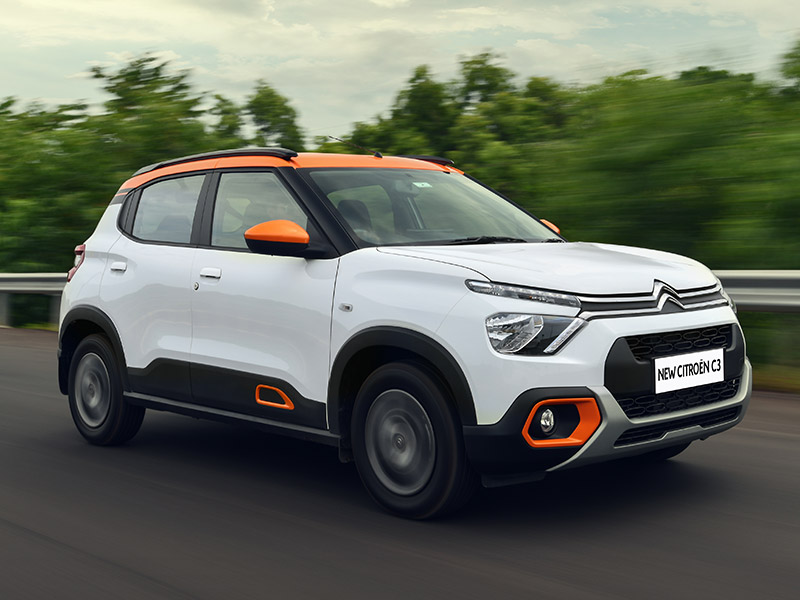 It features a suspension system that consists of a front MacPherson strut with a coil spring and a rear twist beam with a coil spring. For braking, Citroën C is equipped with front disc brakes and rear drum brakes. The front disc brakes offer efficient stopping power while the rear drum brakes provide reliable braking performance.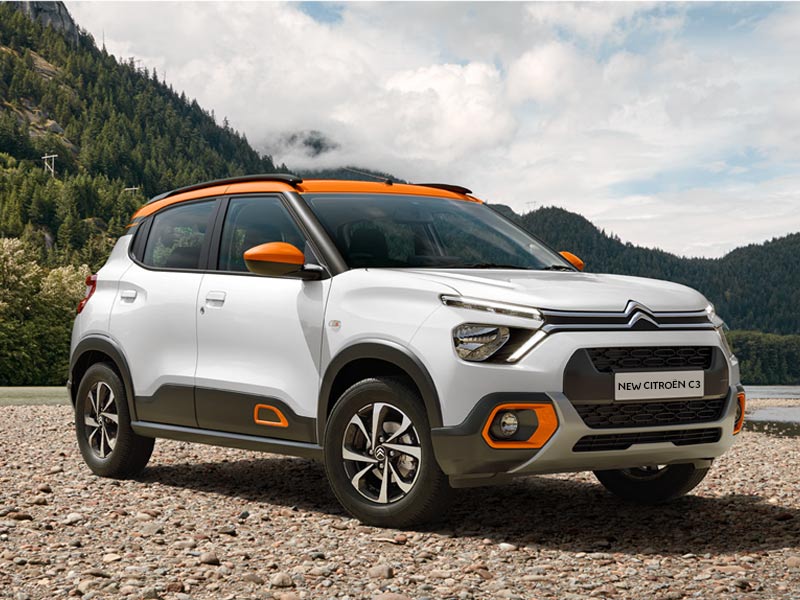 The SUV comes with electric power steering, which enhances manoeuvrability and ease of steering. The minimum turning circle radius is 4.98 metres. The tyre size is 195/65 R15, providing a good balance of grip and comfort. The spare wheel, on the other hand, is a 165/80 R14 steel wheel, serving as a reliable backup in case of emergencies.
Safety
Citroën C3 prioritises safety with a range of features designed to protect occupants. It is equipped with dual front airbags, providing essential protection in the event of a collision. For added convenience and safety, it is equipped with reverse parking sensors. These sensors assist the driver in parking and manoeuvring the vehicle in tight spaces, reducing the risk of collisions while reversing.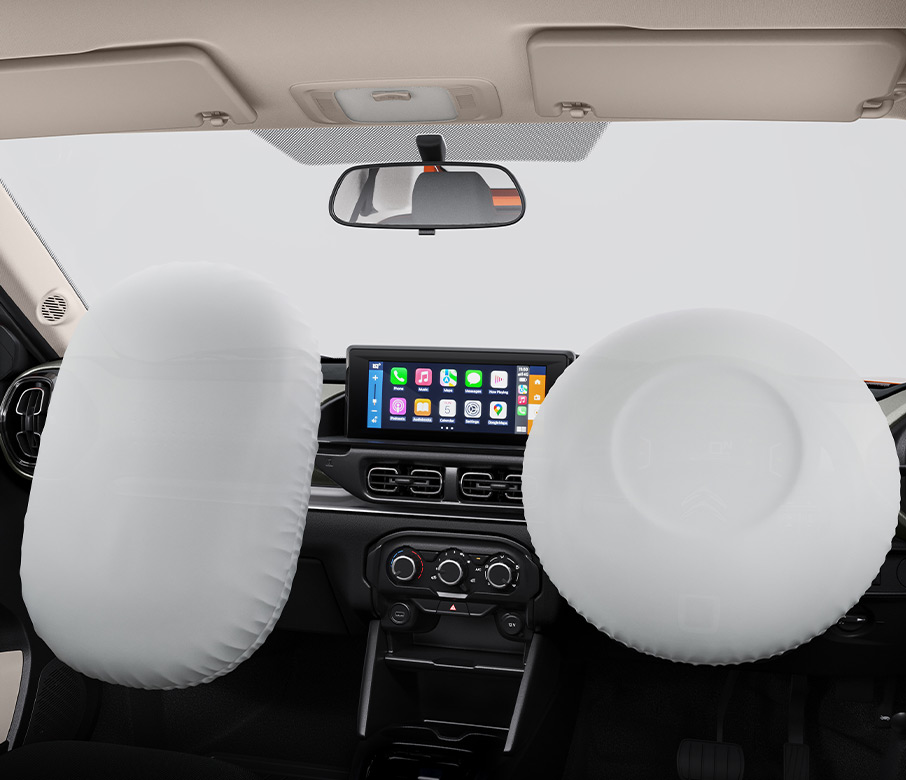 It features ABS (anti-lock braking system) and EBD (electronic brakeforce distribution), which prevents the wheels from locking up during hard braking, maintaining steering control and reducing stopping distances. EBD optimises the distribution of braking force among the wheels, enhancing stability and control during braking manoeuvres. In terms of safety ratings, Citroën C3 has achieved a global NCAP safety rating of 4 stars.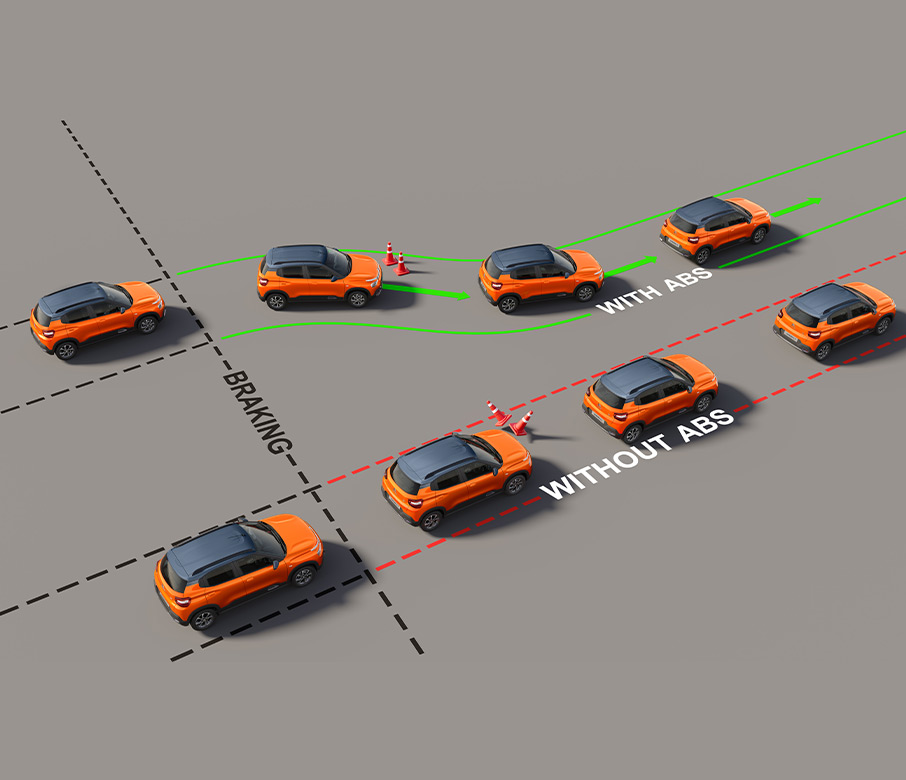 Citroën C3 is available in four colours in Nepal: polar white, zesty orange, platinum grey and steel grey.
The prices of Citroën C3 in Nepal for the Live and Feel options are Rs 3,449,000 and Rs 3,649,000 respectively.