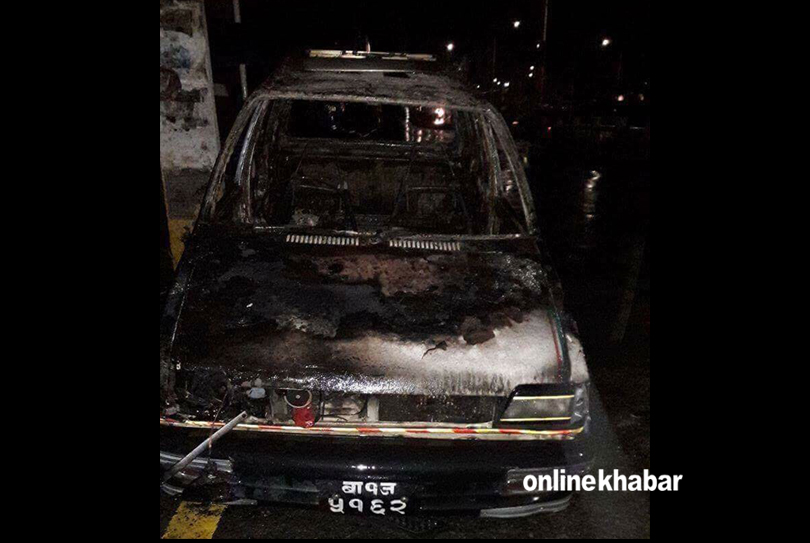 Kathmandu, July 25
Cadres of the Biplav-led CPN-Maoist torched two taxis at Naya Baneshwor and Samakhusi on Monday in a bid to enforce their strike meant to protest state atrocities against landless people.
At Minbhawan in Baneshwor, they set a taxi numbered Ba 1 Ja 5162 ablaze, whereas in Samakhusi they set the taxi numbered Ba 1 Ja 286 afire.
Police said those posing as passengers set the taxi afire at Minbhawan after dousing it with petrol. Police said further investigations into the incident are underway.
In Kathmandu, owing to the strike, public transport have stayed off the road, but private vehicles have been plying, police said.
Meanwhile, strike enforcers set afire a mini-truck heading for Kathmandu from Chitwan with medicine at Ratnanagar.
Police are escorting vehicles along the East-West Highway.
Chitwan district police office said police personnel are providing security to vehicles headed for their destinations.
In a bid to normalise life during the strike, police are escorting vehicles, Chitwan district police office chief, superintendent of police Basanta Kunwar, said.
Kunwar said police are helping keep the transport system operational by escorting vehicles from Aptari, Pulchok, Central Bus Park and Gondrang.
Narayangadh, the main market in Chitwan district, wears a deserted look. Factories and educational institutions have shut. There's no problem in resuming vehicular movement along the highway, Kunwar said.