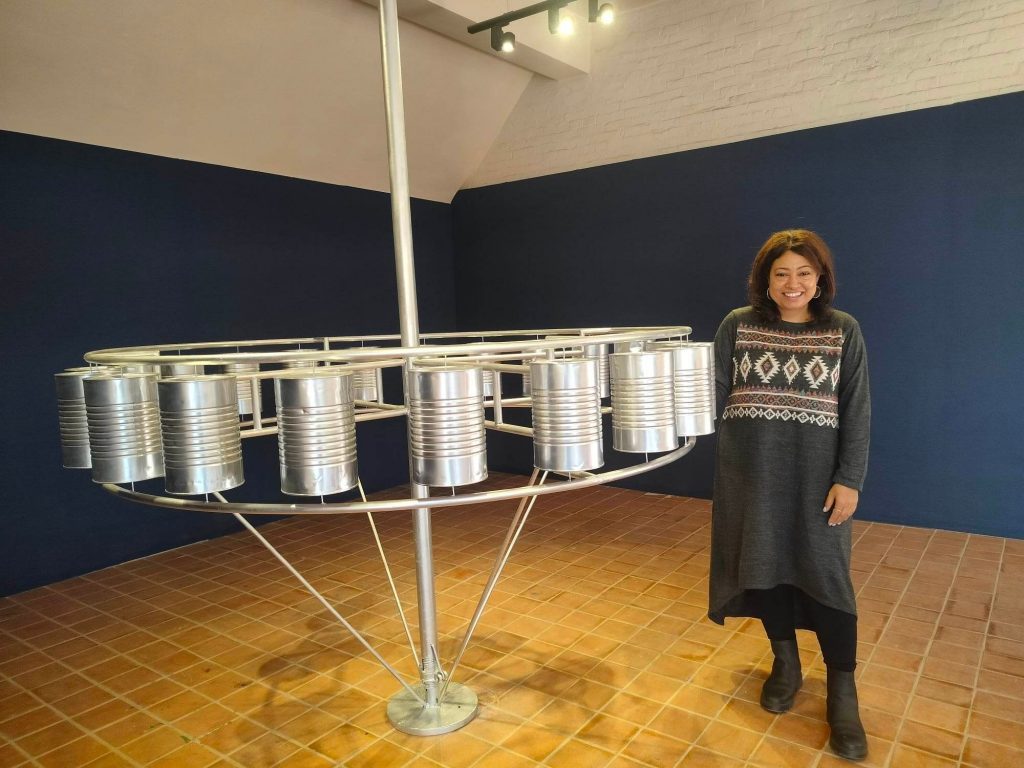 While you enter the Contemporary Art Gallery of Taragaon Museum, Boudha, you witness a huge object made of steel. It has similarities with small-sized prayer wheels (maane) found around Buddhist shrines and indeed it is an interactive installation. The audience can spin 21 empty steel cans in a circular motion.
The prayer wheel, a religious motif seen around Buddhist shrines decorated heavily with Tibetan prayer mantras and Astamangal symbols in vibrant colours, is believed to heal the one who is spinning it. These wheels are also seen in high altitudes in Nepal. Due to their religious belief, whoever is travelling to high altitude gets a sense of protection, healing and relief once they see them.
Artist Bidhata KC who visited the Manasalu region in 2007 too got the same feeling while spinning maane wheels there. But, the wheels she was spinning were not the traditional wheels made up of wood or metal but of metal cans. Then, a question came to her mind: How these empty tins could help me give relief at this altitude?
And only in 2023, she became capable of transforming its answer to that thought with an interactive installation titled Out of Emptiness, curated by the museum director Roshan Mishra.
Out of Emptiness
Out of Emptiness is the sixth edition of the single object exhibition Object in Focus, which aims at focusing on the artist's work that is the object, the artist and their ideas.
A single-object exhibition is a concept, which would allow viewers and artists to look, see and think of contemporary art from a completely different perspective.
The object currently exhibited is the result of artist Bidhata KC's ongoing research of Himalayan heritage and culture. Her art explores the interconnectedness of discarded canister cans with daily life, culture, globalisation, consumerism and geographical borders.
Mishra shares, "She explores duality and plurality in human material culture, as well as the physical characteristics of a society."
Moreover, she has carefully examined the objects created or modified by people to meet their needs, and how they changed through time.
Her tin cans transformed into prayer wheels incorporate spirituality, cultural norms, faith and belief. "Her work clearly implies that culture and its values cannot be boxed; they are fluid and will form up as needed," he adds, "Visual artist Bidhata KC has filled the hollow cans with spirituality, unseen prayers and ritual writings."
The symbolism
Bidhata KC, who has been in the art field for around two decades now, says that art for her is an expression visually transformed that impacts the audience directly or indirectly.
"I want my audience to feel healed; I want them to read and hear the chants where they spin the hollow cans," she adds, "we live in a modern society, where we are surrounded by commercial products and we produce waste, but the people from the Himalayan region are consciously or unconsciously modifying waste to something that is culturally significant to their lives."
Out of Emptiness was inspired by her travel memories, observation, experiences and her attachment to the Himalayan region's culture and community.
Bidhata KC says that the meaning of life might be emptiness yet like the movement of the maane wheels, which gives a sense of meaning and being; similar to the maane wheels, your life could be empty yet your movement determines its definition.
The exhibition that began on February 11 will continue till February 15.