No doubt, you have heard people say "You should have come here five years ago."  What they mean is great tourist destinations change quickly and even in a short time, things change, usually not for the better!  I would like to introduce you to the Manaslu circuit trek this way.
Outranking Annapurna Base Camp in terms of popularity among those of us 'in the know', Manaslu circuit can be considered one of the best treks in Nepal.  Hence, I recently did this trek. I have an ideal 13-day itinerary for the Manaslu circuit trek you can follow, Kathmandu to Kathmandu.  Let me give you some details.
The boring bit!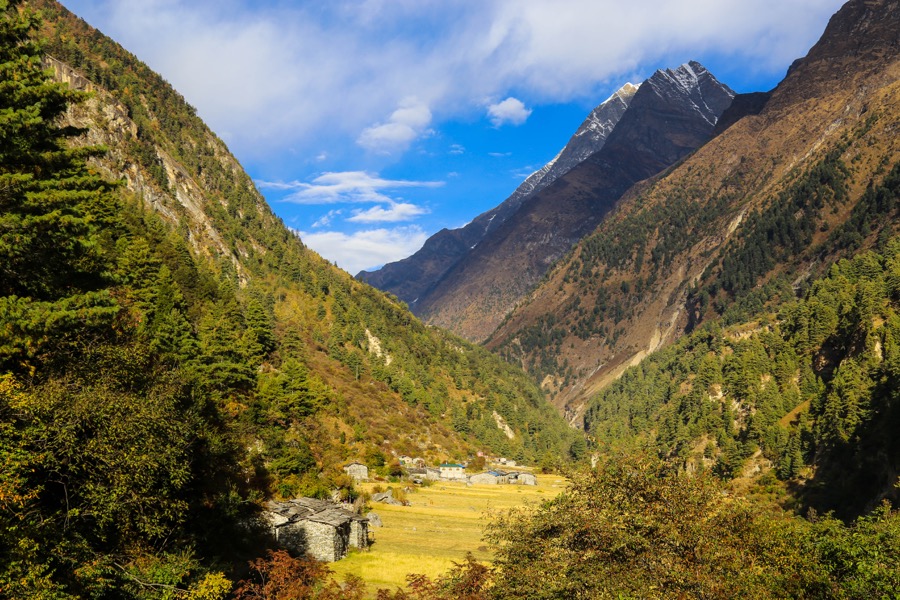 Get yourself to the Dhading Bus Park  (why do they still call it 'new'?).  Then, get on a local bus to Soti Khola.  Actually, you have to get a bus to Arughat, then change to another bus or jeep to Soti Khola.  It takes around six hours to reach Arughat, then another hour to reach Soti Khola.
I recommend you reach the bus park early in the morning so you can reach Arughat in the early afternoon.  If you are lucky, there will be other adventurers on the bus.  Definitely, you will want someone to talk to on the way.  But, maybe not during the bumpy rough last hour from Arughat to Soti Khola.  It is difficult enough to hold on to the seat as the bus leaps from pothole to pothole, so never mind trying to hold a conversation!   If you have a group of friends, you can always hire a private jeep from Kathmandu. But, where is the fun in that?
The trek begins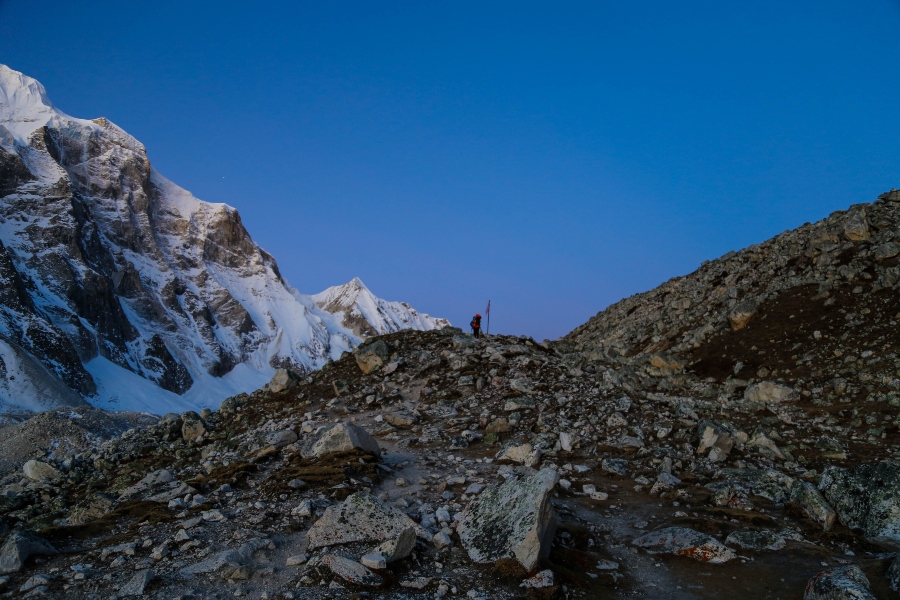 After a good sleep, I start walking north towards the source of the Budhi Gandaki river. Currently, you are in Gorkha, but after crossing the Larkya La Pass, you will be in Manang. If you want to save a few hours at the start, there is an under-construction road that takes you from Soti Khola to Machha Khola.  You will have to hire a local jeep though.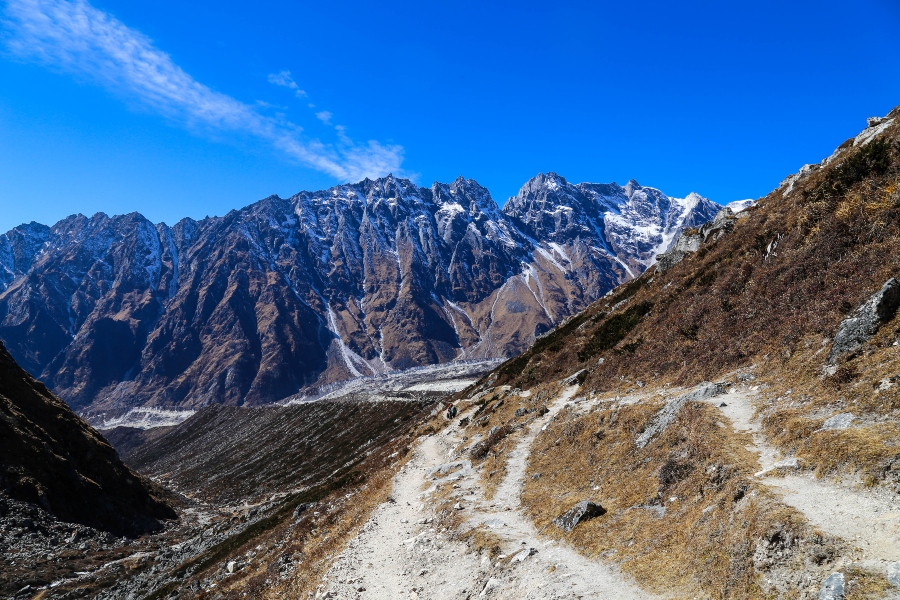 I am not sure whether there is a regular jeep service currently, but I am sure it will come in the future.  In the meantime, it is a relatively easy four-hour walk to Machha Khola where you can stop for the night unless you are hardcore and can push towards the next village.  But, I stop in Machha Khola where the accommodation is the last 'good' room I have on the trek!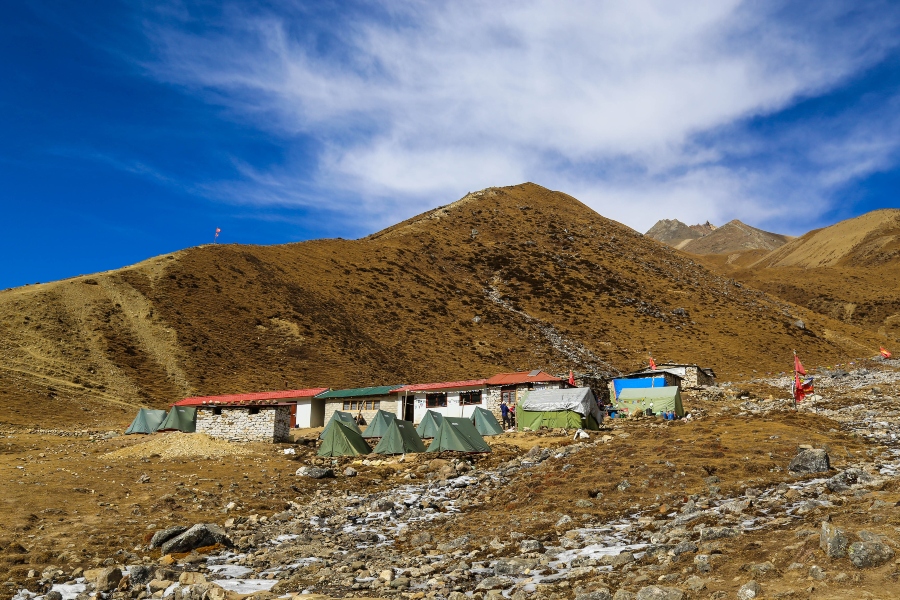 The next day is long – seven hours from Machha Khola to Jagat, but there are waterfalls, an interesting cliff painting of Buddha and hot springs on the way!  Here, you also enter the Manaslu Conservation Area.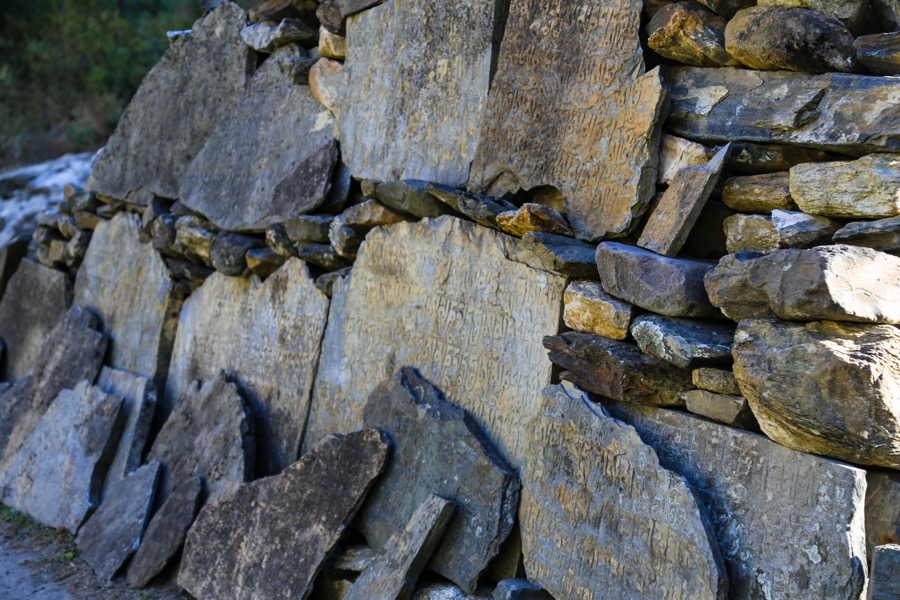 Walking on from Jagat to Dyang, there are more waterfalls to admire, suspension bridges to cross, and landslides to negotiate with.  Not my favourite part! The whole trail basically follows the Budhi Gandaki river, which is gorgeous!  On this day, I also meet trekkers who have done a side trip into the Tsum valley.  By now, the altitude is rising, and the temperature is dropping, but it is not yet too cold to make you suffer!  At Namrung, there is a fancy hotel with a bakery. Needless to say, I do not stay in that lodge, but buy some goodies in the bakery.
My favourite part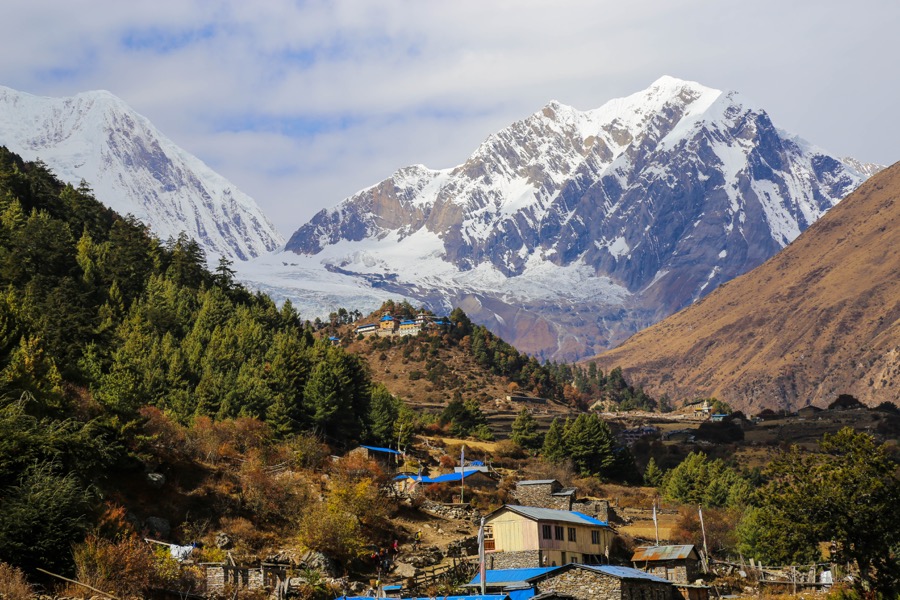 My favourite part of the trek is between Namrung and Samdo, which takes four days, including an acclimatisation day.  Now, the whole landscape is reminiscent of Tibet and the people are all wearing Tibetan-style dresses. I love the village of Lho and highly recommend you stay a night there.  Aside from the friendly villagers and cute wooden cottage I stay in, it is here I can see the best sunset and sunrise.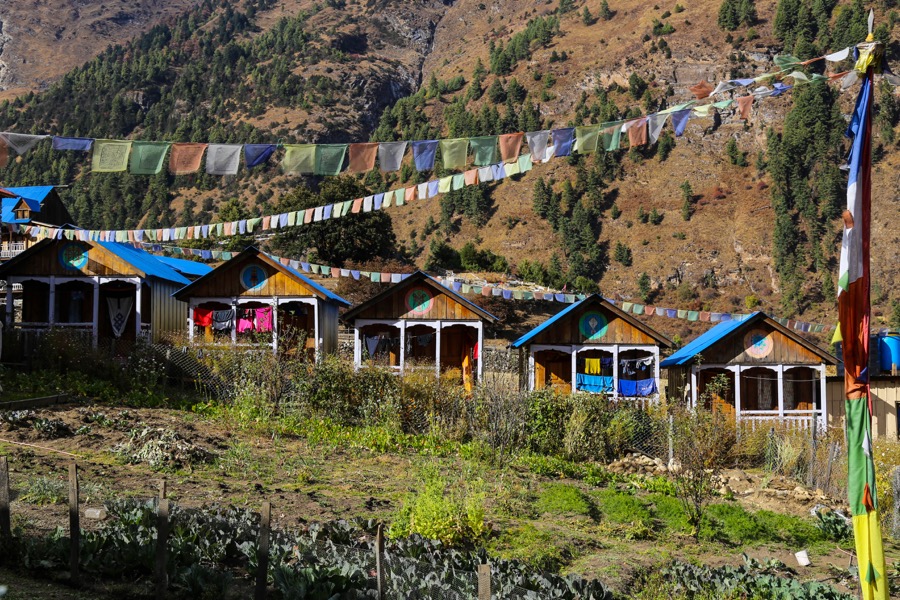 Somewhere between Lho and Sama Gaun, it might have been at Shyala village, I bump into runners doing the Manaslu Mountain Trail Race.  If you think you are fit enough and this is for you, check it out!  It is a high-altitude trail race held in November every year.   I am happy just to watch them rush on by.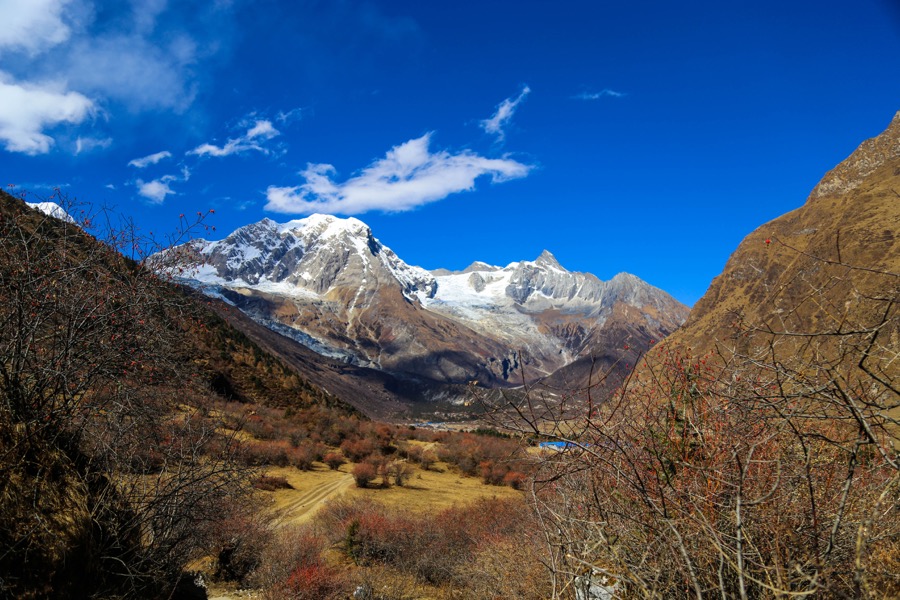 Then, I wander at a more leisurely pace on to Birendra lake at Sama Gaun.   Here at Sama Gaun, it is recommended you take an acclimatisation day before climbing higher.  There is plenty to do on the so-called rest day – you can hike to Manaslu Base Camp or to Pungen Gompa.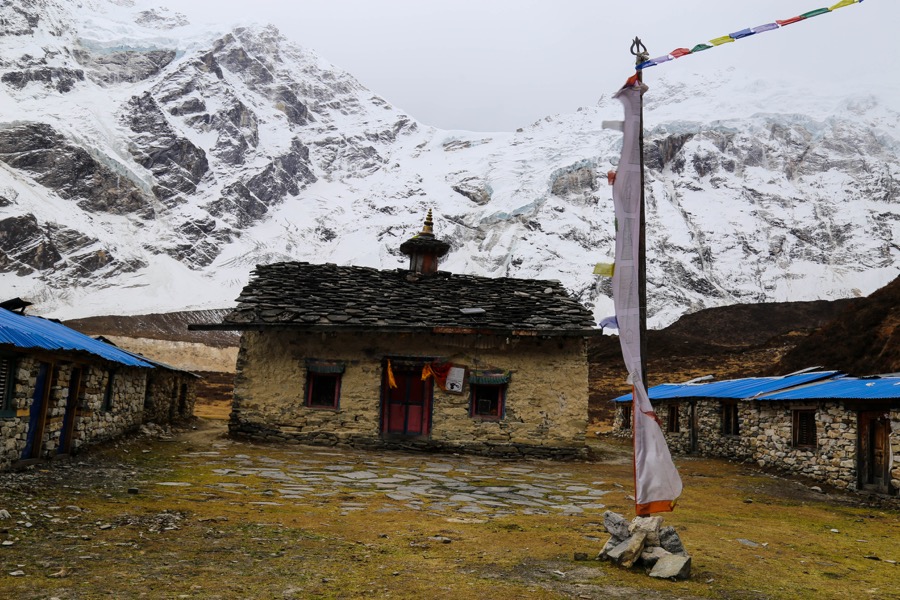 Then, the trail takes you on to Samdo.  Some people might want to acclimatise again here, but I move on, pushing acclimatization to the next day at Dharmashala—a tough, sometimes icy, walk, but not a long one.  By now, the weather is very cold and probably very windy.  Thank goodness for the warm kitchen at the lodge!
Larke Pass and homebound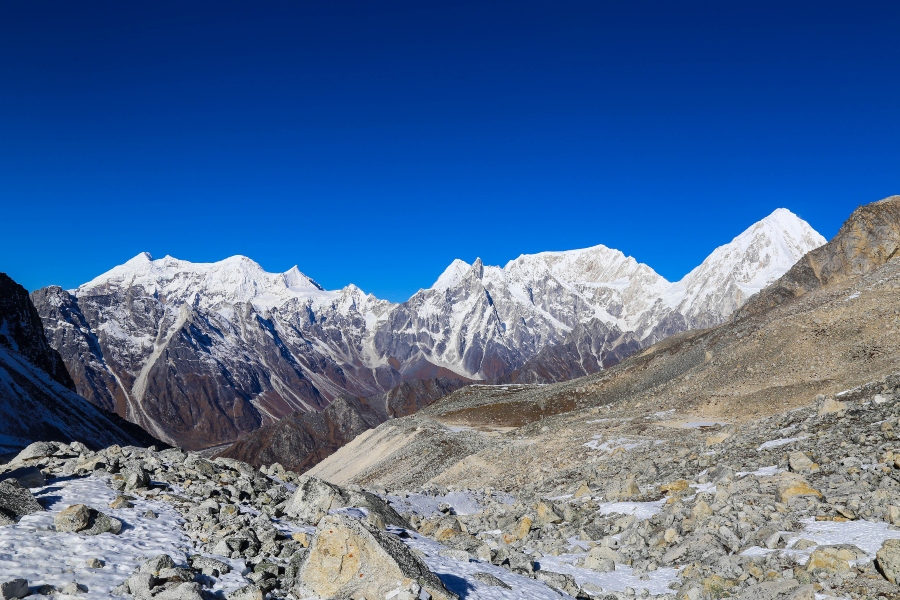 This is a big day.  Get up early, say at 4, and climb the Larke Pass at 5,167 m. It is dark, slippery and cold, but the views and sense of achievement are well worth it!  Then, it is a long walk with no teashops until you are around an hour out of Bimthang were I stay the night.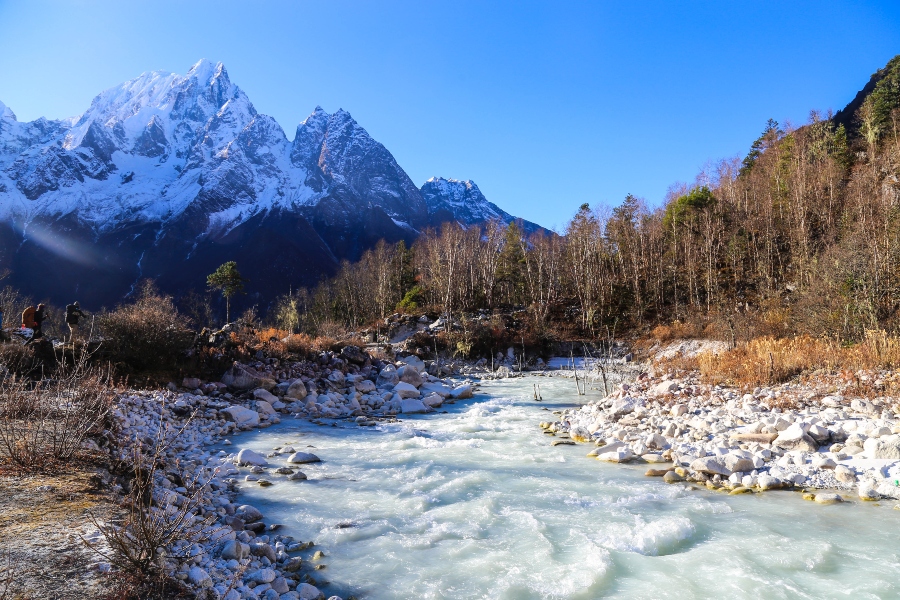 The final-day trek is a long downhill hike to Dharapani along the banks of the Dudh Khola in parts. Then, it is a three-hour bumpy jeep ride to Beshi Sahar and a microbus back to Kathmandu.
Best time to go and difficulties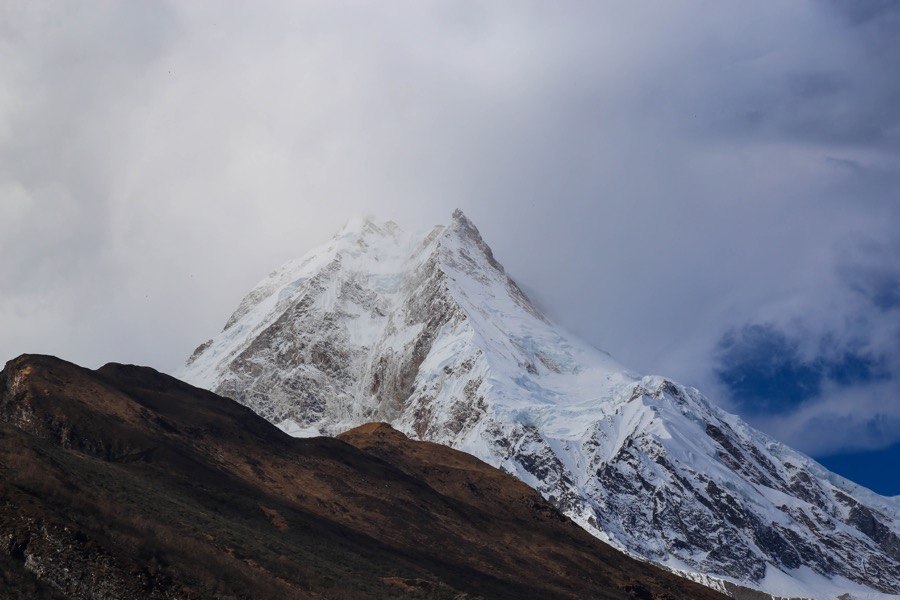 Definitely, the best time to go to Manaslu circuit is mid-September to mid-December.  But it is also good from the end of March to mid-May.
The Manaslu circuit trek is a bit more difficult than the average treks in the Annapurnas.  But, like any hike at altitude, the key is not to rush.  For this reason, it is very important to take an acclimatising day (or two) at Sama Gaun.  If you do like to travel fast, you can do this safely from Bimthang onwards.
How much does it cost?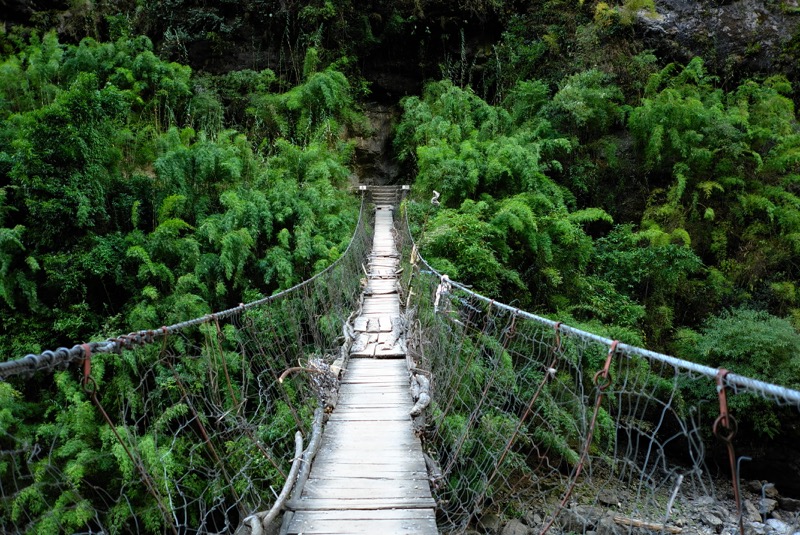 It is not too expensive when you consider that you are in a beautiful and pristine environment!
I suggest you allocate Rs 2,000 per day,  plus Rs 3,000 for transportation. But, do take extra cash with you as there are no ATMs or banks on this route!
Insider hints and tips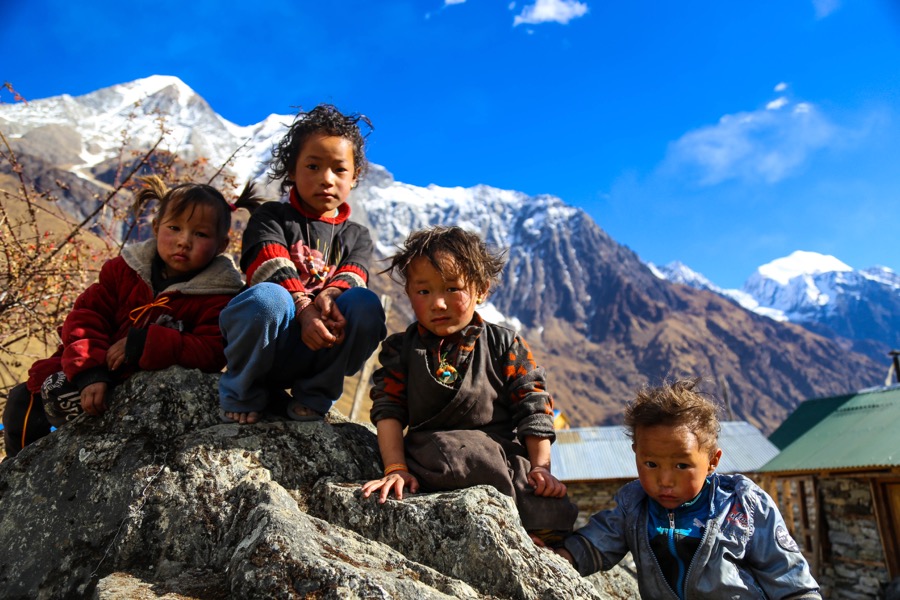 I want to give you some tips on how to get the most out of this trip.
First of all, if you have time, I definitely recommend you add on a side trip to the Tsum valley.
If you are super fit and enthusiastic, consider doing the Manaslu Mountain Trail Race.
You can use this detailed trekking map of Manaslu to help you plan your trek and for use on the trail.
When you descend from Bimthang, you reach Dharapani village, which is the start of the Annapurna circuit trek. If you have another week or so to spare, you can continue to the Annapurna circuit, coming out at Jomson, and passing through the famous religious site at Muktinath with its eternal flame and 108 water spouts.
When crossing the Larkya Pass, if you decide to cross to Samdo rather than Dharmasala, it will take you another three hours to cross—something to consider before heading to the trail.
I highly recommend you stay an extra night at Bimthang after crossing the pass, rather than at Dharmasala.
Getting back to Kathmandu: I returned from Dharapani. From here to Kathmandu can be done in one day. Take a jeep from Dharapani to Beshi Sahar, then take a bus, microbus or private jeep back to Kathmandu. The fastest is the microbus.
At the start of the trek, there are roads going to the north of the Budhi Gandaki from Soti Khola, so I am sure in the future you can save a couple of days' walk and be able to take a local jeep further up the trail. It may not be a good thing though.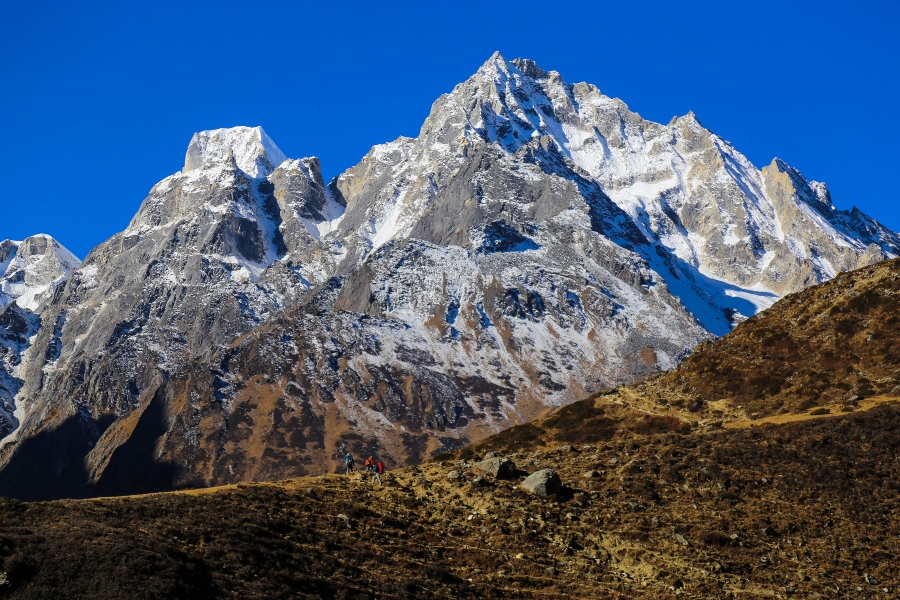 So, as I said at the beginning of this post,  best get to the Manaslu circuit trek sooner rather than later!  Happy trekking!
Guragain is an avid hiker and a traveller. He likes to explore nature, mostly the mountains. He dreams of travelling the whole of Nepal.