Summer is nearly upon us. As the temperatures rise, the urge to jump into a pool must be on a lot of people's mind because a dip in a swimming pool is as therapeutic as it is refreshing.
Due to the Covid-19 pandemic, all swimming pools and sports-related activities were put on hold. But, with the vaccination being rolled out and the number of cases going down, it is likely that people will be putting on their swimsuits and jump into a swimming pool near them.
Here, we bring to you a list of popular swimming pools across the Kathmandu valley where you can go cool down when it gets hot:
1. Hyatt Regency Kathmandu, Bauddha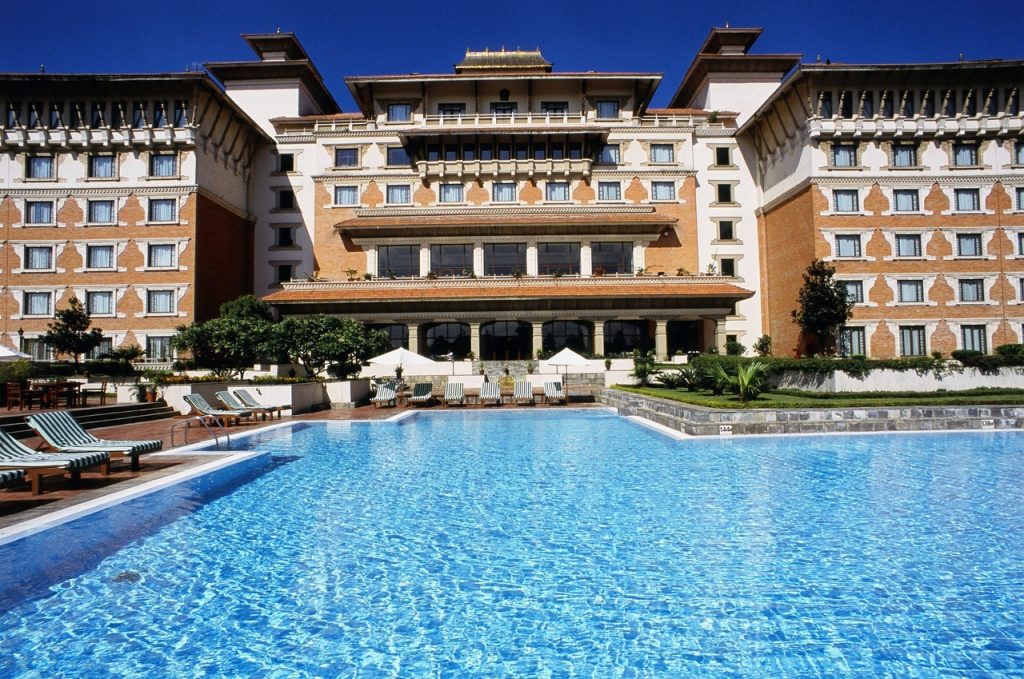 This is arguably the best swimming pool in Kathmandu. It is clean and huge, and with the amenities available, once you swim here, you will struggle to find a better place. It has a pool for children and another one for adults, which means you can take the kids and spend the day there. Even though it is a bit expensive, it is ideal if you are going with the family as it also offers a buffet lunch, which if you want can be bought in a package with the pool service.
2. National Sports Complex, Satdobato
The national complex is great if you want to swim in an Olympic-size pool. The water is normally clean, but it is quite crowded. If you are with the family and want to avoid the crowd, avoid the pool on weekends. If it is just you and your mates going for a dip, you can jump from one of their podiums. Make sure you have prior experience because things can go horribly wrong.
3. Swoyambhu Recreational Centre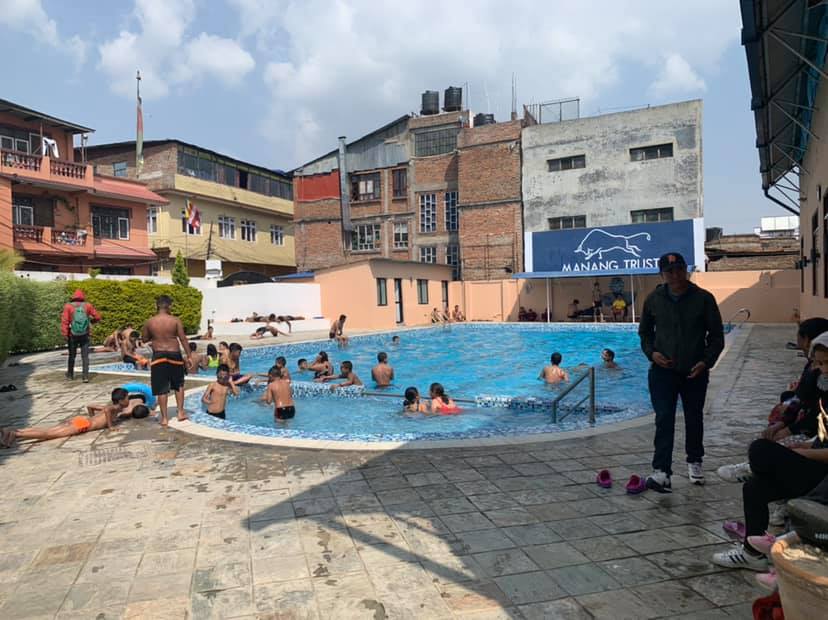 It is a small pool, but for people from that area, it is quite an idea. Usually, the place is packed during weekends, so if you want to avoid crowds, it is best you go during the weekdays and if possible, in the evening. The pool, even though small, has a kids section as well. Monthly packages at the centre are quite good and if interested, it also has a family package.
4. Shambala Hotel, Maharajgunj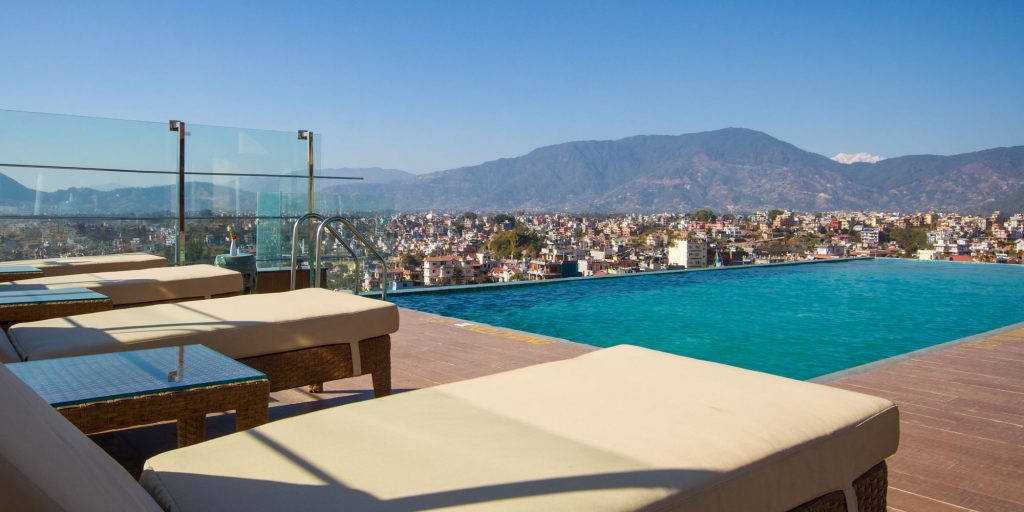 The infinity pool at Hotel Shambala is arguably the valley's prettiest swimming pool. It is not deep, but its length is good enough for a few laps on it. Overlooking the sun setting down on the west and the Kathmandu valley to the south and north is a feeling that you will cherish for years to come.
5. Hotel Mulberry, Thamel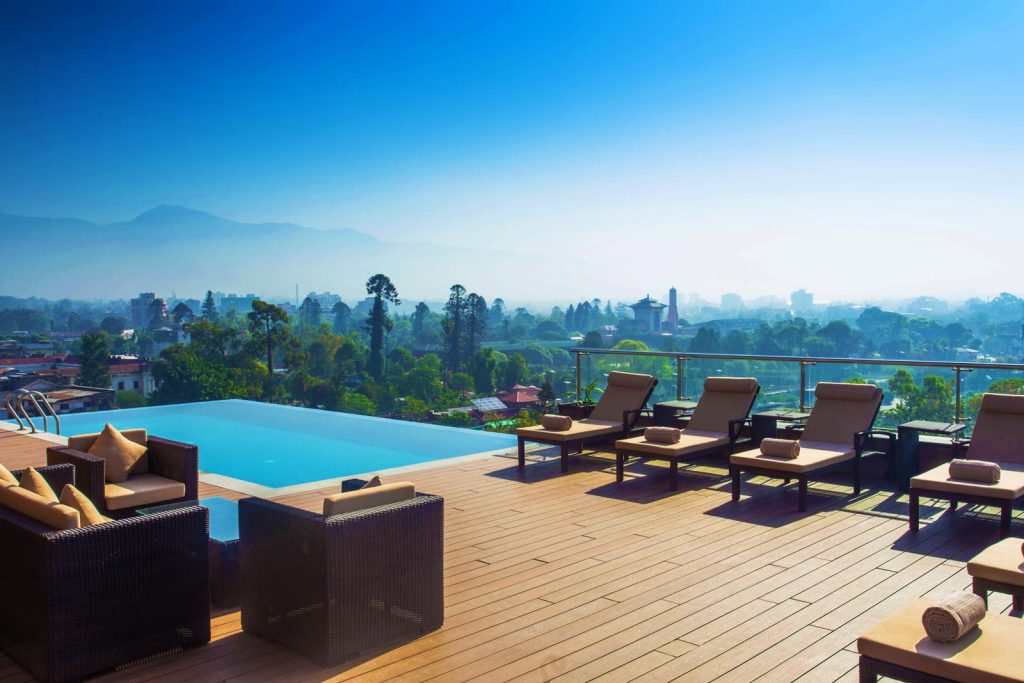 It is another infinity pool, but compared to Shambala, it is small. But again, the view on offer from here is quite breathtaking. It is a bit expensive, but with the services on offer, you will surely be back for more.
6. Dhanyentari, Hadigaun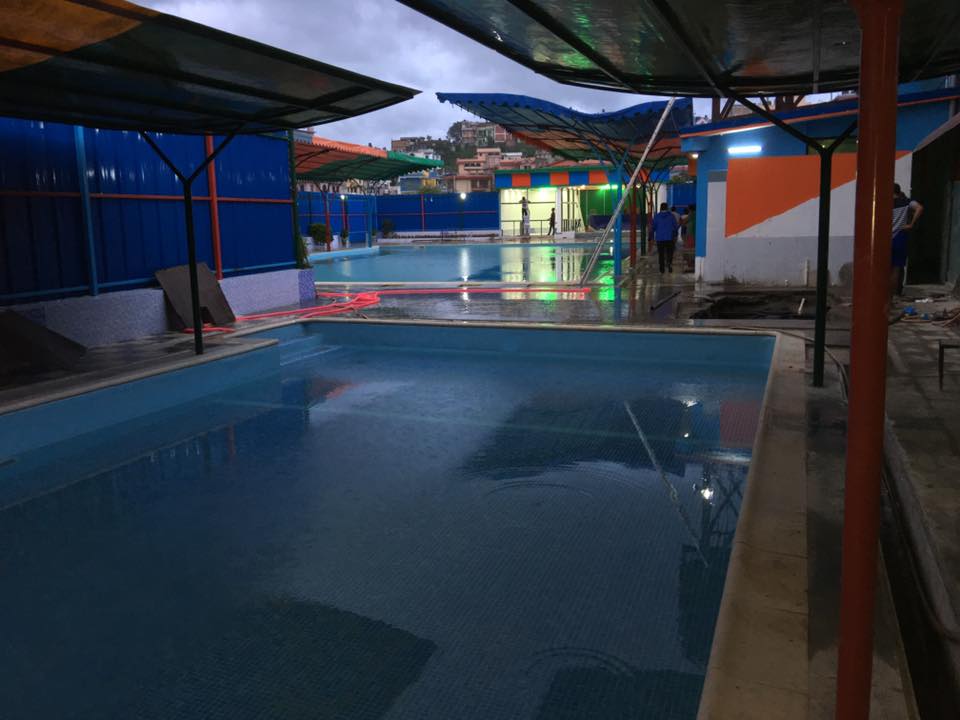 This is another budget swimming pool that is ideal for both kids and adults. It has got good teachers too. Right next to the futsal, the place is generally deserted during the evenings which makes it great for a dip before dinner.
7. Nepal Police Club, Pradarshani Marga
It is one of the oldest and the busiest swimming pools in the country. Before Covid-19, it saw a huge number of people on a regular basis, but the number of people might be low post-pandemic. It offers lessons to those who cannot swim and probably has the best lifeguards on duty too. With a gym and sauna, the value that this place offers is second to none.
Lean swimming with Swimming Everyday
Even though it does not have a swimming pool, the organisation teaches swimming to both children and adults. It also teaches swimming to differently-abled persons. If interested, give it a call and ask when and where their next lesson is taking place. You can do that by visiting its website.