Our mind is a Kurukshetra where our own thoughts engage in the battle of Mahabharata in the form of Kauravas, Pandavas and their respective allies every moment.
These armies of thoughts are so powerful that they easily prevail over our souls most of the time.
Back to the Kurukshetra and the Mahabharata.
Arjuna, the third of the five Pandavas excluding Karna, does not want to engage in the 'battle royale' knowing full well that he will eventually have to shed blood of his own relatives. Why would a sane mind want to engage in a war with his own folks, with whom he has played, bowed his head to in reverence, been friends with for years? Why would a 'Veer' like Arjuna want to paint his hands with blood of kin and friends with whom he has grown up together, hunted together and taken training required of princes from Guru Drona together?
Why o why would he want to kill Guru Drona, who had played an instrumental role in making him the so-called 'best archer of those times' by  seeking the thumb of an archer par excellence as Guru Dakshina? Why would he want to finish off Bhishma, his dear grandfather, who always stood in favour of Pandavas even while 'serving the blind king Dhritarashtra? Why would he want to be a crucial part of the war, largely the construct of Lord Krishna, that would cause extermination of the Kshetriyas and their allies?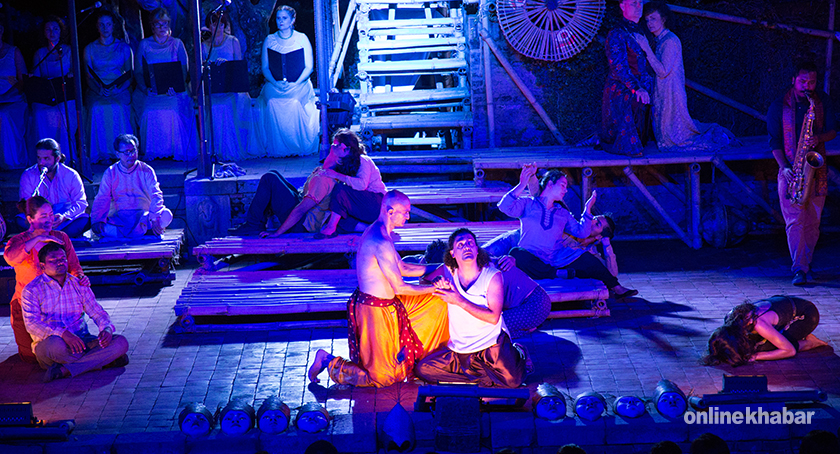 For Hastinapur? For the sake of hurt pride? For the sake of revenge, for the sake of so-called Kshetriya Dharma (Anyway, as the war unfolds, all this dharma goes into the historical dustbin as the warring sides flout all rules to kill Abhimanyu, son of Arjuna from Uttara, other sons of Pandava brothers, Guru Drona, Bhismapitamaha and Karna, among others. If this war indeed happened, it would have required a separate war crimes tribunal for those heinous killings). For the sake of heaven and Earth and all the pleasures in between?
Arjuna's Dilemma, the recent presentation of One World Theatre at Patan Museum, finely portrayed the mental state of the ace archer. Through a blend of the traditional and the modern, it threw into light the state of Arjuna's mind in a tense situation where Kauravas, Pandavas and their respective allies seem willing to finish off each other by breaking all bonds.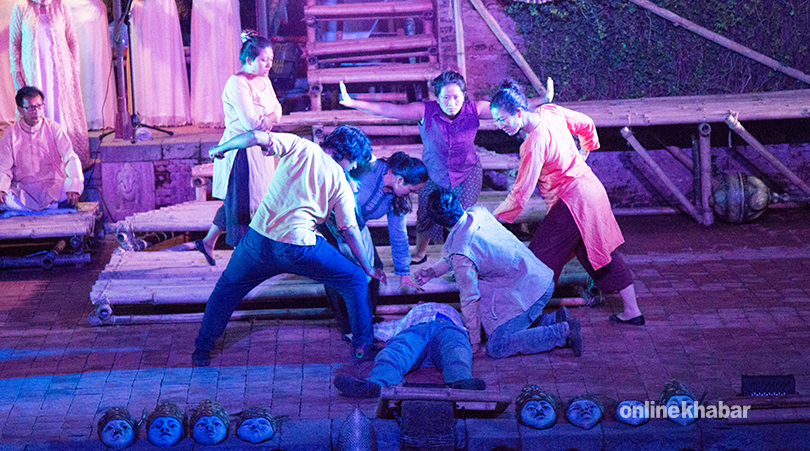 The presentation was relevant in the context of Nepal, the land of relative peace turned into a playground for foreign forces out to diminish the role of each other in this fast-changing world, the land that has been a ground for different battles, including the Maoist insurgency.
Incidentally, I got an opportunity to watch this show just days after attending a programme where some speakers portrayed a war as a change agent and how it had led to empowerment of the unempowered! At the same programme, I learnt with much worry that women fighters holding different important positions in the rebel army were turning weaker as ever in the Nepali society, with their roles greatly reduced again in a patriarchal setup, now that the war was over.
At the same programme, I heard about the marginalisation of UNMIN-disqualified Maoist fighters.
Do these indicators indicate that another wave of unrest is on the cards? I know not. Perhaps experts do.
In our country, vested interests have emerged that reap benefits both in the times of relative peace and war. During peaceful times, they advocate militarisation of the society, playing at the hands of certain interest groups such as the weapons manufacturers and other foreign players that want to destabilise this strategically important country located between two future superpowers by gaining a foothold here.
During the war, these interests sell peace and make a good fortune, often at the expense of multitudes, whose struggle to make their lives better mostly ends in despair.
Back to the show at Patan Durbar Dabali. Through Sanjhya (a traditional window through which sun's rays come streaming in through holes, allow someone to observe goings on at the square, including movement of the people, secretly), I watched impressive performances of different characters like Arjuna and Lord Krishna in the presence of a decent crowd in a music-filled ambiance, as seats located at vantage points were already 'taken'.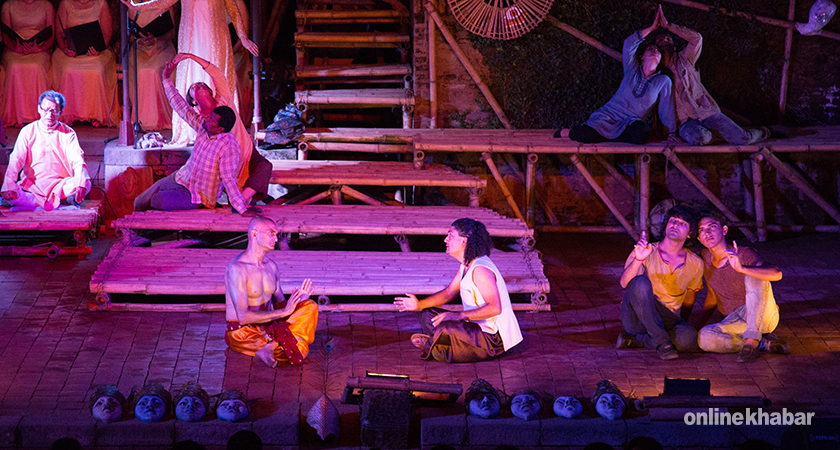 Though not an avid reader of the Bhagvad Gita, let alone the Mahabharata, I cannot agree on one of its central teachings — Karmanye Vadikaraste Mafalesu Kadachana (Do your deeds without expecting the fruit of your labour, for you have right over deeds only). My question: Why would most people want to work hard without expectations of desired outcome? What else would motivate them to Karma? Lord Krishna has the answer, I guess.
At the end of the great show that I soaked in through the historic peeping hole, I only wished this thing — Had Arjuna not listened to Lord Krishna and listened to his own heart instead, the battle of Mahabharata would not have happened and humanity would have been spared the trouble of reading about, hearing about or watching shows about the war that glorifies violence.
Certain individuals from Kaurava and Pandava clans could have and should have settled their old scores the way they pleased, but not at the expense of other clans and communities for whom the war served no purpose. Instead of listening to reason, they fell prey to grand designs of Lord Krishna and became history.
Eons later, humanity continues to glorify war. Clearly, our foolishness knows no bounds.
(Photos by Kabin Adhikary)