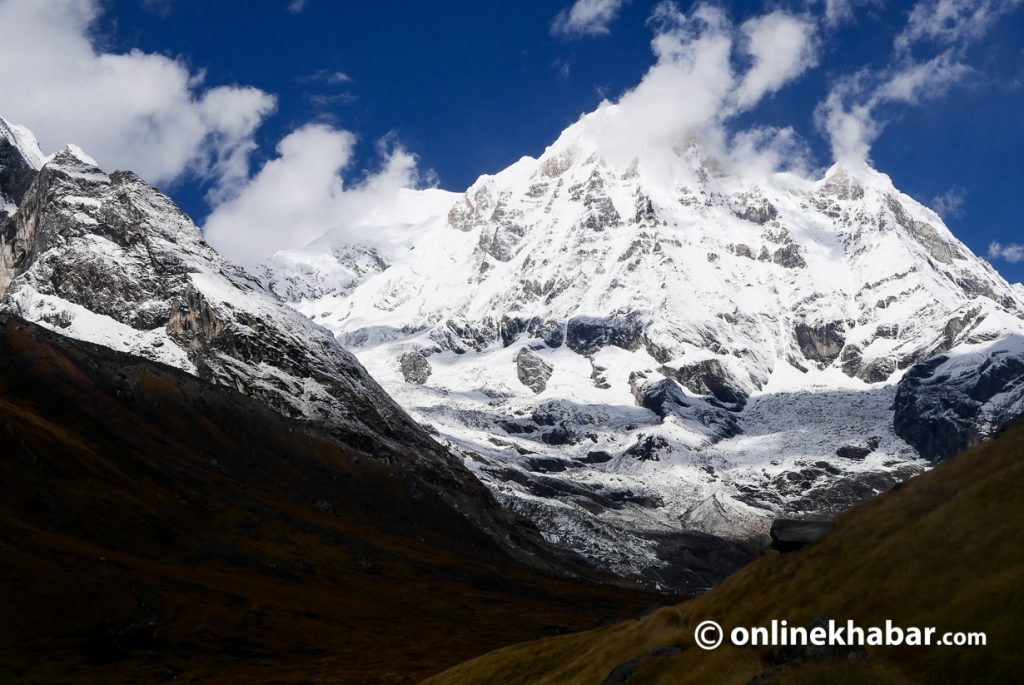 It was almost midnight at Annapurna base camp. The rain was pouring down. I could hear the raindrops hitting the roof over my head with the occasional thunder. The weather was awful it had rained all day and the forecast suggested the same for the night.
This was something I hadn't taken into consideration as I'd trekked the trail to Annapurna base camp, popularly known as ABC, alone to see the first rays of the sun on Annapurna I. But, as I woke up around midnight, I knew there was no certainty of that and hoped that the mountain would be kind enough to show itself in all its glory.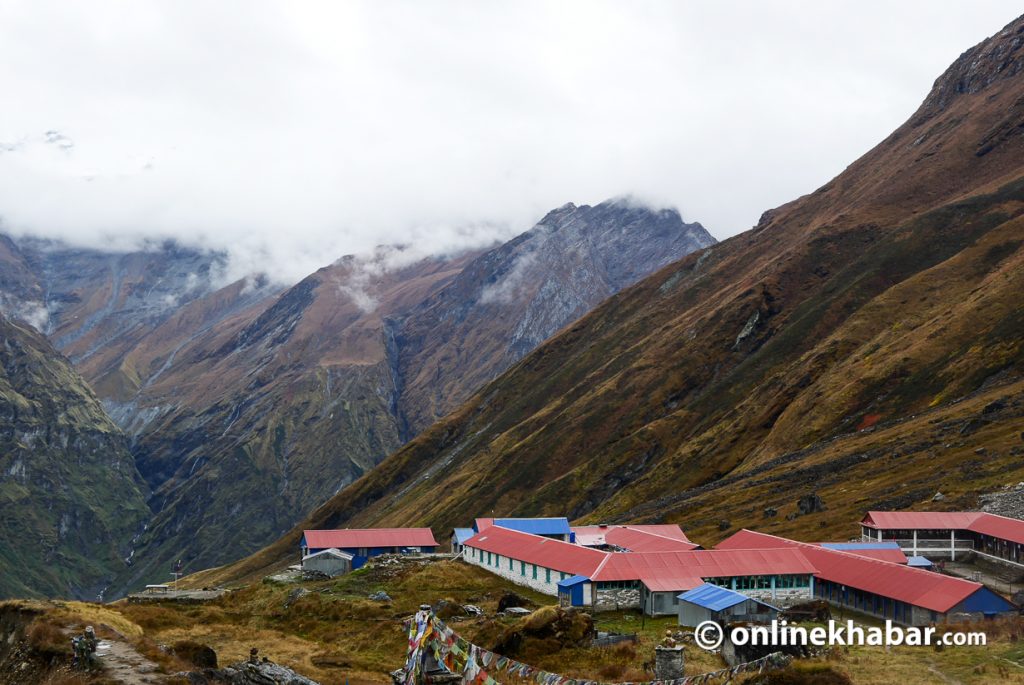 My morning alarm went off at 5:30 on a fine October morning. Anxious and scared, I got out. I could still hear drops of water falling on the ground. There were murmurs outside – both positive and negative. It was dark and misty and there weren't many people out. This was bad as it meant that the clouds hadn't cleared up.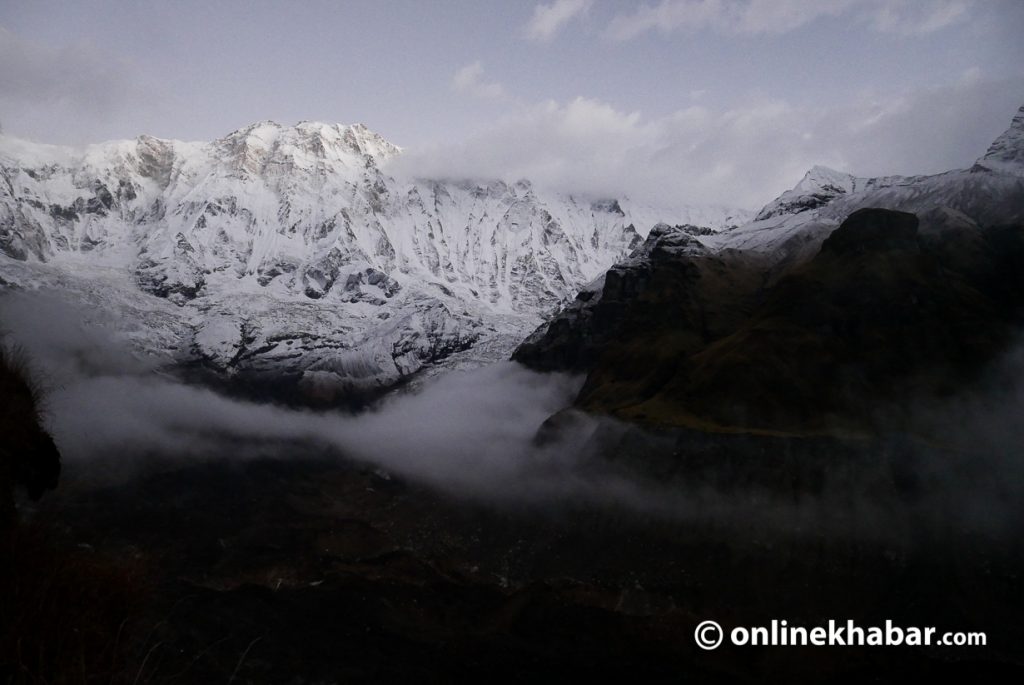 But, the reality was different. The mountains had cleared up, but not as much as I'd hoped for. Annapurna I was playing hide and seek as it was shrouded in mist and clouds as were Annapurna South, Bahra Shikhar and Singu Chuli. It wasn't the best of mornings, but waking up early was still worth it.
Even though the mountains hadn't cleared up, there was something different about the morning. The air was crisp. I was 4,000 metres above sea level and I wasn't breathless. There was something positive about the place. And when the sun started to rise from above the Machhapuchchhre, it started to make sense why.
The sun helped clear the mist away, and slowly, one by one, the mountains started to clear up. First was Annapurna I, the tenth-highest mountain in the world. The mountain is huge. Fierce and steep, I just wanted to keep looking at it, maybe even climb it. It was daunting but the mountain kept pulling me towards it.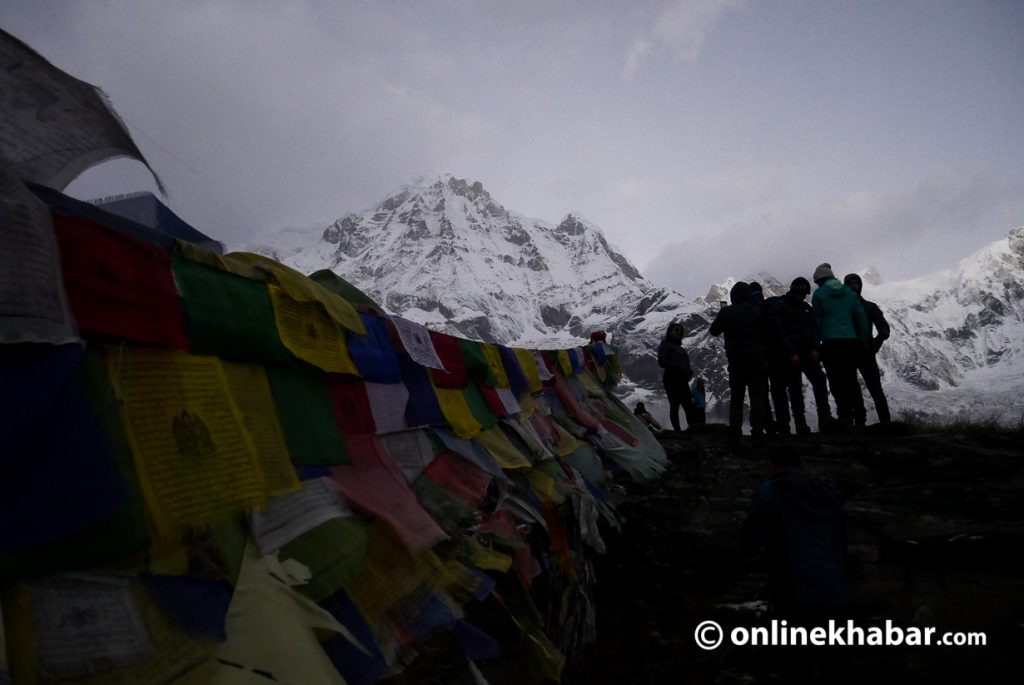 Others rushed to the viewpoint at Annapurna base camp to take pictures with the Annapurnas in the backdrop. Some stood there in the viewpoint, just looking around. Taking it all in like me as they had certain happiness to be so close to the mountains. It felt like this was their happy place.
The taste of the testing trail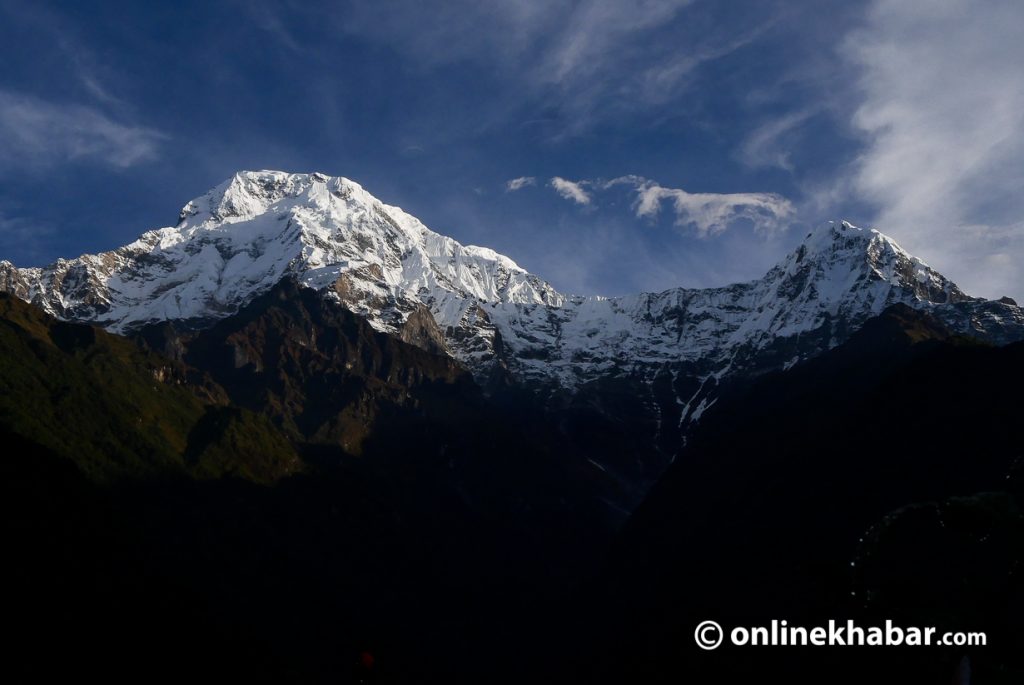 Annapurna base camp is beautiful. It probably is the most beautiful base camp in the whole of Nepal if not the world. It's got every bit of everything: mountains, jungle, rivers and waterfall. Each day, the scenery changes and getting lost in these sceneries, I felt I found myself a bit. The trial was testing, but the people I met on the trail along with the different scenarios that happened, I believe, made me stronger, not just physically, but mentally.
I decided to go to ABC after a lot of thinking. The plan was to go to Langtang from Sundarijal via Gosainkunda. This 10-day trip was going to be one of the toughest treks I'd have done. But, as the days neared, no one wanted to go with me and not wanting to cross the high passes alone, I choose something more doable alone. That's when ABC came in as I knew it would have a lot of trekkers and also because the Annapurna sanctuary as it is known is one the prettiest places in the world.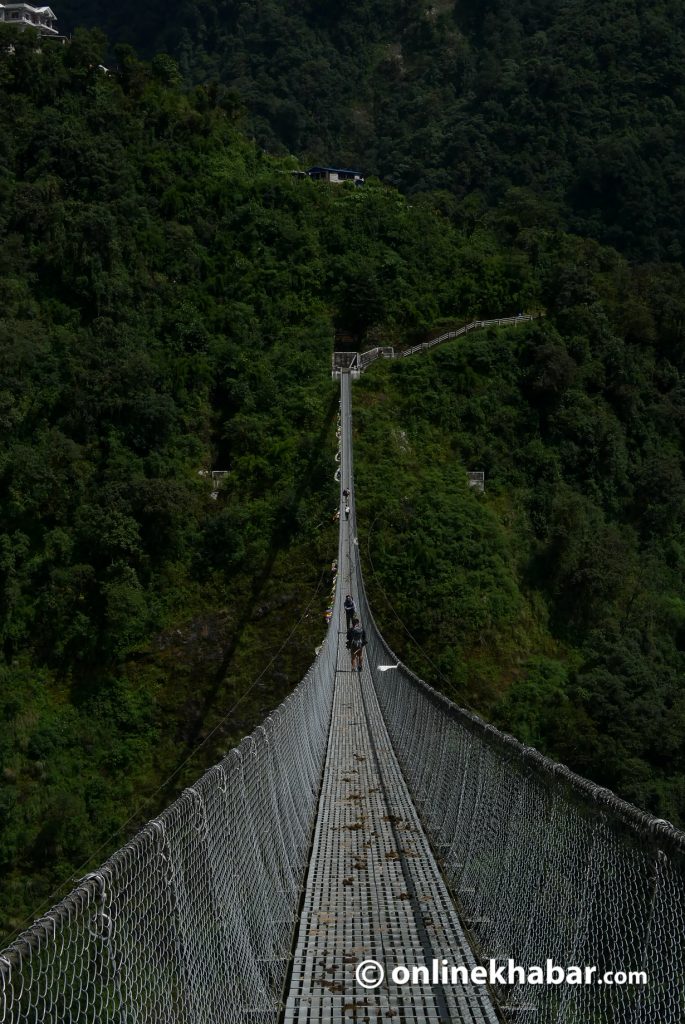 I took an early morning flight to Pokhara and before I knew it, I was starring at a steep uphill climb from Jhinu Danda to Chhomrong. Trust me when I say this, climbing that uphill with the sun right on my face was one of the toughest things ever. I even contemplated if I should just head down, go to the hot spring and just chill a few days doing nothing but reading books I'd brought along. But, I didn't do that, and slowly climbed up taking rests whenever I wanted to.
The first hour was not easy, but soon, the view started to get better as I climbed up. That reminded me why I go trekking. The answer was simple: to be at one with nature, to escape life in the city and moreover to find me by putting myself in uncomfortable situations.
After two hours of slow walking, Chhomorng was in front of me, a bustling village full of hotels and lodges for trekkers. The place had it all, some bars and even a bakery that sold cheesecakes. It reminded me of Namche Bazaar. Well, it wasn't as good but still quite busy and huge.
Contemplating if I wanted to walk further, I stopped, grabbed a few beers and watched Annapurna South, Hiuchuli and Machapucchre play hide and seek with me.
The evening was great. People were returning from Annapurna base camp with bright smiles on their faces. Most of them were tanned and were limping, but they had fun and that was the most important aspect of trekking in the mountains.
The naughty knee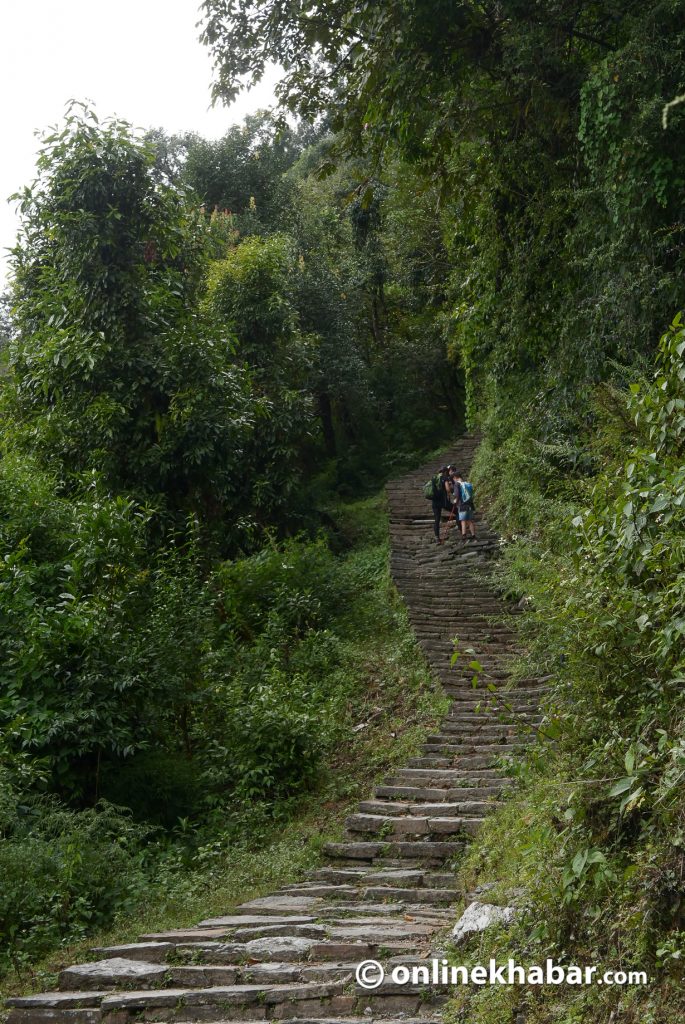 The next day was going to be the toughest. I hate downhills. I feel it's one of the most testing parts of trekking. I've been clumsy while going downhill and when I started the day, I immediately tweaked something on my knee. I thought it was going to be something minor but would only find out its effect later on.
From Chhomrong, the train goes down to a suspension bridge which only means one thing, a climb up. This climb up wasn't as hard as the one from Jhinu to Chomrong, but with the sun on my face, it wasn't easy. Huffing and puffing, hydrating and telling Miguel, a fellow solo trekker from Spain, about Nepal, I got to Upper Sinuwa in around two hours.
The hills soon disappeared as the trail to Annapurna base camp moved into the jungle. There was silence as the only noise I could hear was that of my own footsteps and those of birds and insects. The wind was quite calming as was the trail, probably the easiest. I couldn't help but feel free, freer than the family of langurs I saw along the way.
Soon after a few hours' walk, I was in Bamboo, a place known for its bamboo trees and well the sloth bear. The weather had changed by then. The clouds had come in. It was only 2 pm, but it started to get dark. Miguel wanted me to walk with him, but I was on a solo trek, I didn't want to walk with anybody.
Then, it started to rain, not heavy but still enough to make you want to not walk. I wanted to stay, but it was too early to call it a day so I walked.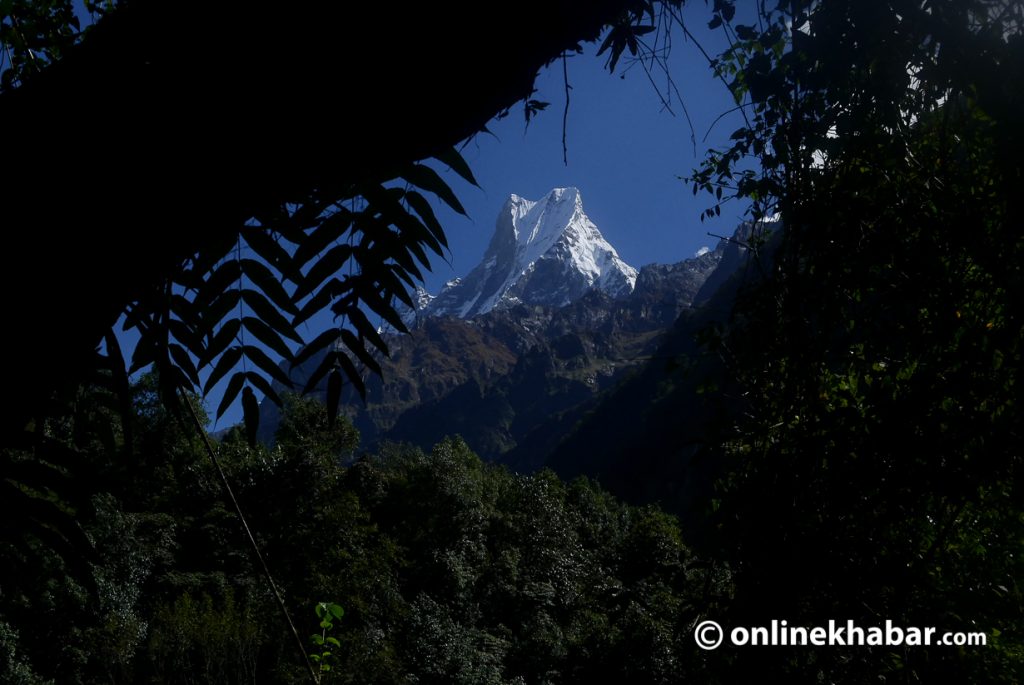 Alone in the jungle in the rain, I started to feel a little anxious. The trail to Dovan wasn't long, but it felt a lot. The weather was not getting any better; the rain started to get heavier. A part of me asked myself again why I was doing this.
This wasn't fun. Don't take me wrongly, I love rain but walking in the rain on a trail like that was not fun. But, it had to be walked and rather than complaining, I walked on and go to Dovan before it started to rain like cats and dogs.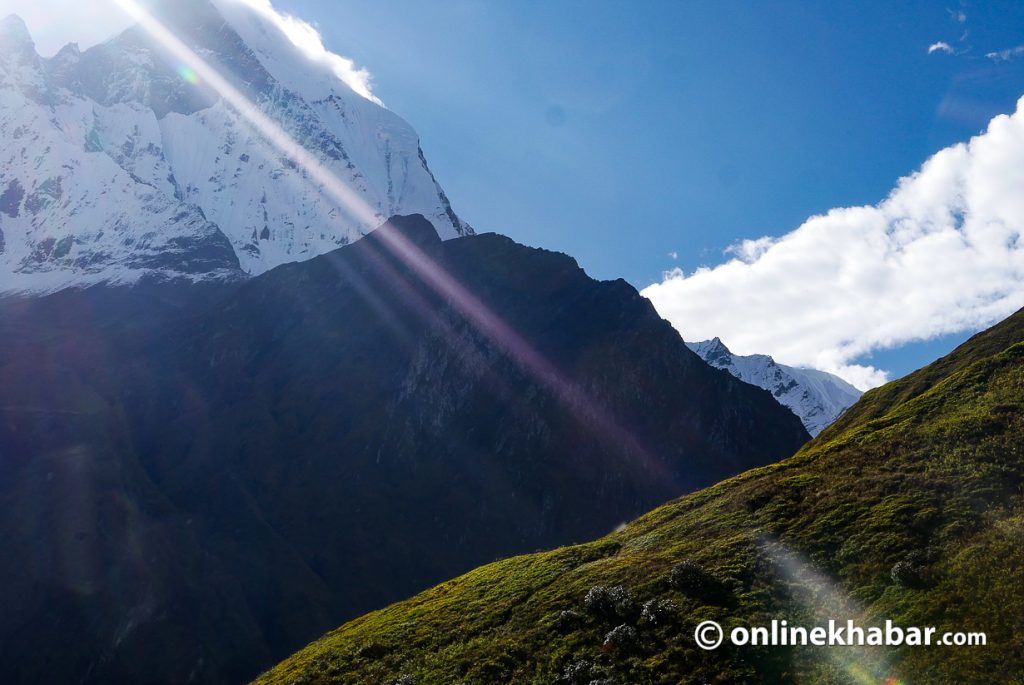 There, I met Kengi, a 72-year-old Japanese, who was also trekking to Annapurna base camp alone. He left his home in Japan three years ago and was travelling the world since. An interesting man, but as he started to drink alcohol made from kodo (millet), he turned into someone from my family who keeps telling me to get married.
Kengi, Miguel and I talked a lot… about love, life and growing old. The wise heads were shocked I was reading Albert Camus' Happy Death, after which we started to discuss what happiness meant.
After some time, we agreed to disagree that happiness was just a phase and that our trekking to Annapurna base camp was happiness. Drinking to that, Kengi and I jokingly decided to race to Machhapurchre base camp.
The serene scenery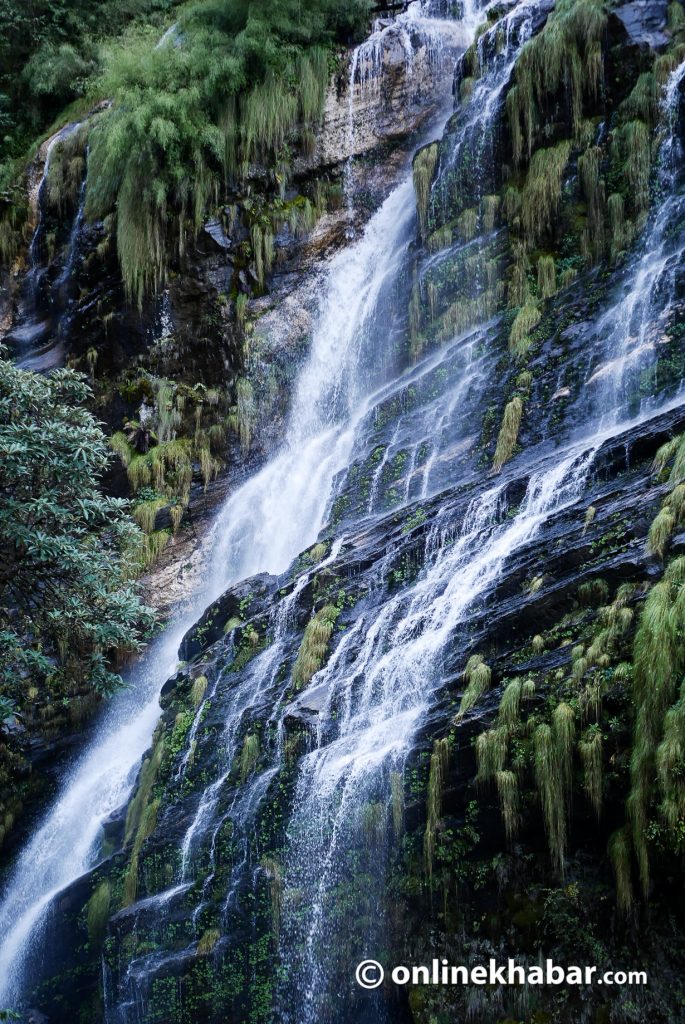 The trail from Dovan onwards was mostly uphill. Walking early in the morning was refreshing. I realised how I walked faster in the morning than after the sun came out. The forest was calm, but the constant sound of water was everywhere. Small rivulets and waterfalls were a constant and all of the mixtures in the Modi river down below were loud. On the way to the Himalaya, there is a small shrine opposite a waterfall that has around 108 small waterfalls within it.
This waterfall seemed interesting and pretty, but sadly, there was no vantage point to get to see it better, still, a nice place to stop and relax amidst prayer flags and shrines. It felt like a great place to meditate or just sit down and write. The place was calming. There was no one. Not a soul. I felt as free as I'd ever felt.
Soon, the sun was up and the uphill started to get steeper. Once out of the Himalaya, the forest finished and I was walking on a trail between two massive hills with the rumbling sound of the Modi river. These hills were huge probably higher than 4,000 metres. Most of them were covered in clouds, but they looked grand as some of them had waterfalls coming out from them.
It was like I was in a movie about Switzerland or something. I'd heard a lot about the Annapurna sanctuary since my first trek around some Gurung villages lower down, but seeing some of these places made me think how Nepal hadn't taken advantage of these places even in the decade gone by.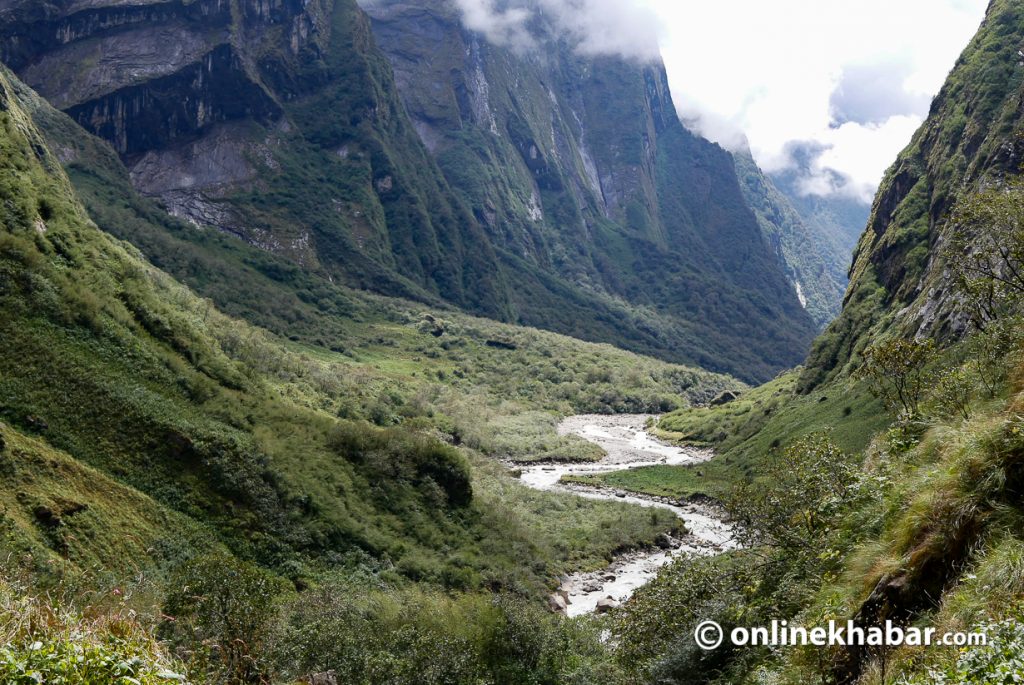 Now, the trail to Annapurna base camp started to move upwards over 3,000 metres. That meant the air got thinner. There were shrubs around, but locals said most of them were wildflowers that released poison and that meant climbing was harder. Machhapuchhre base camp (MBC) isn't that far from Deurali, but climbing an uphill at above 3,000 metres isn't fun.
You think a lot, you breathe a lot and you walk a lot less. It was hard but I knew that it was going to be all worth it. Walking alone, I was passed by one group after another, which was a bit discouraging, but I kept on motivating myself. I knew I could do it and I did as I reached MBC when the entire place was covered in mist.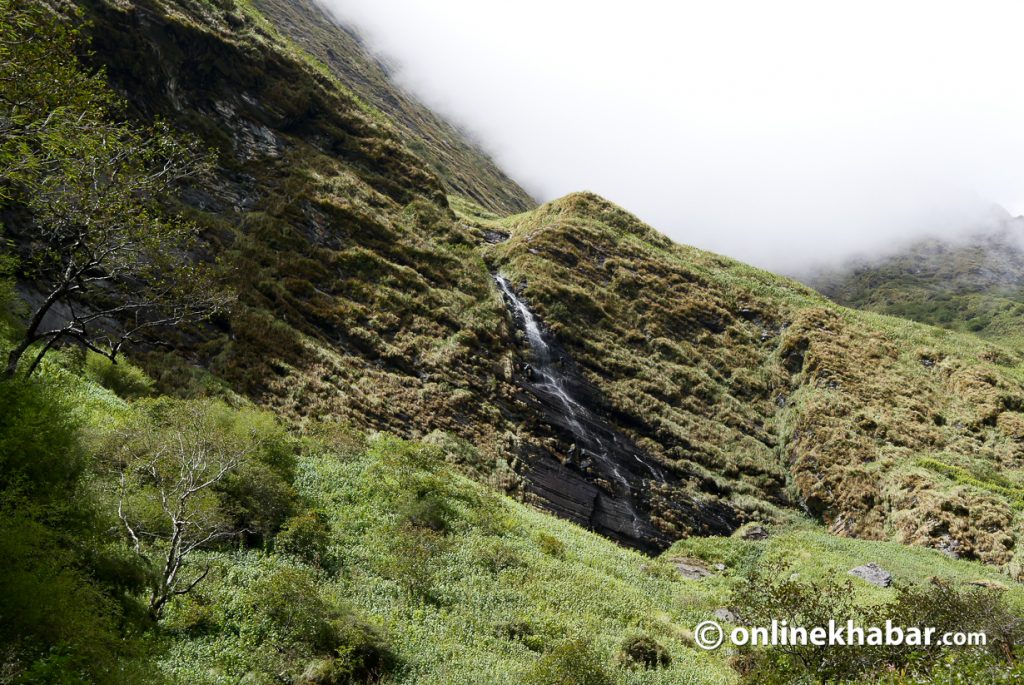 MBC is set on a nice meadow opposite Machapuchhre and Gangapurna among other mountains. It's not the best place for views, but many stay here the night before heading up to Annapurna base camp as many don't want to sleep. I decided to stay at MBC and ABC both. I didn't have anyone to tell me otherwise. The place was nice and quiet and did offer some good views of Machapuchhre and the valley below.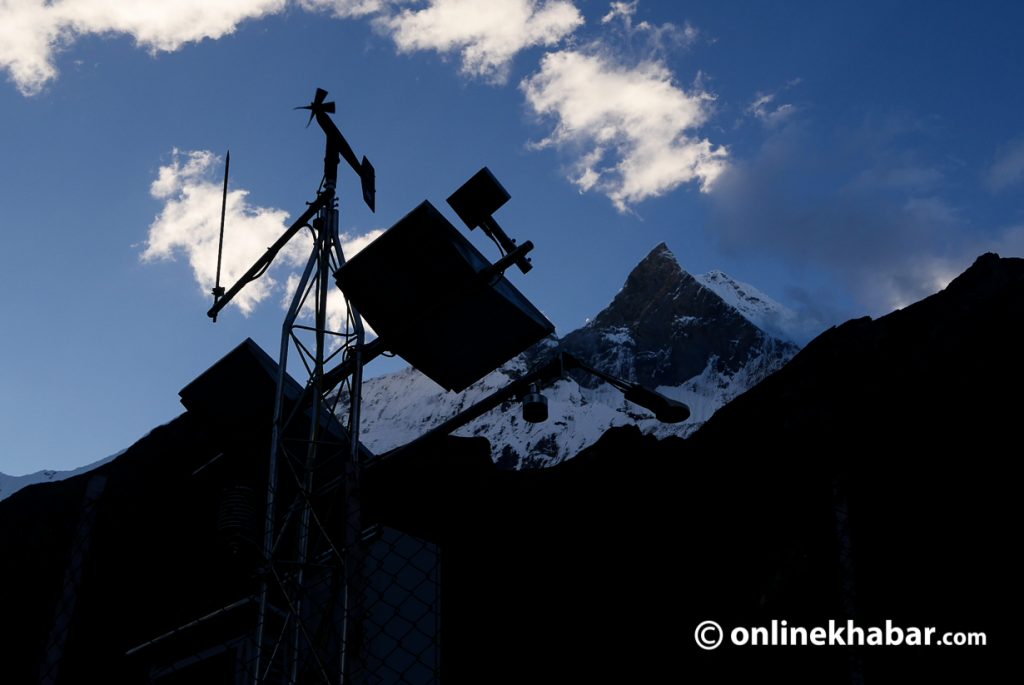 The weather in the evening was sketchy as the clouds completely covered the small valley. It affected visibility, but at night the winds calmed down and the weather was perfect as there was not a single cloud in the sky. The galaxy was clearly visible and it even treated me to a few shooting stars.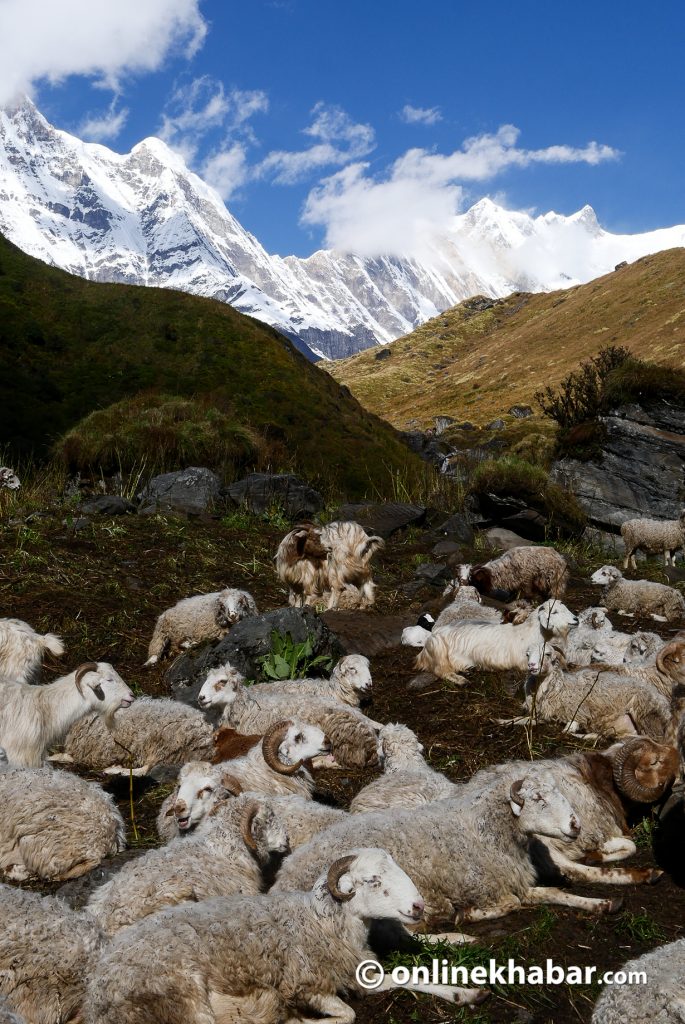 The morning was equally good. The mountains were clear. The Annapurnas to the west looked like something else as the sun slowly rose up. It felt like a bad decision not to have walked up to ABC in the morning, but I had fun walking up this amazing ridgeline at MBC alone watching the sunrise.
The walk up to ABC from MBC was easy. Altitude didn't help with pace, but the walk was smooth. There was plenty of sheep in the green meadows. To the left was the Modi river flowing independently. The air was getting crispier and the mountains were getting closer.
Describing the walk up to Annapurna base camp is hard. A lot of thoughts were going on in my mind. After my solo trek to Everest base camp in April 2021, I didn't think I'd do another one alone. But, I did. And this tested me more than EBC did. I felt happy I'd made it. I met Miguel on the way up who was just as happy I had made it; he knew I'd been suffering from knee issues on our walk down from Chhomrong. But, I'd made it. Annapurna base camp aka ABC, the crown jewel of the Annapurnas…
The downhill difficulties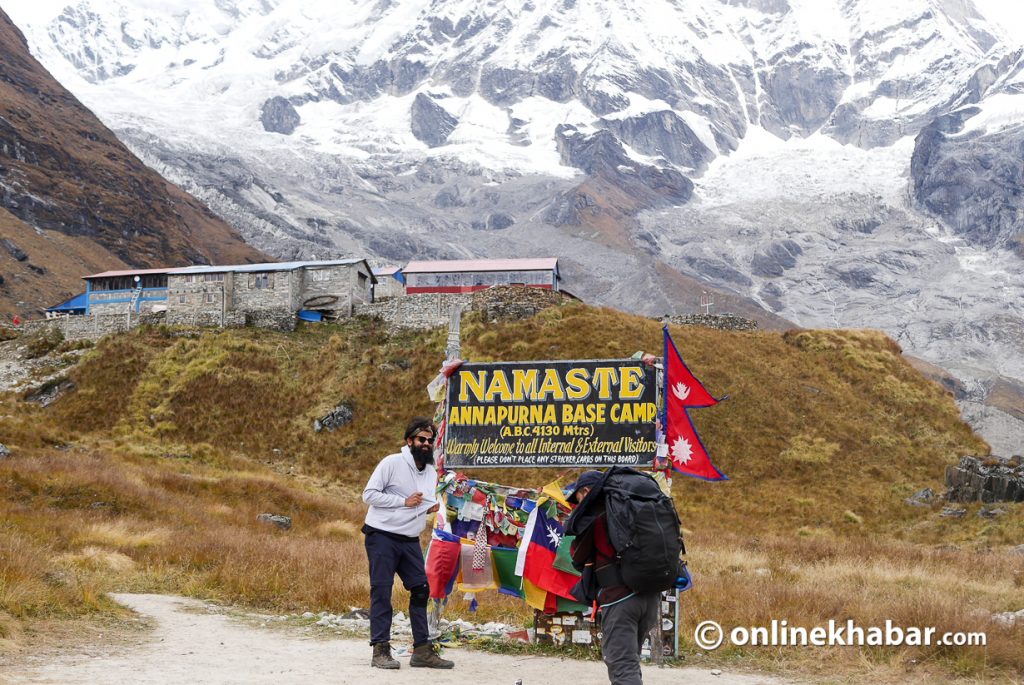 The walk down from Annapurna base camp was harder than I thought. I had practised running downhill, but I didn't know my knee issues would get worse. I could barely bend my left knee, which meant every step had to be taken with the right.
I was very angry and disappointed in myself. I was in pain and I had no choice but to move on. The first two hours were not hard, but once I crossed Deurali, the pain became unbearable. A couple from the Netherlands gave me some instant pain relief lotion, which helped a bit but the knee wasn't going to get better until I rested.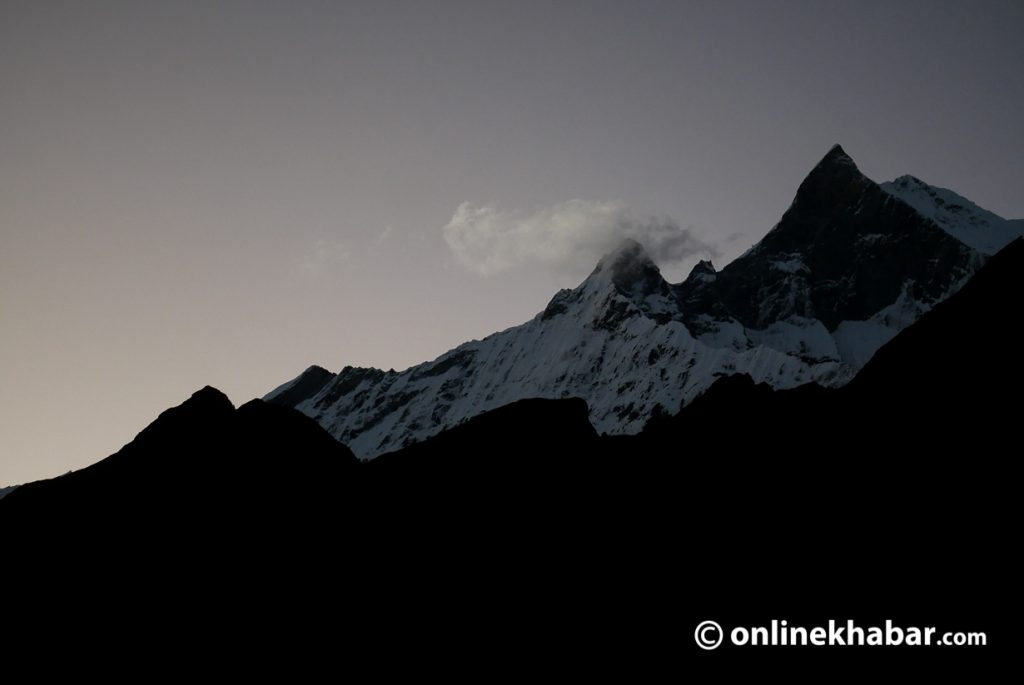 What didn't help was the rain. The clouds had come in and it started to rain. The trail, which was mostly rocky steps, became slippery. I didn't have much balance due to the leg and nearly fell multiple times. It was hard, not just physically but mentally. At this point, I regretted coming alone but regretting wasn't going to get me home. The only person that could get me home was me and I had to push myself mentally more than physically to get to the Himalaya where I decided to stop. It was only 1 pm, but I could barely move my knee and decided to not push no more.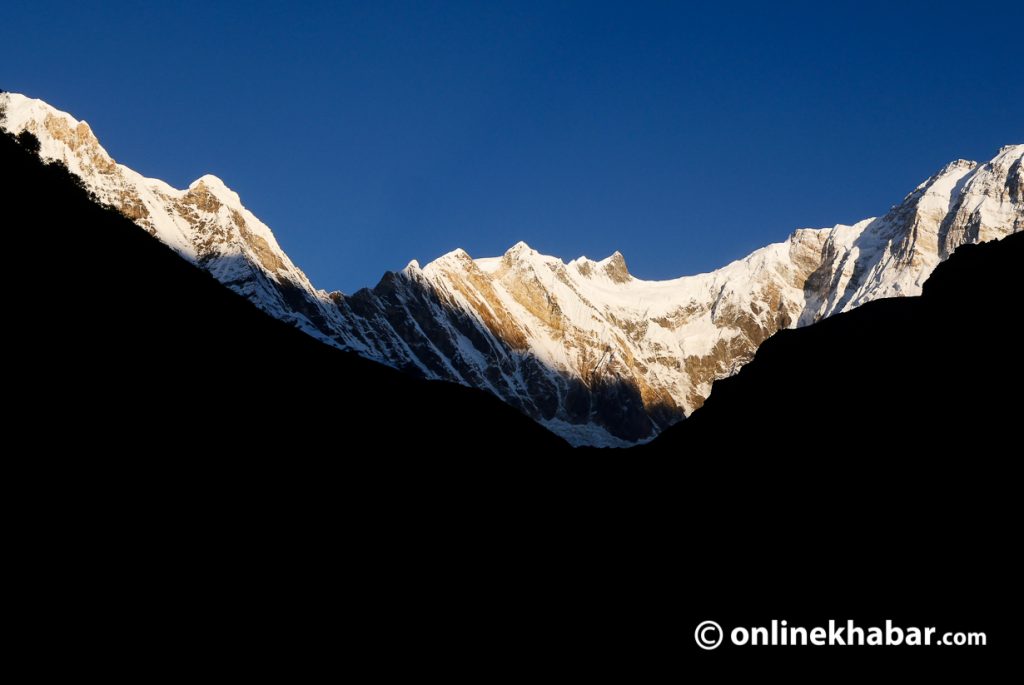 As I say outside the lodge in Himalaya, all I could think about was how the porters did what they did. Most carried more than 20 kgs on their back even though legally they are only allowed 16 kgs. Yet they did it, with a smile on their face. Their life is hard. They get around 15 USD a day, which they barely save but still persevere.
The next day, the knee got a little better, but I had to walk at least eight hours to get to Chomrong, which I had told myself I would walk to. I started off early and walked the forests alone. Walking the forests where they say there are sloth bears is a bit scary, but there was no choice. If I was to be killed by a bear during my trek to Annapurna base camp, I wouldn't have cared.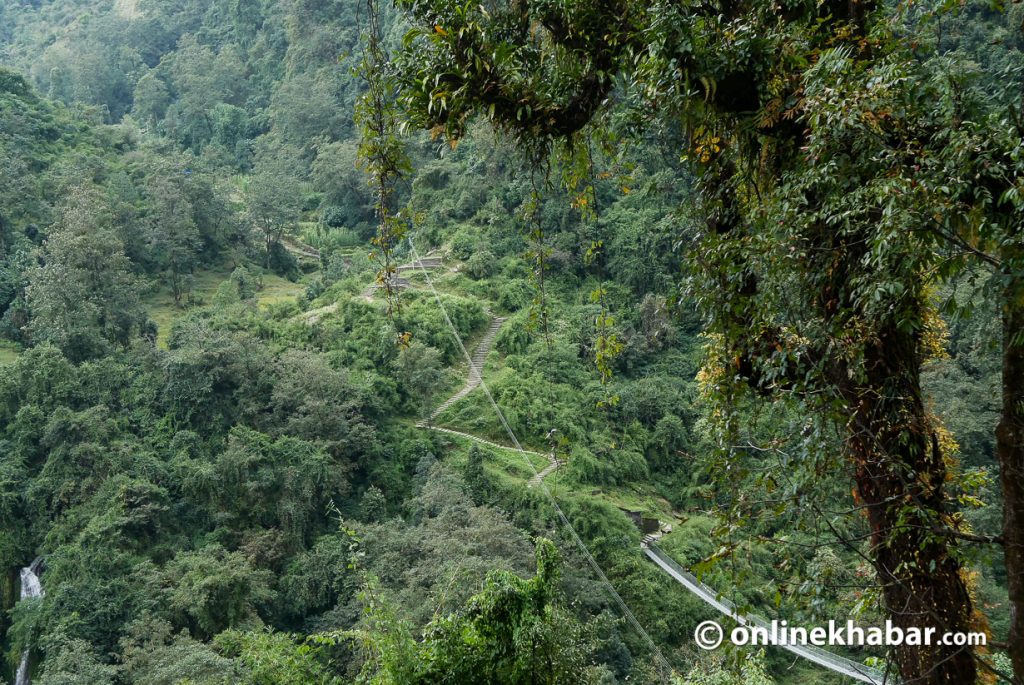 I'd walked the trail when it was raining and had missed out on the scenery of the forest. This time, as I walked slow, I could hear the forest better. The sun pierced through the trees lighting up parts of the forest. Small waterfalls in different parts of it, added beauty to the trail. I think people who walk this trail swiftly will miss out on these little details. I mean I saw so many birds, some species I had never seen. In one corner, I even saw two blue sheep that ran uphill as soon as they saw me.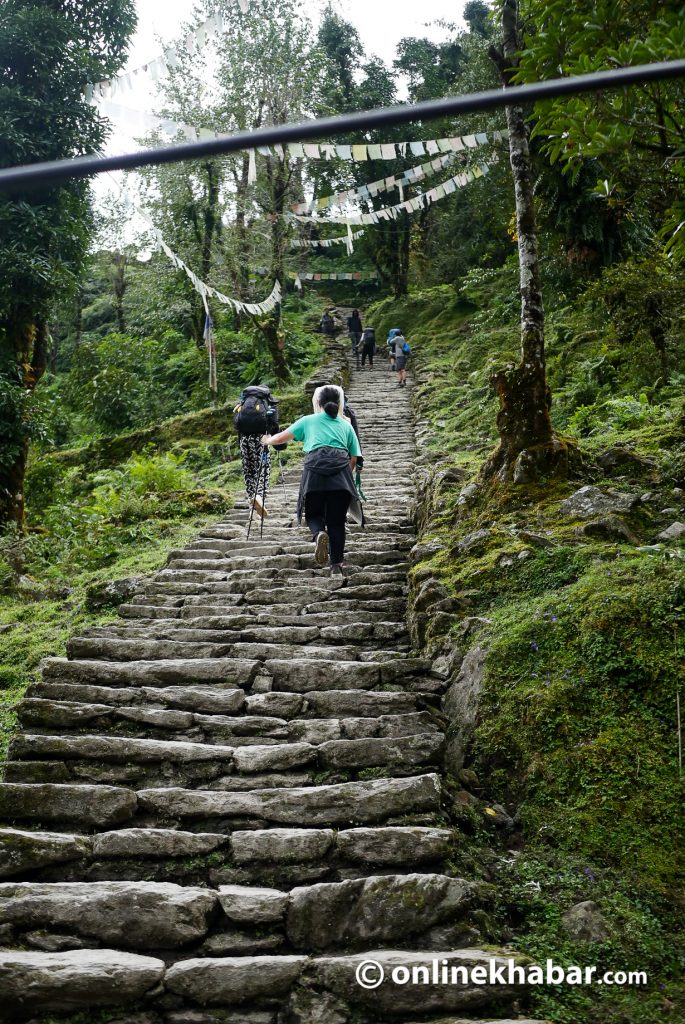 My leg hurt, but my mind was healthy. I'd stressed a lot the day before, but when I started to walk, I felt free from all the pain. I was focused and determined to get to Chomrong. The trail once again went uphill and downhill. It felt like it was teaching me a lesson that life is full of ups and downs and that is when the quote from the book Into the Wild struck me.
The book quoted Christopher McCandless on how important it is, in life, not necessarily to be strong but to feel strong, to measure yourself at least once, and to find yourself at least once in the most ancient of human conditions.
And this trek felt like a test. It tested me mentally and physically. I think I found myself in the trek and found my limits. But, will I trek alone again? Well, I don't think I will, but time will tell.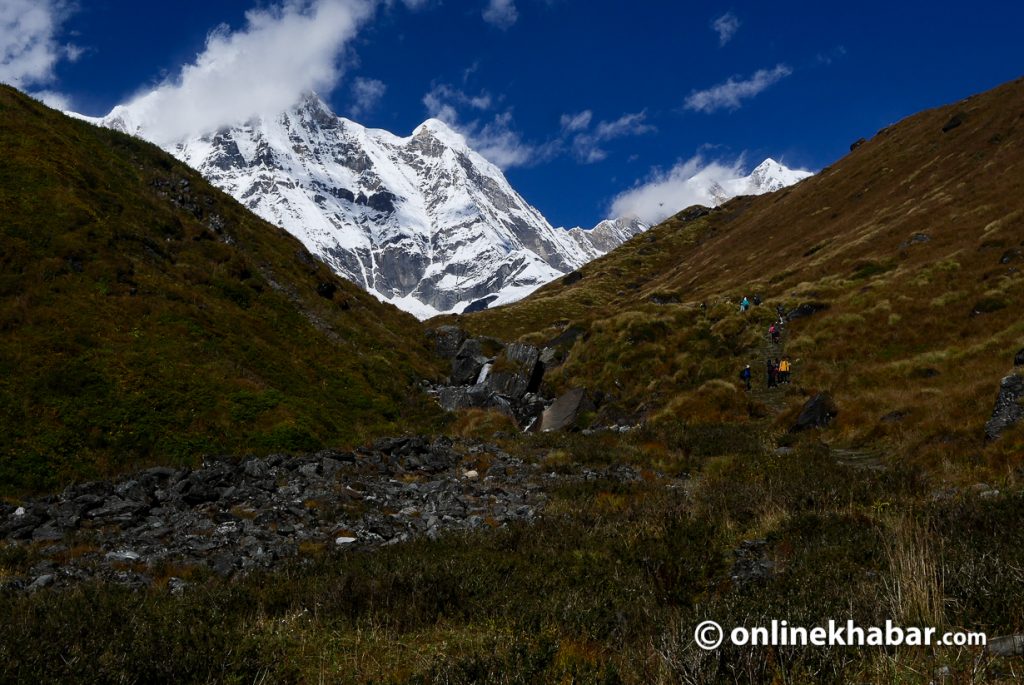 All photos: Shashwat Pant