After passing through the headquarters of Salyan's Kapurkot rural municipality and Kapurkot Bazaar, 8 km from Solawang, you reach Rim village. In this village lives Purbhan Pun. He is one of those few farmers in Nepal who have been attracted to pomegranate cultivation in recent years and is famous as Anar Kaka.
Pomegranate is a valuable fruit in terms of both health and taste. Pomegranates are rich in protein, fibre, carbohydrates, calcium, phosphorus, iron, vitamin B, and vitamin C. Believed to have originated in Iran, this fruit is found in all regions of Nepal. Even though there is good potential for its production in Nepal, it is one of the major imported fruits due to the inability to manage pomegranate cultivation.
With an aim to change this situation, Pun started his journey of pomegranate cultivation and his passion for this has won him recognition in his district as Anar Kaka, which translates to Pomegranate Uncle in English. His journey as an entrepreneur is not only interesting but also inspiring for those who want to do something in agriculture.
Passion for farming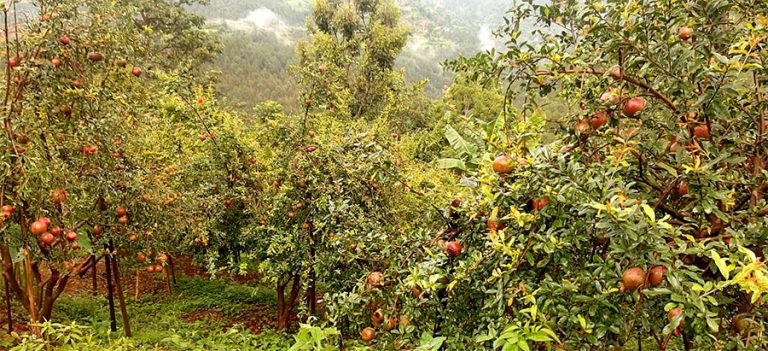 His love for agriculture can be seen when you leave the road above his house and reach the field. When you reach the courtyard, you can see pomegranates, grapes, oranges, lemons, and other fruits hanging on the branches in abundance. Not only fruits, but he has also planted various herbs and other crops. There are also buffaloes and goats in the shed alongside the house.
It was already evening by the time we reached there, however, he was still busy. Seeing us, he greeted us with a smile and expressed, "I have a lot of interest in agriculture but have not been able to work enough."
Pun, a sexagenarian, became the chairperson of his village development committee in 1997. During his tenure, he did much local development and social works. At that time, he had no interest in agriculture as he has now; he was comfortable in politics, social service, and general farming.
Uncle's call for pomegranate cultivation
As the civil war began in the country in 1996, like many others, he also had to leave his village. While he was living away for about eight years, a wish for returning to the village and wanting to do something new in agriculture struck him. What can be done? What can be grown? All these questions appeared in front of him.
While all these queries are playing in his mind, one day, the idea of ​​cultivating pomegranates, which are usually imported from other countries, hit him.
But, why pomegranate? He answers, "Every stratum of people consumes pomegranate. Poor people are also recommended to consume pomegranates by doctors, but the price of pomegranates is very high compared to other fruits. Therefore, I thought why not cultivate it here? I firmly believe that pomegranates will definitely grow in the soil of Nepal."
After he was sure of cultivating and selling pomegranates, he left the running business in 2009 and came back to his own village and started cultivating pomegranates the following year.
Soon he realised that pomegranate cultivation was not as easy as he had thought. There were no concessions, no training, no motivation, and no reward. Some even mocked his decision saying they would not be able to even earn a living by doing such farming. However, this never brought him and his dream down. He was determined, but still, he was in a dilemma whether the pomegranate would grow or not.
That is why, in the beginning, he planted over 10 different fruits including pomegranate, lemon, and orange to test. At that time, he started testing by planting only a few seedlings of each fruit. Various new and old fruits are still planted in his garden.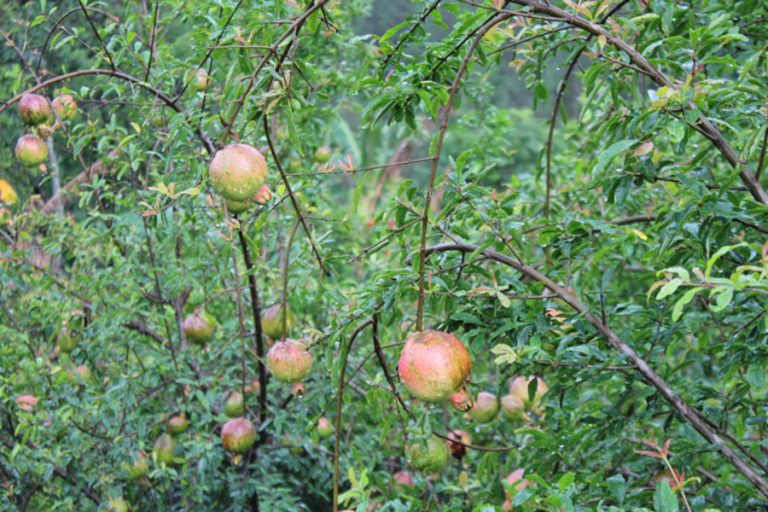 He shares, "Farmers should continue to search and research on their own." He and his family had no choice but to seek a future on the soil as he had left his running business and returned.
Meanwhile, he did not see any commercial pomegranate cultivation in Nepal. Therefore, he brought the saplings from Dang and Nepalgunj and planted some local pomegranate branches. He started getting fruits after the first two years and started making a good income from the fifth to seventh years. In the meantime, his pomegranate cultivation and production became so popular that people started recognising him as Anar Kaka.
When Anar Kaka returned to the village, he did not just start farming. As he was already a political activist, he was also interested in social service. "I have participated in all the local development work including those about drinking water, electricity, roads, education, and health," he claims.
Along with pomegranate farming, he also led a school by collecting donations of about Rs 1.57 million in 2007, and in the following year, it began to teach the students up to the 12th grade.
It has been a long time since he left school, but the fact that the same school also produces agricultural technicians in the local community clearly shows the happiness on his face. Encouraging his own son to become an agricultural technician, he says, "Agriculture should be led by young people now. It has a lot of potentials."
The fruits of his dream
When it started to bear good fruits, at first, Anar Kaka had to go to Dang to sell pomegranates. But after that, he did not have to go beyond Kapurkot to sell pomegranates. He sells pomegranate, lemon, orange, and other fruits from home itself.
Last year alone, he earned Rs 150,000 from pomegranates and other fruits, Rs 100,000 from ginger, Rs 30,000 from garlic, Rs 40,000 from goats, and more than Rs 600,000 from selling lemon, pomegranate, and orange seedlings.
He now has about 250 adult pomegranate plants of six varieties. There are 40 lemon and 20 orange trees. There are many other fruits and herbs including bay leaves.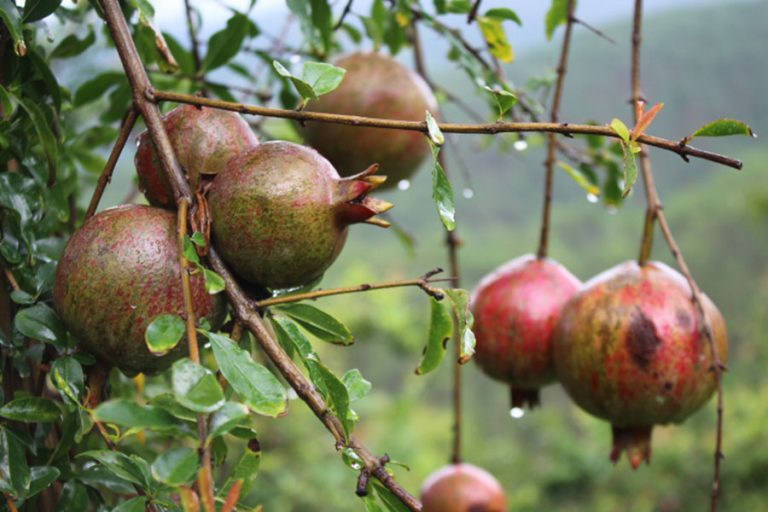 Hardships
Now, Anar Kaka has a lot of experience in pomegranate farming. He tries to put his experience into words, "It's not easy to work on the soil. Many disease attacks pomegranates; then the plants should be pruned accordingly. You have to constantly take good care of the plants. Wild animals, including monkeys and deer, also cause trouble. It takes a lot of hard work and dedication to make the trees bear fruits. Again, due to heavy rains, pomegranates burst and get destroyed. You have to mix manure with medicine and use."
He uses a lot of organic fertilisers along with some chemical fertilisers like urea and DAP. Anar Kaka understands that although it is easy for production, the use of chemical fertilisers and pesticides is costly and also detrimental to human health and soil. Therefore, he is now thinking of promoting organic farming.
Mixing grievances and questions at the same time, he says, "If I had the technology and technicians to teach such farming, why would I use chemicals and pesticides?"
Further, with one example, he expresses his bitterness, "The hen chirps loudly and disturbs the whole village and lays an egg, but the fish sits quietly and lays hundreds of eggs. Our governments' agricultural policies, programmes, and subsidies are as loud as a hen giving one egg. But, the leaders have not worked in agriculture. Real farmers do not receive any assistance or subsidy from the government. Only those who cultivate paper and serve leaders will get such facility."
What would you do if you were a leader? In response to the question, he answers, "I have many plans, but what to do with the plan in the hands of those who do not have power?"