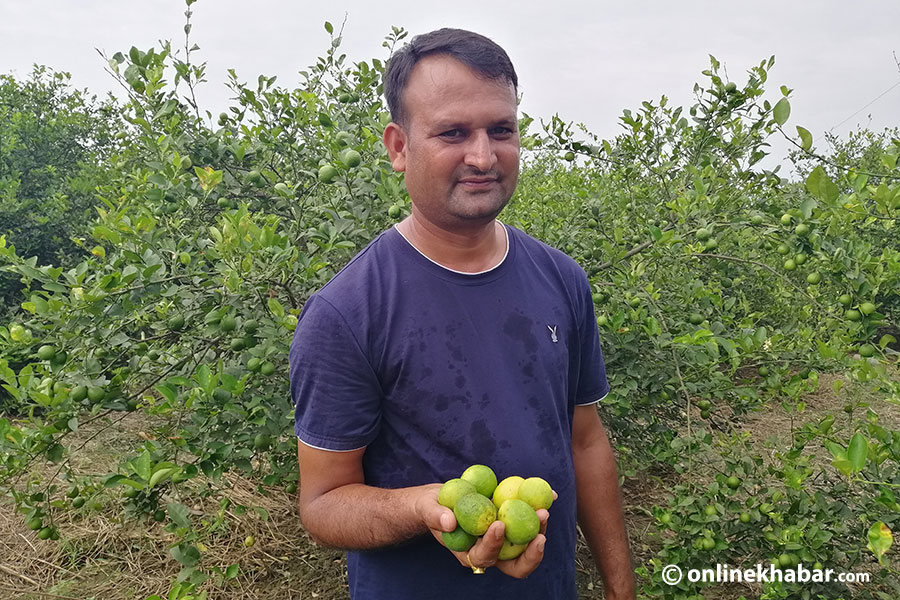 It has been five years since CP Adhikari of Jamunapur, Kalika municipality-6, Chitwan, stopped playing with chalk and duster and got involved in farming. While earning a good living and reputation as the principal of a private school, his decision to quit was shocking.
"Everything was fine, but I was not happy," says Adhikari, an MSc graduate, "So I left the teaching profession that I had been doing for 17 years and opened Scap Multi-Agro Farm for lemon cultivation."
Shift to success
He initially planted 350 saplings on one bigha (72,900 square feet) of land, agreeing to pay Rs 60,000 a year to the landlord. Having no previous experience, he learned about technical aspects of farming from experts, as well as YouTube, and started his project.
In the second year, he planted 650 saplings. By then, he had expanded his farm into an area of around 108,000 square feet.
Today, he spends Rs 200,000 to Rs 300,000 on his farm per year. His annual income has already reached Rs 1 million; this year, he wants to double it.
Although it takes a lot of labour for lemons at the beginning, it is enough to do seasonal works later. Interestingly, lemon's market is constant irrespective of the season. It means there is not much risk.
However, there are some challenges. According to Adhikari, there are three main diseases that threaten his crop. "Leaf miner, fruit canker and premature fruit falling are the most common diseases. Sometimes, the root rot disease also causes problem", he says, "In addition, unavailability of urea (fertiliser) is a perennial problem."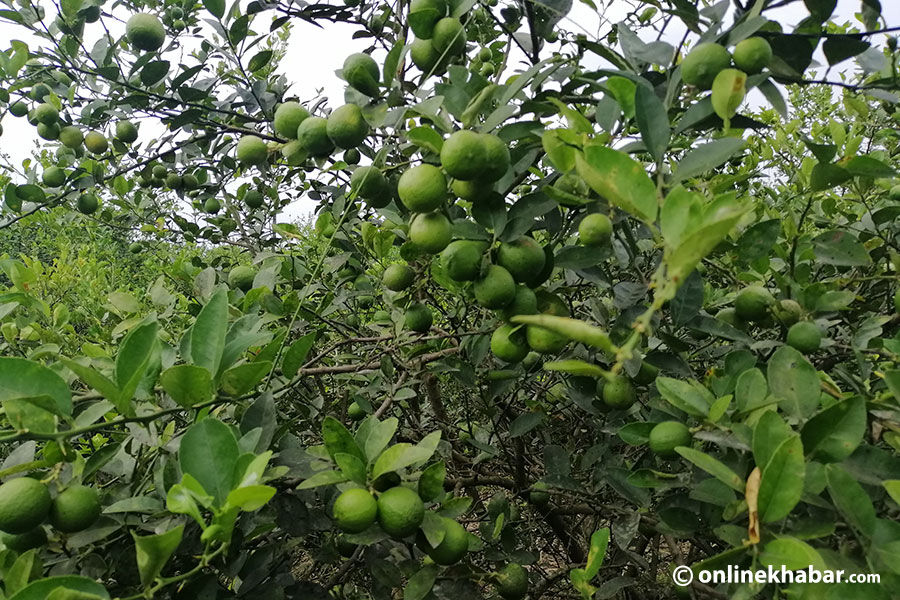 In Kalika, 10 people including Adhikari are engaged in commercial lemon farming. Around 50 people are engaged in commercial lemon farming in Chitwan overall. It is estimated that lemon is cultivated in 100 bighas of land in Chitwan.
Adhikari says that he has not taken a single rupee from any government body as an aid so far. "I went to the Agricultural Knowledge Centre at the time of planting the seedlings," he says, "They said that that I would get a seedling for Rs 17.50 as a subsidy. But, the time of delivery was uncertain, so I returned emptyhanded."
Instead, he felt it would be better to buy a sapling for Rs 200 than wasting time in a long wait for the subsidy..
Competition with Indian lemons
The market for lemons in Nepal is good, but prices are set by middlemen. Adhikari has been selling lemons at a vegetable market in Narayangadh. According to him, the price is Rs 100 to Rs 200 per kg. "Selling at 100 per kg will cause loss," he says, "But, we have to sell at such a low price as lemons imported from India are cheaper."
He claims Indian suppliers make their lemons yellow by applying poisonous chemicals. When the customers are drawn by the colour, the juicy green Nepali lemon is ignored, he laments. "Therefore, the market share of Nepali lemons is only 7 per cent," he says. "The rest 93 per cent of lemons are being supplied from India."
He says Indian farmers get big grants from the government so there produce is cheaper. Therefore, Nepali farmers are not in a position to compete with the prices of Indian agricultural production, according to him.
Therefore, Adhikari's plan to cultivate lemon on 10 bighas of land is halted for now. He says that he has not dared to plant new seedlings even in the place where the land has been ploughed.
Nepali farmers also have a problem related to the farmland. According to Adhikari, farmers need the land piece for at least 10 years for the cultivation of lemon as starts production only in the third year. "It doesn't make sense to lease land for five years," he says. "However, it has become almost impossible to get land with water and transport facilities for 10 years."
On top of that, because of cheap Indian lemons and lack of subsidy and technical assistance for Nepali farmers, commercial farming has not been able to flourish even though there is a market for lemons in Nepal, says Adhikari.
Way forward
Adhikari, who has worked a lot for the lemon saplings, has now planned to produce quality saplings on his own. He says there was a lot of trouble to go to Dhankuta, where a government body produces lemon plants, to collect the saplings, adding he will now focus on seedlings.
A government-produced 'gold lemon-1' (Sun Kagati-1) plant costs Rs 60 and a privately produced one costs Rs 200. Therefore, Adhikari sees the opportunity in this and is preparing to produce gold lemon-1 and 2 varieties.
According to him, the gold lemon-1 plant gives small smooth fruits throughout the year. This plant grows at an altitude of 100 to 1,800 metres and is appropriate for Nepal thanks to a warm and humid climate throughout the year.