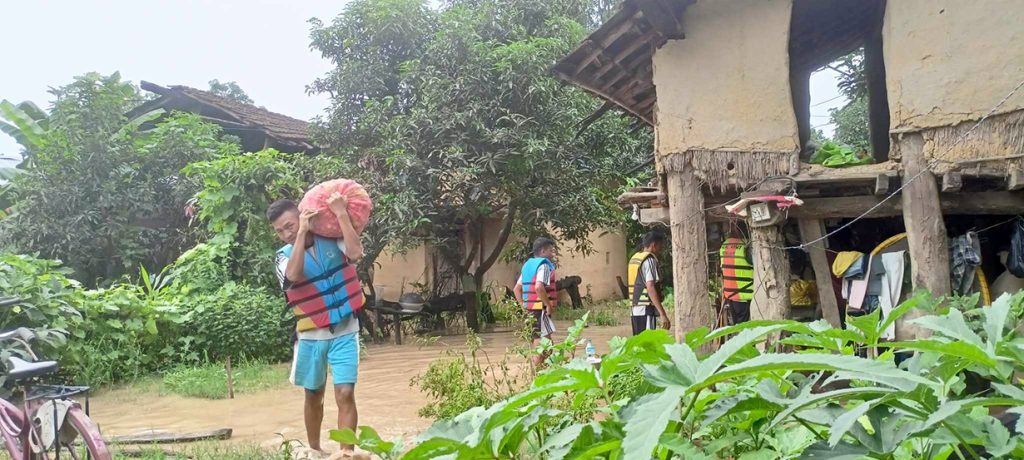 Dhangadhi, August 8
The relentless rainfall since Monday night has inundated 500 homes in Kailali.
The local authorities report that the flooding has affected 500 houses across various areas, including Dhangadhi sub-metropolitan city, Bhajani municipality, Godavari municipality, Chure, Joshipur, and Kailari rural municipality, as river waters inundated these settlements.
Shiva Raj Joshi, an administrative officer from the District Administration Office, no human casualty has been reported so far.
According to Joshi, 14 houses were inundated in Kanari of Dhangadhi sub-metropolitan city when the water of Khutia river entered the settlement, and 250 houses were flooded in Bhajani municipality.
Likewise, the flooding from the Kataini river has affected 150 houses in different settlements of Kailari rural municipality-7. In addition, the floodwaters of the Kada river have affected 56 houses across various settlements in Joshipur municipality, as reported by the police.
A shop has been submerged due to the floodwaters of the Khairana river in Godavari municipality. Meanwhile, a road that was previously blocked by a landslide in Gopale of Chure Rural Municipality-5 has now been cleared and reopened.