The Nepali football team has managed to achieve something that would have been a pipe dream for fans, until just a few years ago.
The usual story, after any tournament that the national side played, would of "playing well, but not scoring." As FIFA chief Blatter said during his visit to Nepal in 2012, he'd said that the Nepal team play like Barcelona, but they do not have a Messi.
In fact Nepal's goalless run of record 11 matches just ended on December 27, 2015, thanks to none other than ace finisher Bimal Gharti Magar, now an integral part of the national squad.
Nepal's U-23 football team defeated India 2-1 in the finals of the South Asian Games, football event. The last time this happened was 23 years ago in Dhaka in 1993 when then skipper Raju Shakya and his team achieved the feat.
On Monday , although Nepal U-23's game play against India could not be compared to that of  the Catalans, the team found out who its 'Messi' was. It's none other than Nawayug Shrestha, who scored a treble in the semis and a goal in the final to seal the 2-1 victory against India, that too on Indian turf.
In 1999 Nepal reached the final of the tournament but had to settle for silver, that too on home soil. It was since 2006 that the SAG football tournament was set aside for players under 23 years of age.
Looking at the future
Well, the Nepali national team's past is not yet behind it so far, it would be too early to say that a bright future now awaits us, and we can dream big to go beyond South Asia. But with the current breed of players, it's definitely the future that holds more points for Nepal.

Here are our picks from the Nepali squad:
1.
Prakash Budhathoki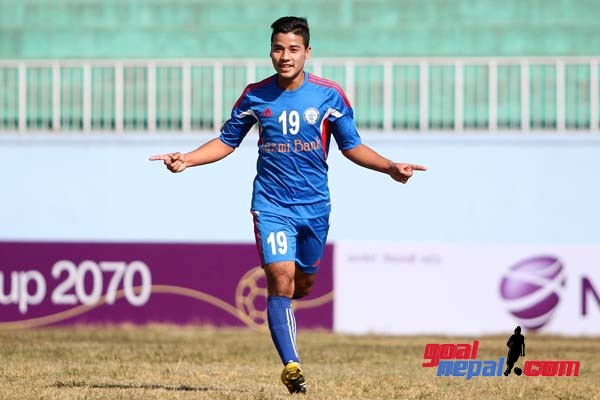 The Nepali team is always under pressure when it plays against India at any level. But Prakash Budhathoki did not feel any pressure, and converted a free-kick to a world-class goal. Budhthoki's strike from outside the 18-yard mark hit the far post, and the Indian goalie was left clueless. This is a rare sight even in Europe and South America.
Budhathoki, who hails from Sunsari started his professional carer from Friends Club in 2010. The midfielder has also played for Three Star. He has the ability to play on the left as well as the right.
2.
Bikesh Kuthu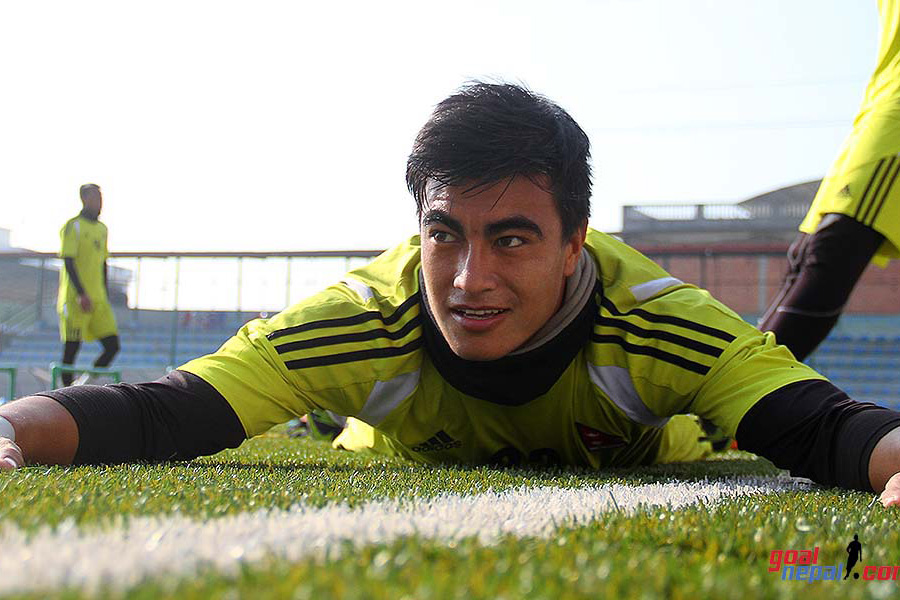 Bikesh Kuthu was until recently Nepal's second-choice custodian. Even if we do not consider his stellar performance during the final, his show during Bhutan and Bangladesh was enough to earn him a spot in the national side. During the final, he did not allow Indian strikers to threaten to score, except for the first goal. Kuthu started his career from Saraswati Club in 2010. He has also played for Madhyapur Youth Association, where he trained under former national keeper Upendra Man Singh.
3.
Nawayug Shrestha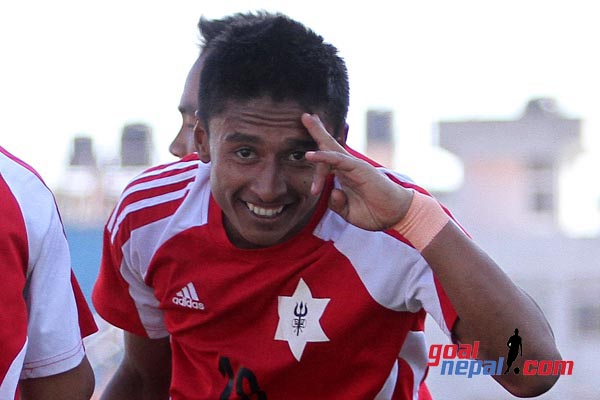 Nawayug Shrestha, an army man who hails from Ilam, needs no description these days. His treble during the semifinal against Maldives, and the match-winning goal in the final make him the most promising star in the young squad. The striker, who is a fan of Ronaldo, also played an instrumental role in his team's Banga Bandhu Cup win in January.
(with inputs from Sanjeev Mishra)
Photos: Goalnepal.com