When Sarad Shrestha and Abhishek S Mishra get on stage, magic happens. The duo have certain chemistry not many have because when they play, everyone, including their peers, sits and takes notice. For a duo that do not play together as much, their music is incredibly tight as both seem to know what the other wants to do.
Shrestha is flawless on the guitar with his iconic riffs while Mishra, whose guitar skills are underrated, complements him with his powerful vocals. The duo that call themselves "2 Gunslingers" have come a long way since they started their journey in 2015. Despite being associated with other projects and bands, they are now planning on releasing their debut EP by September.
"We're releasing our debut track Yo Sansar Maa in a few weeks on Noodle and that will be followed by the EP," says Mishra, hoping it will be an honest and successful effort to bring back rock and roll into Nepal.
Two to tango
The two met during the Backyard Session in 2015 and hit it off immediately. Initially, they were just goofing around, playing covers of classic rock bands. That drew a lot of attention as their peers felt they would be great together and suggested they work together if they had a chance. It was then when they decided to form a band and start making music.
"We'd be playing together at places and people like Diwas Gurung, Sunny Tuladhar and Hari Maharjan would and join us. We started off as a really fun band that played the music that we wanted to play and were open to anyone joining us," says Shrestha who has also been the guitarist for the popular Nepali rock band The Axe.
But, they clicked with each other. Their tightness made others envious, but with both associated with different bands, the two did not have time to do music together.
"I had only just begun my music career when I met Sarad dai while he was busy with Tumbleweed Inc and Shree 3. I also started ASM which got me occupied, so this became a side project for the both of us," says Mishra.
But, they wanted to play together because they knew how compatible they were. With all the positive feedback coming their way, the two continued to play whenever they could. They met and jammed together some days, while other days they would play four songs in four hours at a venue, talking to the audience and having fun along the way.
"Four songs in four hours is a long time. But people, rather than leaving, stayed. I'm sure that more people came in that day," says Mishra.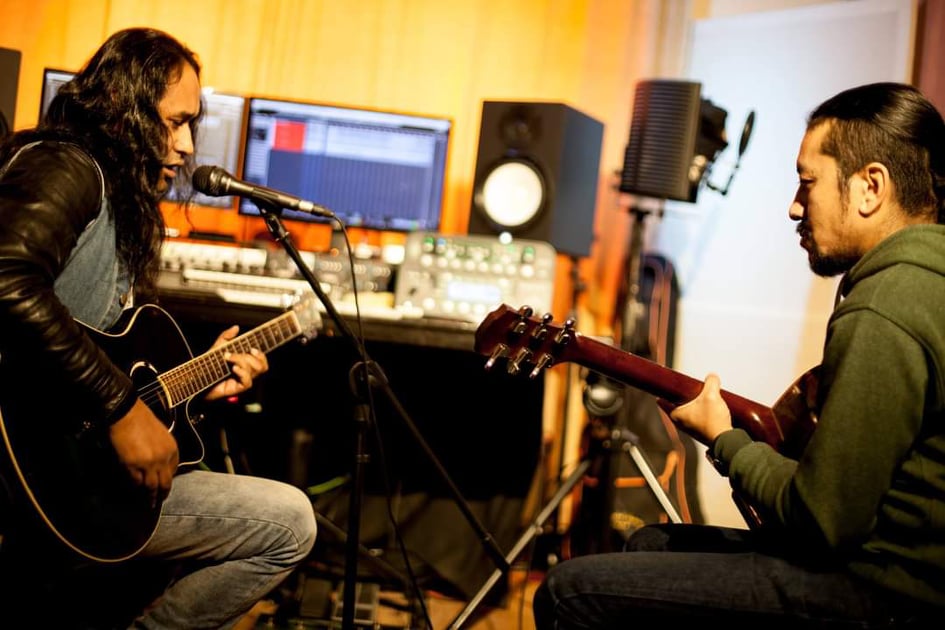 Chemistry and continuity
The two like each other too. Mishra has a lot of respect for Shrestha who he idolises. Mishra says that for a guy who has played mainstream music, Shrestha is incredibly technical and soulful at the same time.
"He's someone who went to mainstream and made everyone better. If you play songs by the Axe, I'll assure you that you'll be a better guitarist," says Mishra. "Sarad dai's got both the technique and the feel; a combination that only a few people in Nepal have."
Shrestha also shares the sentiment and says Mishra catches things extremely quickly. He feels they have a telepathic connection which helps him a lot.
"His head is great. When I shift from one riff to another, he can just join in effortlessly. His vocals are obviously good, but his guitar skills are underrated," says Shrestha.
With this in mind, the duo have decided it is time to do something original as they plan to release their debut EP on Noodle, having already done two songs: Yo Sansar Maa and In My Head.
"There comes a time when, as musicians, you want to do something you can call your own; this EP is just that," says Shrestha.
Mishra echoes Shrestha and adds that for a musician, there comes a time when they will be tired of playing others' songs.
Speciality in the EP
This EP is going to be quite special for them as they have written all the songs from a perspective of a street kid. There will be five songs to tell five unique stories. Three will be in Nepali and the remaining two in English.
"This is a concept EP where we've experimented a lot. There's a lot of imaginative writing, which we hope people will like," says Mishra.
The EP is getting released exclusively on Noodle, which both feel has been a boon to musicians in Nepal as it is trying to re-establish a culture of buying music as artists can sell singles on the platform.
"We're not even thinking about video; this is what Noodle is doing for the industry. They're bring listening culture back in a time where people are judging music or art based on a reaction video by someone who doesn't even understand music," says Shrestha.
That said, the duo want to bring rock and roll back to Nepal's music scene but say they do not have a lot of aspirations. Their only aspiration is that people listen to their songs and maybe when they get to play a show, they want to sing along with them.
"Our goals are simple. We want to play music without pressure and expectation and sponsorships and continue to do what we do. Make memorable music and have the time of our lives doing so," says Mishra.