Two different characters, one common denominator: unparalleled ambition. This is the premise upon which Ramesh Upreti's Aishwarya, an action movie, is based.
Two wealthy scions Raghav Shamsher Ja.Ba.Ra., played by the man who ages like wine, Prasant Tamrakar and another Samir Pratap Malla, played by Ramesh Upreti clash for the ultimate prize: the control of 'Aishwarya Orphanage'. While Raghav wants to vacate the orphanage and build a commercial building in its place, Samir won't let him.  There's a sequence when Raghav, the antagonist is sending off the caretaker and hundreds of orphans. Just then, a chopper lands in front of his eyes.  Out comes Samir, the Messiah of those poor orphans, and stops Raghav.
Raghav is infuriated so much so that he spews out borrowed lines from a Bollywood movie: Do as you please but don't hurt my ego.
While an unexpected raid gets Raghav behind bars, Samir is seen romancing with an aspiring model, Deepika Prasain as herself. The reserved Samir soon loosens up tending to parties and casual getaways while also creating an amplified buzz in the media.
Raghav learns about the new lovebirds, and plots to separate them. Through Raghav's tactful planning, Prasain lands an international brand endorsement, oblivious to the trap, and the movie takes the audience wherever each of their ambition goads them.
Then enters Rani (Keki Adhikari), the chubby-bubbly brat, born with a silver spoon in her mouth who instantly obsesses over Samir. Best supported by her 'Motu' (Nirmal Sharma), she is head-over-heels and next thing you know, she is ascending up to the 7th floor on foot to meet Samir. Eventually, her overpowering obsession wins over him and a date is slated for them to tie the knot.
The audience might have imagined a different story line; but to their surprise, Samir's plans are unravelled when Raghav summons the main characters to the attic of the orphanage. Raghav debunks an old myth, aggravating the already precarious situation and changing all four of their lives forever.
The director has shot the elites of the city and all the posh places have been registered. The sets and characters are grand and include all the angles to look even more chivalrous. There aren't many songs in the movie, however, a romantic track,'Timi Royeko Pal' has already crossed 3.9 million views on YouTube making it one of the most popular songs of 2017.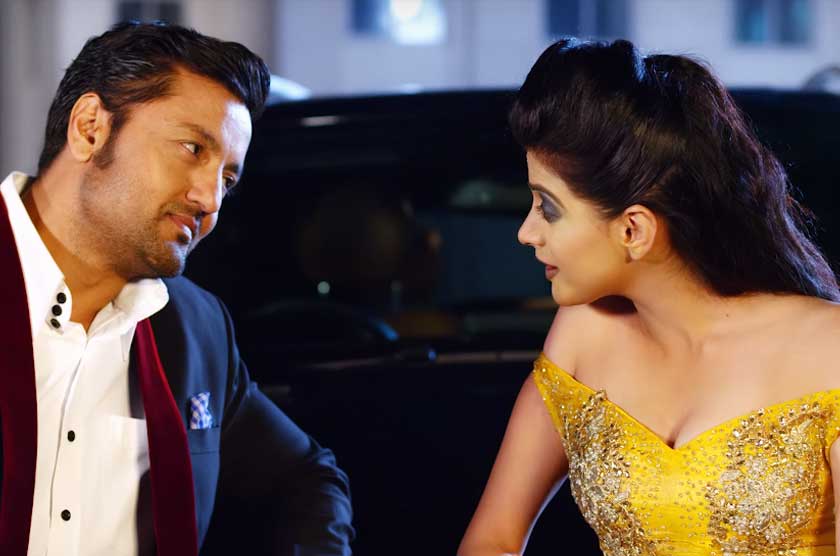 Prasant Tamrakar (Raghav Shamsher Ja.Ba.Ra.) stands out from the pack in the movie in his negative role. Be it through his immaculate suits or the spikes of the hair or his stout cigars and his poise while heaving out the smoke, he walks, talks and looks much like a venomous snake. Besides the morphology, his sneers and cackles inherit the nuances from a contemptuous businessman.
A well-known face in Nepali movies, Ramesh Uprety (Samir Pratap Malla) plays a more reserved kind of a man as he makes a comeback to the Nepali movies after a decade. His sense of style is classy and sophisticated. The movie would have only been an intense debacle between the two had it not been for Keki Adhikari (Rani) who throws infectious energy into the movie.
Each of them suffers unfathomable pain either because of their over-ambition or over-obsession. The movie doesn't preach, yet the audience is able to make out that too much of anything is lethal.
The movie, however, has a disappointing story line towards the latter half, has a lot of gory scenes, and ends leaving behind vague pieces, perhaps, for a sequel to pick them up.
Director: Diwakar Bhattarai
Actors: Prasant Tamrakar, Ramesh Uprety, Deepika Prasain, Keki Adhikari
Screenings: QFX Cinemas
---
Published on October 29th, Sunday, 2017 12:26 PM
---
Download Onlinekhabar App. Android click here & IOS click here . Keep in touch with us on Facebook, Twitter & YouTube.