MAW Enterprises, the official distributor of Yamaha bikes and scooters for Nepal has officially launched Yamaha's latest FZ edition, FZS V3 X-Connect in Nepal.
Yamaha has come to the market every time with some improvement in its style and performance. Having been one of the most preferred bikes among Nepali bike riders, this time too, Yamaha left no stone unturned to meet the need of time and riders.
This latest edition bike weighs 135 kg and is the lightest Yamaha FZ bike until now. With a 140-section radial tyre, side stand cut off, BSVI compliant engine and ABS upgrade, FZS V3 X-Connect has a few of the most dynamic features. FZS V3 X-Connect is a bike that is specially designed for those who want smart features in their vehicle. However, it has a heavy price tag that can be an issue with the Nepali users here.
Let's go through its features and draw an opinion about its usefulness in Nepal.
Specifications
Dimension
Length: 1,990mm
Width: 780mm
Height: 1,080mm
Wheelbase: 1,330mm
Ground clearance: 165mm
Seat height: 790mm
Displacement
149cc
Cylinder
Single-cylinder, 2- valve
Chassis type
Diamond
Max power
12.4 PS @ 7,250rpm
Max torque
13.3 Nm @ 5,500rpm
Bore
57.3mm
Stroke
57.9mm
Compression ratio
9.6:1
Fuel delivery system
Fuel injection
Transmission type
Constant-mesh, 5-speed
Fuel tank capacity
13l
Clutch
Wet, multi-disc
Brakes
Front: ABS
Rear: Disc brake
Tyre size (Tubeless tyres)
Front: 100/80-17M/C 52P
Rear: 140/60R17M/C 63P
Suspension
Front: Telescopic fork
Rear: 7 steps adjustable motocross suspension
Kerb weight
135kg
Price
Rs 379,900 (Normal variant)
Rs 384,900 (Dark Knight variant)
What are the special six X-Connect features?
Aiming to bring potential benefits through a host of safety and practical features to the customers, the new FZS V3 X-Connect is introduced with Bluetooth-enabled technology as a part of standard equipment.
This technology offers six features altogether after it is paired up with the Yamaha Motorcycle Connect X app on your mobile. The app is available on Google Play Store and iOS App Store for free.
The first feature is Answers Back: Upon engaging this feature, the bike indicators start blinking, and the horn starts beeping.
The second is the E-Lock system, which enables you to set an e-lock pattern to the turn indicator switch. Once you set an e-lock pattern, you can unlock the bike even without access to the smartphone app, and people cannot unlock your bike without knowing the secret pattern you have set for your motorcycle. This feature is handy for preventing your bike from theft.
The third feature is Locate My Bike. Upon clicking this feature, the bike indicators will illuminate for 10 seconds continuously. This feature is useful mainly when you have parked your bike in jam-packed and crowded parking lots.
Similarly, the fourth feature is Riding History. With this feature, you can record and view the individual trip details of every ride.
The fifth feature is the Parking Record. This feature keeps you connected with your bike. This feature shows a route map from your current location to where you have parked your bike.
And, the last feature is Hazard. Upon clicking the button, all the indicators start blinking continuously to notify fellow riders on the road in the case of an emergency.
What are other features?
Some other key features of the Yamaha FZS V3 X-connect are: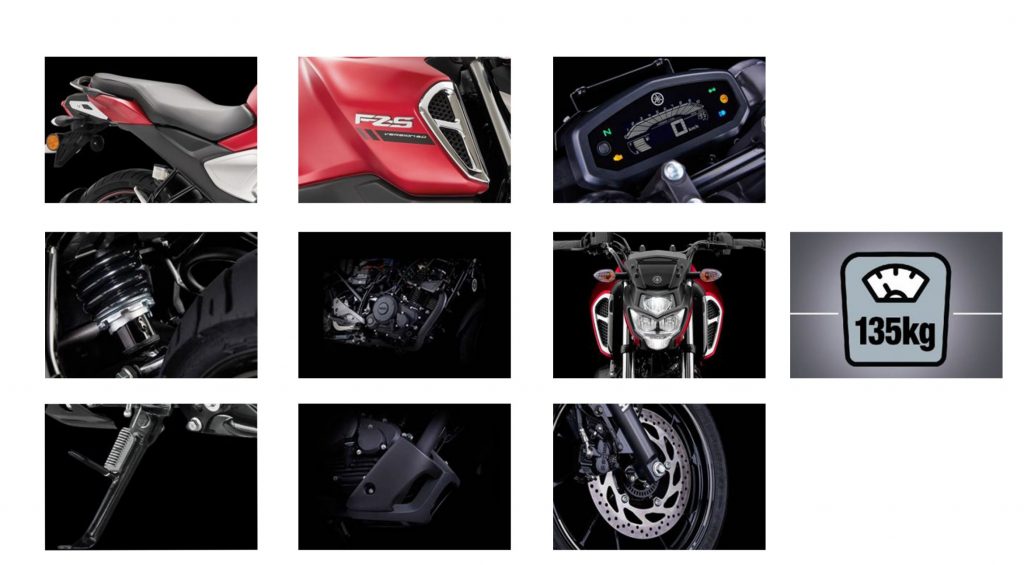 Chrome duct plating
LED headlight
Comfortable two-level seat
In-built side stand engine cut-off switch
Lightweight body
Negative LCD instrument cluster
Front 1-inch ABS and disc brake
149cc powerful FI engine
Under cowl
140mm wide radial tyre
Advanced midship muffler cover
Yamaha FZS V3 X-connect is priced at Rs 379,900 for the normal variant and Rs 384,900 for the Dark Knight variant.
So what?
This is perhaps the most advanced bike from Yamaha in the FZ series in Nepal. The negative LCD instrument cluster, side-stand engine cut-off switch, Bluetooth-enabled X-connect features are unique and very useful for the riders. This is also one of the lightest bikes in this series, weighing only 135kgs. The seating also looks much more comfortable and there is more style added on the bike.
Yamaha FZS V3 X-connect, however, comes with a hefty price tag though, FZS FI V2, was priced at Rs 256,000 when released in Nepal and FZS Fi V3 even with ABS was priced at Rs 309,900. All of these had BS4 compliant engines and the new FZS V3 X-connect has a BS6 compliant engine. This means less emission, but also the bike has to sacrifice some power to achieve that.
Will the people still love this bike with the huge price tag? Only time will tell that.