The local elections in Nepal are almost over; all but one local unit's result is yet to come out. Many had hoped that the elections this time would be different for women. But, even though their numbers have increased, their representation is found to be declining.
The downward trend
| | | |
| --- | --- | --- |
| Designation | 2017 | 2022 |
| Mayor/ Chair | 18 | 25 |
| Deputy mayor/Vice-chair | 700 | 562 |
| Ward-chair | 61 | 69 |
In the 2017 elections, only seven women had become mayors of various cities, but this year 13 have won the mayoral elections in their respective municipalities. In rural municipalities, 11 women had become chairs in 2017. This year, that number has gone up to 12.
If you look at it from a leadership point of view, this is positive. But, political analysts say that when it came to women's representation, it was not what people had expected.
"The women who have been elected in the leadership roles are those elected in the deputy role in the last elections. Their development and willingness to work put them in the position to take up leadership positions," says senior advocate Usha Malla Pathak.
But, she argues she did not see the level of enthusiasm seen in the 2017 local elections as not many women gave in their names for leadership roles. "I think political parties didn't want to see any woman. The parties not giving them space is very sad to see," says Pathak.
One reason for the lack of women's interest in the posts of deputy mayor and vice-chair is the coalition between Nepali Congress, Maoist Centre, CPN-Unified Socialist, JSPN and Rashtriya Janamorcha. Compared to last year, the number of women in deputy positions was low at 138.
In 2017, a total of 700 women had been elected either as deputy mayor or vice-chair. But, this year, only 562 were elected for these posts. This shows their representation has gone down even though the year saw seven more mayors and eight more ward chairs than in 2017.
Deep divide
If you look at the percentage of these figures, things are quite dire. Only 25 women became chairs of rural municipalities or mayors. This is only 3.34 per cent, nearly 1 per cent more than the last elections. As usual, the leadership roles have been dominated by men.
The number of women in the posts of deputy mayor and vice-chair has gone down. In 2017, 276 had become deputy mayors. This year, only 226 were elected. When it comes to rural municipality vice-chairs, the number has gone down too as only 335 women were elected compared to 424 in 2017.
While women covered 93 per cent of the deputies and vice-chairpersons, this time, only 75 per cent of these seats are occupied by them.
"Men dominate political parties and always want to stake their claim when it comes to power position. Plus this year, due to the coalition, the representation has been even low. When the number of female candidates was low, the representation going down is normal," says Pathak, who believes political parties used a loophole in Nepal's law by not giving in names of women for the positions of deputies."
Nepal has 6,743 wards. On average, 69 wards have got one woman ward chair this time. This is only a 1.02 per cent representation.
In 2017, the situation was even dire as only 61 women won after contesting for ward chairs.
If you look at things on a whole, out of the 34,888 positions up for grabs, women were elected in 14,379 positions. But, this number is just high because of the mandatory rule of having two female (one Dalit) members each in wards. If you take that away, only 1,096 women were elected.
Yet, the number was low this year, as in many wards, there were not enough female candidates, especially from the Dalit communities.
How are women in Nepal's top parties?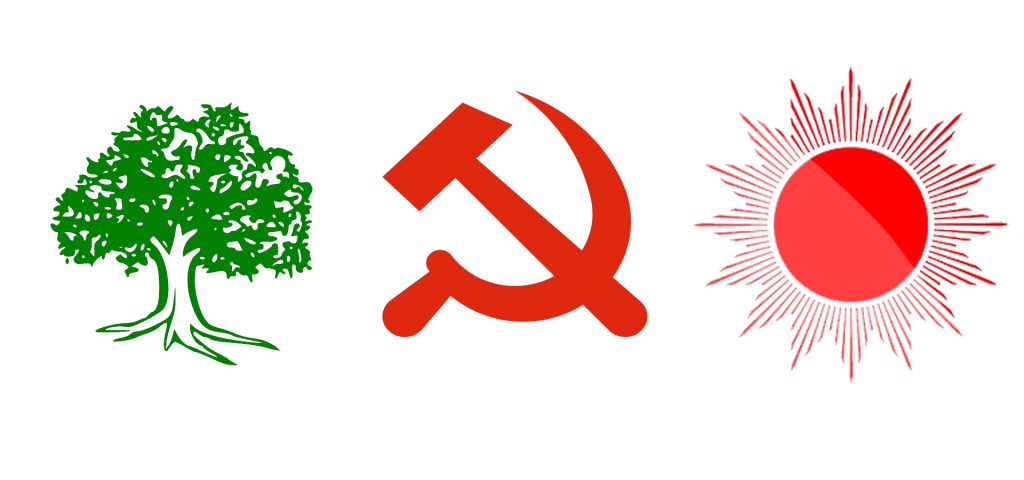 CPN-UML
CPN-UML won in 204 local units. But, out of these, only 10 women were elected. This is a mere 4.09 per cent. Similarly, it won 237 deputy and vice-chair seats, where 213 women were elected.
Nepali Congress
Nepali Congress won the leadership in 326 local units, where only nine women were elected. When it comes to deputy mayors and vice-chairs, Nepali Congress won 298 seats, where 225 women were elected.
Maoists Centre
The Maoist Centre won 121 seats, but only four of them are women. Only 63 women were elected deputy chairs as the Maoist Centre won 128 seats.
---
This story was translated from the original Nepali version and edited for clarity and length.