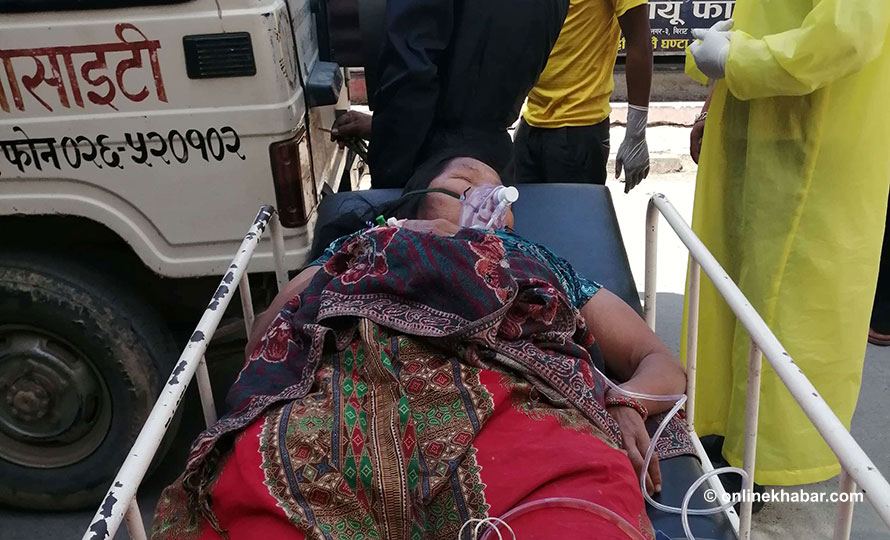 Biratnagar, April 1
A 52-year-old woman from Dhankuta district of eastern Nepal died in Biratnagar on Tuesday for want of treatment.
She was taken to different hospitals on time, but two hospitals in the Province 1 capital city rejected her admission suspecting she was a coronavirus positive case and she might spread the infection.
A resident of Mahalaxmi municipality-5 of Dhankuta, Nara Devi Gurung, who had high blood pressure, had fallen unconscious in the early morning Tuesday. The family rushed her to BP Koirala Institute of Health Sciences, Dharan. The hospital said she should be admitted to an intensive care unit, for which the hospital did not have any bed, and referred her to Biratnagar-based Neuro Hospital.
The Biratnagar hospital said it did not have a ventilator available and referred her to Birat Nursing Home nearby. The second hospital in the city also rejected her admission without mentioning any reason.
Then, the family took her to Nobel Medical College in the city. The hospital declared her dead in around 1.5 hours of the admission.
The family later knew that Neuro and Birat hospitals rejected her admission as they measured her temperatures at 102 degrees and suspected that she was a Covid-19 patient, informs her daughter Laxmi. She says the Nobel College said her mother could be saved if she was taken to the hospital early.
Though Neuro Hospital administration insisted that it did not have a ventilator for her, Birat Nursing Home administration chief Padam Binadi said the admission was denied because the medical personnel in the facility did not have any personal protective equipment.