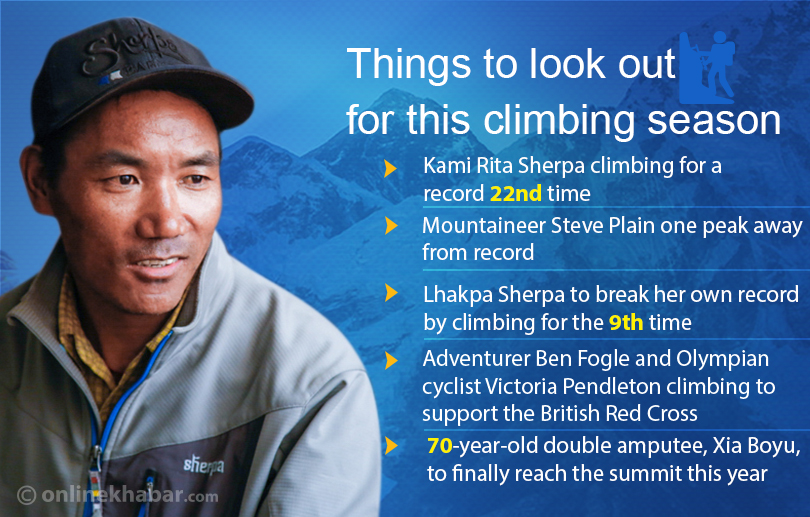 The spring climbing season of this year has begun on Mount Everest, finally!
The beginning is marked with preparations of safe routes for the expeditions to start. Icefall doctors hired by the Sagarmatha Pollution Control Committee have made their way to the Mount Everest base camp to carve out safe routes for the mountaineers coming to the scale the world's highest peak.
The SPCC says that the new routes will be safe for the expedition to start. However, due to bad weather, the icefall doctors are taking time to make the routes which were severely damaged in the avalanche triggered by 2015 earthquake.
The route from Everest Base Camp up to the Camp II is always prepared by the SPCC.
The route from the Camp II to the summit will be set by Expedition Operators' Association of Nepal.
Icefall doctors have apparently reached Camp II by the end of last week and the expeditions are due to begin from the first or second week of May.
Every year people spend six weeks going up and down the mountain from Base Camp to acclimatise, before making an attempt on the summit.
Who are climbing this year?
TV adventurer Ben Fogle and former Olympian cyclist Victoria Pendleton will be pushing climbing Everest to support the British Red Cross.
Mountaineer Steve Plain is one summit away from completing his bid to climb the seven highest peaks on the seven continents in record time after conquering the "beast" of Denali.
Similarly, Lhakpa Sherpa is set to climb Mount Everest from the Tibetan side this spring seasons with a mission to break her own record as the woman climbing the highest peak of the world for a record ninth time.
Talking about records, Kami Rita Sherpa is looking to climb Everest for a record 22nd time when he leads his expedition this season. He is currently tied with Apa Sherpa and Phurba Tashi Sherpa all of who have climbed Everest 21 times.
A 70-year-old double amputee from China, Xia Boyu, will also be climbing Mount Everest this season. Xia who had previously made four attempts to conquer the top of the world never made it past the base camp. It's monumental because the government had banned amputees from climbing the Everest; but the Supreme Court had later issued an interim order to stay its implementation.