Last Friday, the Norwegian Nobel Committee awarded Word Food Programme (WFP) with the Nobel Peace Prize "for its efforts to combat hunger, for its contribution to bettering conditions for peace in conflict-affected areas and for acting as a driving force in efforts to prevent the use of hunger as a weapon of war and conflict."
As a United Nations agency, the WFP is actively working in Nepal also. The agency distributes sacks and packets of rice and other food items to the people in problem. Hence, one must be wondering how it is managing the waste (for example those sacks and packets of rice) in Nepal. Finding its answer might be interesting that the UN agency has partnered with a small company to upcycle the waste and produce bags which ultimately go to the European market with the 'Made in Nepal' tag.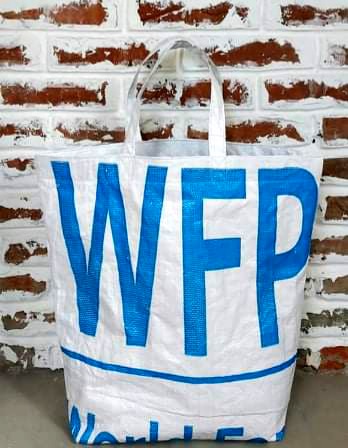 The UN agency and the company, identifying itself as a social enterprise, claim it shows the sensitiveness to environment protection as well as the commitment to the empowerment of small-scale entrepreneurs and women dependent on them.
The upcycling model
While distributing food packets in an effort to support the government in providing food security, nutrition and in emergency preparedness and response, WFP Nepal uses a lot of sacks and happens to produce a lot of waste.
WFP Nepal Communications Officer Monica Updhadhay informs the agency has been reusing most the sacks for the second, and sometimes even third, time.
But, once used twice and thrice, the sacks turn useless to package food items again. They are provided, free of cost, to Shakti Milan Nepal, a social enterprise that upcycles used rice sacks and turn them in attractive bags and purses and sells.
The WFP offices working in other countries mostly reuse the sacks and packets of rice and other grains as long as the WFP logo is clearly visible. "However, thinking one step further for making the use of those packets and sacks that can not be used for packaging, the WFP Nepal has taken this initiative to upcycle them partnering with Shakti Milan Nepal," says Upadhyay.
"While searching for some options to have use of such sacks, we got to learn from different documents we studied online and some market platforms that they can be upcycled to make bags," she explains, "Then, we also learned about Shakti Milan Nepal."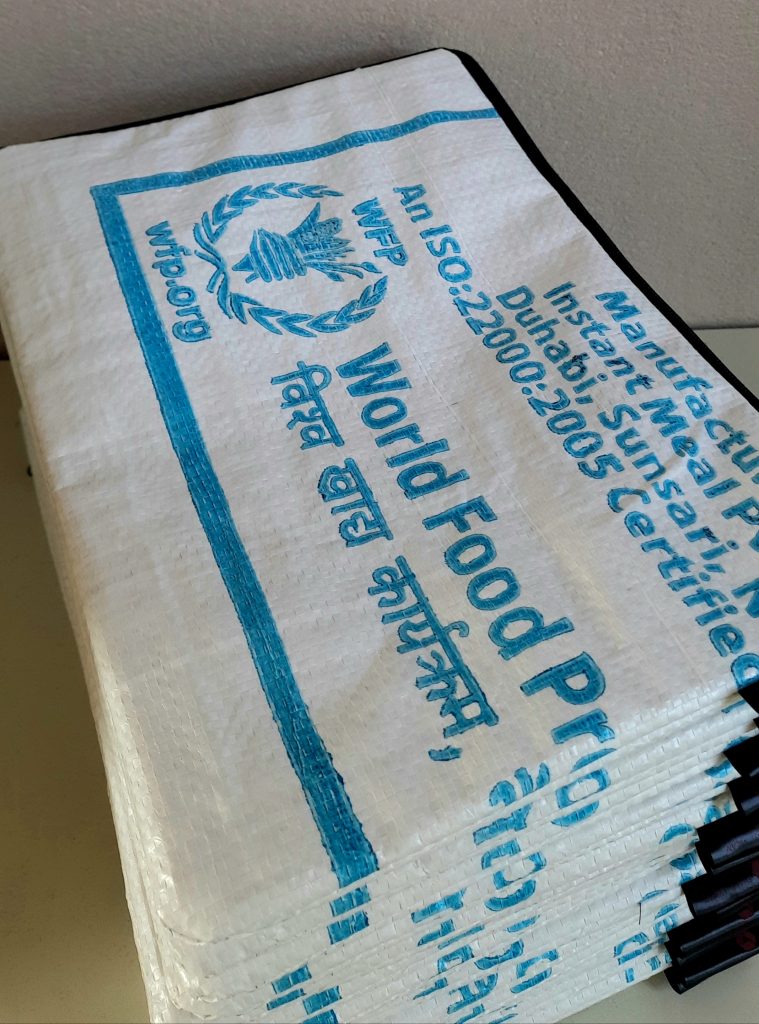 This company manufactures different kinds of bags an individual requires for different occasions, such as messenger bag, sport and yoga bag, shopping and city bag, accessories bag, laptop and notebook bag, pencil bag to tablet and e-reader bag, city hopper and toiletry bag out of recycled materials like rice sacks. These bags are mainly sold in Europe, mainly in Germany and Switzerland. These bags are also sold in the US, Australia and Nepal via online and individual networks.
After learning that the company was also involved in empowering women by employing them in the production of bags and other items, the UN agency directly contacted the company's founder Prakriti Mainali about six months ago.
What next?
According to Updhadhay, this collaboration is in the initial stage. "It is just a pilot project as of now as we are curious to know what kind of consumable bags can be made out of those used rice sacks," she says, "We are providing them (Shakti Milan) with those rice and lentil sacks free of cost and asking them to make bags for grocery shopping in a small quantity. In the future, we are planning to upscale this collaboration with Shakti Milan."
Stressing the sensitivity of WFP Nepal to environmental issues, Mainali on her part narrates her experience of visiting the office of the WFP Nepal. "In the meeting with the country director of WFP Nepal, Pippa Bradford, I came to know that they (WFP Nepal) say no to plastic bottles. I personally felt they try not to even produce a little plastic waste as far as possible."
Plastics have been one of the biggest threats to the environment and its management has been the toughest challenges in the contemporary world. Such an effort by the WFP Nepal in partnership with Shakti Milan Nepal highlights their concern and sensitivity towards the environment protection, both Mainali and Upadhyay believe.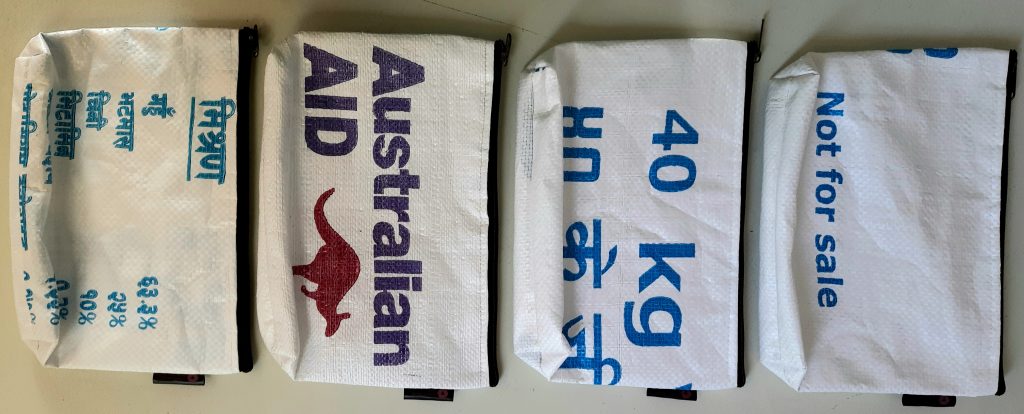 Updhadhay also informs that WFP Nepal launches and carries out all programmes and activities in an environment-friendly manner as far as possible. For example, the WFP Nepal produces compost from the degradable waste collected in its office premises and uses it in the garden there.
Photos: Courtesy Shakti Milan Nepal