Nepal's national cricket team heads to the Netherlands on Sunday to play a two-match series against the Netherlands, as part of the World Cricket League. Nepal play the Netherlands on August 13 (Saturday) and August 15 (Monday). Onlinekhabar talked to captain Paras Khadka on the team's recent tour of the UK, the match against Marylebone Cricket Club at Lords, and Nepal's position in the World Cricket League.
Excerpts:
Nepal won all its games during the UK tour. The team also won a historical match against the MCC. What do you think was the key learning from the tour?
I have always said that consistency in performance is what we need. Consistency is very important in any sport. This was reinforced during our tour of the UK. The team played well, everyone played well.
The other thing is that the tour helped us get familiar with the European conditions as we prepare to head to the Netherlands. We are also going to the Netherlands few days in advance.
You mentioned about the playing conditions in Europe, and that it is completely different from Nepal. Although there were some experienced campaigners in the team, there were new faces as well. How did they perform?
It was a good opportunity for them to perform. I think they performed really well during the entire tour. I must tell you that in international cricket, you cannot complain about the conditions. If we are to become a successful cricketing nation, we will have to take on these challenges head-on.
During the match against MCC, there were those who said that the team, which is heavily reliant on bowlers for victory, seemed to have fallen back on the bowlers for getting runs as well. The margin of victory was 40-odd runs, and the partnership between pacer Sompal Kami and spinner Basanta Regmi was around the same figure. 
Cricket is a team sport in which everyone has to contribute in any way they can. There's nothing that says that only batsmen need to make runs, or only bowlers need to take wickets.
If you are to talk about the MCC match, you should not forget that it was the batsmen, who had already put 170 runs on the board when Basanta and Sompal came to the crease.
During your innings, you were set at the crease, and fans hoped you'd go on to score big. But you got out early. How did it feel?
I had already made 30-odd runs. Unfortunately, I got out. I know that one does not get to play at Lords often, so I felt bad. It was not just me; Gyanendra, Sarad and other top order batsmen made 20-30 runs, but they could not stay at the crease. This was unfortunate.
Staying with batting, the selection committee, of which you are a member, has chosen teenager opening batsman Sunil Dhamal over wicket-keeper batsman Subash Khakurel, who has good experience playing on fast pitches. What is your impression of Dhamala?
Well, he (Dhamala) has just been selected for the first time. We also have a regular opener in Anil Mandal. Dhamala is in his grooming phase. I hope he does well. He might even get an opportunity to play in the Netherlands. He has a good opportunity, and he should make good use of it.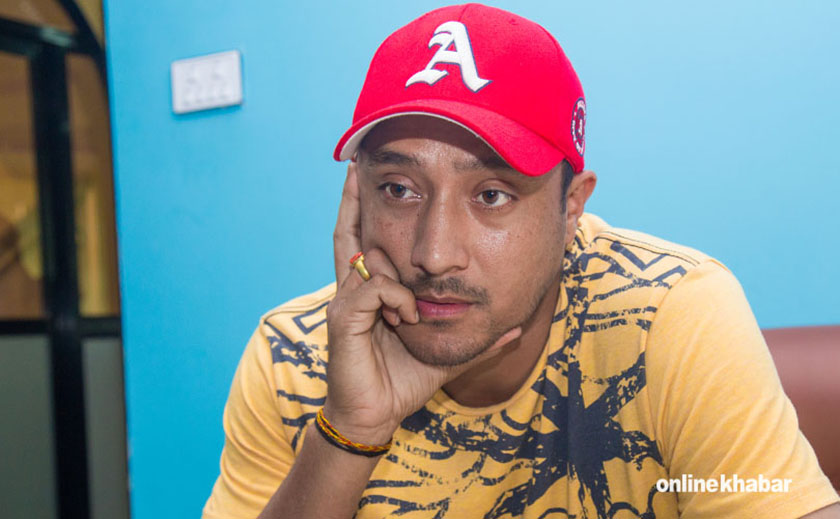 Cricket has a huge following in Nepal, and fans have different types of advice to give to the team. One such advice on social media is that maybe Sompal should be promoted in the batting order. What do you say to that?
Fans have their own way of looking at things, which at times does not match the realities of Nepali cricket. You need to understand that cricket is bigger than Paras, Gyanendra, or for that matter, any cricketer. For now, Sompal's focus needs to be on his bowling. He is an out-and-out fast bowler, but if he makes use of any batting opportunity he gets, that's always welcome. But there are many things he needs to work out, especially in his bowling. I am confident that he will do that, as he has done it int he past.
During the MCC match, it was Sagar Pun, a part-time bowler, who gave the much-needed breakthrough to the team. Were the regular bowlers easy pickings for the MCC?
I don't think so. Except for 2-3 players, everyone was playing against Nepal for the first time. In cricket, you can't say who is going to perform exceptionally well on any given day. That day, Sagar performed well, and on any other day, it could be anyone else.
During the MCC game, the commentators compared Nepal's bowling attack with that of Pakistan. They said that Nepal has a good mix of spin and pace.
Spinners have always been our strength. We saw that the pitch was suitable for spin, so we decided to have only one pacer.
Nepal has historically been a chasing side. Most of its wins have come from run chases. But this time, you won the toss and chose to bat first. 
Yes, we have been a chasing team. In the last 4-5 years, we have played a lot of T20s and if you look at the record, we have won more matches chasing than setting a target for the opposing team. If you look at the 50 over games also, we chase well. But we wanted to see how we perform when we bat first. That is why we decided to bat first at Lord's.
Nepal play the Netherlands next week. The Netherlands have just suffered an innings defeat at the hands of the Afghans, thanks mainly to their bowling. So is it going to be Nepal's bowling vs the Netherlands' batting?
The last time we played a 50-over match against the Netherlands, we beat them by two wickets. But we must not be bogged down by who did what in the past. We should understand that all teams in the league are strong. Even Namibia was a tough side to beat when they came to Nepal a few months ago.
The contest is going to be fierce. A team has to perform well on all fronts for it to win. You cannot win with just good bowling or batting.
Now let's talk about Nepal's position in the league. 
Every game in the league is important. We still have four rounds and eight matches to go. We need at least 4-5 wins to have any chance. We need to get those wins under our belt at the earliest so that we get into a more comfortable position in the league.
But having said that, the team needs to take it one game at a time, focusing on each game that we play.
Anything you'd like to say to the fans? 
All the players are playing with their heart and soul. We want to win to make our supporters happy. Continue supporting the team!