Utsav GC was 12 years old when he first got introduced to electronic dance music (EDM). Listening to Colors by Tobu, he was mesmerised. The music was different from what he was used to. It had no lyrics, but it still told a story and a young Utsav was hooked.
"I mistakenly downloaded the music. But, when I listened to it, it blew my mind and I wanted to learn how to make such music," says the 19-year-old.
Fast-forward seven years, he has done exactly that. Learning production through the help of the internet, Utsav produces a type of electronic music that is new to Nepal. Despite this, he has worked with some of the top artists in the country and has been impressing international music labels as he aims to become a global artist and tour the world.
"Plan is to be like Marshmello and Steve Aoki and play at music festivals across the world."
The electronic addiction
Ever since Colors by Tobu, Utsav GC's life has been all about electronic music. He would download songs on his feature phone and listen to them on loop. It made him curious. He wondered how the person might have created these beats and what he could do to learn them.
But, without the internet, there was no way here could learn this here. Nepal has had an electronic music scene, but the number of people doing it was limited and at the age of 12, with no access to the internet, he was not going to find anyone.
"There was no one and not having a mentor during the start was hard, but I think it helped shape who I am today."
It was not until Utsav got access to the internet that things started to get better for him. He started to read more about it along with watching videos. His interest in EDM increased as he dove deep into it. By the time he was 15, he was already using the knowledge he learned on the internet to produce music.
But, things were not going to be straightforward. His parents were quite adamant that he first finish his school before he started to get serious about this. For Nepali parents, music is not a career choice but a hobby, and that was what his parents told him.
Utsav had made up his mind though. He wanted to do music, but he also did not want to hurt his parents so he did not do music as seriously as he wanted to be. Yet, he was still doing it on the side.
Creating opportunities on your own
Things got real for him when he joined A-Level to study music. The college did not have a music course, but he did not care as he spent his days in college, learning how to make music.
"At that point, I would spend around 12 hours a day doing music because I wanted to continue to get better if I ever wanted to make this a profession."
Utsav was driven by a passion to do future bass, a sub-genre of EDM. To practise, he would pick a song and remix it in his way and upload it.
"I'd DM (direct message) the artist and share what I did, but there was not a lot of response."
Just before he was due to complete his A-Level, he also started to take part in remix competitions which connected him with hundreds of other musicians. Some even messaged him about how much they liked the song and that gave him the belief that he could do this full-time.
It was around that time that Utsav got audio for Sushant KC's Phone ko Number and remixed it. He sent it to KC as he did with everyone.
"He replied telling me how much he liked it and asked if I wanted to collaborate. I was speechless."
But, his parents wanted him to complete his exams and he could not tell them no.
"I couldn't even reply to Sushant dai."
After his exams were over, Utsav collaborated with Anxmus, another electronic music artist, and produced Nepali Pan 2.0, a track that has touched the heart of Nepalis and foreigners. The track has no vocals, but the manner in which both Utsav and Anxmus have used traditional Nepal instruments sets it apart from what was being produced here.
"I had sent this for review to a Clubhouse room. The people liked it so much, a popular record label wanted to sign me."
Steps ahead
But, that excitement soon faded as the record label told Utsav it could not sign him because the song had already been released.
"It was disappointing, but it did give me the confidence to keep doing this because even a representative from Sony India messaged me, asking me to stay in touch."
After this, he collaborated with KC for his single Kheladi. They did the song in such a short time that he did not even get time to create the drop in the manner he wanted. Utsav takes around two to three days to make a drop that he likes, but during this song, he only had less than a day. He was anxious, but he worked round the clock to produce it because it was a big deal. The song became an instant hit following its release as it has over 1.9 million views on YouTube.
"That was a fun project to do. It connected me with artists from Nepal who wanted to do the type of music that I want to do."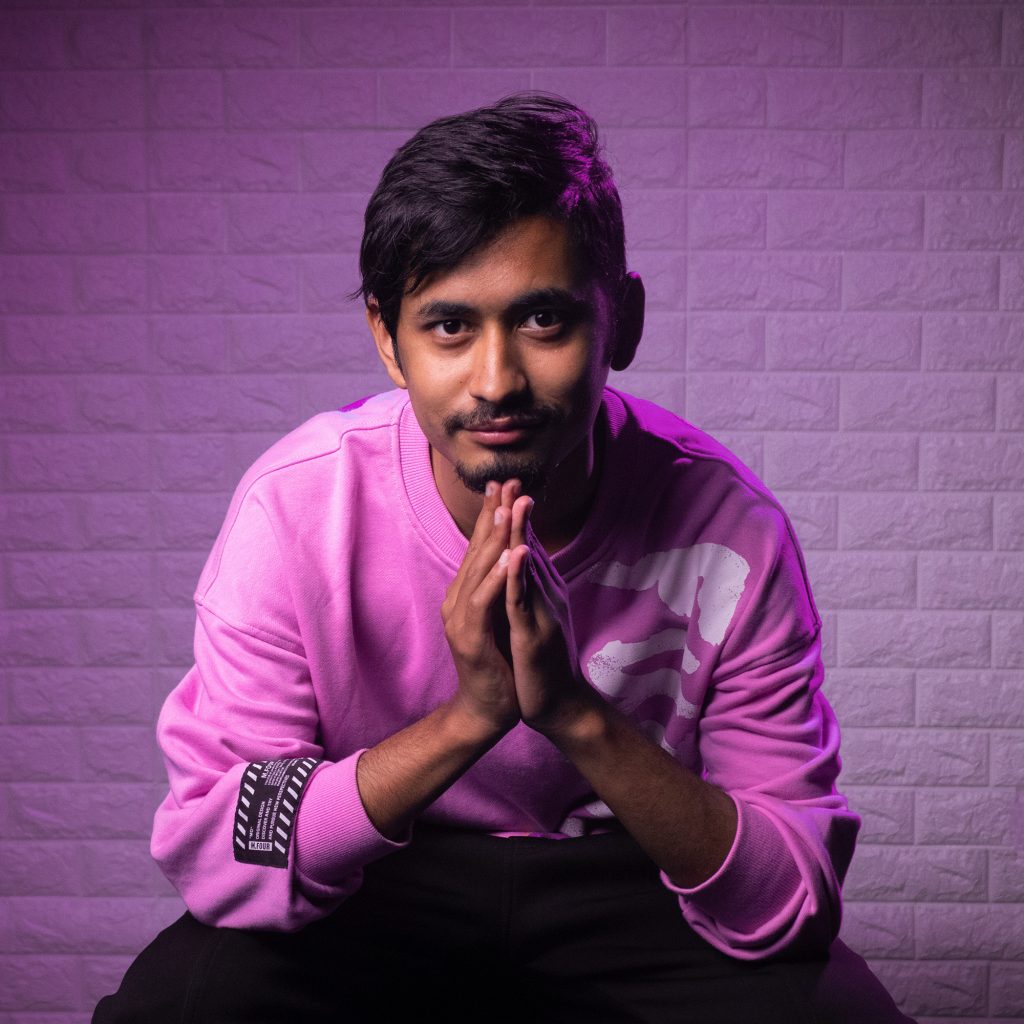 Utsav says his USP is his ego that does not want to do subpar work and produce the best melody he can. And, for that, he does almost every from scratch and does not use many samples. And, with that in mind, he is working on an EP that he plans to release soon. Because he wants to go international, he wants the EP to be completely in English as he has been producing a range of future bass tracks through which he hopes to get noticed internationally.
"I won't release it immediately because I want some record labels to listen to it and give me feedback. If they sign me, it's great, but if not, I'll release it personally too."
Future bass is not a genre that is popular in Nepal or India, so his audience base is the US and a few countries from Europe and Southeast Asia. To tap these markets, he needs more than just promotion; he needs a record label. For that, both Utsav and his manager Aakrshan Dhakal are working tirelessly through boosting and advertisement.
"Being from a country like Nepal is hard because we don't get noticed. My friends who are on the same level are touring in the US. But, here, things are bad so we have to use other means."